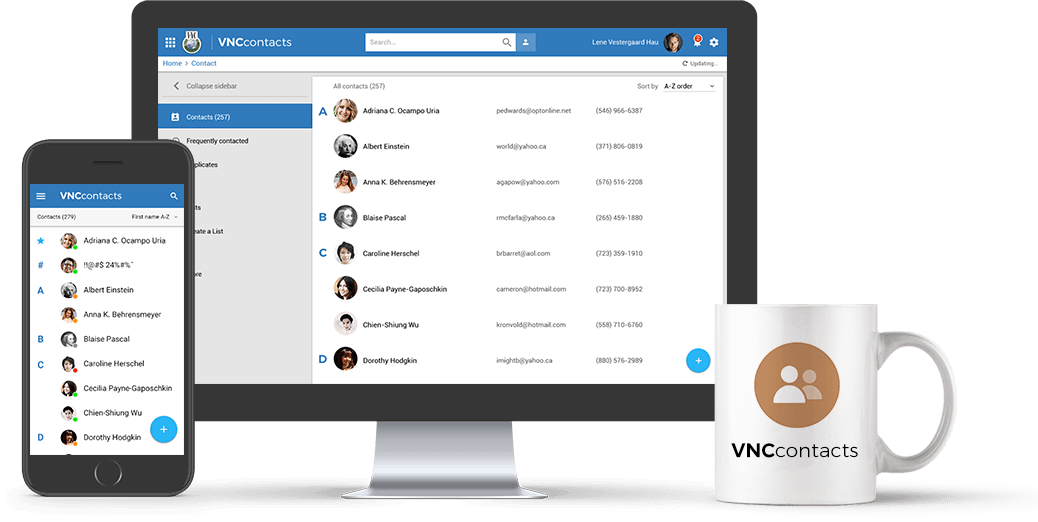 VNCcontacts
Contact and address management


Why waste time with scrolling through your contacts on your phone, when you can have a fully equipped contact management? VNCcontacts helps you to manage all your contacts fast, easily and extends your communication options. You can call or text your contacts directly and you can also use all options from your VNClagoon products straight from the contact details, e.g. chat, video or voice calls.
With its clear design VNCcontacts makes it really easy to manage as many contacts as you can imagine. And because it's also available as an app, you can access your contacts wherever you go.
Many contact details:
Create contacts with name, title, contact information for private and business purposes, with a picture and various email addresses. Extend the contact details with messenger IDs or postal addresses, website, additional notes and birthday. Thereby, you gather all the important information in one place.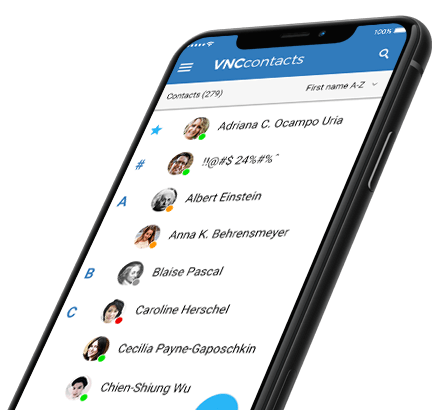 Key Features:
fast and easy creation of new contacts 
group contacts in folders
move contacts between folders
easy earmarking of favorite contacts
great overview via individual contact lists; filter and sort by criteria
import, export and print (e.g. as PDF) saved contact lists (.csv files)
add, change and remove your profile photo
granular contact search
different contact options at once: VNCtalk call, VNCtalk video call, chat or VNCtask. And VNCmail with all email options. 
Language support in English and German
All available information for contacts:
first and last name
work address email address and phone number(s)
private address, email address and phone number(s)
instant messenger details
website
birthday, anniversary and custom date
additional notes 
create further details
All available actions from the contact page:
write emails with VNCmail
VNCtalk call
VNCtalk video call
VNCtalk chat
create a task for the contact with VNCtask

share a file in VNCsafe with the contact

send a meeting invite 
and much more!
VNCcontacs is part of VNClagoon, our integrated stack of secure enterprise collaboration and communication products.
Want to know more about the VNC story? Check out our blog.
Your use of this app is subject to the VNClagoon Products and Apps Terms of Service, which can be found at https://vnclagoon.com/terms/.
If you have questions, please get in touch with us at sales@vnc.biz
Are you ready for VNClagoon?
Get started with VNClagoon in your enterprise. Are you a Software Vendor or a Telco? Become a Reseller and sell VNClagoon to your customers.