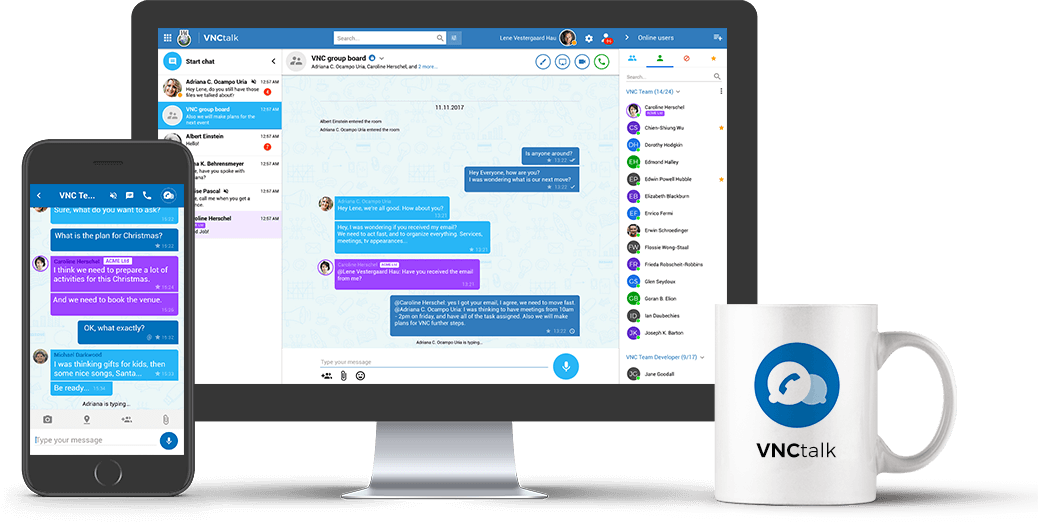 The VNCtalk App is not "just another messenger"!
The VNCtalk App is a real alternative to WhatsApp. VNCtalk comes with the familiar features – and some more!
The VNCtalk App is of course free of advertising and is equipped with a number of nice additional features like: screen share, whiteboard, document collaboration etc. – and it has a very, very nice desktop / responsive web client.
VNCtalk is scalable up to a huge number of users. Just enhance bandwidth, add more instances and here you go.
VNCtalk is our flagship product, so we have lots of ideas how to make it even more productive. Examples are social messenger features (@ping-user, tag, meta notice to chats, subscribe to group chats) and many more.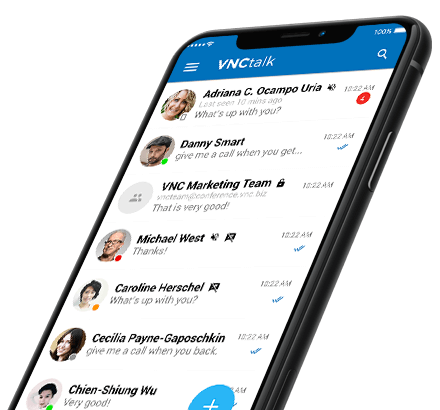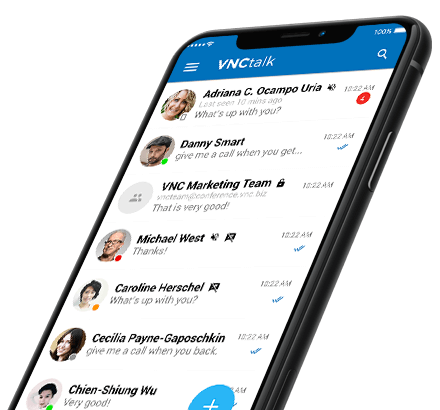 VNCtalk is a super powerful app for professional and secure unified communication, with a full feature set of a comprehensive application for presence, chat, video/audio calls and web conferencing.

Why you should use VNCtalk:
easy and intuitive to use
secure and private communication
comes with all required functionalities
available as App and web client
open source backend – super secure software
secure hosting in Germany
Key Functionalities of VNCtalk (see also here):
Presence and profile information
Text chat: 1:1 or 1:n (chat rooms)
Audio and video conferencing: 1:1 or 1:n
Screen sharing
Voice messaging
File sharing (documents, images, etc.)
Search
Instant Camera Switch: switch mobile camera between front and back camera
Snapshots: Make snapshots using the integrated camera and send these
Enable / disable microphone and camera during calls
Notifications
Confirmation of sent and read messages
Multiple settings
Integration of mobile App and Web App (Pro Version)
Collaborate in teams and companies (Pro Version)
VNCtalk FREE VERSION is free to download and use for private, individual users.
Attention:
VNCtalk FREE VERSION is a free hands-on demo, test and trial App within a single user SaaS environment of our VNCtalk Enterprise edition.
Please be aware that the users' profile information (user name, avatar) are visible for other users.
Of course, the client to server communication is encrypted.
You can purchase VNCtalk Enterprise for:
Elevated privacy levels in closed instances for your organisation or group of users
Company accounts with utmost privacy
Advanced authentication options
Team collaboration features
VNCtalk App offline functionality
Integration of VNCtalk App and web client (all common browsers)
Full enterprise feature set including screen sharing, whiteboard, and others
Flexible hosting options and on premise implementation (you gain complete control of the application and your communication data!)
Compliance with severest data privacy regulations (transparent code, secure hosting, open source backend, state of the art frontend, privacy of communication and user data)
Customization and branding
Individual skinning according to your corporate design
Complete onboarding and registration capabilities
Sophisticated backend management options
Integration with further VNClagoon products and Apps (e.g. single sign-on)
And more!
VNCtalk is part of VNClagoon, our integrated stack of secure enterprise collaboration and communication products.
Want to know more about the VNC story? Check out our blog.
Your use of this app is subject to the VNClagoon Products and Apps Terms of Service, which can be found at https://vnclagoon.com/terms/.
If you have questions, please get in touch with us at sales@vnc.biz
Are you ready for VNClagoon?
Get started with VNClagoon in your enterprise. Are you a Software Vendor or a Telco? Become a Reseller and sell VNClagoon to your customers.