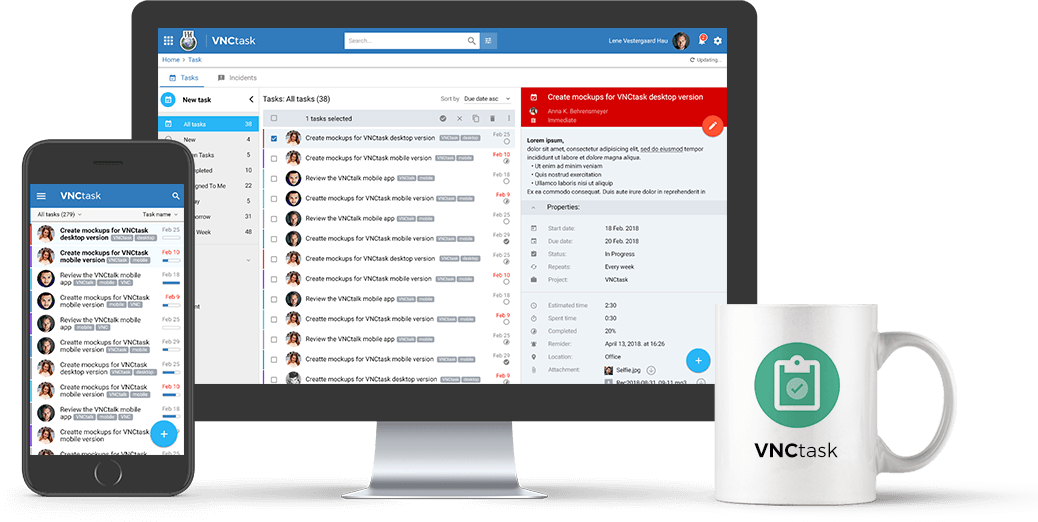 VNCtask is not just another task manager.
VNCtask is more: a powerful manager of tasks, tickets, service desks & projects.
The reason: VNCtask is part of VNCproject, which we built on top of the leading open source ticket and project management technology Redmine.
And even more than that: as we are using VNCproject for our internal software development and service desk, we needed to refine the underlying Redmine massively.
Features like enhanced workload and timesheet management, ITIL service desk, EVM (earned value management) and more have been developed by VNC to be able to use VNCproject as the central tool for our VNCfactory – an integrated software development and management solution. Many of the components used in software development are also beneficial for other industries.
VNCtask in its core version is solving all the issues a single user or any organization will face around task management. Create, delegate, prioritize and plan tasks (or subtasks) are key features.
Furthermore, we allow users to invite external partners to collaborate on given tasks without asking them to buy a version. For simple feedbacks like eg. "due date updates" or "comments" we don't even need to download an app as we are PWA – progressive Web App enabled
As with all our products, VNCuxf is the frontend technology for VNCtask.
For more complex scenarios we can easily enhance the UI by accessing our backend product VNCproject with its nearly limitless feature set around project management like e.g. EVM (earned value management), Agile and/or waterfall project planning, workload and timesheet management, ITIL service desk and so much more.
VNCtask is an unique tool in the task manager market!
For partners who want to offer their own task management we deliver VNCtask on-premise and OEM, which allows the modification of the UI and UX.
Get back to us with your ideas about further enhancements of VNCtask. You will see, it is quite easy to add more features and functionalities.
Your use of this app is subject to the VNClagoon Products and Apps Terms of Service, which can be found at https://vnclagoon.com/terms/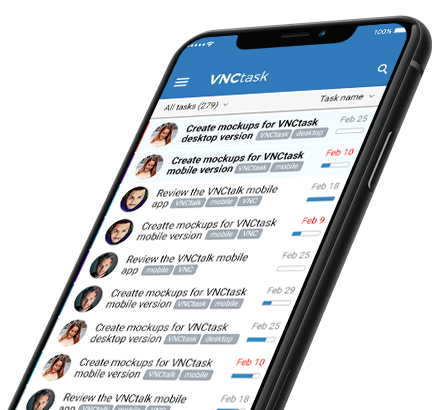 VNCtask is a powerful app for professional to-do list and task management.
Why you should use VNCtask:
easy and intuitive to use
allows quick entry of tasks
comes with all required functionalities
available as an App and web client
open source backend – super secure software
secure hosting in Switzerland
Key Functionalities of VNCtask:
Create, update, change, delete tasks
Set due dates, priorities, tags and more
Comments and replies
Attachments
Track progress
Recurring tasks
Sub tasks
Task reminders
Email notifications
Task lists, color coded per status
Bulk update
Sort per criteria
Search and saved search
Advanced filters
Integration of App and web client (all common browsers)
Delegation of tasks (Pro Version)
Integration with VNCproject (Pro Version)
Upgrade options with enterprise features like timesheets, workload, ITIL service desk (Pro Version)
Collaboration in teams and companies (Pro Version)
VNCtask – FREE VERSION is free to download and use for private, individual users.
You can purchase a Pro Version for:
Team collaboration features
Company accounts with utmost privacy
Advanced authentication options
Unlimited storage
Upgrade with enterprise features from VNCproject, our full-blown project and service management, ITIL support desk product
Flexible hosting options and on premise implementation (you gain complete control of the application and your data!)
Compliance with severest data privacy regulations (transparent code, secure hosting, open source backend, state of the art frontend, privacy of communication and user data)
Customization and branding
Complete onboarding and registration capabilities
Sophisticated backend management options
Integration with further VNClagoon products and Apps (e.g. single sign-on)
And more!
VNCtask is part of VNClagoon, our integrated stack of secure enterprise collaboration and communication products.
Want to know more about the VNC story? Check out our blog.
Your use of this app is subject to the VNClagoon Products and Apps Terms of Service, which can be found at https://vnclagoon.com/terms/.
If you have questions, please get in touch with us at sales@vnc.biz
Are you ready for VNClagoon?
Get started with VNClagoon in your enterprise. Are you a Software Vendor or a Telco? Become a Reseller and sell VNClagoon to your customers.