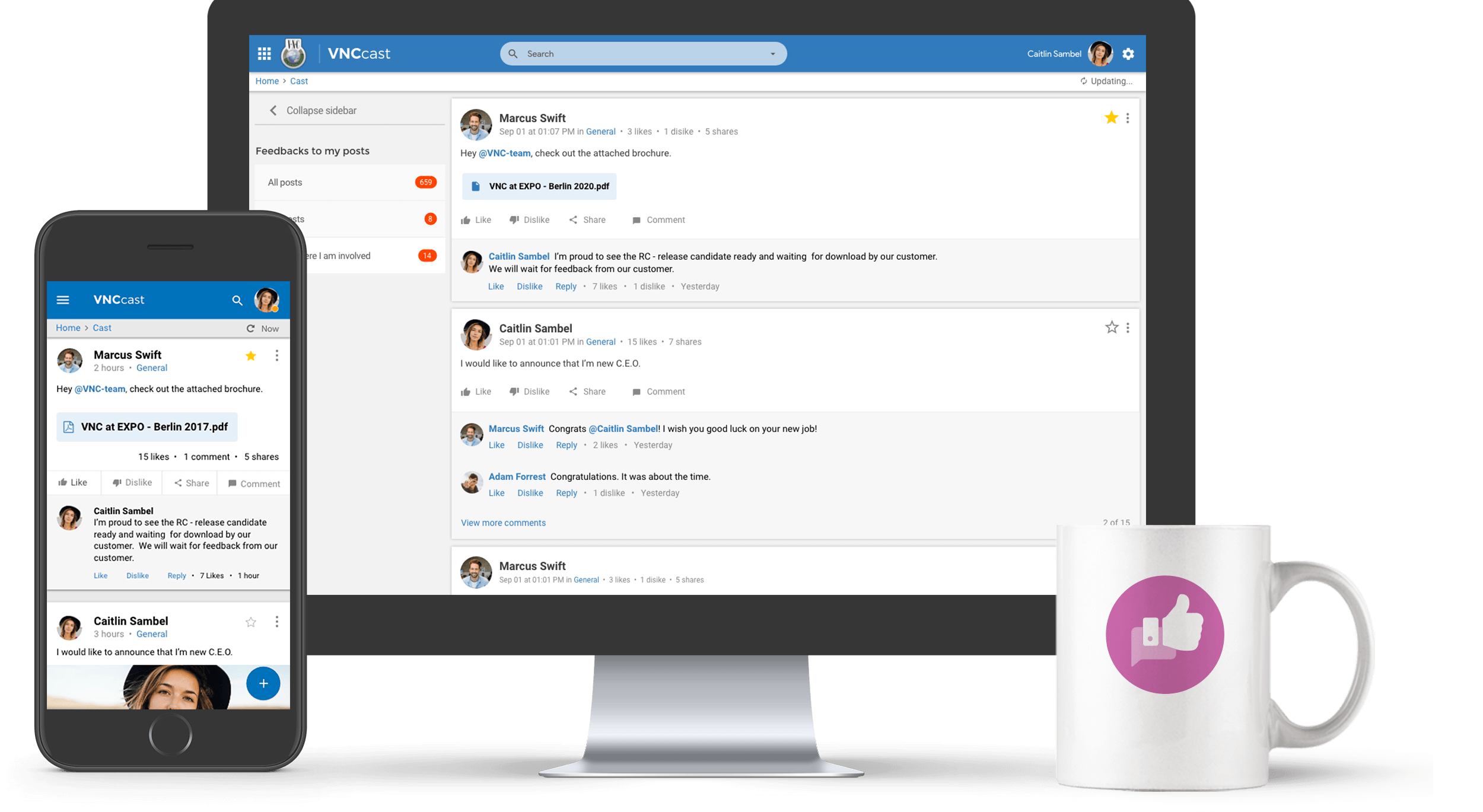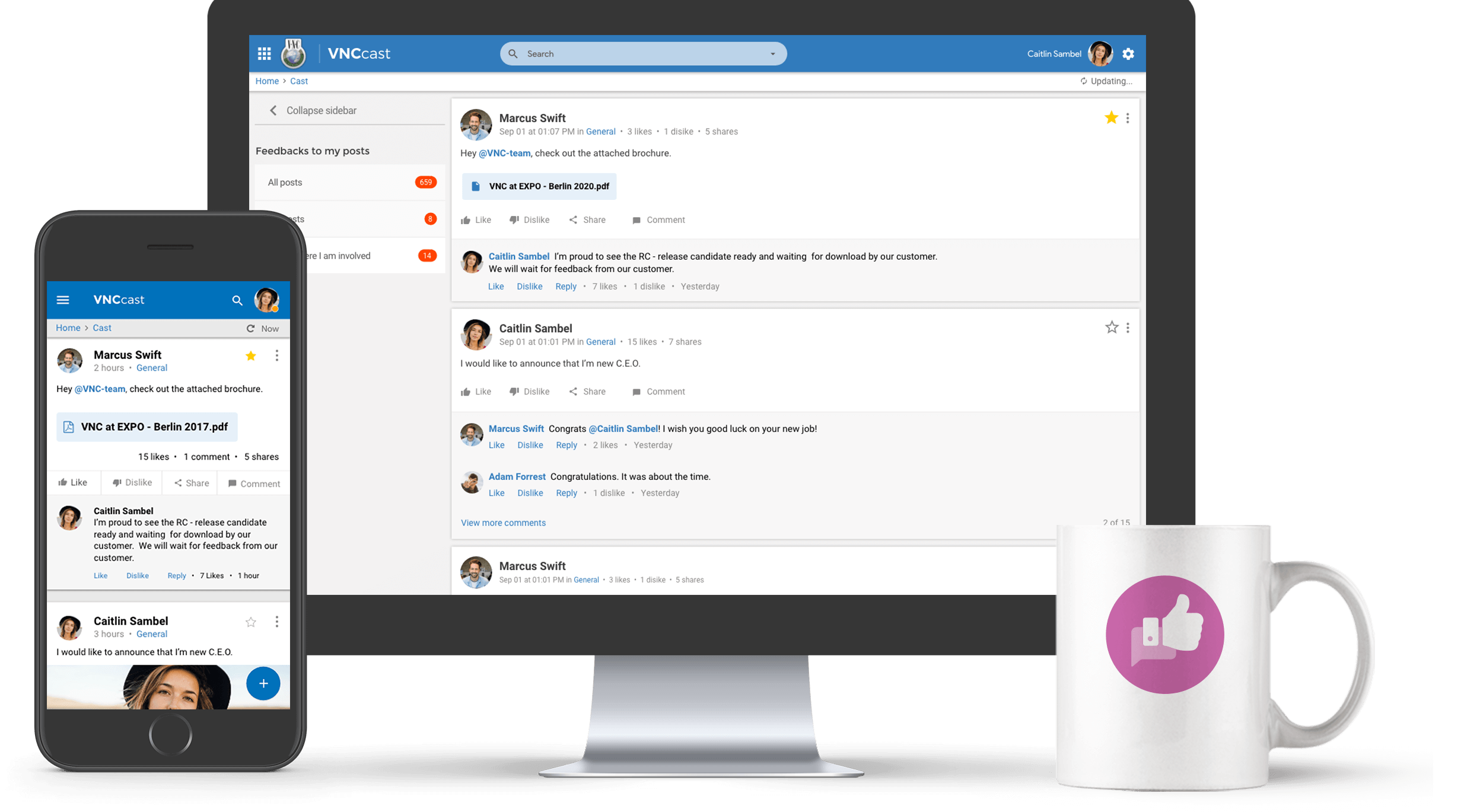 VNCcast
Enterprise Social Media – share thoughts, ideas, collaborate as a team.
Goodbye e-mail CC. Team collaboration can be efficient and fun.
Are you tired of sending and receiving emails with dozens of people on CC? Are you annoyed with not being allowed to send emails to someone, even if you think the message is important?
With VNCcast – the Enterprise Social Media tool – email is history.
Share your ideas with subscribers within certain topics. Post your ideas and comments to "topic" streams.
Activate the crowd intelligence of your network.
Collaborate with internals and externals – with your customers, suppliers and partners.
You will be amazed about the level of feedback and innovation you will receive. Email is targeting only a few people, whom you believe to be your correct communication partners.
With Enterprise Social Media like VNCcast it is amazing, who else gets back to you with great ideas and feedback. Drive innovation in your organisation with this revolutionary way of communicating. Use Enterprise Social Media as a glue to keep your virtual organisation vivid and dynamic.


Internal Topics:
Post your ideas to predefined areas like marketing, product, business development, accounting etc.
Public Topics:
Share and discuss with partners, suppliers or customers via public Topics
Add text to topics:
Address all people who have access to a given topic
Notifications:
Notify people via email notifications by just typing @user / @group
Attachments:
Add files from your device or from the natively integrated VNCportal content store
Set time limits:
Share content within a defined time frame
Set access limits:
Limit messages or comments to a subset of users subscribed to a topic.
Notify specific user groups:
Ping users with certain parameters stored in their profile like: country, skill set (marketing, developments, sales, etc.) or interests (e.g.: swimming, cycling, etc.).
Connect messages:
Link to existing messages or comments.
#hashtags:
Use #hashtags for any keyword for easy retrieval.
Power search:
To retrieve any kind of message or comment by keyword, user, hashtag, etc.
Technical documents and documentation
The VNCcast Web Client is the easiest way to access VNCcast from any device since the Web client works in every browser on Windows, Mac and Linux.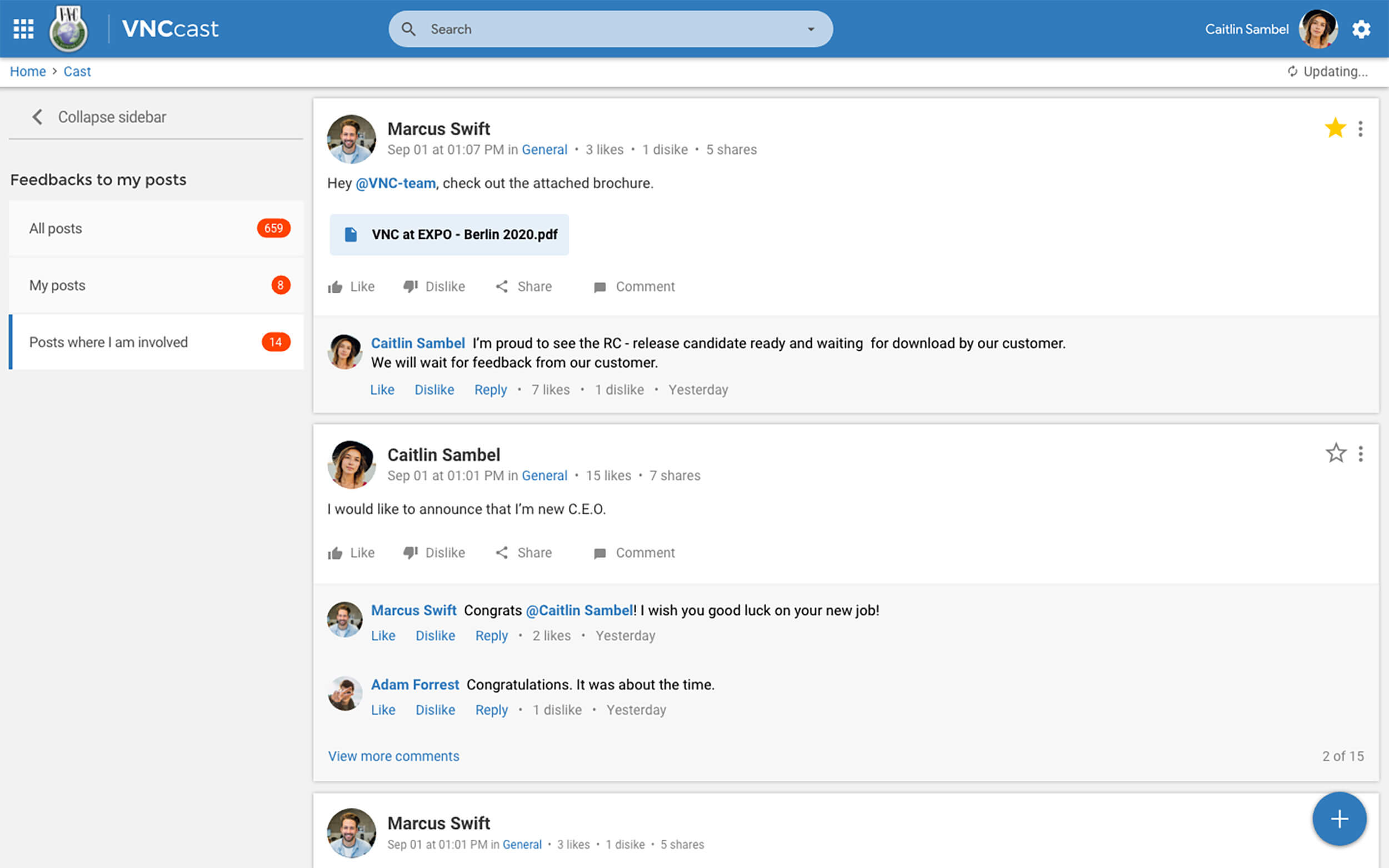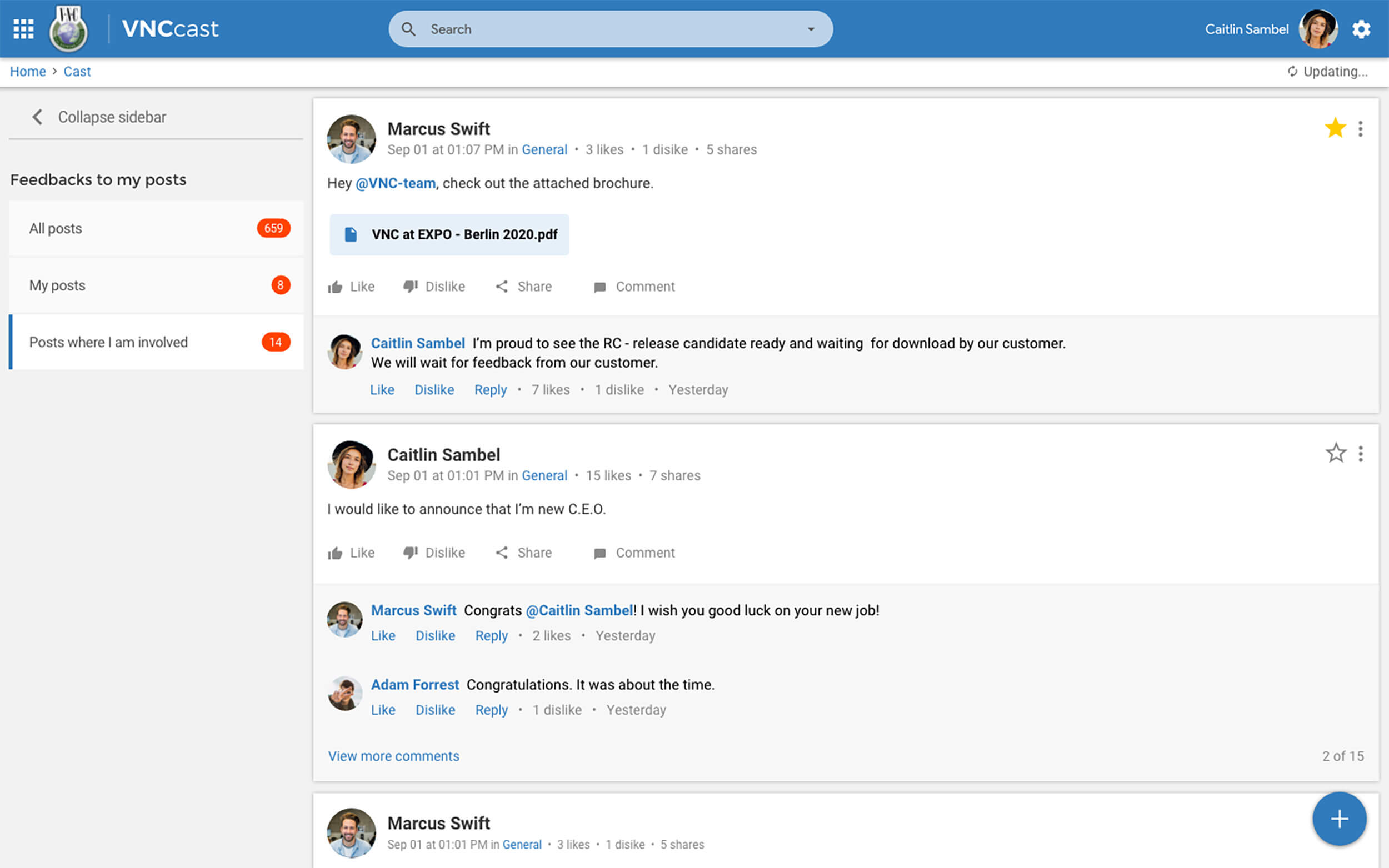 Testimonials
We set highest standards in what we do. Just like our clients. That's why it is so important to us to know what they think about working with VNC and our business solutions.
"With VNCtalk, Zimbra becomes a true collaborative platform. A user can seamlessly chat, share files & collaborate from any device. Great product & company to work with."

Prashant Mudbidri
Director of Logix InfoSecurity Pvt. Ltd
about VNCtalk
"As part of this project, it was also very important for the representatives of the church that a WhatsApp alternative could be found. Short message services are commonly used, therefore EKBO Dialog was very welcome. "

Fabian Kraetschmer
Head of Unit 1.3 – IT, EKBO
about VNCtalk
Are you ready for VNClagoon?
Get started with VNClagoon in your enterprise. Are you a Software Vendor or a Telco? Become a Reseller and sell VNClagoon to your customers.