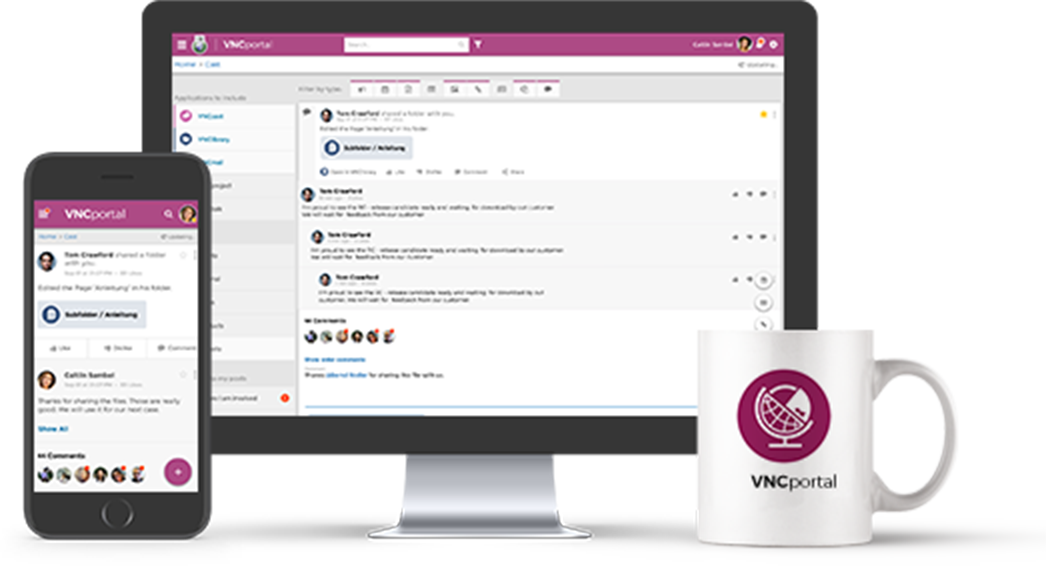 VNCportal
Enterprise social collaboration and social intranet at its best
With VNCportal you'll have a central place to store, share and discuss your organisation's data, information and knowledge. With VNCportal a new era is beginning. It's never been easier to manage any kind of content, to communicate with your team, customers and partners, to collaborate and to share your knowledge.
With VNCportal your collaborative work is going to be much easier, efficient and productive.
You will be amazed about your new flexibility, as VNCportal is a completely platform independent solution. For working with VNCportal, you just need a normal Web Browser.
With VNCportal you have access to business-critical applications and data at any time on any device – it doesn't matter whether on your iPad, your Android Tablet, your Smartphone or your Desktop Computer. VNCportal enables you to easily take your company with you to your favorite place for working and brainstorming.
You are annoyed by the information overload of your mailbox?
With VNCportal you can take the matters in your own hands. You can decide on your own which kind of and how much information you want to receive. With the integrated Content Streams you can easily filter the required information as well as create your personalized stream by using intelligent Tags and Folders.
You can decide on your own when you want to read or work on new posts of colleagues, new links, cast messages or selected documents within the VNCportal. Thus the development and creative elaboration of ideas is much more efficient and becomes a pure pleasure.

Streams:
The VNCportal Stream offers you unprecedented possibilities to act on the different contents. Instead of splitting the information and knowledge in different channels and folders, like Emails, Intranet, File System, Instant Messaging and SMS – the VNCportal Stream manages all required information in one place. Thus the Stream keeps you up-to-date at any time and enables you to find knowledge and information much faster and efficiently.
Dashboard:
The Dashboard clearly displays all important information from your VNCportal and integrated third party solutions on one single page: Your emails in your mailbox, current enterprise news, information about upcoming events, deadlines and appointments as well as data from connected ERP and CRM-Systems.
Wikis and Discussions:
The Wiki Pages are the perfect place to collect information within the company, as well as to develop and to utilize this information. With this Wikis you can enhance your communication within projects (e.g. by sharing, discussing and finalizing requirement specification with your team and a customer) and within your entire organisation.
Create Panel:
You only have to select your content type (Page, Folder, File, News Item, Event, Image or Link), select the place where you want it to be stored and drag e.g. the file onto the drop zone. Done.
Seamless integration of the VNCcast:
Within the completely independent VNCportal it is easily possible to integrate another stand-alone VNC application: The Enterprise Social Media solution VNCcast.
Works on any mobile device:
No matter which device – VNCportal works on Desktop PCs, Tablets and Smartphones
Open for discussion:
The VNCportal is focused on teamwork and corporate development of ideas. Therefore each Wiki Page can be commented or forwarded and appears in real-time in the Stream.
Acceptance and sharing:
All items within the VNCportal underly a pre-defined approval process. As a user with admin permissions, you can define who is able to create/edit/publish a new Wiki or news article. Moreover, each user can decide for their own content, who else is able to read/edit the new items.Through group authorizations it is possible to define which content is just available for company members and which content is accessible to e.g. partners and customers.
Technical documents and documentation
The VNCportal Web Client gives you access to all areas of your VNCportal from any device since the Web client works in every browser on Windows, Mac and Linux.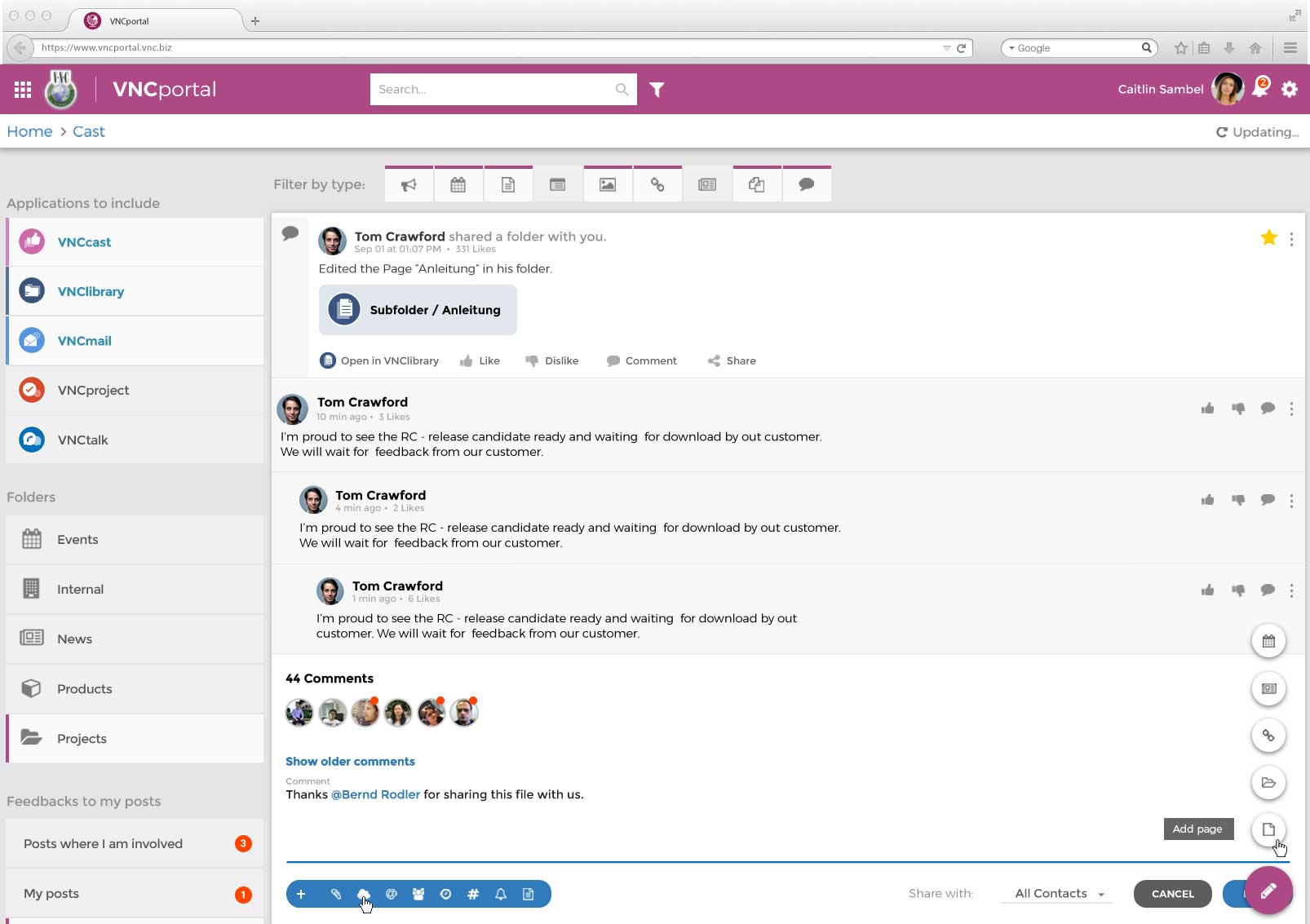 Testimonials
We set highest standards in what we do. Just like our clients. That's why it is so important to us to know what they think about working with VNC and our business solutions.
"With VNCtalk, Zimbra becomes a true collaborative platform. A user can seamlessly chat, share files & collaborate from any device. Great product & company to work with."

Prashant Mudbidri
Director of Logix InfoSecurity Pvt. Ltd
about VNCtalk
"As part of this project, it was also very important for the representatives of the church that a WhatsApp alternative could be found. Short message services are commonly used, therefore EKBO Dialog was very welcome. "

Fabian Kraetschmer
Head of Unit 1.3 – IT, EKBO
about VNCtalk
Are you ready for VNClagoon?
Get started with VNClagoon in your enterprise. Are you a Software Vendor or a Telco? Become a Reseller and sell VNClagoon to your customers.