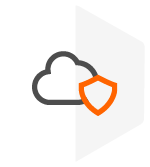 Secure hosting for applications and data.
VNC's hosting services are designed to provide customers with powerful, flexible and scalable Commercial Open Source software as a service. For our customers that means that they no longer have to purchace, license, maintain and update software on their own servers.
Advantages for businesses and organizations

Hosted Business Cloud applications can be used anywhere in the world, on any connected mobile device – in your office, at a client or somewhere in between. That way you and your teams always have all the tools they need to make fast, well informed decisions.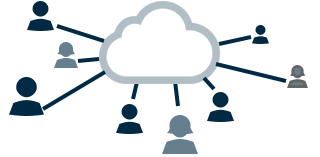 Our securely hosted enterprise business applications give you all the opportunities you need to work together on new ideas, share information more easily and improve collaboration within your teams, with your partners, suppliers and clients – while guaranteeing a maximum of protection for sensitive data.

Synchronization features within our enterprise business applications make sure that you have access to your most current business information even when you cannot connect to the internet. That way you remain productive and capable of making informed decision under any circumstance.

Reduced administration effort and cost.
Using software as a service has many advantages for businesses of any size. The total cost of ownership is significantly lower than for conventional software. In a recent study, US-based consulting firm McKinsey has found out that businesses can save about 30 percent of their TOC by using software as a service. Also, newly implemented SaaS solutions can be used much quicker than software that is implementier and custom-tailored on local machines. The administrative effort for installing, maintaining and updating conventional software is no longer necessary, as is the need to purchase additional hardware. All functionality of hosted solutions can be used from within a simple web browser – independently from where the user actually is.
More security and better availability for your data.
Hosting business information and using software as a service not only makes important data easier accessible for the company's employees – independently from their current location. If mobile workers can always access the information they need from the cloud, that data doesn't have to be stored locally on a mobile machine, such as a laptop. This means that nearly any connected device can be used for data access, as long as security guidelines permit that. It also means that losing that mobile device or it being stolen doesn't also mean losing sensitive information.

Managing applications and data in a hosted environment allows businesses to dramatically increase their IT availability – at reduced cost. Because all servers, virtual environments and operating systems are permanently updated and patched, technical down-times and a reduction of operating power can be eliminated almost entirely.
Enterprise-Class Hardware Protection
Protecting the hardware that hosts your cloud is just as important as protecting your data while it's being transmitted. That's why VNC relies on highest standards in access control. Our servers are located in their own rooms and their own, protected cages, physically isolated in a high performance data center in Switzerland. The VNC Cloud Hosting Environment is fitted with its own power supply, emergency power facilities, climatization and network connection, as well as its own, redundant network and connection to the Swiss Internet Exchange. The servers themselves are protected by multi-level biometric access control and continuous video surveillance.
Enterprise-Class Software Protection
The VNC Cloud Hosting Environment is based on internationally recognized specifications in security and access control, providing all our customers with verifiable protection according to SAS 70 Type II and ISO 27001 on multiple levels.
The VNC Cloud Hosting Environment is also protected by powerful firewall functionalities, layer-2 isolation and high-security authentification protocols. It provides role-based access control and continuous user activity protocols.
Additional anti-Virus and anti-Spam technologies make sure that not only no data can go out of your servers without your permission, but also that no undesired data can get in.
The secure transmission and validity of your data is guaranteed by storage and media encryption, secure transmission protocols, digital signatures and current identification technologies such as RSA and OTP.
Are you ready for VNClagoon?
Get started with VNClagoon in your enterprise. Are you a Software Vendor or a Telco? Become a Reseller and sell VNClagoon to your customers.