Technologies for a more powerful IT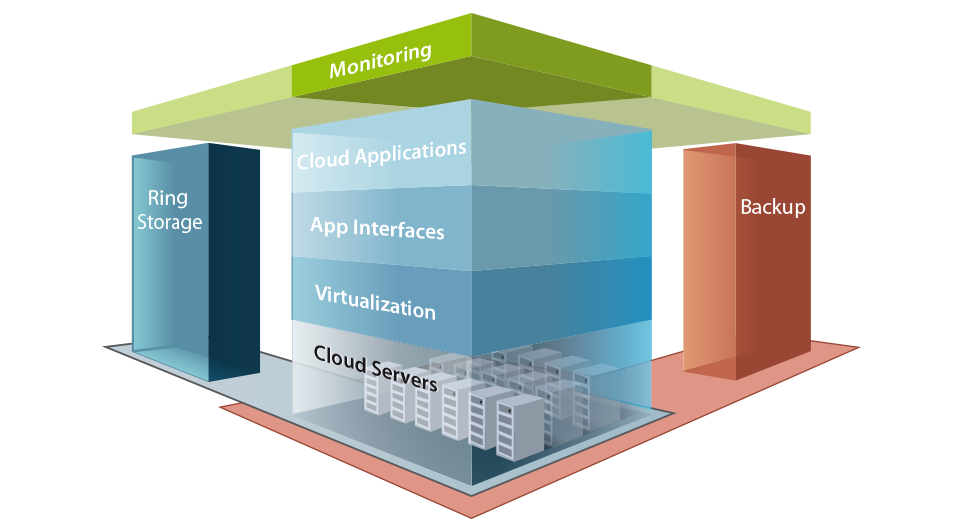 Powerful, reliable, scalable.
The VNC Infrastructure Stack is the technological foundation of the VNC Infrastructure Services. It consists of proven hardware and software components for powerful operation and high reliability. The VNC Infrastructure Stack includes fast, freely scalable and geographically redundant storage systems, flexible virtualization solutions, powerful backup systems for continuous, automatic data backups in the cloud, within your company or both, powerful rights management and user access control, monitoring systems to guarantee flawless operation of all components as well as high-availability, powerful servers the capacity of which you can adapt flexibly to any future requirement.
Proxmox VE is a complete, Open Source virtualization solution for servers. It combines KVM and container based virtualization and manages virtual machines, containers, storage, virtual networks and high availability clusters through a comprehensive central management console. Professional features enable an optimal leverage of resources at minimized hardware and administration cost. Proxmox VE effortlessly virtualizes the most complex Linux or Windows workloads.
Icinga is an enterprise grade open source monitoring system which keeps watch over networks and any conceivable network resource, notifies the user of errors and recoveries and generates performance data for reporting. Scalable and extensible, Icinga can monitor complex, large environments across dispersed locations.
GlusterFS is an open source, distributed file system capable of scaling to several petabytes (actually, 72 brontobytes) and handling thousands of clients. GlusterFS clusters together storage building blocks over Infiniband RDMA or TCP/IP interconnect, aggregating disk and memory resources and managing data in a single global namespace. GlusterFS is based on a stackable user space design and can deliver exceptional performance for diverse workloads.
PostgreSQL is a powerful, open source object-relational database system, running on all major operating systems, including Linux, UNIX, Mac OS X and Windows. PostgreSQL supports storage of binary large objects, including pictures, sounds, or video. PostgreSQL boasts sophisticated features such as Multi-Version Concurrency Control (MVCC), point in time recovery, tablespaces, asynchronous replication, nested transactions, online/hot backups, a sophisticated query planner/optimizer, and write ahead logging for fault tolerance.
Are you ready for VNClagoon?
Get started with VNClagoon in your enterprise. Are you a Software Vendor or a Telco? Become a Reseller and sell VNClagoon to your customers.