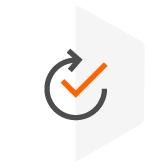 Preventing incidents from becoming disasters.
VNC 24/7 Support is not only available to you 24 hours a day, it's literally working for you 24 hours a day. And this is true for 365 days a year, following a clever concept. We call it "Follow-The-Sun". It means that all open support tickets are handed over to globally distributed teams at the end of each day, thus being handled around the clock, until finished.
The VNC Support Services.
VNC offers continuous technology and application support – 24 hours a day, 7 days a week, 365 days a year. That's how we not only make sure that you can reach VNC Support anytime you need it, but also that your tickets are worked on 24 hours a day, uninterrupted to completion.
To live up to that aspiration, VNC has adopted the "Follow-The-Sun" principle. We have our own, highly qualified technology and application support teams at different locations worldwide, across different time zones. If a ticket raised in Germany cannot be completed until the end of the work day, it is transferred to another team which is just beginning their day. That way, the ticket follows the sun and is handled, without any interruption, until it is completed.

VNC provides its customers with highly efficient and reliable on-demand Helpdesk Services. We provide technology and network support as well as quick recovery from and prevention of system and software failures.
The VNC Helpdesk Services can either be realized on-site or via remote connection and are perfect for small and medium-sized businesses as well as for global organizations paying special attention to the flawless operation of their business software and IT infrastructure.
Numerous small problems can be solved easily by remote access to your servers or local machines. In these cases it's not necessary to have a technician on-site, saving enormously on time and money. For all remote connections, security plays the most important role for VNC. That's why all remote access solutions that we use are well-tested and highly secure, guaranteeing a reliable, tunneled and encrypted data connection.
And if a problem cannot be solved from the distance, the VNC support partners make sure that a technician or a software specialist will be on-site as quickly as possible, enabling you to resume your daily business with minimum interruption.
Are you ready for VNClagoon?
Get started with VNClagoon in your enterprise. Are you a Software Vendor or a Telco? Become a Reseller and sell VNClagoon to your customers.