Make your move away from WhatsApp and Skype!
Register to win a FREE implementation of VNCtalk Enterprise for 100 users.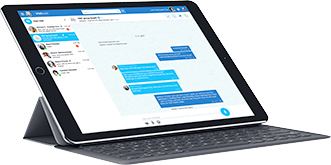 Do you need to replace WhatsApp and/or Skype in your organization?
VNC understands your needs.
We are currently searching for candidates for a free (as in free beer) implementation of VNCtalk Enterprise.
Register now to participate and win a one-year subscription license of VNCtalk Enterprise for 100 users and quickly replace WhatsApp or Skype.
We will also help you for 1 day to install and configure VNCtalk Enterprise on your private servers.
This price has a value of more than 10k USD!
To be considered, provide three reasons why WhatsApp or Skype have to be replaced. Good luck !!
The winner will receive:
1 Year of VNCtalk Enterprise – Desktop Version for 100 users
1 Year of VNCtalk App – Android Mobile App for 100 users
1 Day of remote service for VNCtalk Enterprise Installation on your private servers or at a service provider of your choice.
Please fill the form to participate