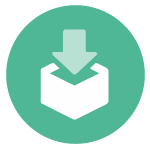 VNCerp aggregates and integrates business information intelligently – from CRM, purchase and production, through warehouse and project management to finance and marketing. VNCerp can be extended with numerous applications within one, and simply runs on your web browser.
High-End Business Software + Perfect Integration + 24/7 Support
VNCerp is an innovative, complete ERP business solution that comes with hundreds of modules, covering all business areas. Combined with our acclaimed VNC Services you not only get a powerful and open business solution, but also individual customizations to your specific needs, flexible implementation and system integration as well as reliable hosting and support services to ensure smooth application hosting, swift update and maintenance processes as well as highest accessibility.
Everything you need. In one place.
VNCerp is a complete Open Source Enterprise Resource Planning (ERP) solution with numerous features and applications, including Sales, CRM, Project Management, Warehouse Management, Production, Finance and Human Resources. There are more than 700 individual applications available for VNCerp. The modular architecture of VNCerp enables corporations to start with a few applications at a time, and then extend their ERP system as the need arises. Also, all applications can be fully customized to meet specific business requirements, providing an unparalleled flexibility and interoperability. VNCerp can be hosted with a corporation's own server infrastructure or within the VNCdatacenter, providing customers with the freedom of choice to find the solution that best fits their needs.


VNCerp gives users all the advantages of a modern ERP solution – without the disadvantages. VNCerp is one centralized solution that integrates all business applications. The interoperation of these applications represents incredible advantages and a flexibility that is unmatched by any other ERP system. The more applications you install, the more integrated and automated your business processes become.
Basierend auf Odoo
VNCerp is built on Odoo (formerly OpenERP), the most widely used Open Source ERP solution in the world. Odoo comes with hundreds of ready-made, customizable components for every industry and every company size. That way, users profit twice: from the professional Odoo support by VNC, and from continuous support and development by a large, active community.
Unglaublich einfach zu bedienen
VNCerp is fully web-based and comes with a slick, intuitive user interface. Using VNCerp does not require any software installation or maintenance, and VNCerp can run on any internet-enabled device. The excellent useability of VNCerp gives users to power to operate the solution without excessive training and reduces operation errors to an absolute minimum.
Erschwinglich
Odoo, the technological foundation of VNCerp, is 100% free Open Source. For organizations this means: No license agreements, no update costs, low maintenance costs, low system requirements, no vendor lock-in. This is what makes VNCerp one of the most affordable professional business solutions available on the market. Without any compromise in terms of performance and features, user-friendliness or security.
100% Open Source
VNCerp is fully Open Source, which makes this business software uniquely flexible, 100% customizable and more secure than any proprietary business application. VNCerp can be seamlessly integrated with your existing system environment and effectively protects your previous investments. The open architecture of VNCerp enables not only the full adaptation to your individual business needs but also meets highest security requirements, making sure that crucial business information only goes where it's intended to go.
Wie für Sie gemacht
VNCerp is a powerful ERP business software that can be fully customized to meet your company's requirements. This means that with VNCerp you are no longer forced to squeeze your internal processes and procedures into inflexible, pre-defined software processes. What's more: With VNCerp you can keep using your existing external components – as long as that's beneficial – because they can be integrated with VNCerp seamlessly. This flexibility makes VNCerp the perfect choice when it comes to software that indeed supports your business.
Sicher
VNCerp's open source code enables organizations and businesses to integrate this powerful business solution with strictest security requirements and policies. It is also possible to make sure – verifiably – at any time that the software does not contain any harmful source code that can possibly compromise the security, availability or confidentiality of sensitive business information. This makes VNCerp more secure and more trustworthy than any proprietary ("black box") software.


More ERP: VNC Development Services
Modulentwicklung
VNC develops client-specific modules for VNCerp and Odoo that correspond to individual customer needs and help to integrate VNCerp with special system requirements. Our development services include a detailed requirements analysis, programming, implementation, feature updates and the support of VNCerp / Odoo modules.
Hosting
VNCerp is a powerful, completely web-based software solution that can run either within your own IT infrastructure or hosted with an external hosting provider. With our VNCdatacenter we provide our clients with highly available, secure and flexible hosting services that give you a maximum of convenience and performance, information security and data protection. As part of our hosting services we take care of the fault-free operation of your business applications, all feature and security updates as well as comprehensive user training and support – 24 hours a day, 7 days a week.
Individuelle Anpassung
If required, VNC customizes existing VNCerp and Odoo modules for specific business requirements of our clients. That way we make sure that your ERP solution is seamlessly aligned to your established processes and supports you perfectly in doing your daily tasks.
24/7 Support
Companies that want to benefit from the numerous advantages of hosted business applications have to be sure that they have unrestricted access to all features and all data at all times. That's why we provide our clients with a broad range of support services that can be used immediately, 24 hours a day, 7 days a week. We work with a highly efficient "follow-the-sun" principle: Support tickets are processed by globally distributed support teams that are not limited by the work hour restrictions of an individual location. That's how we guarantee extremely short handling times and – in the rare case of an emergeny – the brisk recovery of all application functions.
This application is part of our technology stack
State-of-the-art. Fully open. True security.
"Wir haben uns für Zimbra entschieden weil wir aufgrund unserer komplexen Anforderungen auf eine transparente Open Source Plattform zurückgreifen wollten. Durch den Einsatz von Zimbra als Collaboration Tool konnten wir nicht nur Geschäftsprozesse sondern auch die Kommunikation mit unseren Kollegen und Kunden vereinfachen. Uns gefällt die Professionalität und der Spirit der einzelnen Mitarbeiter die unsere Projekte betreuen, und sind froh mit VNC einen tollen Consulting Partner gefunden zu haben."
Stefan Hartl, IT Technical Management, cargo-partner
Sind Sie bereit für VNClagoon?
Bringen Sie VNClagoon in Ihr Unternehmen. Sind Sie ein Softwareanbieter oder ein Telekommunikationsdienstleister? Werden Sie Reseller und bieten Sie Ihren Kunden VNClagoon an.