Die völlig neue Art der Unternehmenskommunikation
Die völlig neue Art der Unternehmenskommunikation
VNCmail offers all relevant mail features such as inbox, folders, filters, signatures, spam filters, keyboard shortcuts – in short, everything you are already familiar with from your everyday communication. And the clean VNCmail design makes communication fast and efficient.
VNCmail is more than just a common groupware tool. It can be integrated with several VNCproducts to vastly extend its range of functionalities. VNCsafe connects for example to VNCsafe, a file sync & share product, to attach files directly to emails. Of course any email attachment can be stored in VNCsafe, too.
VNCmail comes with a powerful VNCcalendar extension which manages not only private appointments, but enables professional group calendaring functions such as sharing and invitations. You can share your complete calendar to see each other's availability or, for example, birthdays and holidays in teams or the company.
VNCcontacts can also be included in VNCmail and offers a powerful contact management tool where users not only can store any kind of contact with lots of information, but also can sort the contacts in predefined or individually created user lists.
Many solutions offer merely limited branding options. We enable our customers to strengthen their corporate identity with very granular design options, matching their needs. Instead of just pinning a company logo in the top left corner, we can adapt the complete user interface of VNCmail according to the company CD/CI and we can also customize functionalities to industries or user groups.
VNCmail is available as Web Client, Desktop Client and App so you stay up to date wherever you are. The clear structure with its folders and filters make navigation easy and transparent.
Through the fast syncing between all devices our users are always up to date.


All common email features:
VNCmail offers you all features of an enterprise groupware. Inbox, folders, filters, signatures, spam filters, keyboard shortcuts, color tags, and many more. You won't miss a feature you already know.
Notifications and offline mode:
VNCmail is able to send notifications to your smartphone. So you will stay informed, even if you only have the chance to have a short peek at your phone. If you have received an email you can read it and compose a reply while you are still offline.
Latest Angular technology:
Don't worry about layout issues on different devices. Angular allows responsive design for mobile phones, desktop PCs, tablets and individual layouts to adapt the design to your company CD/CI. VNCmail will adapt to your needs, no matter which device you will use.
Easy integration with other products:
You need more features? No problem. VNCmail can be integrated with many VNClagoon products. You need video conferencing and chat with whiteboard and screensharing? Just integrate with VNCtalk. You work with attachments? VNCsafe helps you to keep your files securely in your cloud without wasting disk space on desktop PCs or smartphones. You'd like to enhance your project management? With the integration of VNCproject you can create tickets from emails directly.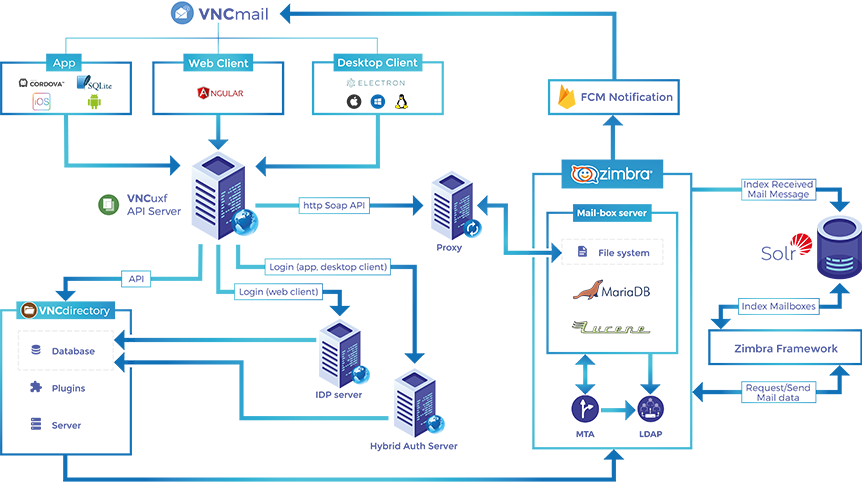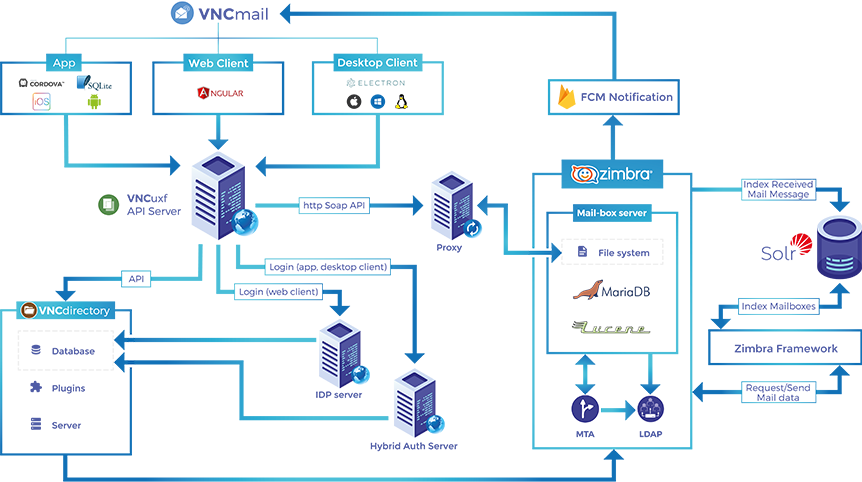 VNCmail Architecture chart
Technical documents and documentation
The VNCmail web client offers all communication features at a glance. You can write and receive emails, you can also plan appointments or manage files in VNCsafe. Each feature has its own tab providing a clear and convenient structure for all features like emails, contacts, files and appointments.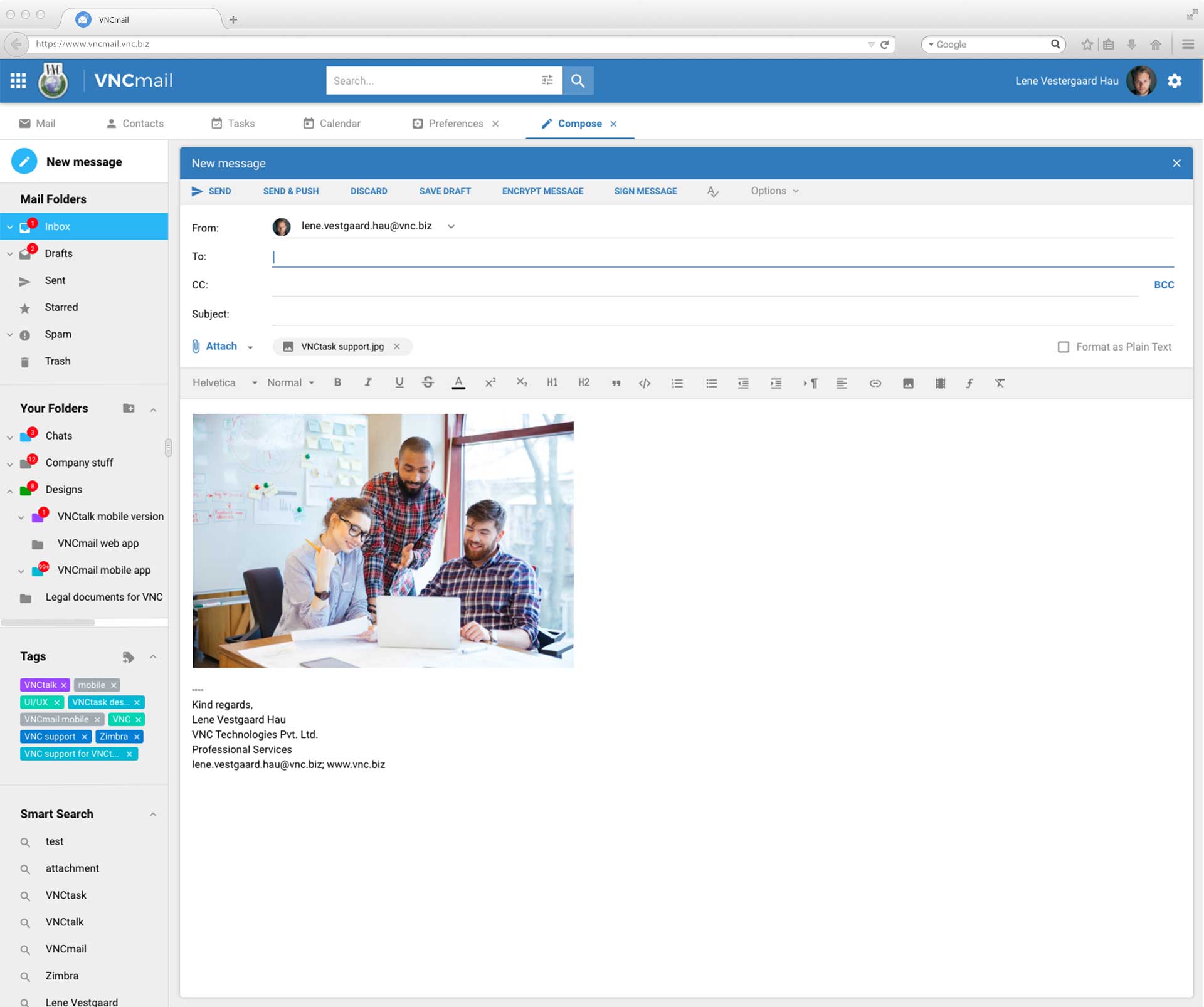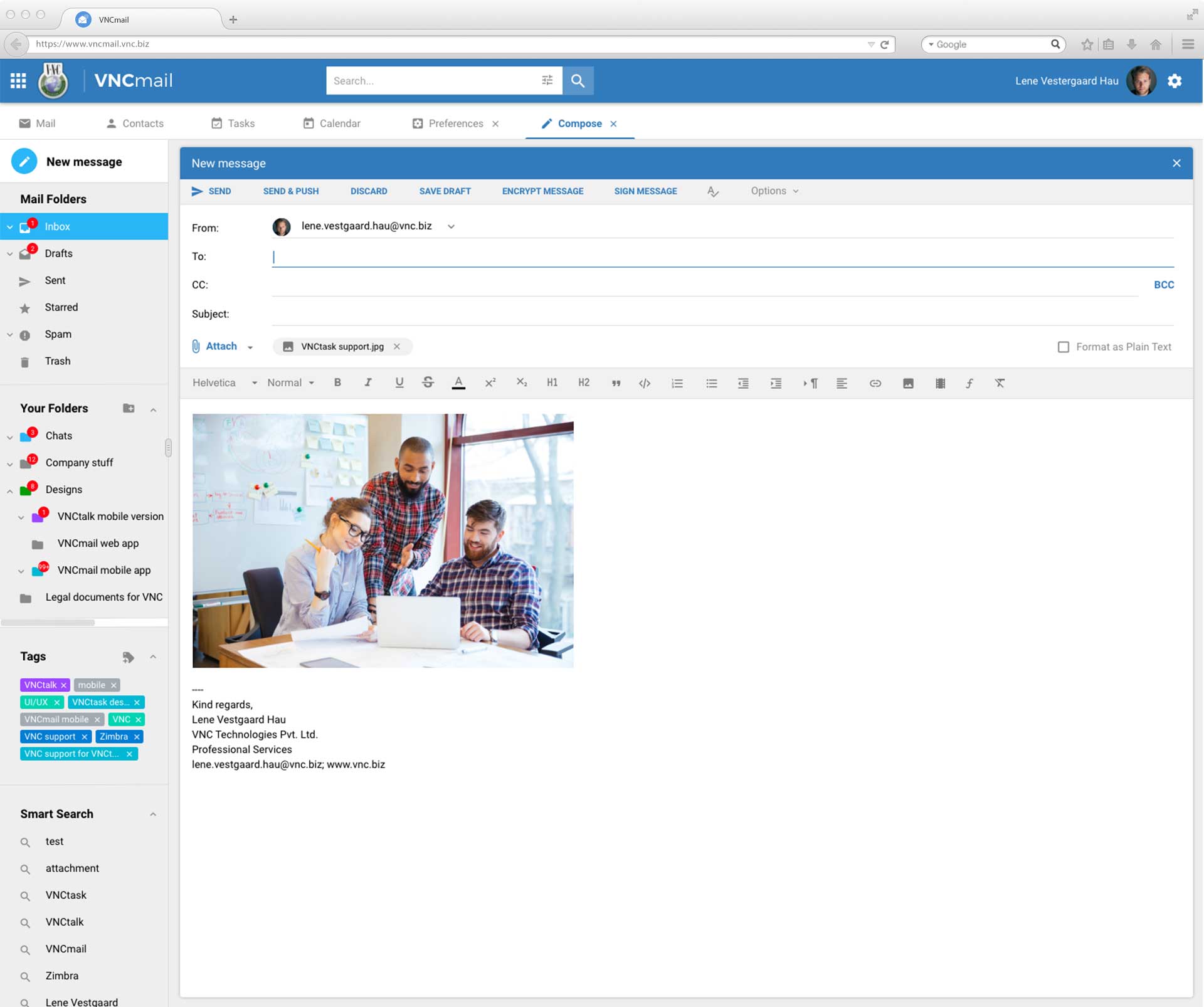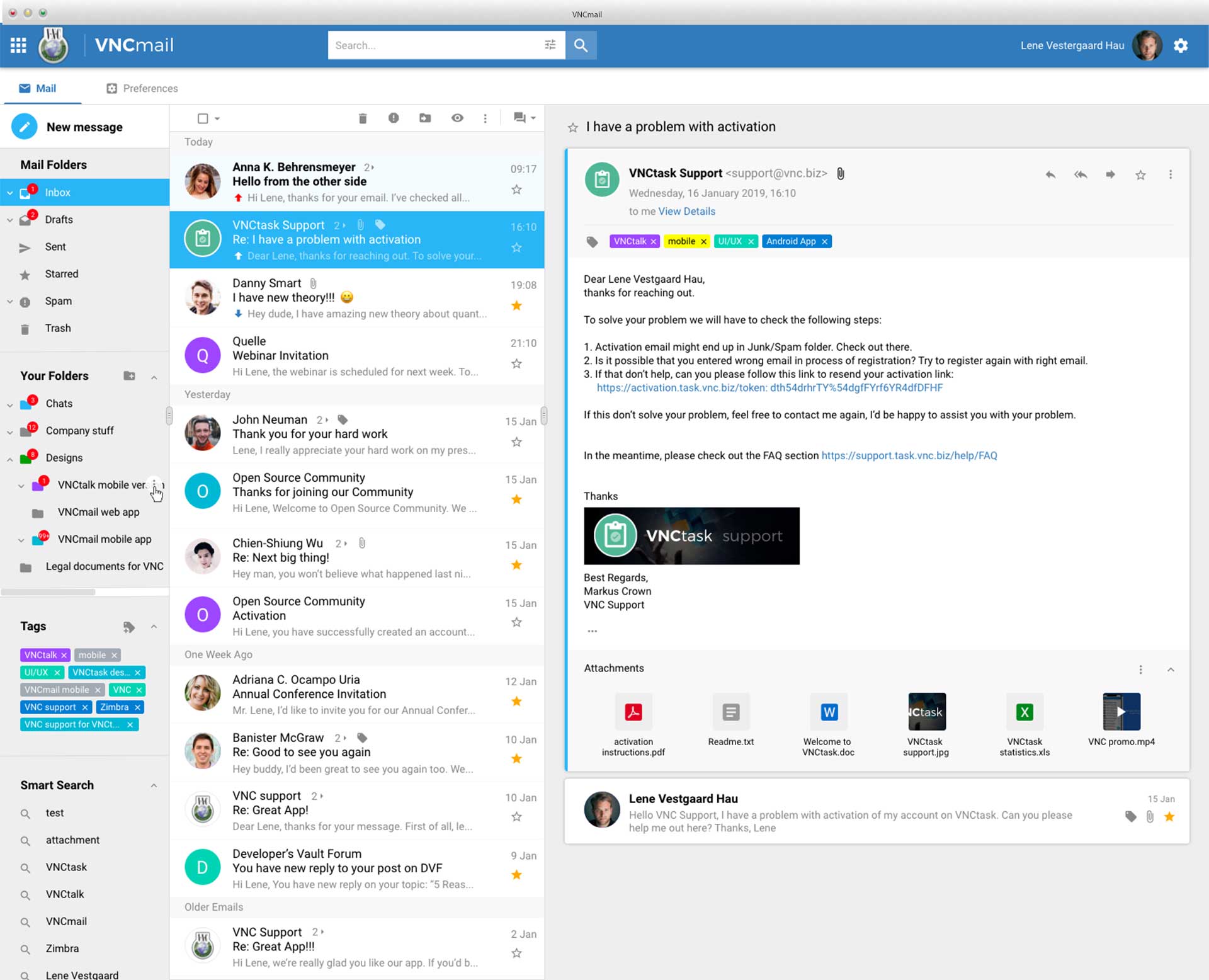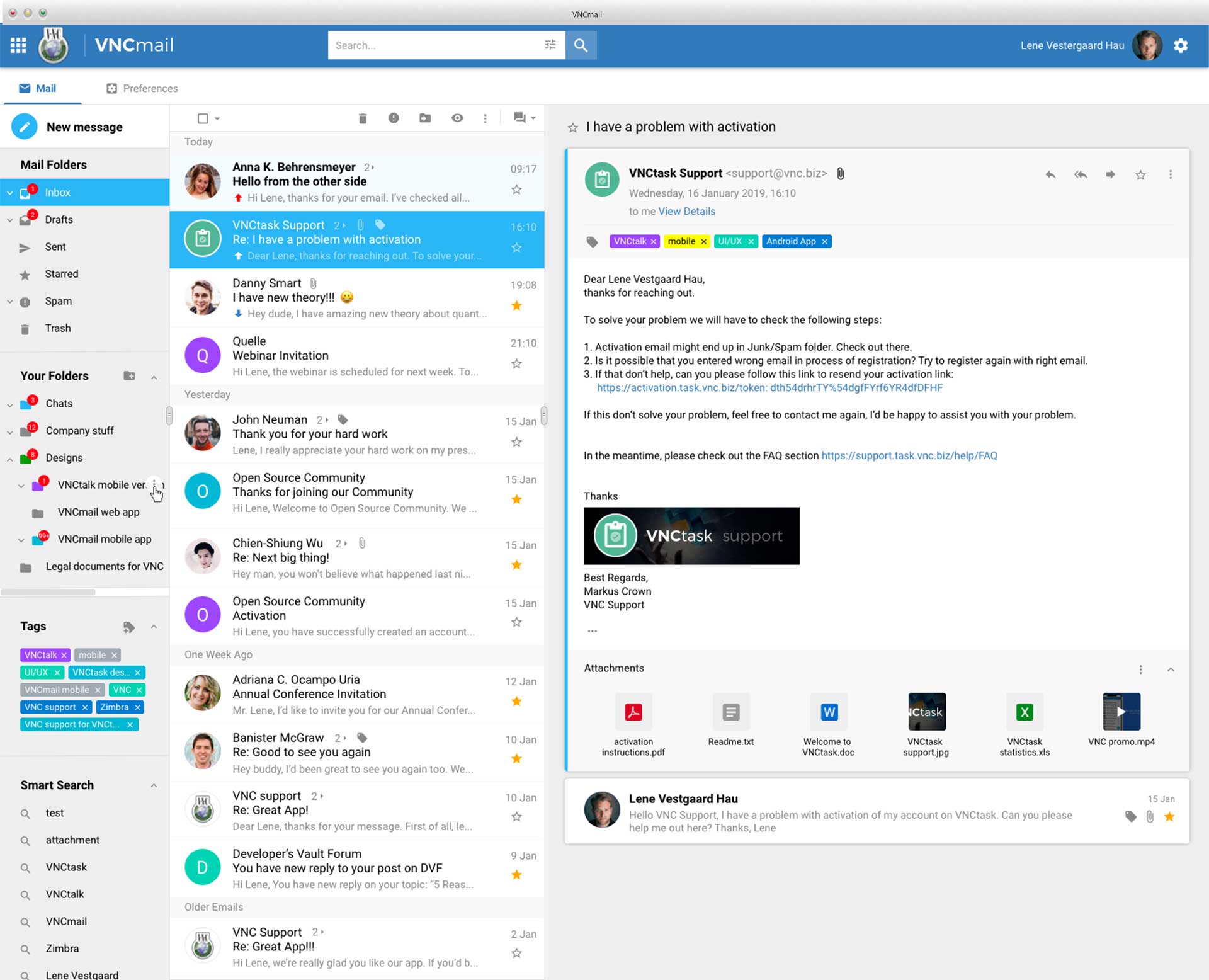 The VNCmail Desktop Client allows you to run VNCmail as a separate application on your desktop PC – on Windows, Mac, and Linux. Especially when working with lots of open browser tabs, it becomes handy to have a separate access point for your emails and the integrated tools. And of course you have the complete VNCmail features available, in any of our frontend clients.
Angular and Cordova based technology for Android, iOS and others.
This modern and easy to use App brings all the benefits of email, contacts, calendar and file storage to your mobile device. The VNCmail App is available for Android and iOS. VNCmail follows the Google material design standards and thus looks and feels familiar. Users get familiar with VNCmail instantaneously without any need to train users.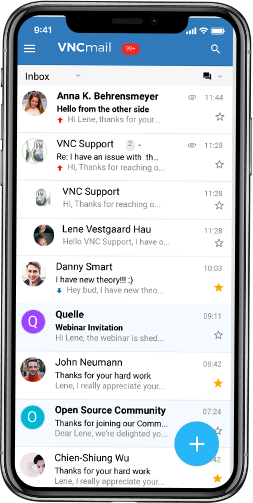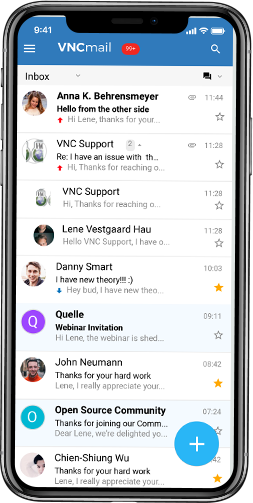 The VNCmail Widget for Android helps you with managing all your email related tasks such as checking new emails with new emails in bold in in the counter on top, scrolling through your previous email messages, reading your emails and writing a new email.
The VNCmail Widget comes with the VNCmail App, to give you the full feature set you need for your professional communication.
Just install the VNCmail App, select the Widget, change the Widget size according to your needs and you're ready to go.
As always: the design is flexible.
Latest VNCmail Release Notes