A safe place to store data, share insights,
grow knowledge & collaborate!
A safe place to store data, share insights,
grow knowledge & collaborate!
Find out how you can collaborate on and share your content.
VNCchannels is your place to store data, to search and retrieve information and to generate knowledge – collaboratively!
Bring your community together and collaborate with your team productively. Share ideas, discuss animatedly, come to conclusions, reach decisions and move forward with a common purpose. This is how innovation happens!
Definition:
A Channel is a container for various topics enabling the management of users, access, permissions and subscriptions. A Topic is a post in a Channel with varying content, which can be collaborated and commented upon by its members according to their permissions.
Create either public channels to include everyone in the workspace or private channels for selected members only to enable private conversations in smaller groups. Invite additional members as moderators or participants whenever you like.
All your content including text, files, images, videos and more finds its place in persistent channels organized by topic and tags.
Create public or private topics in your Channels depending on your requirements.
Subscribe to Channels or Topics and pin important Channels to structure the information you'd like to see first.
Comment on all the Topics you are invited to with text comments (with rich text format) including images, files, videos, and more.
"Smart link" information to create a web of information and aggregate knowledge within Channels or Topics. These "smart links" can also be used to link to other VNClagoon components like chat messages from VNCtalk, emails from VNCmail, tasks from VNCtask or tickets from VNCproject.
"Power Search" the complete content to retrieve exactly the information you need. Slice and dice all information you search via our extremely powerful VNCindex.
VNCtalk Channels is a product of the VNClagoon enterprise software suite – for Secure, Best in Class, Seamless Communication and Collaboration.
.

Create a Channel:
Define a Channel name, an image, add the Channel description, select public / private Channel, add users to the Channel
Copy or send a Channel link
Subscribe to / unsubscribe from a public Channel
Archive / unarchive a Channel
Create a Topic in a Channel:
Enter a Topic name, add the Topic header image, select the Channel where you want to create the Topic in, add tags, enable or disable comments, upload a file, add the Topic description
Subscribe to / unsubscribe from a Topic
Mark a Topic as read / unread
Copy or send a Topic link
Customise the display of Topics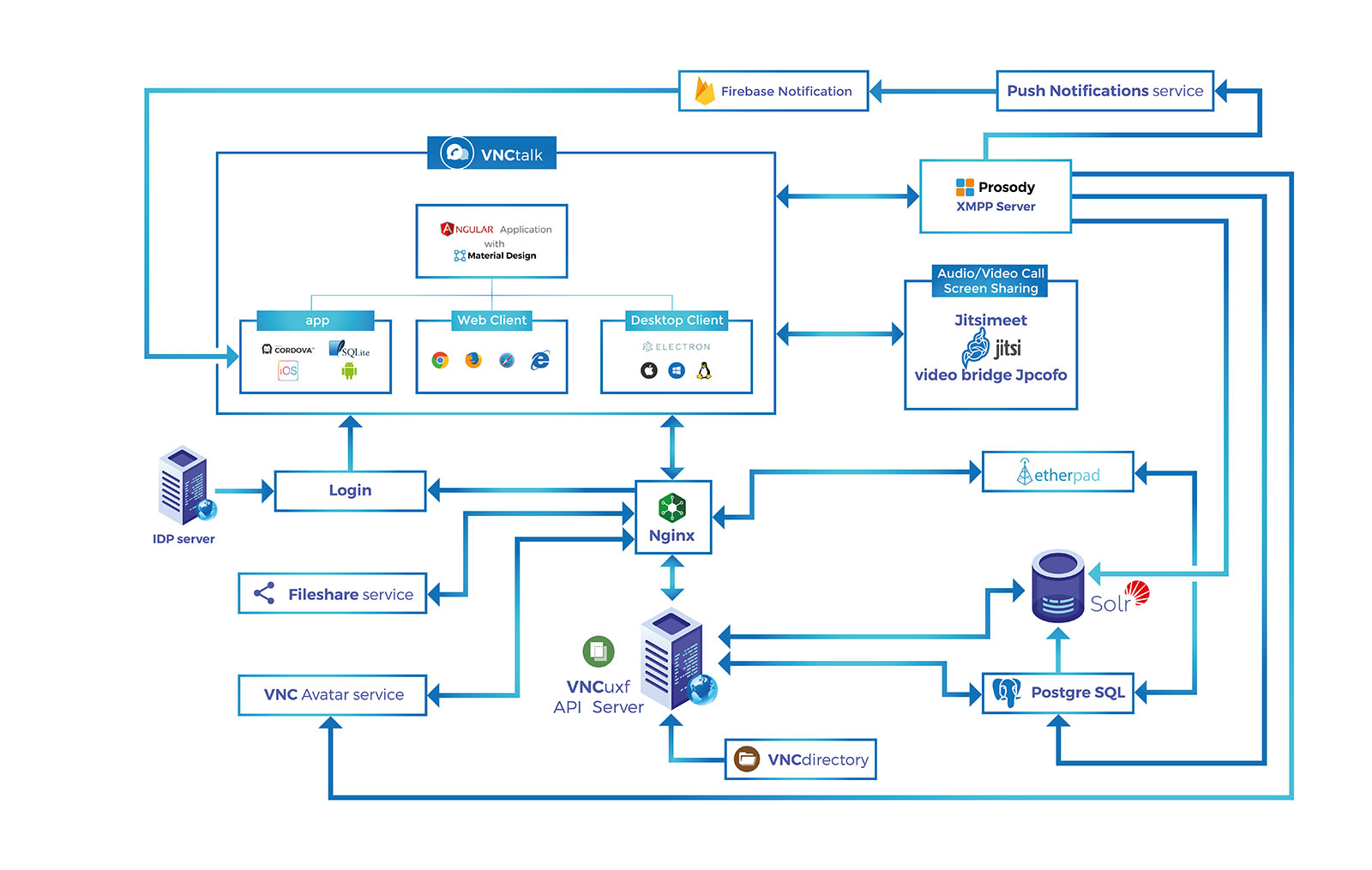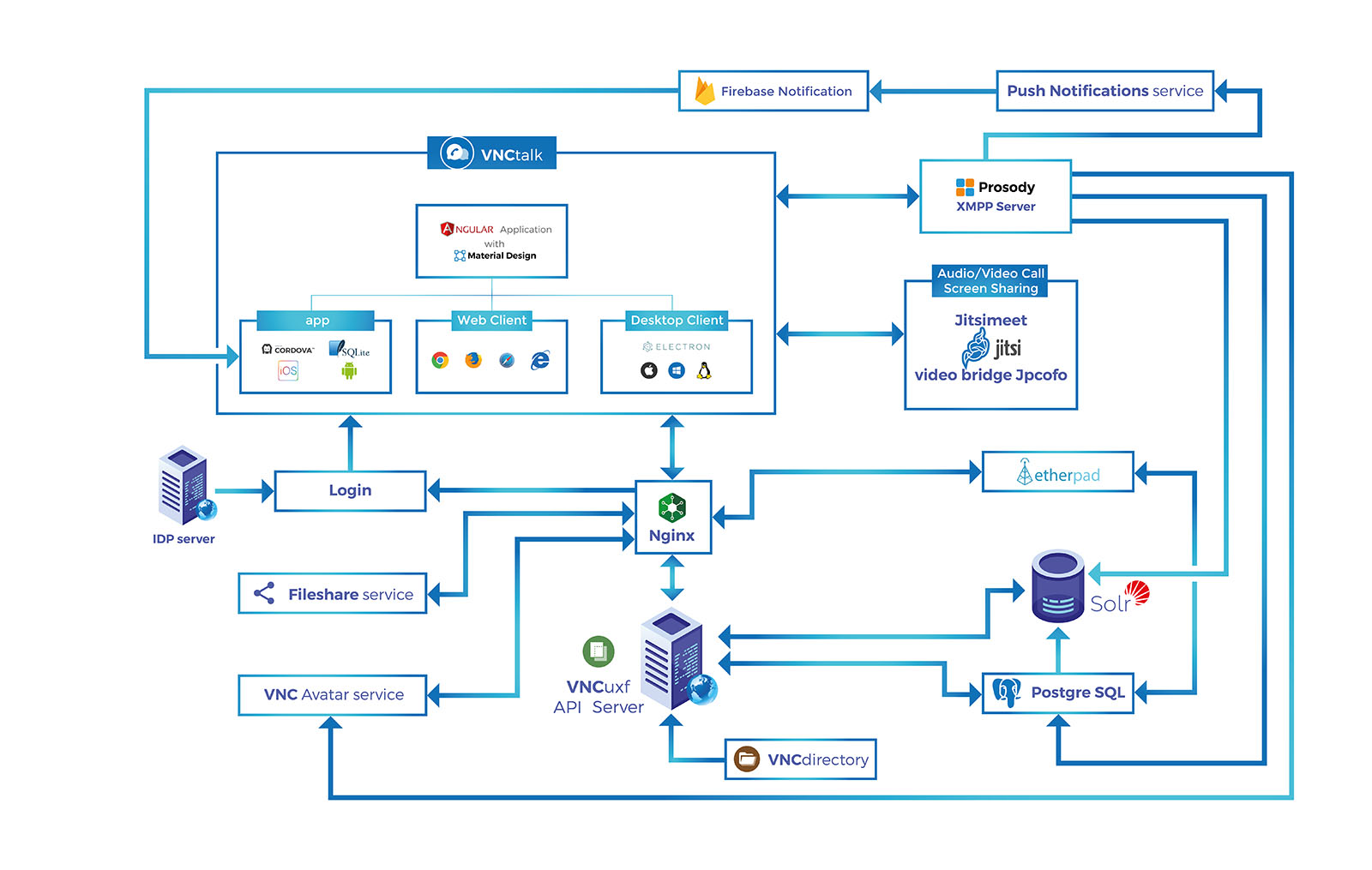 VNCtalk Architecture chart
Technical documents and documentation
The VNCchannels Web Client enables you to access all features in the same standard browser as VNCtalk, VNCmail or VNCproject. So you enter into your entire workspace with your browser, without having to start separate applications for each single activity you'd like to perform. The VNCchannels Web Client runs on any standard browser on Windows, MacOS and Linux.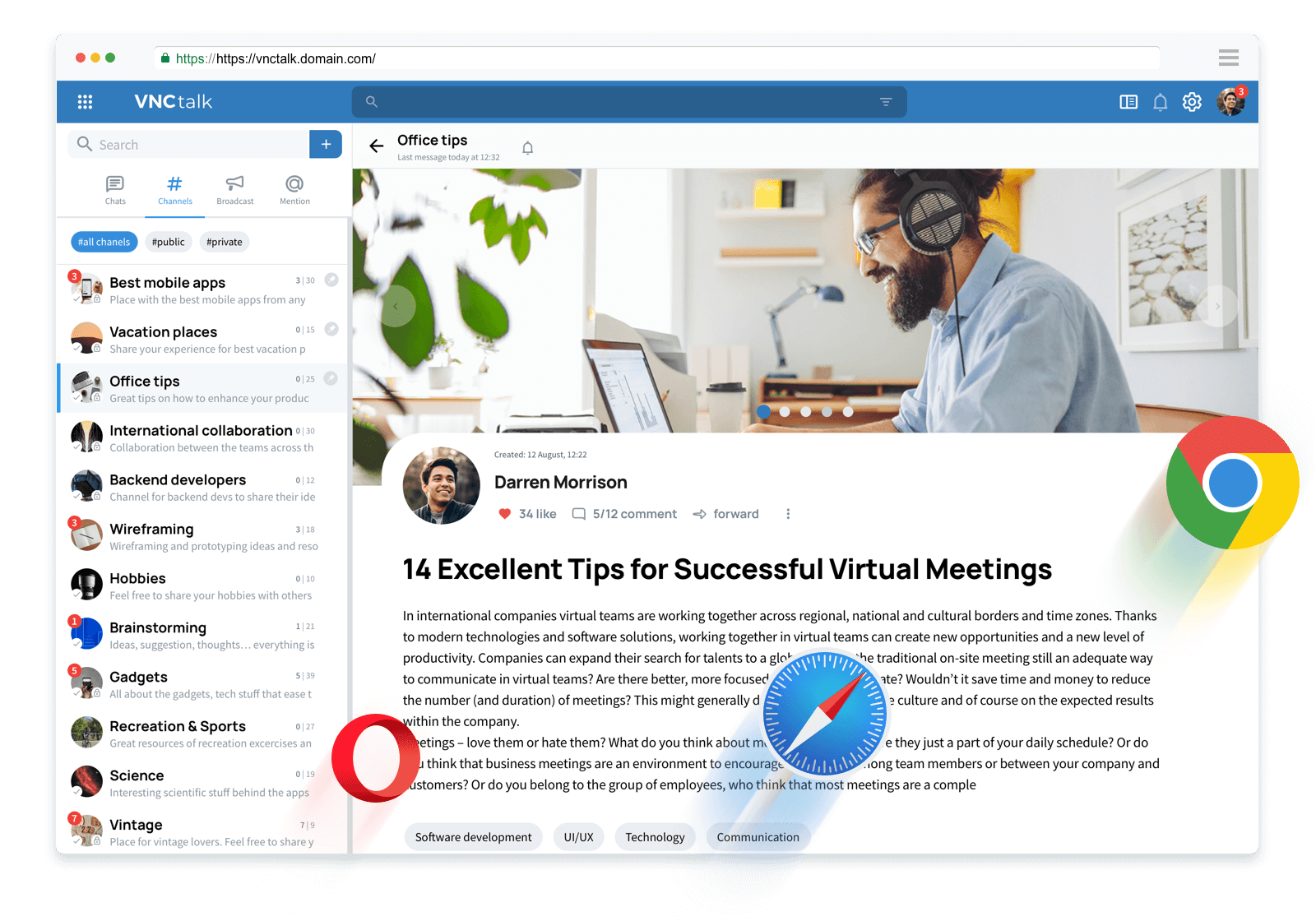 VNCchannels Desktop Client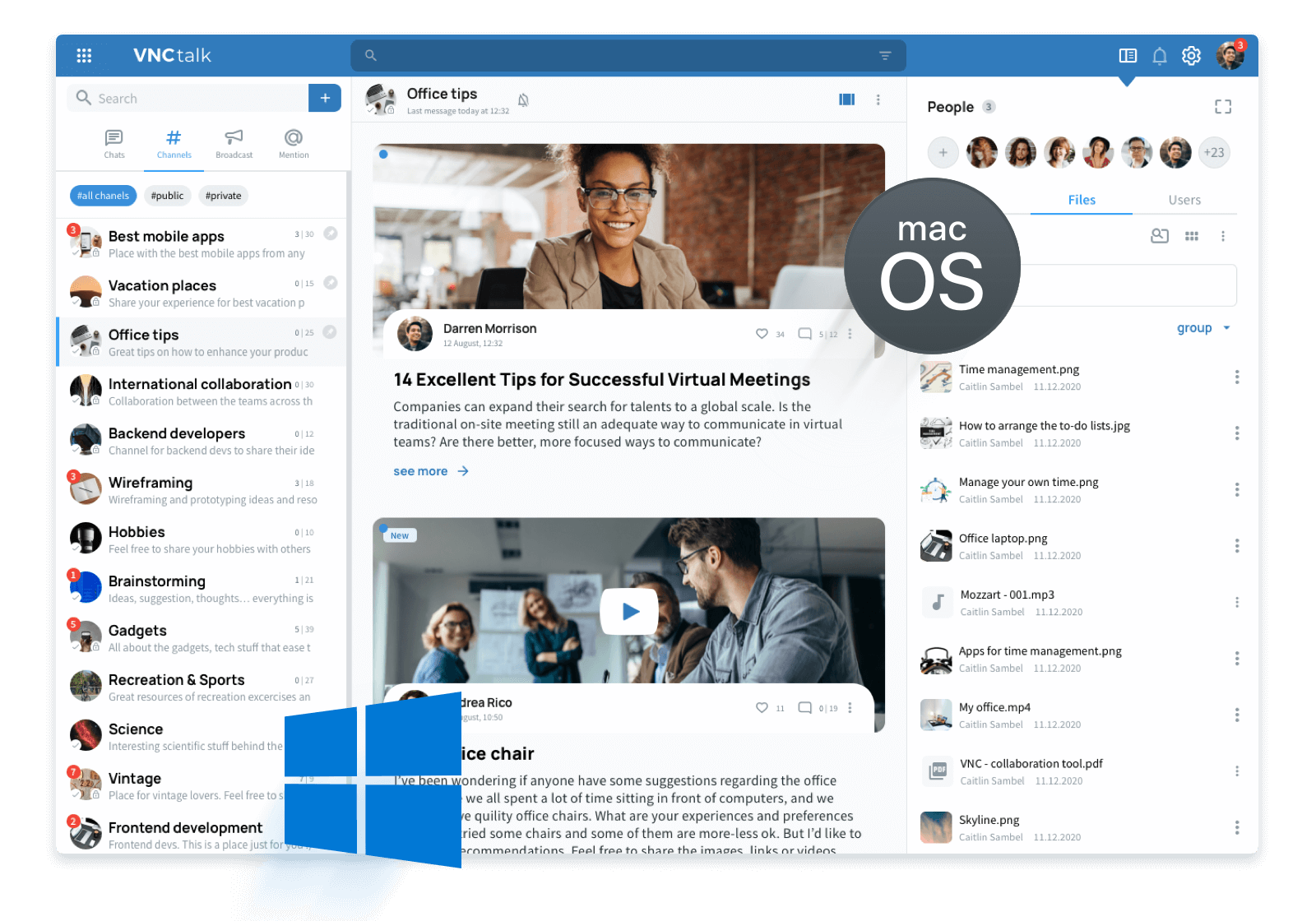 The VNCchannels Desktop Client allows you to run VNCchannels as a separate application on your desktop PC – on Windows, Mac, and Linux. Especially when working with lots of open browser tabs, it is useful to have a separate access point for your Channels and Topics. And of course you have all VNCchannels features available, in any of our frontend clients.
Latest VNCchannels Release Notes
Testimonials
We set highest standards in what we do. Just like our clients. That's why it is so important to us to know what they think about working with VNC and our business solutions.
"With VNCtalk, Zimbra becomes a true collaborative platform. A user can seamlessly chat, share files & collaborate from any device. Great product & company to work with."

Prashant Mudbidri Director of Logix InfoSecurity Pvt. Ltd about VNCtalk
"As part of this project, it was also very important for the representatives of the church that a WhatsApp alternative could be found. Short message services are commonly used, therefore EKBO Dialog was very welcome. "

Fabian Kraetschmer Head of Unit 1.3 – IT, EKBO about VNCtalk
Are you ready for VNClagoon?
Get started with VNClagoon in your enterprise. Are you a Software Vendor or a Telco? Become a Reseller and sell VNClagoon to your customers.