Multi Conference Board: Plan, run and manage
parallel online meetings from a central dashboard
Multi Conference Board: Plan, run and manage
parallel online meetings from a central dashboard
The Multi Conference Board (MCB) is another ground-breaking addition to VNCtalk. It is the perfect tool to manage virtual events of any kind and allows the scheduling, recording and archiving of your conferences.
VNCmcb enables you to conduct large scale virtual events of any kind through our VNCtalk applications.
VNCmcb allows you to run and manage several parallel conferences (video, audio, screen share, whiteboard) from a central dashboard.
In a professional management layer, we have introduced several new user roles: conference managers, moderators, participants and audience.
You can assign one or more conference managers and moderators to make sure that your virtual events are running smoothly. The invitees are either active participants or members of the audience, who are viewing a live stream of the conference and who can join actively by raising their hand.
The MCBs are managed via VNCdirectory. All meta data can therefore be analyzed retrospectively.
Individual video conferences are "streamed" as tiles to the MCB, where a conference manager keeps the complete overview, can invite and manage participants, send broadcasts to the audience, chat with individual participants and much more.

Meetings
Schedule and start video meetings, with the additional ability to manage all planned, live, finished and archived conferences;
User roles
There are several new user roles: conference managers, moderators, participants, and audience. Assign and alter participant roles to suit the needs of your meetings.
Chat
Broadcast to all participants, or chat to individuals one a one-to-one basis.
Record Conferences
Keep recordings of conferences, meetings or online presentations for future use.
Meta conference boards list
View conference statistics for each meta conference board in an easy to digest way. Each board contains the following information: the number of live, scheduled, ended, and archived conferences.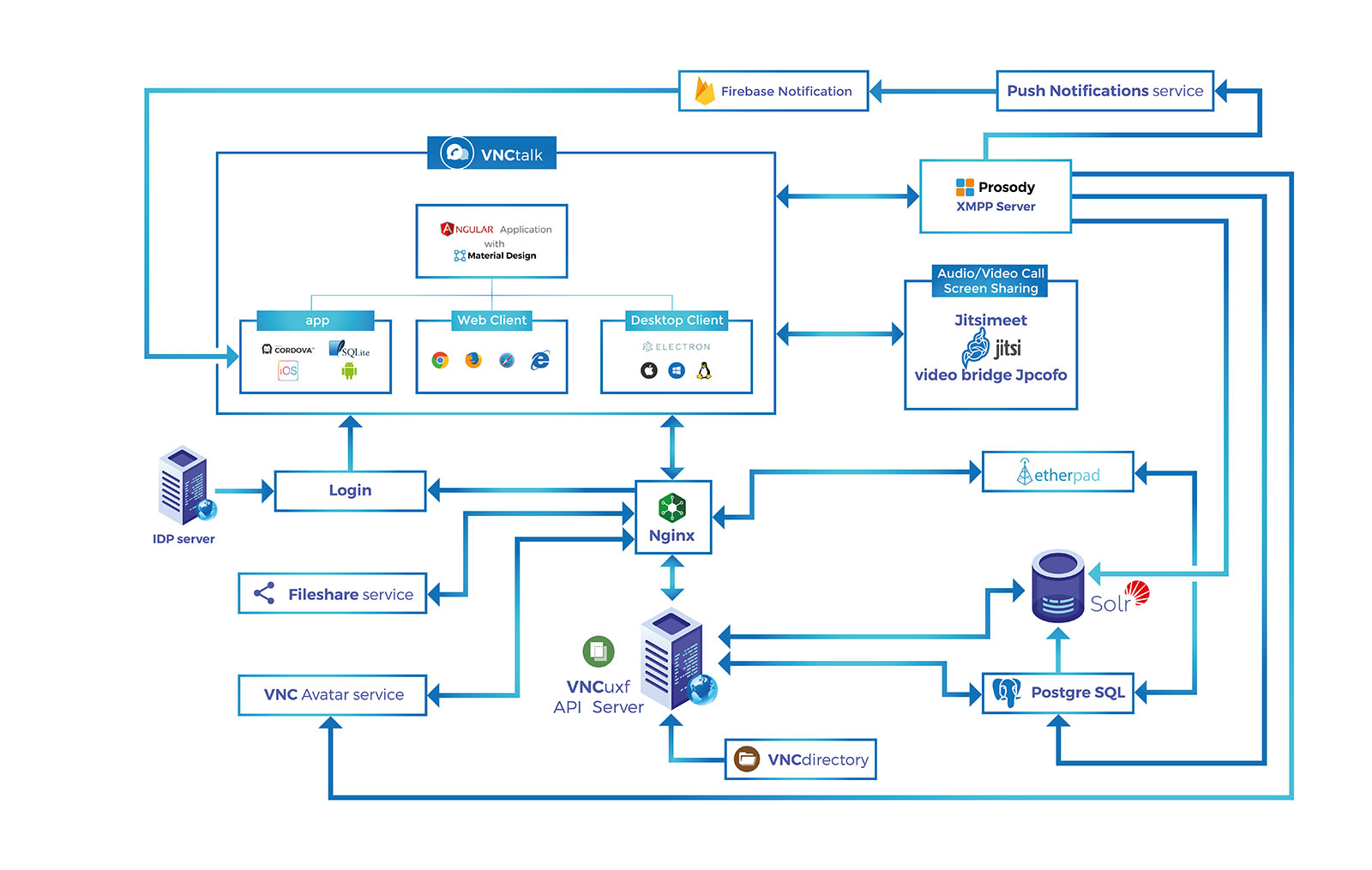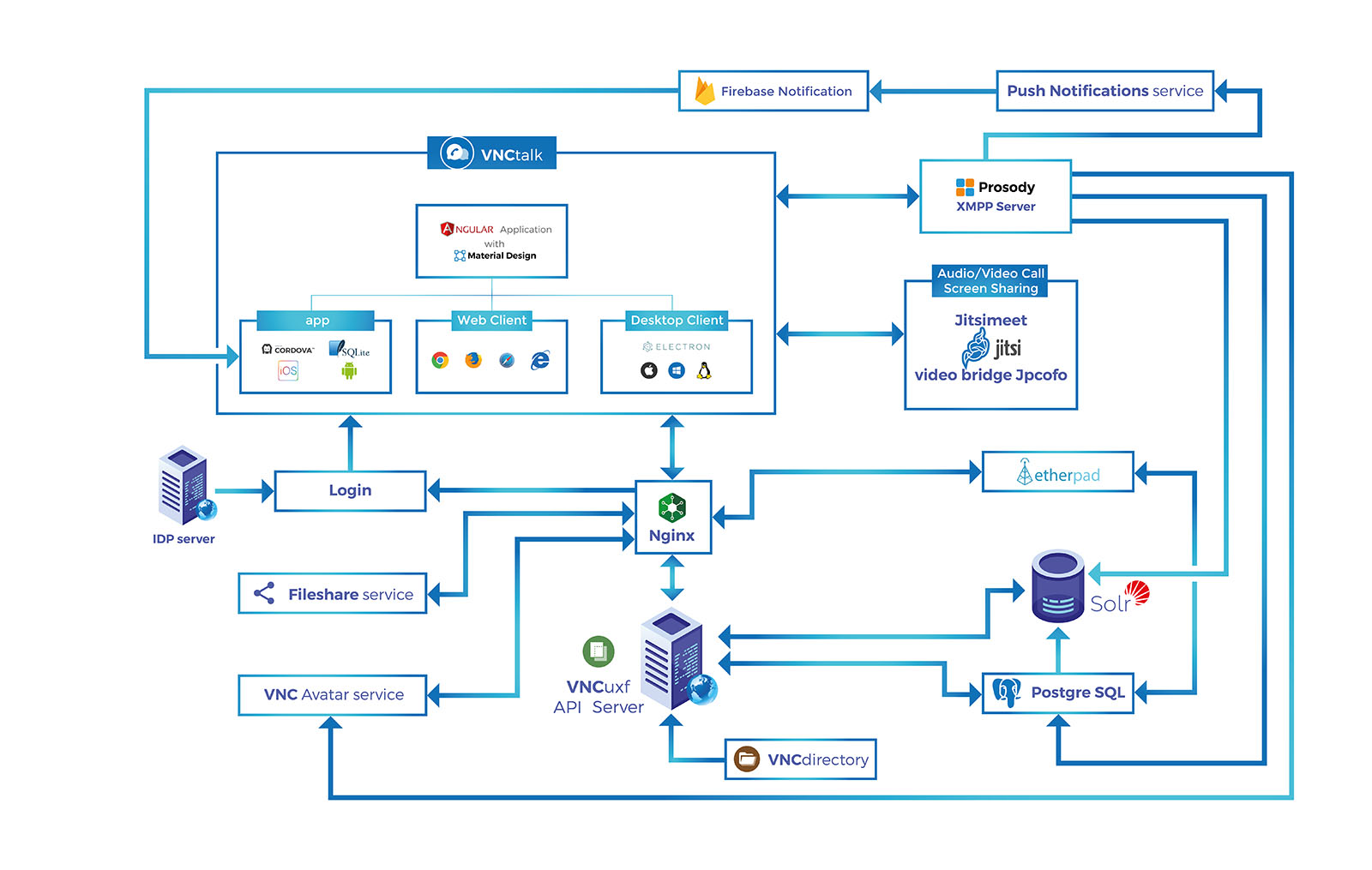 VNCtalk Architecture chart
Technical documents and documentation
The VNCtalk Web Client enables you to access all professional VNCtalk communication features, including the VNCmcb functionailty in the same standard browser as VNCmail or VNCproject. So you enter into your entire workspace with your browser, without having to start separate applications for each single activity you'd like to perform. The VNCtalk Web Client runs on any standard browser on Windows, MacOS and Linux.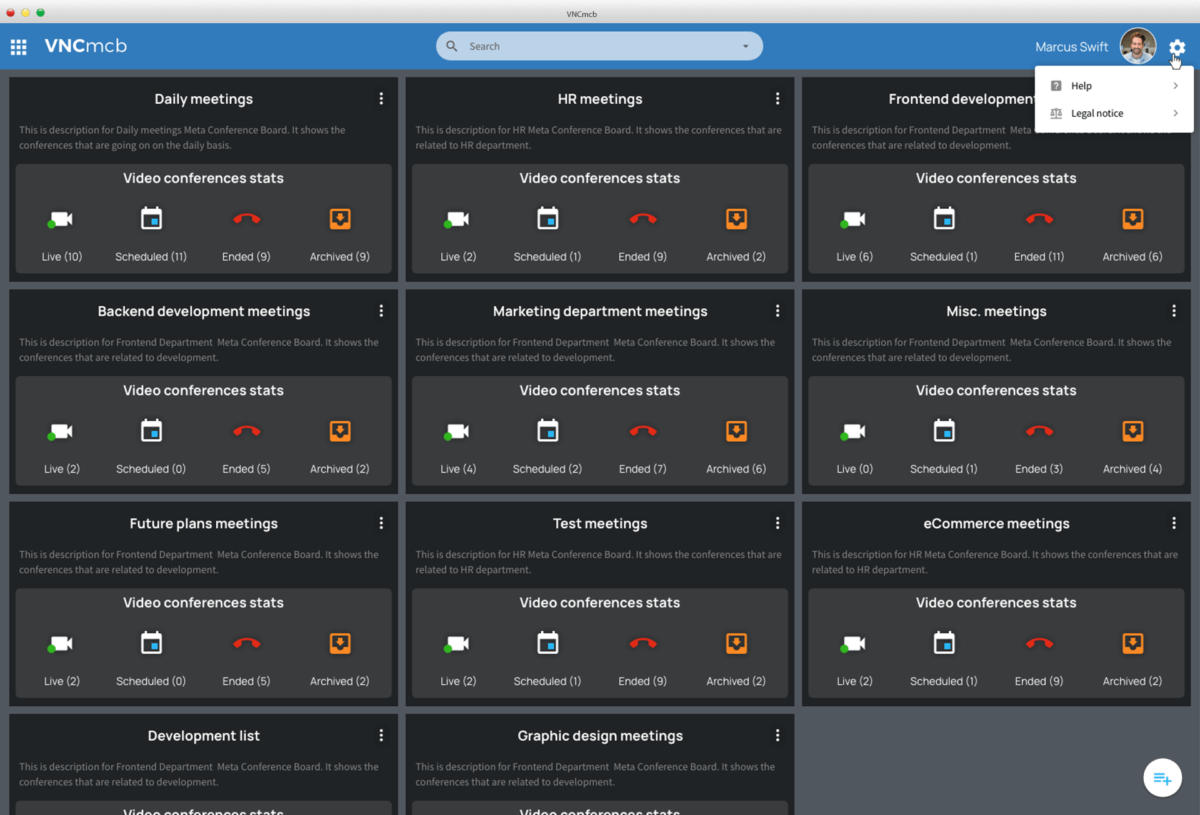 Latest VNCtalk Release Notes
Testimonials
We set highest standards in what we do. Just like our clients. That's why it is so important to us to know what they think about working with VNC and our business solutions.
"With VNCtalk, Zimbra becomes a true collaborative platform. A user can seamlessly chat, share files & collaborate from any device. Great product & company to work with."

Prashant Mudbidri
Director of Logix InfoSecurity Pvt. Ltd
about VNCtalk
"As part of this project, it was also very important for the representatives of the church that a WhatsApp alternative could be found. Short message services are commonly used, therefore EKBO Dialog was very welcome. "

Fabian Kraetschmer
Head of Unit 1.3 – IT, EKBO
about VNCtalk
"With VNCtalk, we have found a solution that fully meets our requirements in terms of security, data sovereignty, functional scope and openness.
The pressure to digitize in the healthcare sector has become more sustainable, and in this sensitive area, security and data integrity are top of the list of requirements. With VNC we have found the right partner for this."
Lucas Schult
CEO of Health Info Net AG (HIN)
"At EKBO (Evangelical Church of Berlin-Brandenburg-Silesian Upper Lusatia), we are in a process to implement a state-wide intranet for all our employees and volunteers based upon VNClagoon. Zimbra is an important part of this intranet as it offers the best functionality and value-for-money solution for email based communication available on the market today."

Tabea Langguth

Project Manager Landeskirchenweites Intranet, EKBO
"As emergency pastoral care we are requested by the fire department and the police in missions and there it is totally important for us to be enabled to communicate safely on the go with each other, and therefore to be allowed to communicate with each other. And that's why the national church-wide intranet (LKI) is a useful tool for us. First, it offers the chat function via EKBO Dialog for us and second, we can store our files to organize ourselves. We can use the document storage, the "safe", because we are working very decentralized."



Commissioner EKBO Emergency pastoral care
"The advantage is that you can access from many places. … You can work with different devices simultaneously."



Superintendent, EKBO
"More and more users are actively using the "Safe" area to send and share large files."



Church district Prignitz, EKBO
"I can use the intranet on my cell phone. I can be very mobile, act very quickly and respond to different requests. And I also try to send a lot of data with it. So we work a lot with sensitive data and that simply helps me to send personal data with a clean conscience"



Vicar, EKBO
"We see the greatest advantage in having all documents available online. We get almost everything as an e-mail attachment now or access online data ourselves, so that we really have an online working level for everyone. … so that the documents are available in different places … and that the data protection requirements are always met."



Church congregation employee, Berlin, Am Weinberg, EKBO
Are you ready for VNClagoon?
Get started with VNClagoon in your enterprise. Are you a Software Vendor or a Telco? Become a Reseller and sell VNClagoon to your customers.