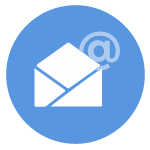 A whole new experience in enterprise communication
Improve your email communication with VNCmail
All typical mail features
VNCmail offers you all relevant mail features such as inbox, folders, filters, signatures, spam filters, keyboard shortcuts – in short, everything you are already familiar with. And the clean design makes your communication fast and efficient.
Additional features
Create and share folders with colleagues and partners.
Extend the functional range of your groupware: VNCmail can be integrated with VNClagoon products like VNCtalk for video conferencing and chat or VNCsafe to use your cloud storage for attachments.
Whole new layout
Many solutions only offer limited branding options. Strengthen your corporate identity with a layout matching your needs. Instead of just seeing your company logo in the top left corner, we can adapt the whole design of VNCmail to your company CD/CI or add additional features fitting your needs.
Keep track of your communication everywhere!
Clear view of all mails through folders and filters
responsive design for desktop and mobile with latest Angular technology
fast sync: receive your mails wherever you are, all emails are synced on all your devices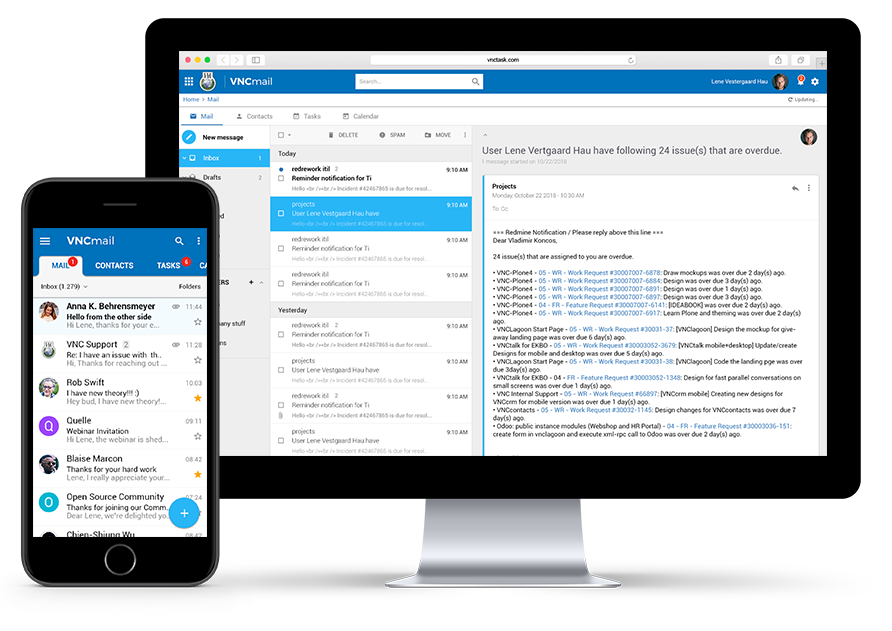 Why choose VNCmail?
Highly secure: You can host VNCmail on-premise or on our secure servers in Switzerland and you will match data protection regulations such as the European GDPR. Powerful spam filters protect your company assets.
Integration with other VNC tools: unify your communication through combining email with video conferencing, chat, cloud storage or business social media. With our modular tools your communication system grows with your needs.
All groupware features – and much more.
Offline mode & synchronization: Answer your mails even if you are offline and on any device – your reply will be sent as soon as you are connected to the internet again and your mailbox is synced on all your devices.

All common email features:
VNCmail offers you all features of an enterprise groupware. Inbox, folders, filters, signatures, spam filters, keyboard shortcuts, color tags, and many more. You won't miss a feature you already know.
Notifications and offline mode:
Using Cordova technology enables VNCmail to send notifications to your smartphone. So you will stay informed, even if you only have the chance to have a short peek at your phone. If you have received an email you can read it and compose a reply while you are still offline.
Latest Angular technology:
Don't worry abut layout issues on different devices. Angular 7 allows responsive design for mobile phones, desktop PCs and tablets and individual layouts to adapt the design to your company CD/CI. VNCmail will adapt to your needs, no matter which device you will use.
Easy integration with other products:
You need more features? No problem. VNCmail can be integrated with many VNClagoon products. You need video conferencing and chat with whiteboard and screensharing? Just integrate with VNCtalk. You work with attachments? VNCsafe helps you to keep your files securely in your cloud without wasting disk space on desktop PCs or smartphones. You'd like to enhance your project management? With the integration of VNCproject you can create tickets from emails directly.
All common email features
easy integration with VNC business tools
responsive design with Angular technology
offline mode
individual design
fast synchronization
notifications
on-premise or hosted in the VNC datacenter in Switzerland
powerful spam protection
highly secure
This application is part of our technology stack
State-of-the-art. Fully open. True security.
"Switching from our Groupware to Zimbra has been efficient and easy, thanks to the team at VNC. The users got accustomed to the new interfaces and processes in no time. Zimbra runs very stable and the central administration makes it easy to handle. Due to the extreme easy integration of mobile devices, we were able to even tighter integrate Zimbra into our business processes."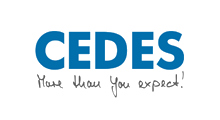 Stefanie Rufinatscha, CEDES AG
Are you ready for VNClagoon?
Get started with VNClagoon in your enterprise. Are you a Software Vendor or a Telco? Become a Reseller and sell VNClagoon to your customers.