Real-Time Business Communication: chat, video and audio conferencing, broadcasts, screensharing wherever you are!
Real-Time Office Communication Apps: chat, video and audio conferencing, broadcasts, screensharing wherever you are!
VNCtalk is an unique enterprise real-time communication solution including chat, video and audio conferencing, screen sharing, voice messaging, file sharing, broadcasts, document collaboration and much more.
VNCtalk is available as a full featured Web Client in your browser, Desktop Client (Windows, Mac, Linux) and VNCtalk App (Android and iOS).
VNCtalk is not "just another messenger"!
First of all, VNCtalk is entirely transparent for our partners and customers. There is no security without open, transparent, readable, auditable code.
VNCtalk is not "just another SaaS messenger". We are not keen on having our customers' private data on our host. Therefore, VNCtalk is also available for on-premise installation. This is the only way you can make sure your data are controlled by your administrators and nobody else.
VNCtalk is also an OEM product. That means partners can add their logo, CD/CI and at the same time modify the front end from a UX (user experience) perspective. We have sold VNCtalk to various industries where we found very differing user stories.
VNCmeet, as part of VNCtalk, enables you to start video calls with external guest users, who don't need a VNCtalk subscription. No VNCtalk account needed, no app download necessary – just invite external participants by adding their email address and start a video meeting!
The VNCtalk App is not "just another messenger", it is a real alternative to WhatsApp. VNCtalk comes with the familiar features – and some more!
The VNCtalk App is of course free of advertising and it is equipped with a number of nice features like: screen share, document collaboration in VNCpads and many more.
VNCtalk can be seamlessly integrated into our VNClagoon stack. Start a chat or audio / video call – by simply clicking on a user in VNCmail, VNCtask, VNCcontacts etc.
VNCtalk is equipped with state of the art backend technologies and products like PostgreSQL, Solr, Jitsi Meet, Prosody etc. – all those tools are accessible via a powerful Restful API.
VNCtalk is scalable up to a huge number of users. Just enhance bandwidth, add more instances and here you go.
VNCtalk is our flagship product, so we have lots of ideas how to make it even more productive. Examples are social messenger features (@ping-user, tag, meta notice to chats, subscribe to group chats) and many more.


Text chat:
1:1 or 1:n text chat – all you need is a browser.
Audio and videoconferencing:
1:1 or 1:n video chat. Perfect audio and image quality. You will be amazed by this kind of virtual reality! Save travel costs and get hold of your team with one click.
Screen sharing:
Screen Sharing in your browser – no extra tool or plugin required. Pure power of WebRTC.
VNCmeet:
Invite external users just via email or link to audio and video conferences – no downloads or installations needed on guest side.
Encryption:
Optional end-to-end encryption for utmost privacy and secrecy in your communication.
File transfer between users:
Send any file formats to your chat partners.
Collaborative document creation and editing:
Amazing way to brainstorm, discuss and collaborate on documents. With VNCtalk Enterprise Edition you even gain access to VNCoffice – the full feature Office Suite.
Automatic contact list population:
Get access to your distribution lists and work groups thanks to the seamless integration with VNCdirectory.
Works on mobile devices:
No need to use a laptop or desktop. VNCtalk runs on any browser and as an App.
Whiteboards:
Collaborate on Whiteboards with images, shapes and text.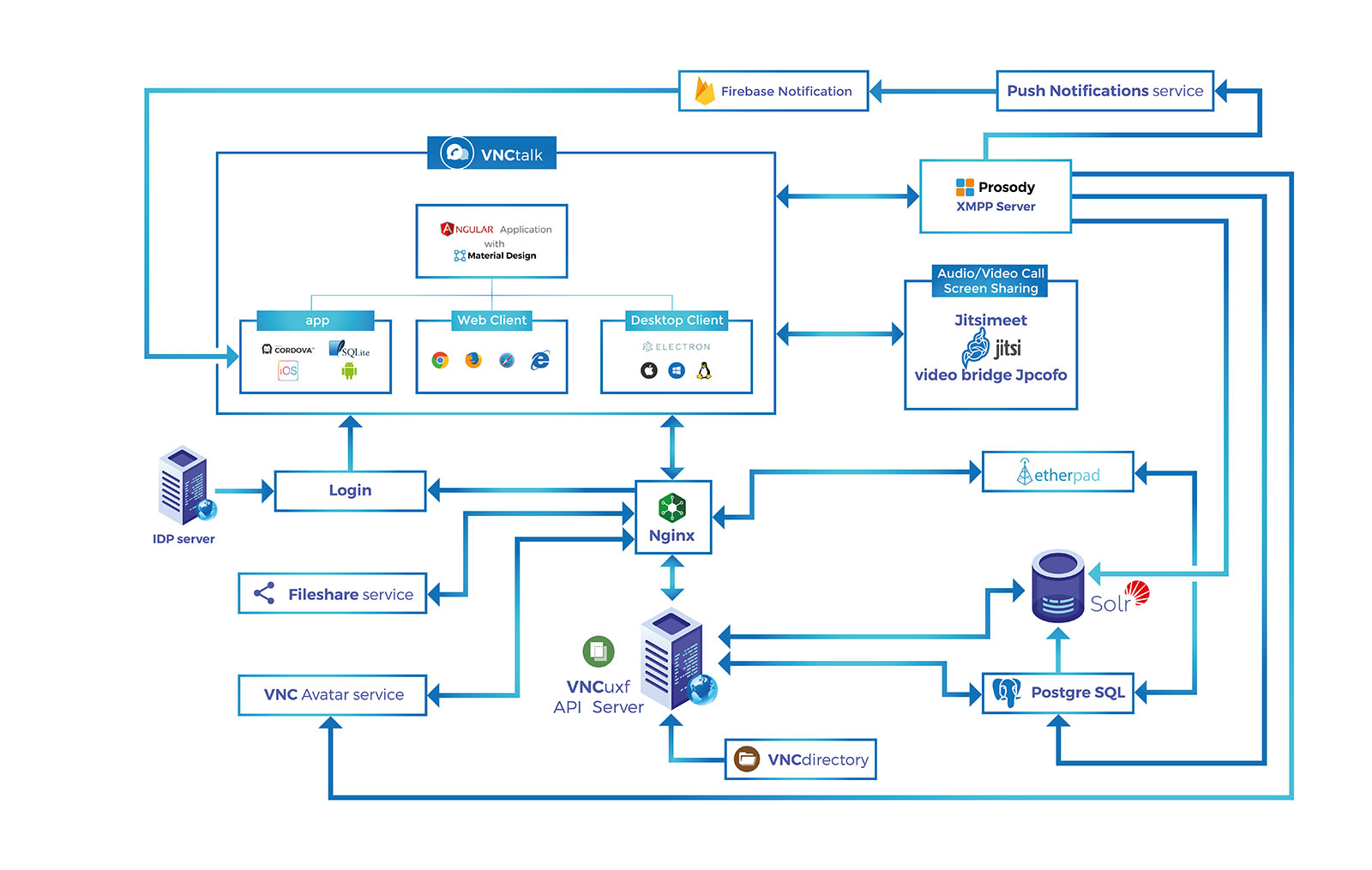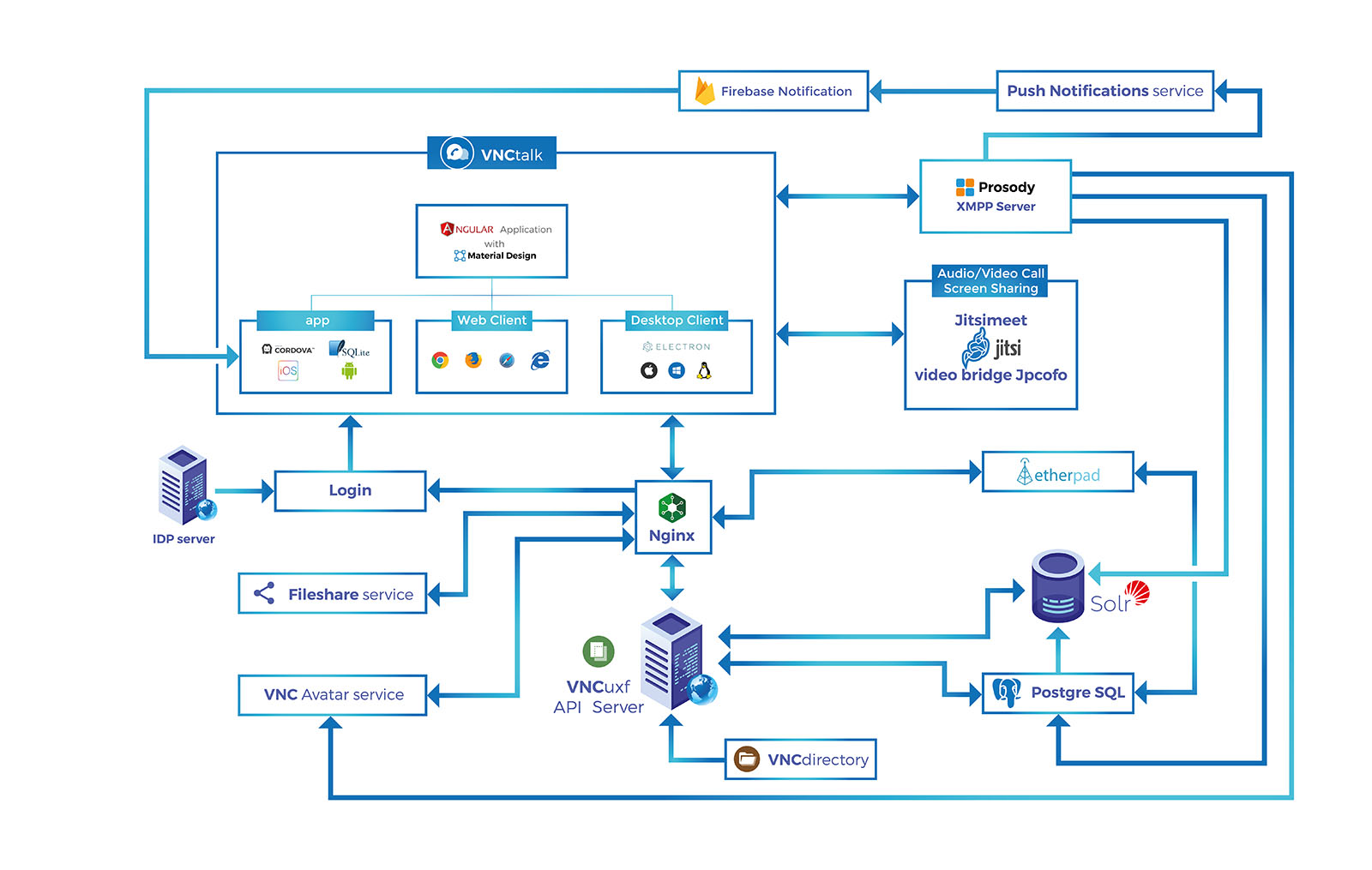 VNCtalk Architecture chart
Technical documents and documentation
The VNCtalk Web Client enables you to access all professional VNCtalk communication features like chat, audio and video conferences in the same standard browser as VNCmail or VNCproject. So you enter into your entire workspace with your browser, without having to start separate applications for each single activity you'd like to perform. The VNCtalk Web Client runs on any standard browser on Windows, MacOS and Linux.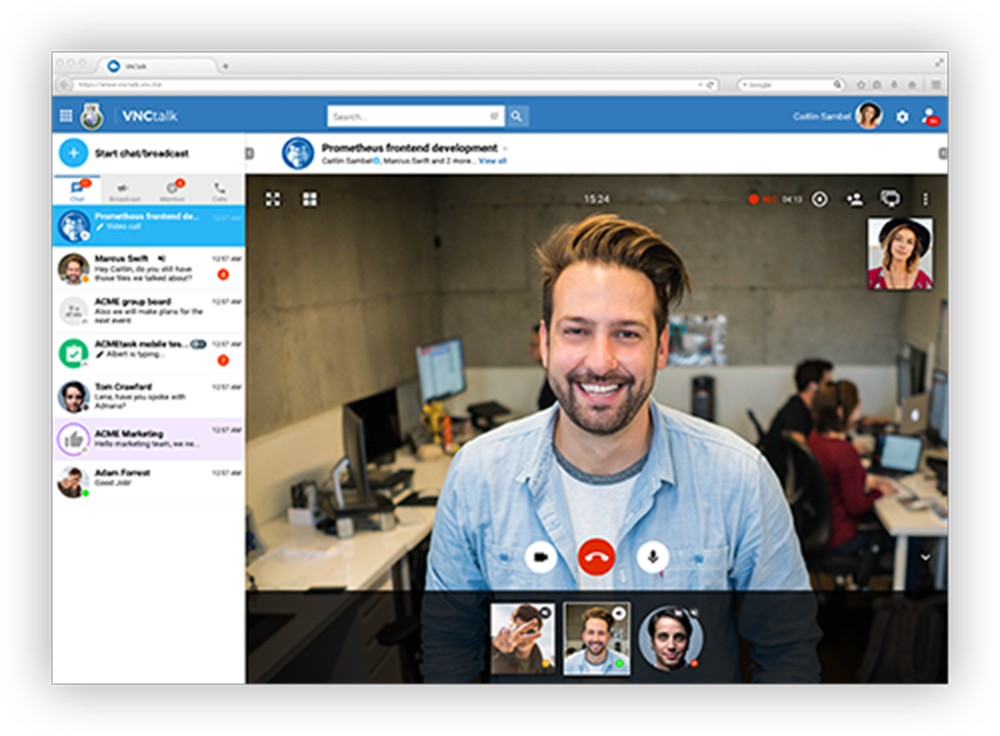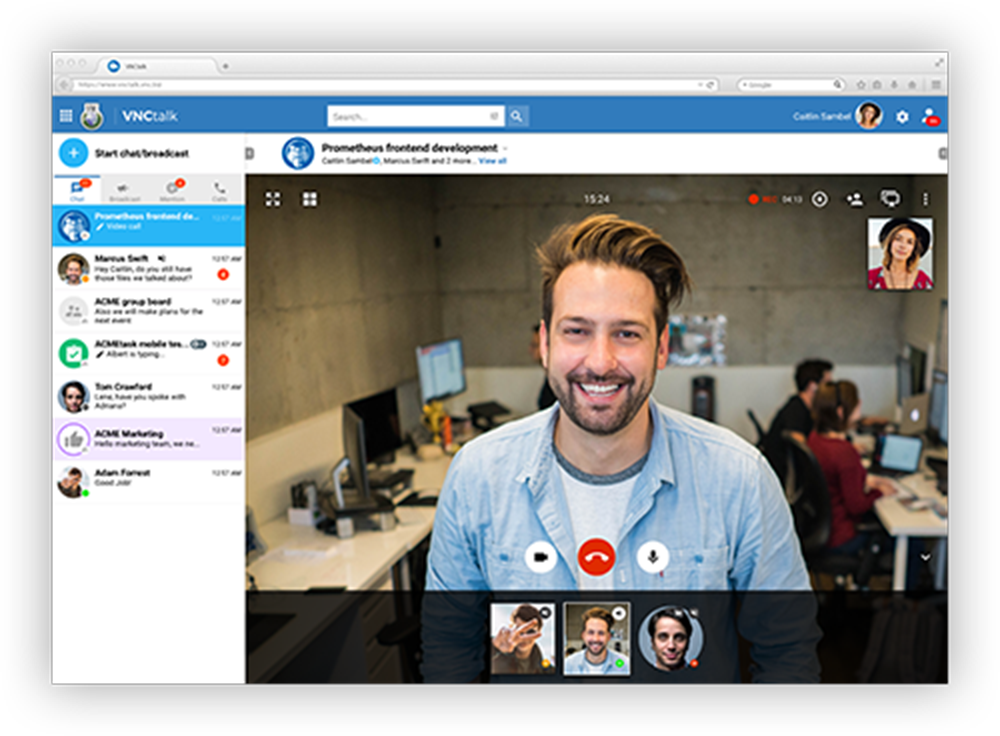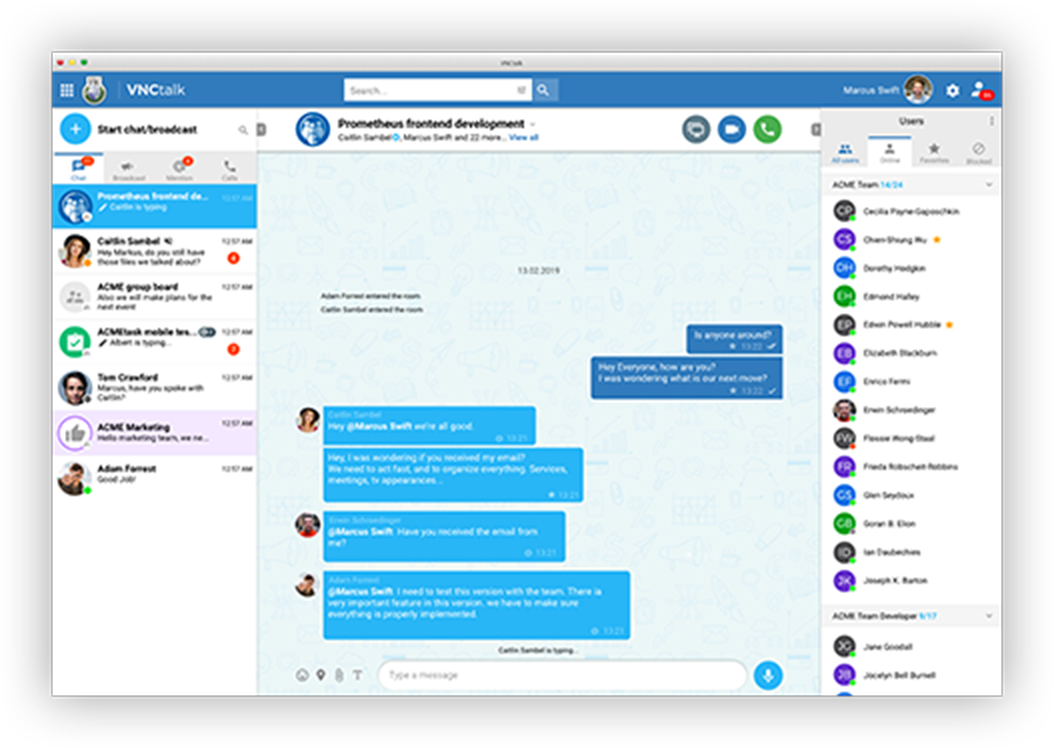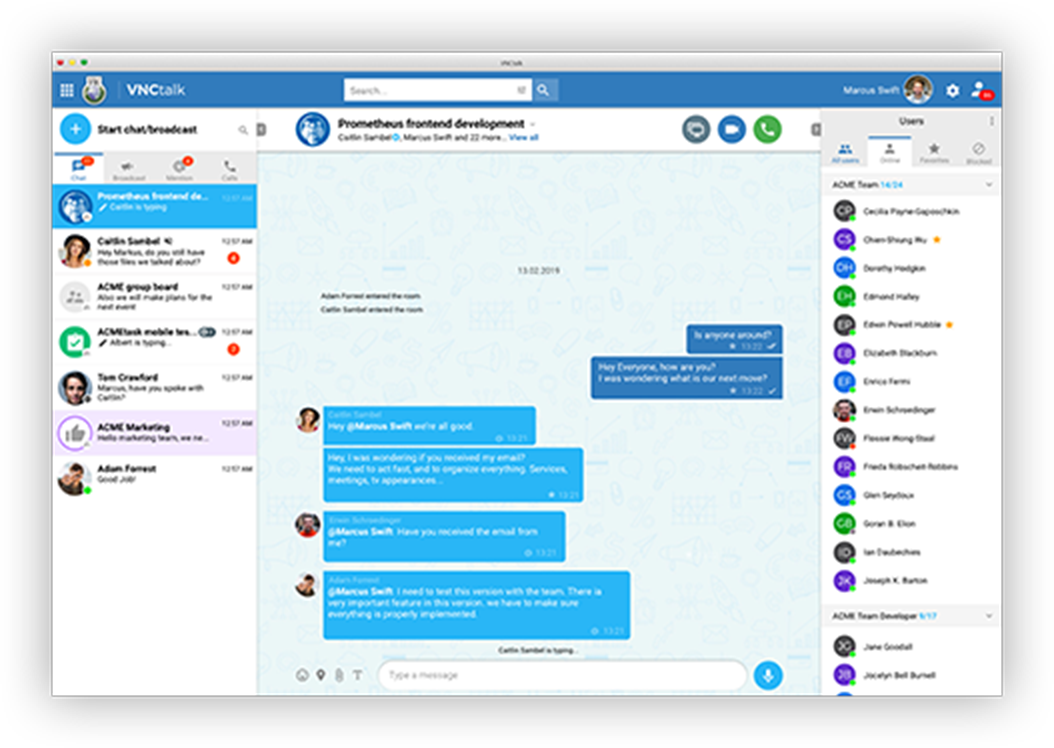 The VNCtalk Desktop Client allows you to run VNCtalk as a separate application on your desktop PC – on Windows, Mac, and Linux. Especially when working with lots of open browser tabs, it becomes handy to have a separate access points for your chats, video conferences and VNCpads. And of course you have all VNCtalk features available, in any of our frontend clients.
Angular and Cordova based technology for Android, iOS and others.
This modern and easy to use App brings all the benefits of chat, web telephony and video conferencing to your mobile device The VNCtalk App is based on Angular 5 (soon Angular 6) and Cordova. This enables us to generate a "real" app from the same code base we are using for the rich web client. The VNCtalk App is available for Android, iOS and others. Benefits such as access to hardware features like mobile camera, microphone, data, network status, sensors like GPS etc. are natively embedded into this technology. And even better: we embedded offline capabilities as well.
VNCtalk progressive web app (PWA)
Imagine, your customers or partners could reply to your chats, feedback or approval requests without having to install software on their computer or an app on their smartphone.
With VNClagoon progressive web apps (PWA) this is possible!


A progressive web app (PWA) is a website that looks and behaves as if it is a mobile app. PWAs are built to take advantage of native mobile device features, without requiring the end user to visit an app store, make a purchase and download software locally. Instead, a PWA can be accessed immediately through a browser.
VNC PWAs allow you to invite external users for a quick reply to a question or even a spontaneous video conference without waiting for installation adventures. Also your customers can contact you, for example through a chat window connected to your web page. The embedded chat will be available directly in your VNCtalk instance. Of course we took all efforts to match intuitive usage and security at the same time.
Latest VNCtalk Release Notes
Testimonials
We set highest standards in what we do. Just like our clients. That's why it is so important to us to know what they think about working with VNC and our business solutions.
"With VNCtalk, Zimbra becomes a true collaborative platform. A user can seamlessly chat, share files & collaborate from any device. Great product & company to work with."

Prashant Mudbidri
Director of Logix InfoSecurity Pvt. Ltd
about VNCtalk
"As part of this project, it was also very important for the representatives of the church that a WhatsApp alternative could be found. Short message services are commonly used, therefore EKBO Dialog was very welcome. "

Fabian Kraetschmer
Head of Unit 1.3 – IT, EKBO
about VNCtalk
Are you ready for VNClagoon?
Get started with VNClagoon in your enterprise. Are you a Software Vendor or a Telco? Become a Reseller and sell VNClagoon to your customers.