Real-Time Business Communication: chat, video and audio conferencing, broadcasts, screensharing wherever you are!
Real-Time Office Communication Apps: chat, video and audio conferencing, broadcasts, screensharing wherever you are!
Business Communication with extensive features
VNCtalk is an unique enterprise real-time communication solution including chat, video and audio conferencing, screen sharing, voice messaging, file sharing, broadcasts, document collaboration and much more.
VNCtalk is available as a full featured Web Client in your browser, Desktop Client (Windows, Mac, Linux) and VNCtalk App (Android and iOS). Thus, VNCtalk is your comprehensive virtual communication tool on any device.
VNCtalk is entirely transparent and auditable on a code basis for our partners and customers. There is no security without open, transparent, readable, auditable code.
VNCtalk is available for on-premise installation and hosting in a datacenter of our partners' and customers' choice. This is the only way you can make sure your data are controlled by your trusted administrators and nobody else.
VNCtalk is widely customizable. Partners and customers can add their logo, CD/CI and at the same time modify the front end from a UX (user experience) perspective to add / remove modular functions. VNCtalk has users in various industries where we found very differing user stories.
VNCmeet, as part of VNCtalk, enables you to start video calls with external guest users. Guest users don't need a VNCtalk subscription, a VNCtalk account and they don't need to download an App – just invite external participants with their email address and start a video meeting!
The VNCtalk App is a real alternative to WhatsApp or other SaaS based messengers. VNCtalk comes with the familiar features – and some more!
The VNCtalk App is of course free of advertising and it is equipped with the complete feature set such as chat/group chat, video/audio calls, screen share, file transfer, broadcasts and many more.
VNCtalk is seamlessly integrated into our VNClagoon stack. Start a chat or audio / video call – by simply clicking on a user avatar in VNCmail, VNCtask, VNCcontacts etc.
VNCtalk is equipped with state of the art backend technologies and products like PostgreSQL, Solr, Jitsi Meet, Prosody – all those tools are accessible via a powerful Restful API.
VNCtalk is scalable up to a huge number of users simultaneously on chats or video/audio calls. Due to the robust VNClagoon backend, it is possible to enhance bandwidth, add more instances and video bridges to auto scale up and scale down.
VNCtalk is our flagship product, so we have lots of ideas how to make it even more productive. Our product roadmaps are full of new and innovative features. And we are listening to our users, their needs and suggestions.
Read more
Fully Encrypted
E2E Encryption options – for utmost privacy and confidentiality in your communication.
Datacenter of your Choice
Flexible hosting options: On Premise, Private or Public Cloud, Hybrid Clouds.
Open Source
Transparent and auditable Open Source code.
Customization
Customizable UI, extensible features, VNClagoon integration.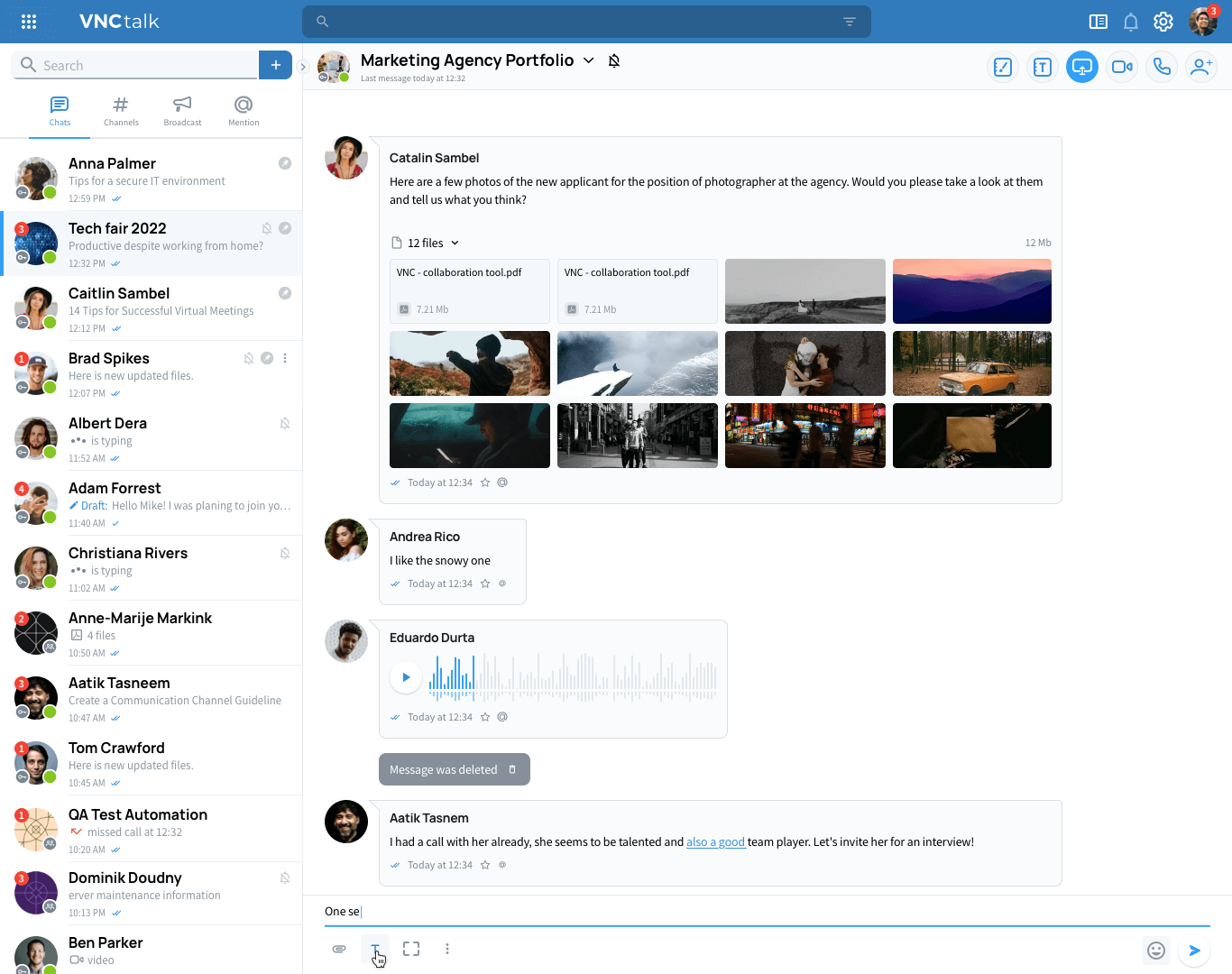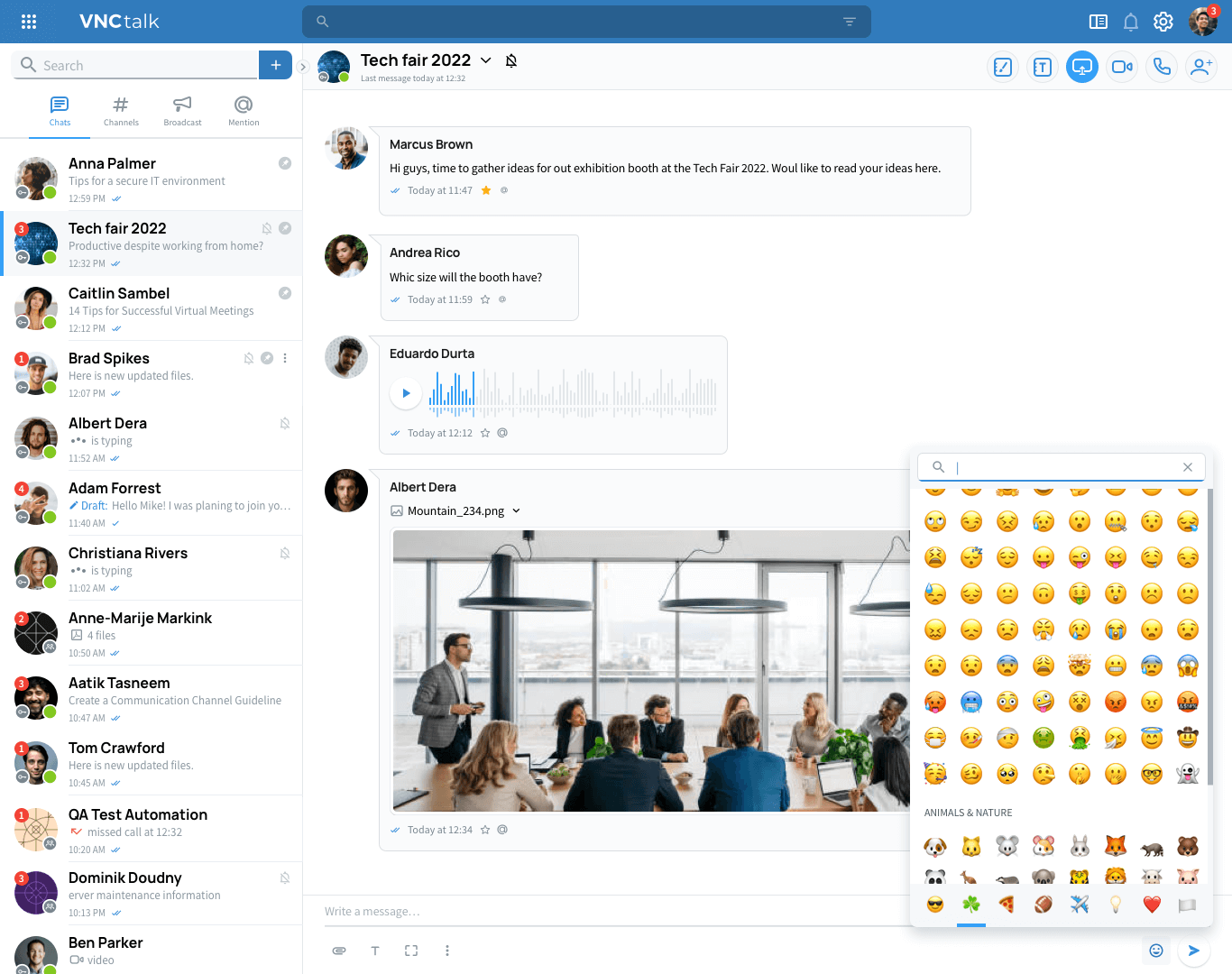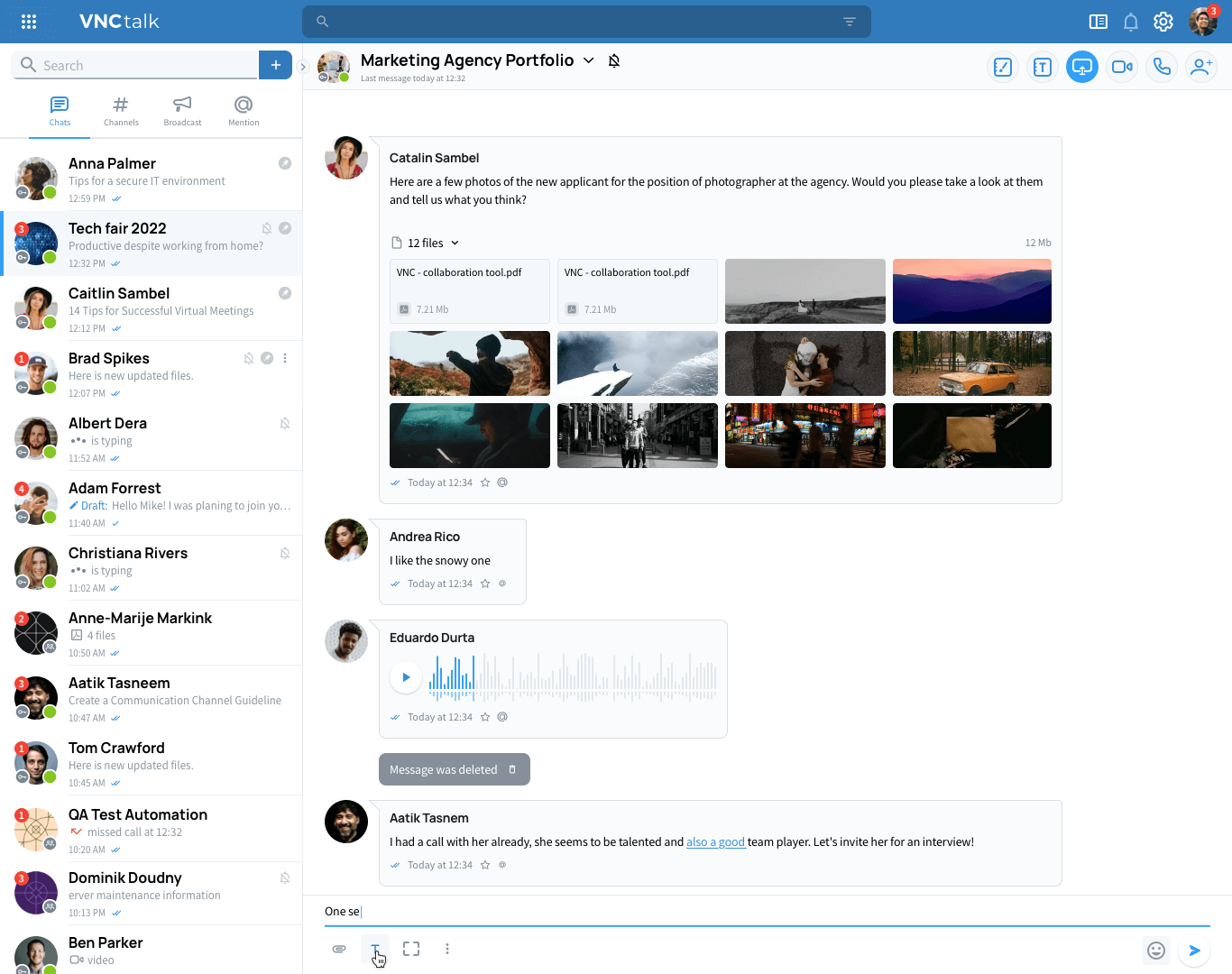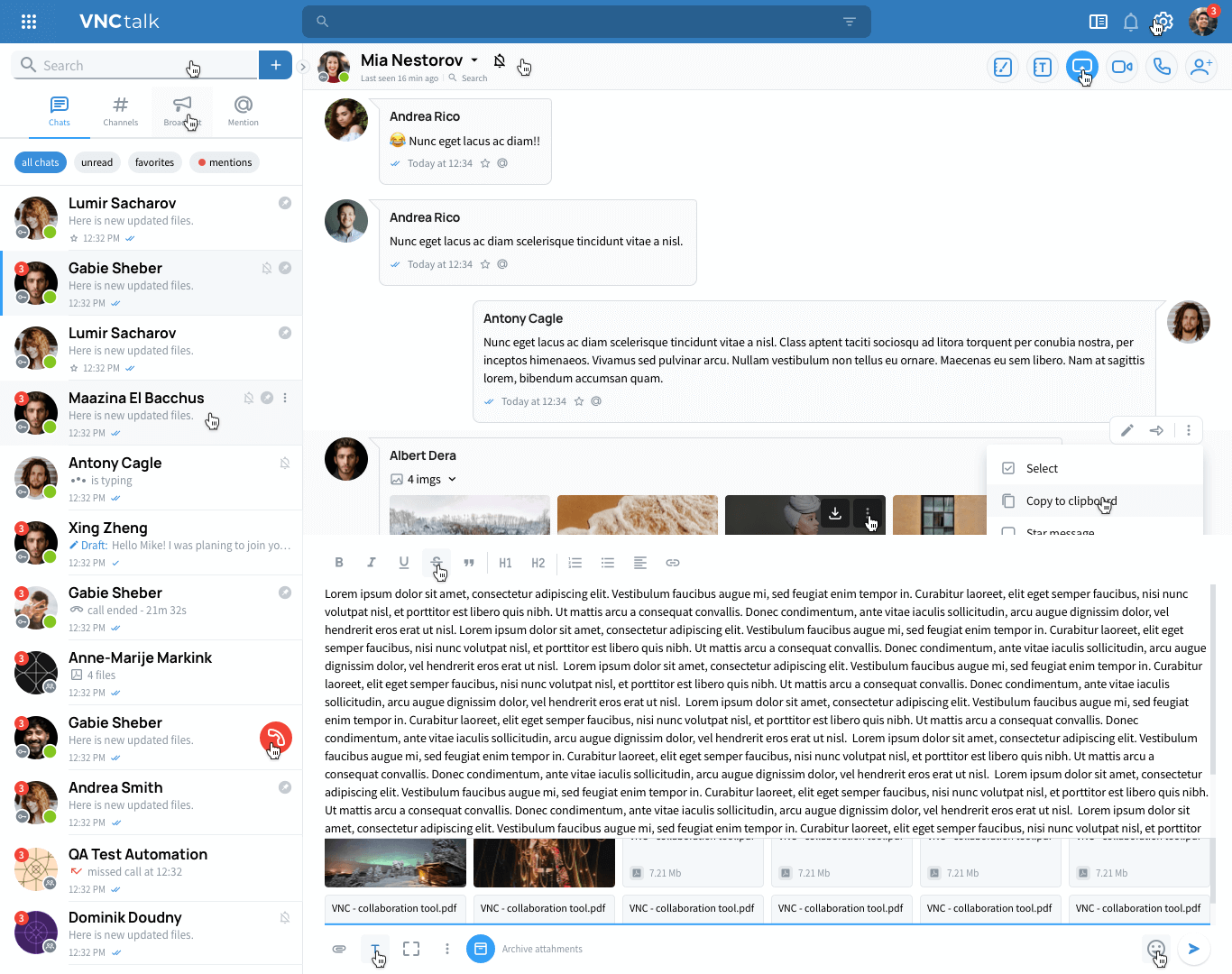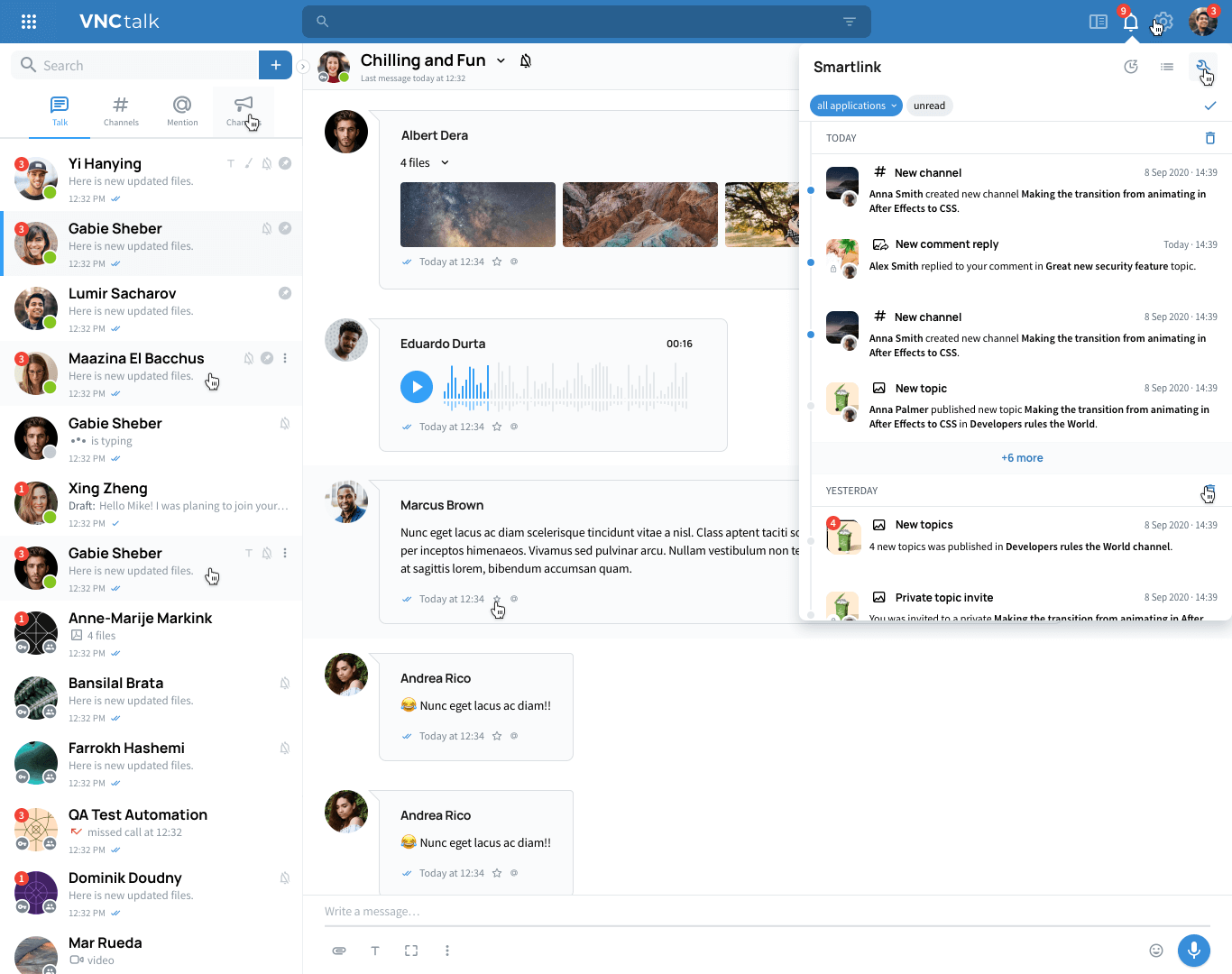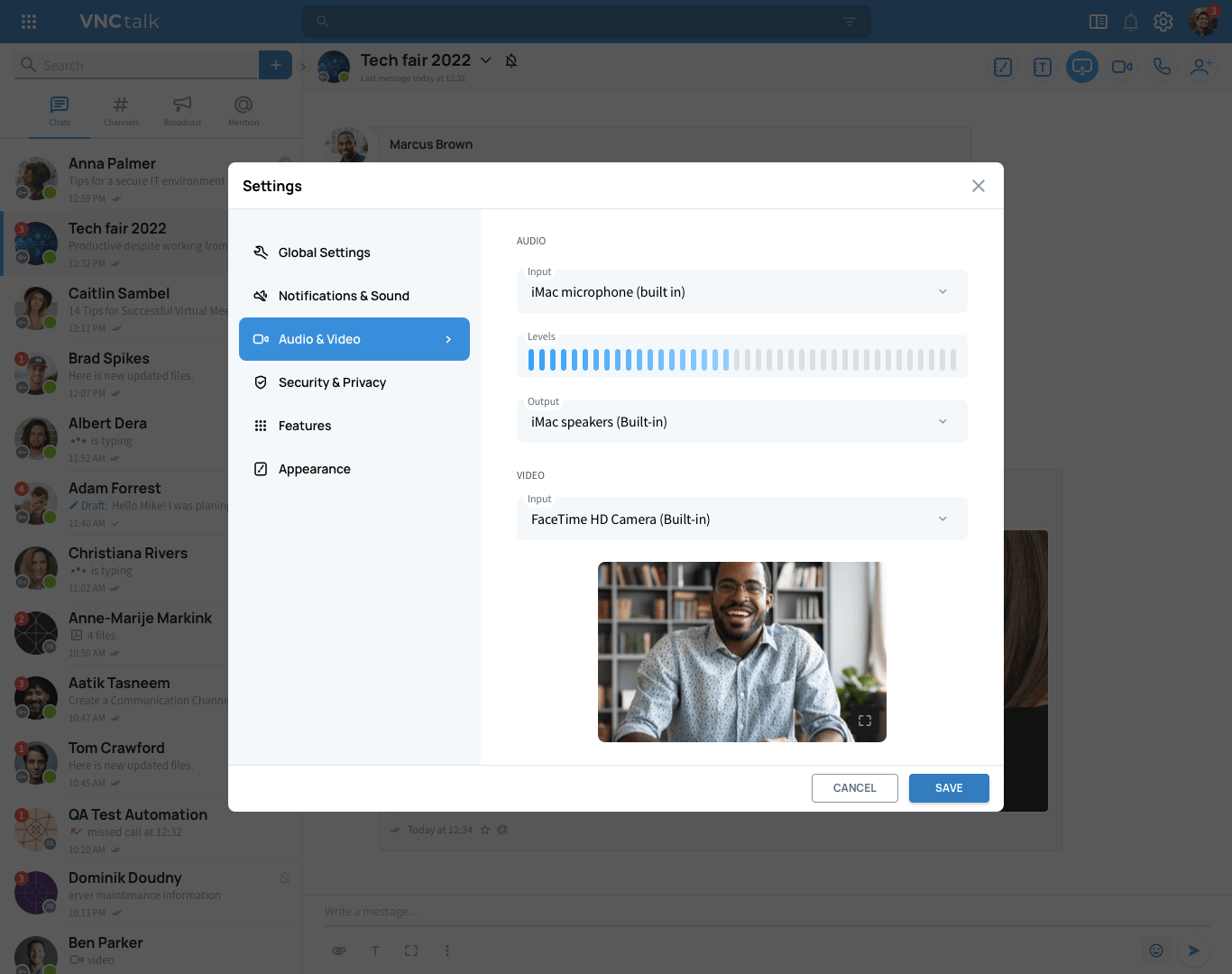 VNClagoon is an unmatched unified suite of enterprise communication and collaboration solutions.
Chat &

Group Chat
1:1 or 1:n text chat – all you need is a browser. Use chats or groupchats to constantly stay in touch with your team, partners and customers.
Audio &

Video Conferencing
1:1 or 1:n video and audio calls with perfect quality and optimized resolution for increased efficiency and productivity within your team.
Extensive

File Sharing
Send any file formats to your chat partners and manage your received files easily & securely.
Document

Collaboration
Remote collaboration is made easier with simultaneous document editing. VNClagoon provides a central location for all files, documents, and other rich media. This makes it extremely uncomplicated for team members, irrespective of their location to access information.
Screen Sharing & Whiteboard
Screen Sharing in your browser – no extra tool or plugin required due to the pure power of WebRTC. Collaboration on Whiteboards with images, shapes and text for interactive and creative virtual meetings and workshops.
Directory

Services
Get access to your contacts, contact lists and work groups thanks to the seamless integration with VNCdirectory. Manage users, roles, permissions and workflows with ease.
Fast access wherever you are
The VNCtalk Web Client enables you to access all professional VNCtalk communication features like chat, audio and video conferences in the same standard browser as VNCmail or VNCproject.
Thus, you enter into your entire workspace with your browser, without having to start separate applications for each single activity you'd like to perform.
The VNCtalk Web Client runs on any standard browser on Windows, MacOS and Linux.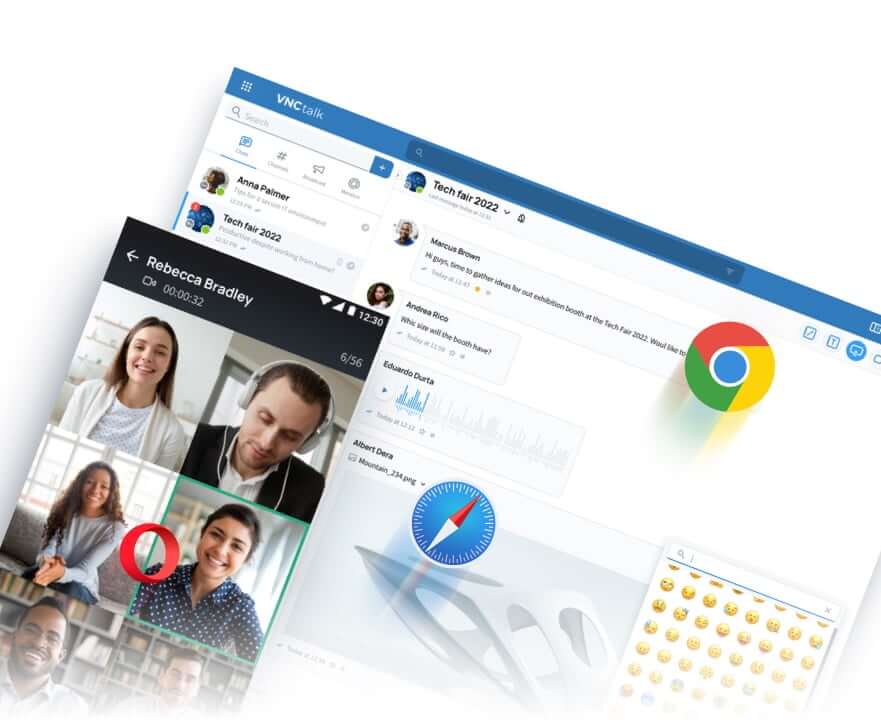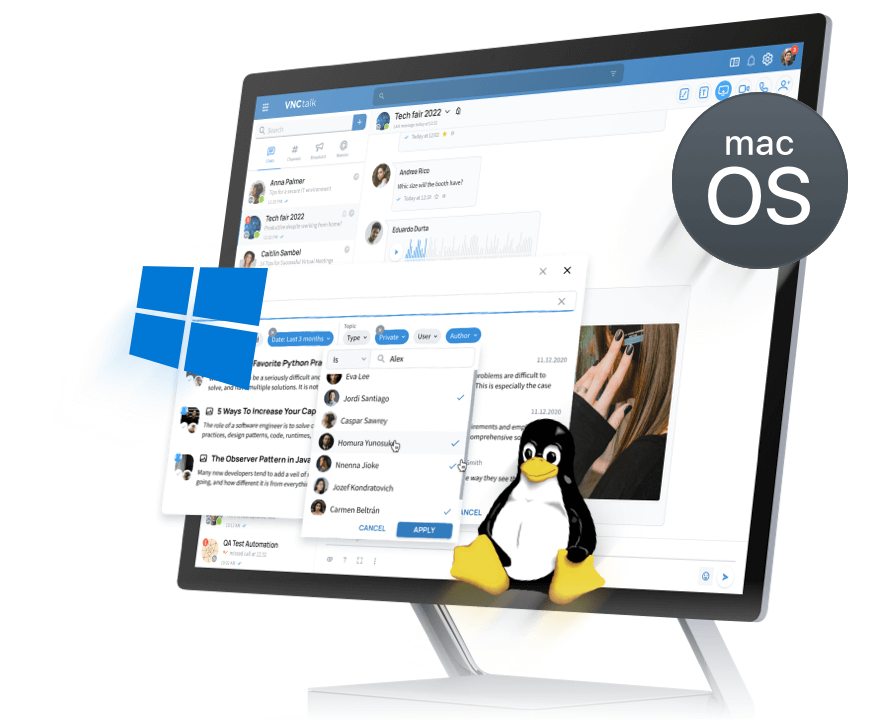 Installed application on your laptop or PC
The VNCtalk Desktop Client allows you to run VNCtalk as a separate application on your desktop PC – on Windows, Mac, and Linux.
Especially when working with lots of open browser tabs, it is useful to have a separate access point for your chats, video conferences and VNCpads.
And of course you have all VNCtalk features available, in any of our frontend clients.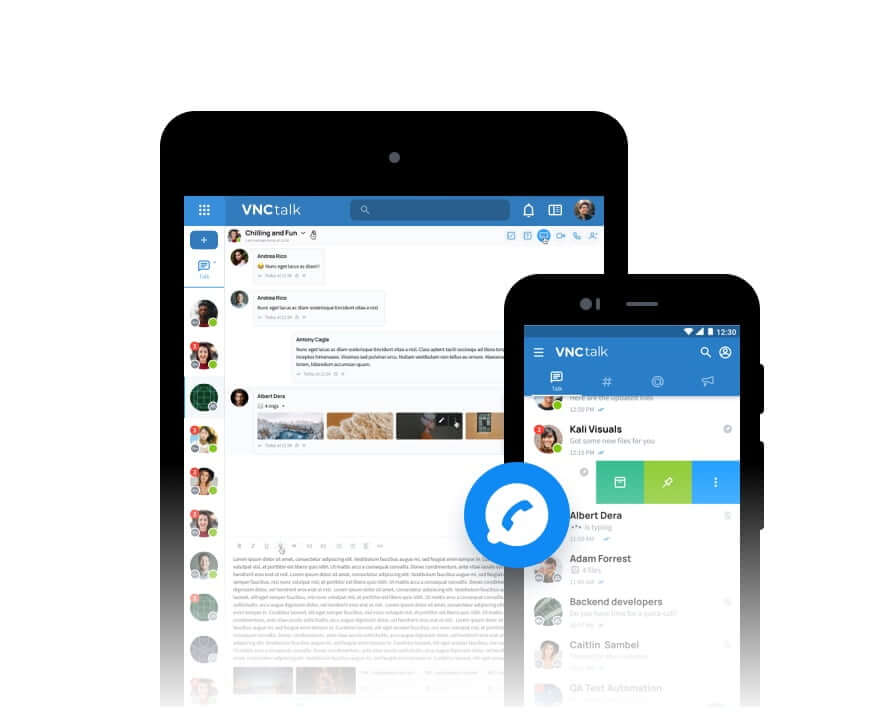 State-of-the-art frontend technologies for Android, iOS and others.
This modern and easy to use App brings all the benefits of chat, web telephony and video conferencing to your mobile device.
The VNCtalk App is based on Angular and Cordova. This enables us to generate a "real" app from the same code base we are using for the rich web client.
The VNCtalk App is available for Android and iOS. Benefits such as access to hardware features like mobile camera, microphone, data, network status, sensors like GPS etc. are natively embedded into this technology.
And even better: we enabled offline capabilities as well.


VNCtalk Architecture Chart
This Architecture Chart provides a comprehensive overview of the architecture of the VNCtalk software system, the integrated components, databases, interfaces and frontend clients.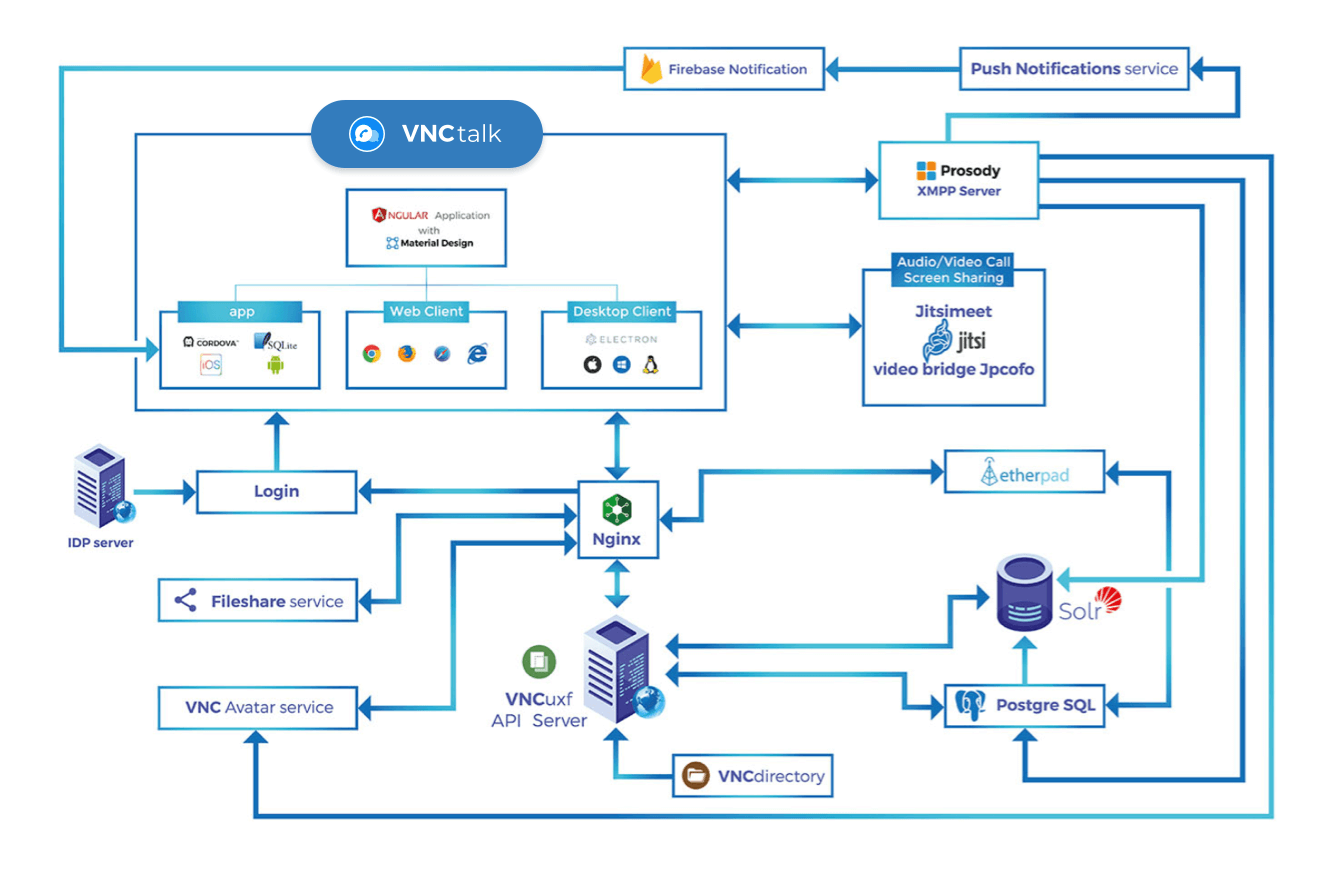 Getting Started with VNCtalk
VNC is committed to developing the world's best stack of best-of-class Enterprise Software products and to providing the very best level of service to customers.
Watch the VNCtalk Introduction Video | 12:57
Helpful information about VNCtalk
Read about our latest features, changes and fixes: