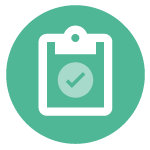 VNCtask – the easy to use Task Management & To-Do List application.
Stay organized. Anytime! Anywhere!
Create tasks, manage them, get organized – all in one tool.
Simple and easy.
Get started quickly by installing our free VNCtask App and you're ready to go.
Create your tasks in just a sec.
Just tap a few times and your new task is there.
With Task Name, Start and Due Date, Priority, Project, User, Repeats, Description.
Manage your tasks.
Set reminders, view, tag and sort your open tasks, change their status, add more details and comments – and get your work done.
Complete your tasks with just one click.
Get organized.
Work with complex task lists and get ready to collaborate with your team members with VNCtask Professional.
Get things done!
Manage everything from big projects to personal tasks.
Stay informed. Stay connected to your team.
Never lose track of your tasks and deadlines.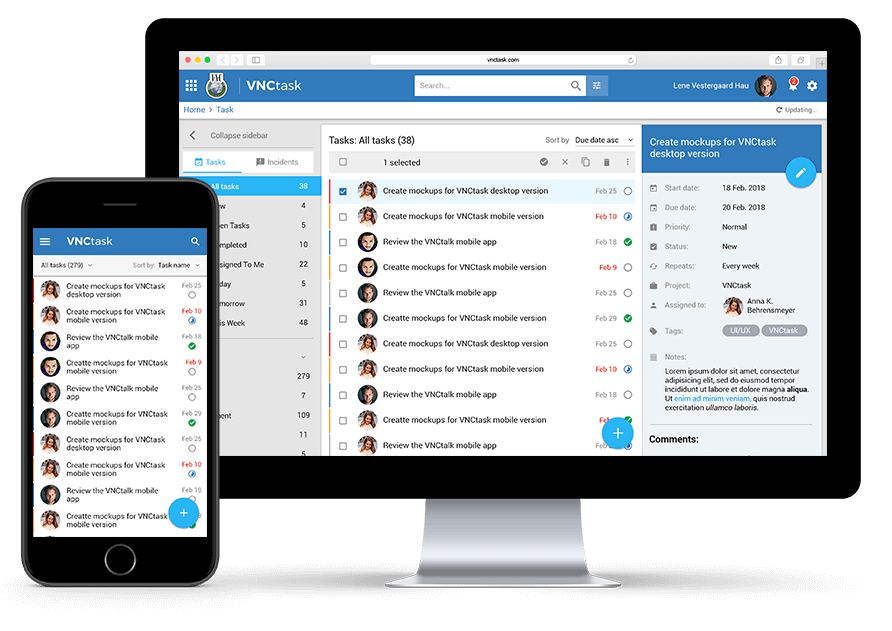 All-in-one solution to manage your To-Do Lists and Tasks.
It's free to download and use for individual users! VNCtask is designed to work on any device; it's easy to keep track of current tasks and add new ones anytime and anywhere.
Super secure, the open source backend combined with secure hosting in Switzerland makes VNCtask a super secure software for your task management.
Integrate with VNCproject and work as a team.

All features to fit your needs
Task Management:
Create new tasks on the fly. With its unique design, creating tasks has never been so simple. You just provide a few details like Start Date, End Date, a Comment – and that's it. You can link the task to a project from the list of existing projects and delegate the task to users within this project. You can edit your tasks from the list of tasks. A task has predefined stages like In Progress, Resolved, Closed, Rejected. Once a task is completed, you can mark it as complete.
Notifications:
Stay informed! Get notifications via email or in your browser. Once enabled, the user receives notifications whenever there is any change in a task – for example a change of status. This ensures that task owners are continuously updated with the current progress.
Advanced Search:
Search tasks much faster and with more options. The advanced search in the app allows you to search tasks via projects, users, fields, dates and also tags.
Recurring Tasks:
Many times, in practical scenarios you end up with recurring tasks. How about a solution which helps you to create recurring tasks at one go rather than create them one by one? VNCtask offers you the facility to create recurring tasks with predefined frequencies like daily / weekly / monthly or at a specific date.
Task Settings:
Set reminder, notifications or account details according to your preferences. You can also change your password here.
VNCtask – Basic Version:
Create, update, change, delete tasks
Set due dates, priorities, tags and more
Comments and replies
Attachments
Delegate tasks
Track progress
Recurring tasks
Sub tasks
Task reminders
Email notifications
Task lists, color coded per status
Bulk update
Sort per criteria
Search and saved search
Advanced filters
VNCtask App
Offline Features
Upgrade to VNCtask Professional and enjoy these benefits:
Browser / Desktop Application
Integration with VNCproject
Company accounts
Collaborate in teams and companies
Unlimited storage (only SaaS)
Umlimited number of tasks
On premise installation optional
This application is part of our technology stack
State-of-the-art. Fully open. True security.
"Our contact with VNC was always quick and uncomplicated. Feedback was always brisk and precise. All answers to our questions were always highly competent, which on me made a very good impression. Also, VNC has always responded immediately to change requests from our side. I am very happy with the kind of service that VNC provides."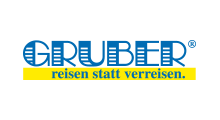 Daniel Hirtzi, EDV, GRUBER Touristik GmbH
Are you ready for VNClagoon?
Get started with VNClagoon in your enterprise. Are you a Software Vendor or a Telco? Become a Reseller and sell VNClagoon to your customers.