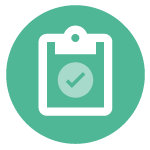 Take control of your tasks to get things done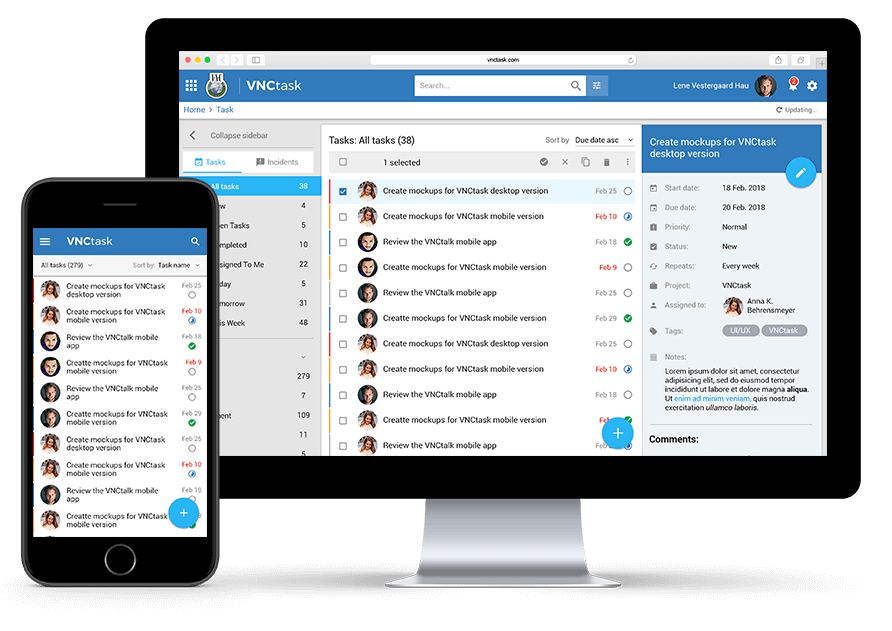 VNCtask – the easy to use Task Management & To-Do List application.
VNCtask is designed to remove the complexities of typical Task Management or To-Do List tools. With VNCtask being browser based and available as mobile app, you can use it virtually from any device.
Its highly user centric design makes it very easy to operate with powerful features like recurring tasks, powerful search, sorting, and many more.
VNCtask ensures that all tasks are tracked for their timely completion with unique links to projects.
With VNCtask you have the all-in-one solution to manage your To-Do Lists or Tasks.
Typical Task Lifecycle: Tasks typically are created with only minimum details. Then a user may add descriptions, texts or assign resources, who will be working on specific issues. Once a task is completed, the user marks it as complete.
The VNCtask mobile app makes it very easy to keep track of current tasks and adding new ones anytime and anywhere – and it is even free to download and to use for individual users. 
The menu and all fields within VNCtask provide context sensitive help and tool tips for easy management. VNCtask can be accessed on commonly used web browsers like Firefox / Google Chrome or Safari on laptops or mobile devices. No worry or hassle of syncing the web application or mobile apps.
The open source backend combined with secure hosting in Switzerland makes VNCtask a super secure software for your task management.
The VNCtask Pro Version can be integrated with VNCproject and allows to work efficiently on tasks as a team.

Task Management:
With VNCtask you can create your tasks on the fly. With its unique design creating tasks is very easy. You just have to provide a few details like Start Date, End Date, a Comment and then link the task to a project from the existing list of projects & related user assignments. You can edit the existing tasks from the list of tasks. A task has predefined stages like In Progress, Resolved, Closed, Rejected.
Once a task is completed, the user can mark it as complete. There is also an option to add tasks to your watch list.
Deletion of Tasks:
In VNCtask you can delete a specific task or you can delete multiple tasks at a time. It asks for user confirmation before a task can be deleted.
Recurring Tasks:
Many times, in practical scenarios you end up with recurring tasks. How about a solution which helps you to create recurring tasks at one go rather than create them one by one? VNCtask offers you the facility to create recurring tasks with predefined frequencies like daily / weekly / monthly or at a specific day.
Task Search:
VNCtask comes with very powerful search options. You can search tasks based on different parameters like – Start Date, Due Date, Priority, Status. You can also search the text contained in the task. Even comments can be included in the search criteria.
By default, when a user logs in to VNCtask, it displays a list of pending tasks. A user has several options by which a set of tasks with specific criteria can be displayed.
Task Notification:
VNCtask provides an option to set notifications, which can be either email or browser based notifications. Once enabled, the user receives notifications whenever there is any change in a task – for example a change of status. This ensures that task owners are continuously updated with the current progress.
Task Settings:
A user can set preferences within the VNCtask application. These are account settings, reminders, notifications. A user can change the existing password for VNCtask through the change password option.
Key Functionalities of VNCtask
VNCtask is free to download and use for individual users.
Both Versions
Create, update, change, delete tasks
Set due dates, priorities, tags and more
Comments and replies
Attachments
Track progress
Recurring tasks
Sub tasks
Task reminders
Email notifications
Task lists, color coded per status
Bulk update
Sort per criteria
Search and saved search
Advanced filters
Integration of mobile App and Web App
Pro Version
Integrate with VNCproject
Company accounts
Unlimited storage
On premise installation optional
Collaborate in teams and companies 
Delegate tasks
This application is part of our technology stack
State-of-the-art. Fully open. True security.
"Our contact with VNC was always quick and uncomplicated. Feedback was always brisk and precise. All answers to our questions were always highly competent, which on me made a very good impression. Also, VNC has always responded immediately to change requests from our side. I am very happy with the kind of service that VNC provides."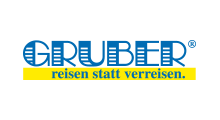 Daniel Hirtzi, EDV, GRUBER Touristik GmbH
Are you ready for VNClagoon?
Get started with VNClagoon in your enterprise. Are you a Software Vendor or a Telco? Become a Reseller and sell VNClagoon to your customers.