Enterprise Project Management Software
360 degree Enterprise Project Management
Enterprise Project Management Software
Keep your projects in focus and your customers happy
VNCproject – the perfect tool for keeping control in complex projects.
The browser-based, open and fully customizable solution leaves nothing to be desired: VNCproject combines issue, task and ticket management, scheduling, progress monitoring, Gantt charts as well as time tracking, wikis, cost control, team management and powerful project planning features. Having all these different features in one single project management tool enables you to work as fast and efficient as never before.
With VNCproject you keep your projects in focus and your customers happy and have a perfect all-in-one solution for your daily work.
VNCproject supports an unlimited amount of projects / sub-projects, tasks / sub-tasks and lifts your project management to the next level.
360 degree Enterprise Project Management
Project Management:
VNCproject enables you to manage your projects in Roadmaps, Meta Roadmaps and Releases with tickets, tasks and sub-tasks. You can use Milestone planning and automated Gantt Charts. For controlling purposes, you can keep track of budgets, related costs and efforts with estimations and monitoring of time spent.
ITIL Help Desk & User Support:
The ITIL Help Desk, a module of VNCproject, offers intelligent support and ticket management features with ticket creation by email and complex notification features. It is based on ITIL best practices and contains an extensive knowledge base for Help Desk agents and customers. Also included: SLA (service level agreements) with granular models (hours included per month, notifications). The system also supports various issue types and the escalation from an issue to a problem and further to a change request.
Team Management:
We offer several modules within VNCproject that will take your team management to an entirely new level. Our Recruitment & Talent Pool helps various stakeholders in an organization to select new team members. Agile and Achievements Boards, Performance Ranking, Timesheets and Time Overrun Reports are valuable tools for HR and management to evaluate and manage the work of individual team members and entire teams and also promote the self-organisation of team members.
Software Development and Testing:
VNCproject contains an integrated source code management with GitHub integration and file management, versioning and release management. VNCproject assists your source code documentation.
Extensions:
The VNCproject architecture is based on open standards and therefore allows the seamless integration of VNC applications such as VNCdirectory, VNCtask, VNCtalk, VNCmail or VNCcalendar as well as the integration of third party applications and components.
Read more
Roles & Permissions
The permission management within VNCproject is role-based and configurable.
Server of your Choice
Hosted wherever you want: On Premise, Private or Public Cloud
Open Source
Auditable Code and seamless integration
Customization
Customize and extend features with further VNClagoon products
VNClagoon is an unmatched unified suite of enterprise communication and collaboration solutions.
Ticket

Management
The comprehensive ticket management module of VNCproject gives you a quick overview of all current tickets and tasks. Color codes and a ticket overview sorted by priority, (sub-)project, assignee make it easy to distinguish important or urgent tickets from ones that can wait. That's how VNCproject helps you to focus your time on what is crucial for your project's success.
Timesheets
With the help of tickets, your team members can record their working hours and correlate the time spent to exact projects and activities. This shows transparently how much time was spent on each project or task. The hours worked can be easily evaluated for a predefined period of time, for example weekly or monthly. Working hours of your team members are displayed in the timesheet with clear structure, showing the date of delivery, type of activity, corresponding project, ticket and comments.
Gantt

Charts
With the Gantt charts in VNCproject you have the power to monitor your project performance and to enable reliable time planning. Within the Gantt tool in VNCproject you can modify the view by zooming in or out to have a better overview over a certain period of time. Integrated drill down functions provide you with further details on a specific ticket or project phase.
Earned Value

Management
The Earned Value Management (EVM) is designed for the evaluation of progress, so it can identify and assess the actually achieved progress of a project in relation to the planned target. The overall performance within a project in terms of cost and schedule can be measured, as well as technical terms, which are necessary in a project or to complete a task. Our EVM module offers detailed information on the schedule, the technical milestones and the costs already incurred.
Extensible

Modules
VNCproject can be extended with several modules to extend its features: Timesheets, Roadmaps & Meta Roadmaps, Helpdesk / VNCproject ITIL – Intelligent support and ticket management, based on ITIL guidelines, including a comprehensive knowledge base, Agile Board & Achievements, EVM – Earned Value Management, VNCproject Recruitment, Performance Ranking, My Calendar, Time Overrun Report & Scrum Statistics
Calendar &

Scheduling
The Calendar view within VNCproject provides you with a more focused view of all tasks that have to be handled within the next days – or within a given time frame, regardless of their importance. This makes it easier for you to focus on assignments that come with a defined due date.
Recruitment
Supports different stakeholders in an organisation with the selection of new team members and enables the collection and presentation of the following data: Job Position, Job Description, Applicant management with recruitment stages, Assessment with evaluation of skills and skill levels (resulting in a score for the applicant regarding a specific position), skill levels with granular assessment and adjustment for each position during the recruitment process and a talent pool.
Tickets

via Email
VNCproject allows you to create tickets from any email application. This feature could be especially useful for you, enabling you to create new tickets on the fly, in order to inform your service desk of bugs that have to be fixed or new features that have to be implemented.
Meta Roadmap

Planning
MRP allows team members and management to have a "meta" (birds eye) view on selected meta tasks, versions and tickets from an unique perspective (such as: product finishing, new features, innovation drivers, etc.). We offer you a lot of useful information in the meta roadmap view such as: Name and description of Meta Roadmaps, Meta Tasks with scope, Ticket ID & subject, Progress bar, Time planned (ETA) and time left to finish (OTA) the given ticket, task and target version, assigned team members. The goal: Get the big picture to get organized, structured and thus efficient! And make sure that you focus on the really important stuff to deliver results on time.
Intelligent Help Desk

& Issue Tracking
Within VNCproject a professional Help Desk Issue Tracking-System is implemented, which is based on ITIL Best Practices. This System supports various issue types and the escalation from an issue to a problem to a change request. Furthermore the modifiable Issue Workflow can be customized for any kind of SLA, escalation routine, team and role structure.
Agile Board

& Achievements
The Agile Board has the goal to promote the self-organisation of team members. The advantages in the planning & distribution of tasks are: clear presentation of all tasks planned for a particular day per employee; team members or supervisors can see which tasks a team member has already planned for a particular day; tasks to be assigned can thus take the existing workload into account and consider the capacity available per day (in hours) set by the employee. The relevance of tasks and Estimated Time is visible, you can drag and drop tasks to make rescheduling as easy as possible. Weekly and daily capacity as well as the working time already spent (number of hours) are clearly displayed and tickets (tasks) can be edited directly from the Agile Board.
Repository &

Versioning
The Repository feature within VNCproject enables you to administrate documents and files in as many versions as you like. Also, VNCproject enables access to different version management tools such as Apache Subversion, CVS, Mercurial, Darcs and Git.
Performance

Ranking
Performance Ranking helps to evaluate the performance of team members with Key Performance Indicators (here called KPIs) as basic analytical measurement values. The following ratios are used and can be adapted to your scenario: number of ticket reassignments, number of time adjustments, number of Spent Time Adjustments, time overrun percentage and the number of all tickets with time overrun (or underrun) in percent in detail.
Permission

Management
The permission management within VNCproject is role-based and configurable. It enables Single Sign-On by using VNCdirectory or LDAP authentication, supporting several LDAP instances. Moreover VNCproject enables automatic and manual user account creation.
Messages &

Notification
VNCproject sends notifications to inform you about project activities, changes, status, news, tasks and of course the progress of any other project member. In return a user, customer and partner can send email messages to VNCproject to create tickets.
Fast access wherever you are
The VNCproject web client gives you access to your project management via a browser of your choice. You can create and assign tickets with detailed information. 
Enter into your entire workspace with your browser, without having to start separate applications for each single activity you'd like to perform. The VNCproject Web Client runs on any standard browser on Windows, MacOS and Linux.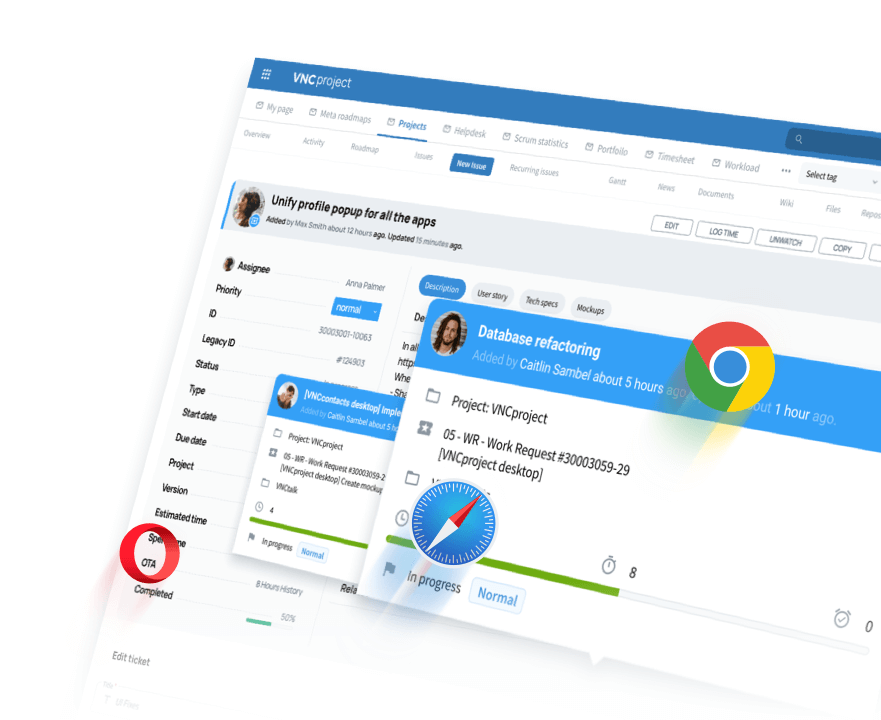 This Architecture Chart provides a comprehensive overview of the architecture of the VNCproject software system, the integrated components, databases, interfaces and frontend clients.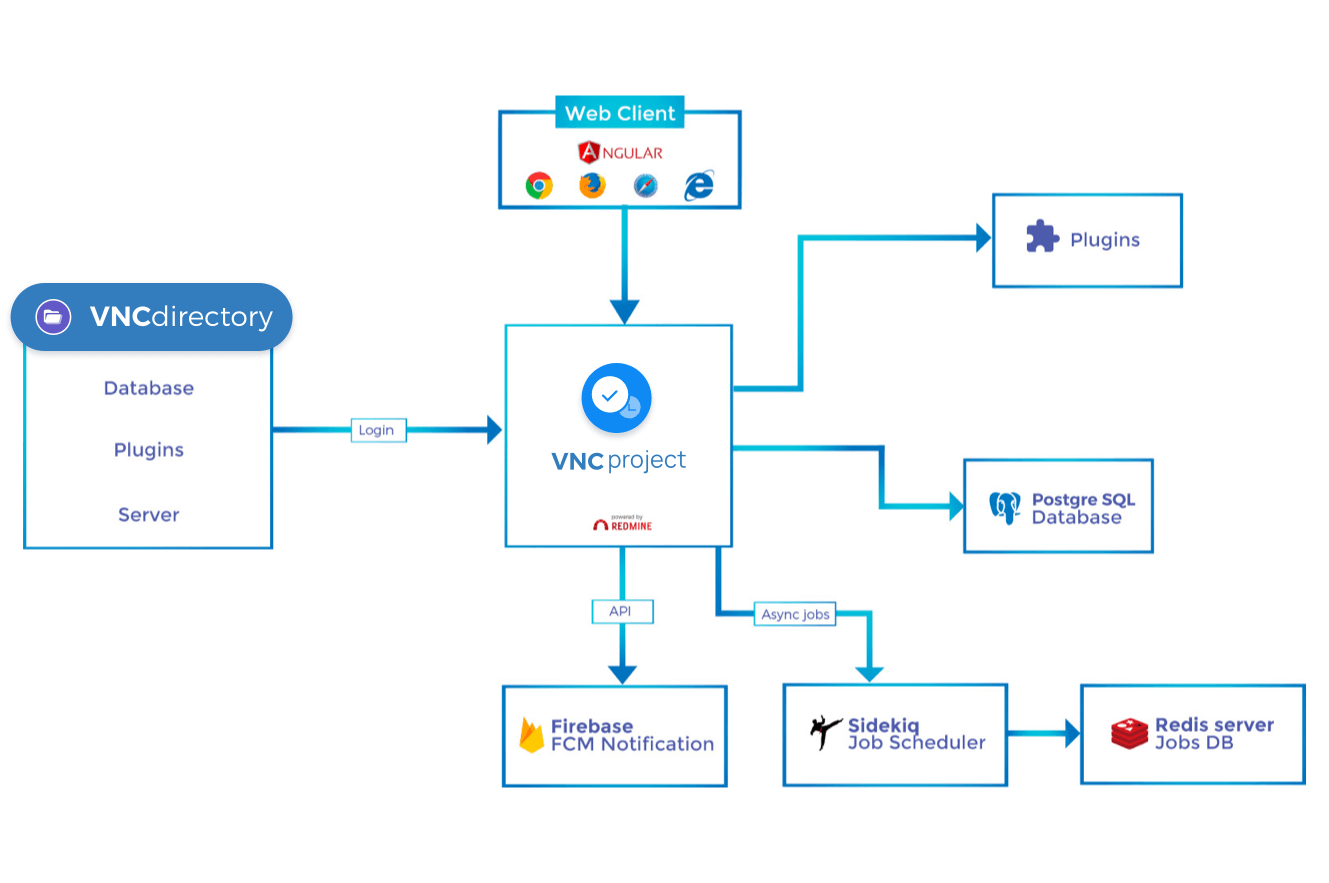 Helpful information about VNCproject
Read about our latest features, changes and fixes: