Calendar software to organize your schedule
Calendar software to organize all your meeting
In business environments, every activity is related to a date and time.
Successful business often means "fast moving". In modern software development, for instance, there is no chance to survive global competition without applying agile methods.
In order to be successful, teams need to be perfectly organized. A key element to be organized is a powerful insight into milestones, deadlines and upcoming events, whatever they may be.
To get an accurate, immediate and complete overview, you need a "power calendar" that is always updated, containing all events that may be relevant.
A calendar is supposed to show all relevant actions scheduled on a certain date or within a period at one glance .
VNCcalendar is based upon state of the art frontend technologies, presenting your events on any device, including mobile Apps. VNCcalendar receives its datafeed (your dates and meetings) via the powerful VNCaxf Restful API.
As a consequence, VNCcalendar is fed from various backend information systems such as VNCmail, VNCproject, VNCportal, and others. – integrated as needed.
Here again we follow the strategy to have a single point of access to all relevant data.


Various Sources:
Connect VNCcalendar with all your applications: VNCproject, VNCmail and many more. VNCcalendar can be fed from various backend systems, so you can add appointments from emails, tickets or any other connected source you like.
Familiar features:
Of course VNCcalendar provides every useful feature you are familiar with, such as different settings for the calendar view (day, work week, week, month), creating and displaying several calendars and sub-calendars in different colors, sharing your calendar with other users (entries are visible or private). All these features are implemented in a tidy and convenient design and can be used intuitively.
Full-featured appointment settings:
Topic, location, attendees, date and time – sure. VNCcalendar offers all basic information for standard appointments like any other calendar. But VNCcalendar allows you also to add a list of required equipment. Furthermore, you can add the description as plain text or HTML for more structured information. And through the integration with different VNClagoon products you can also add appointments from emails you received, tickets you created or are assigned to.
Notifications:
Of course VNCcalendar will remind you with notifications. Here, you can set different notification patterns for every single appointment.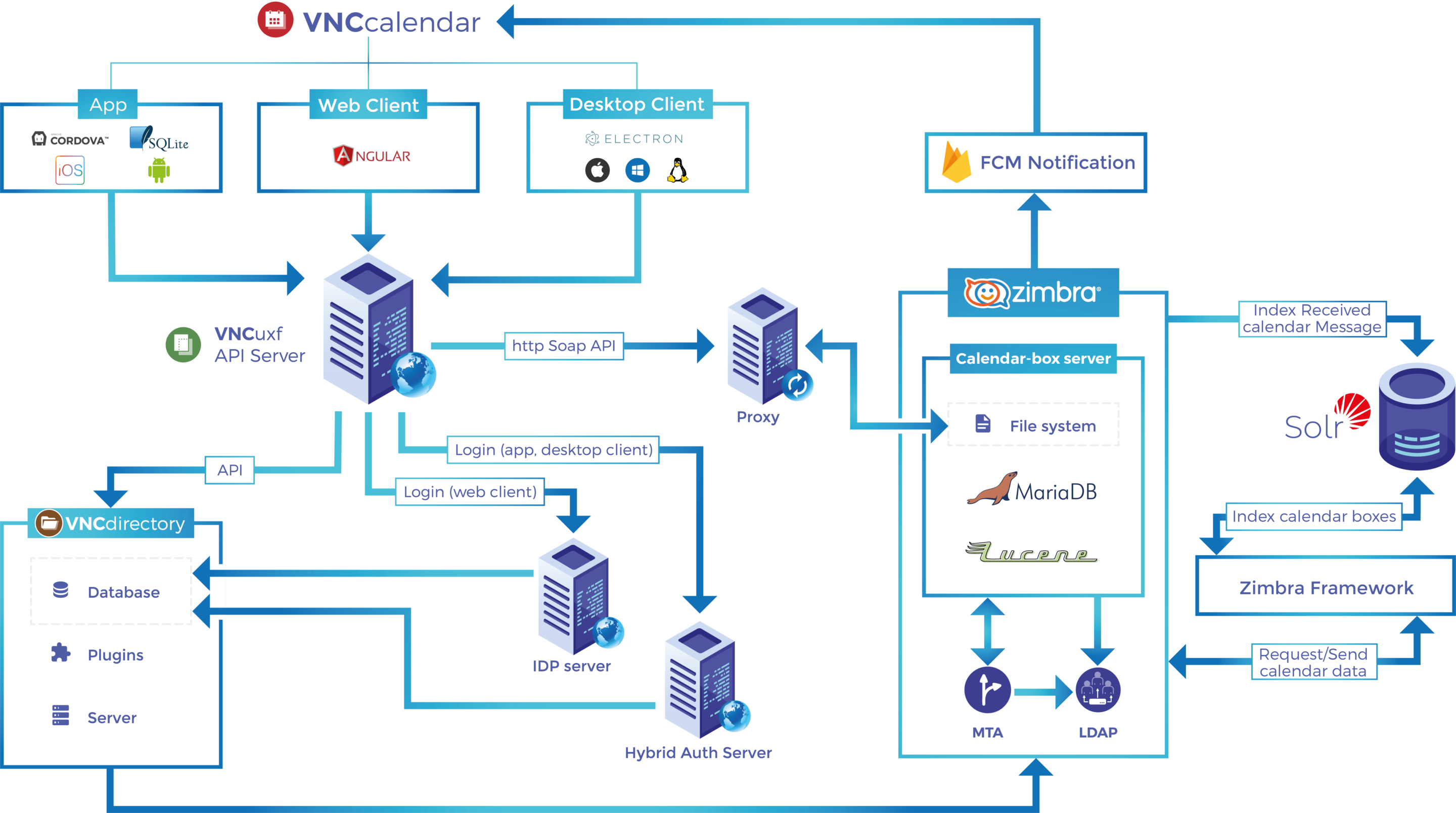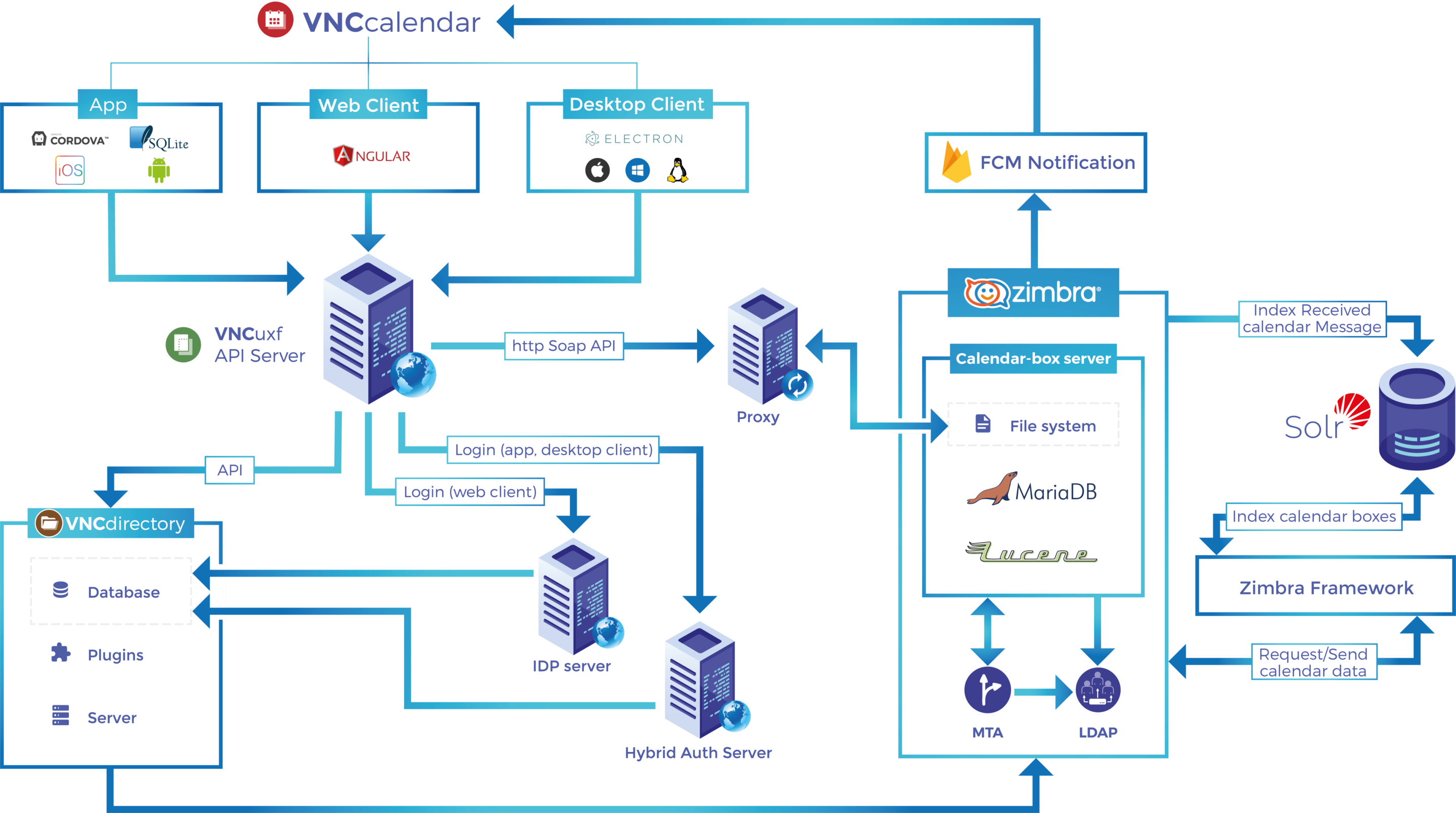 VNCcalendar Architecture chart
Technical documents and documentation
The VNCcalendar web client offers all features a calendar needs. You can create and manage the details of your appointments, share them with other users (private or public) and invite additional persons to your meetings. Since VNCcalendar can be integrated with VNCmail you need only one browser tab to manage your emails and appointments. Each appointment has various options to manage details, such as topic, date, time with time-zone, duration, location, participants, recurring events, reminder, attachments and equipment like whiteboards or flipcharts.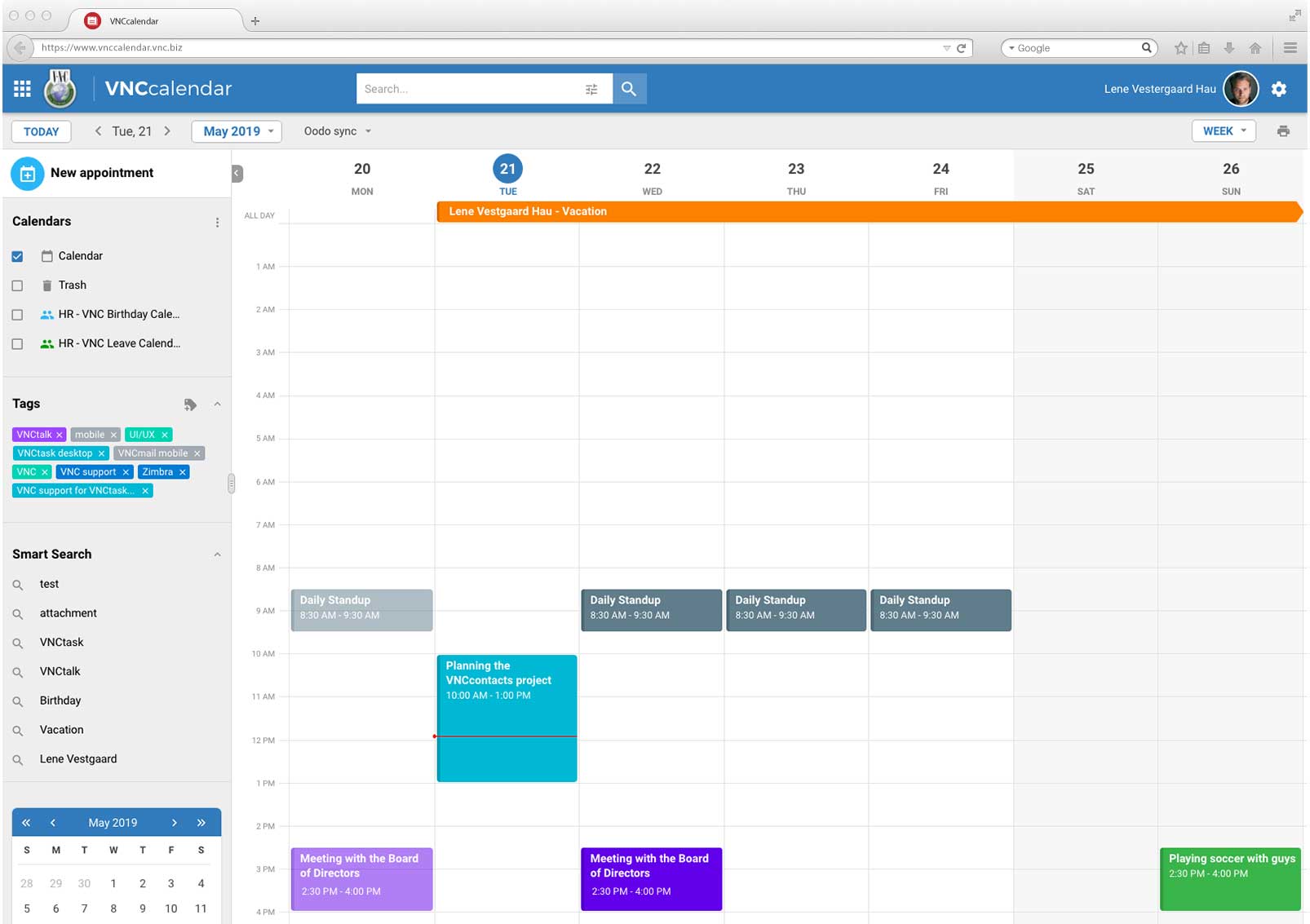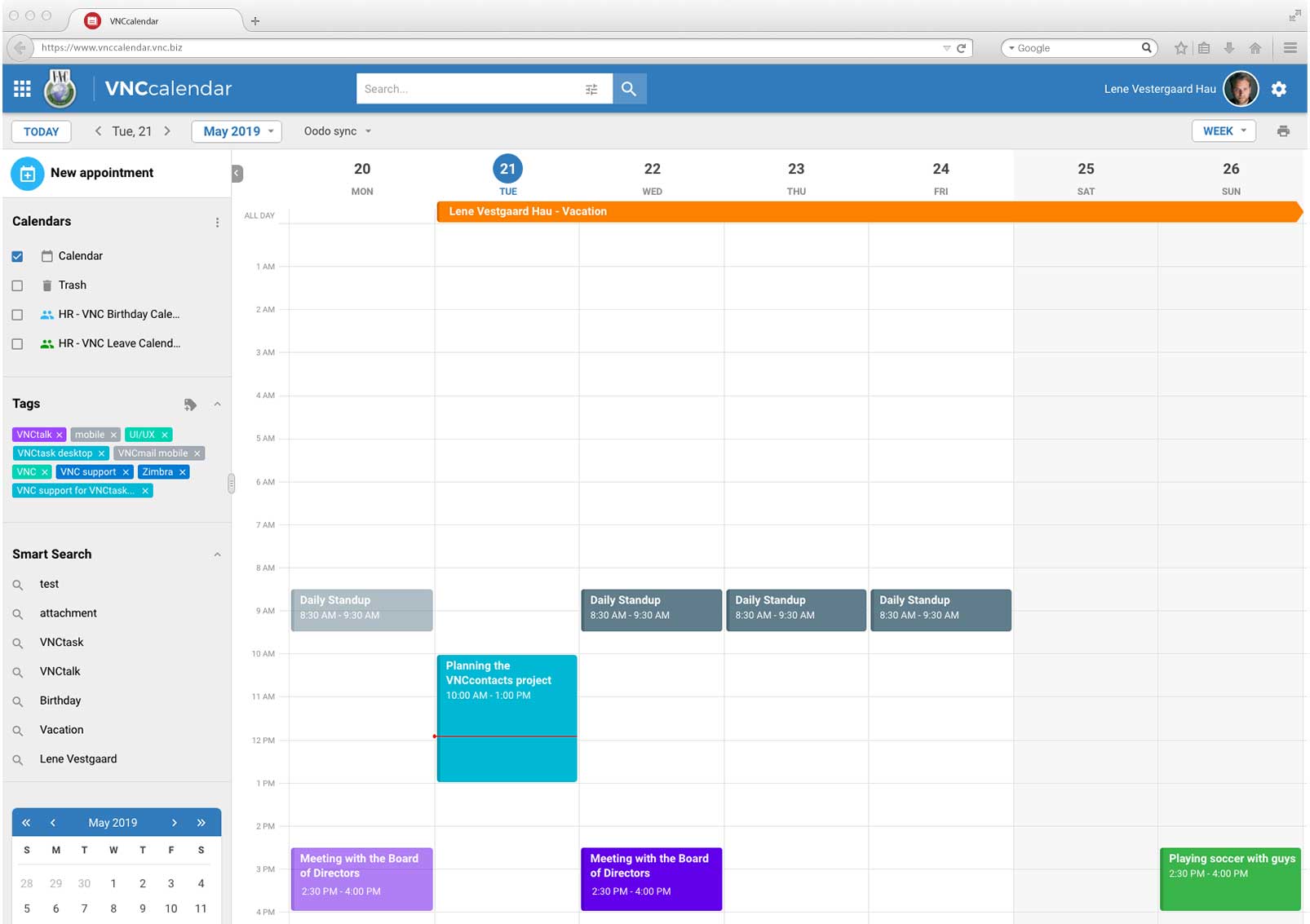 VNCcalendar Desktop Client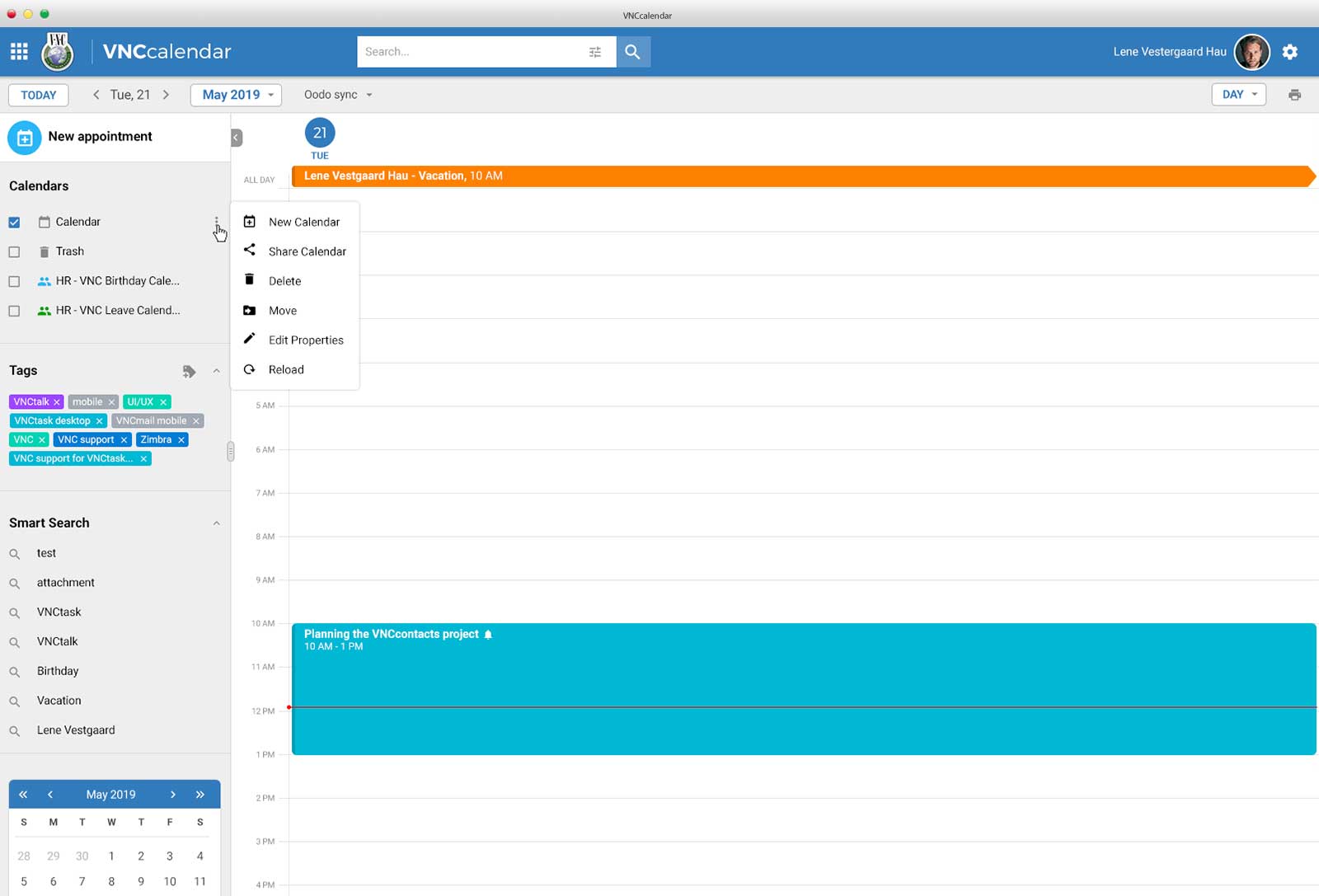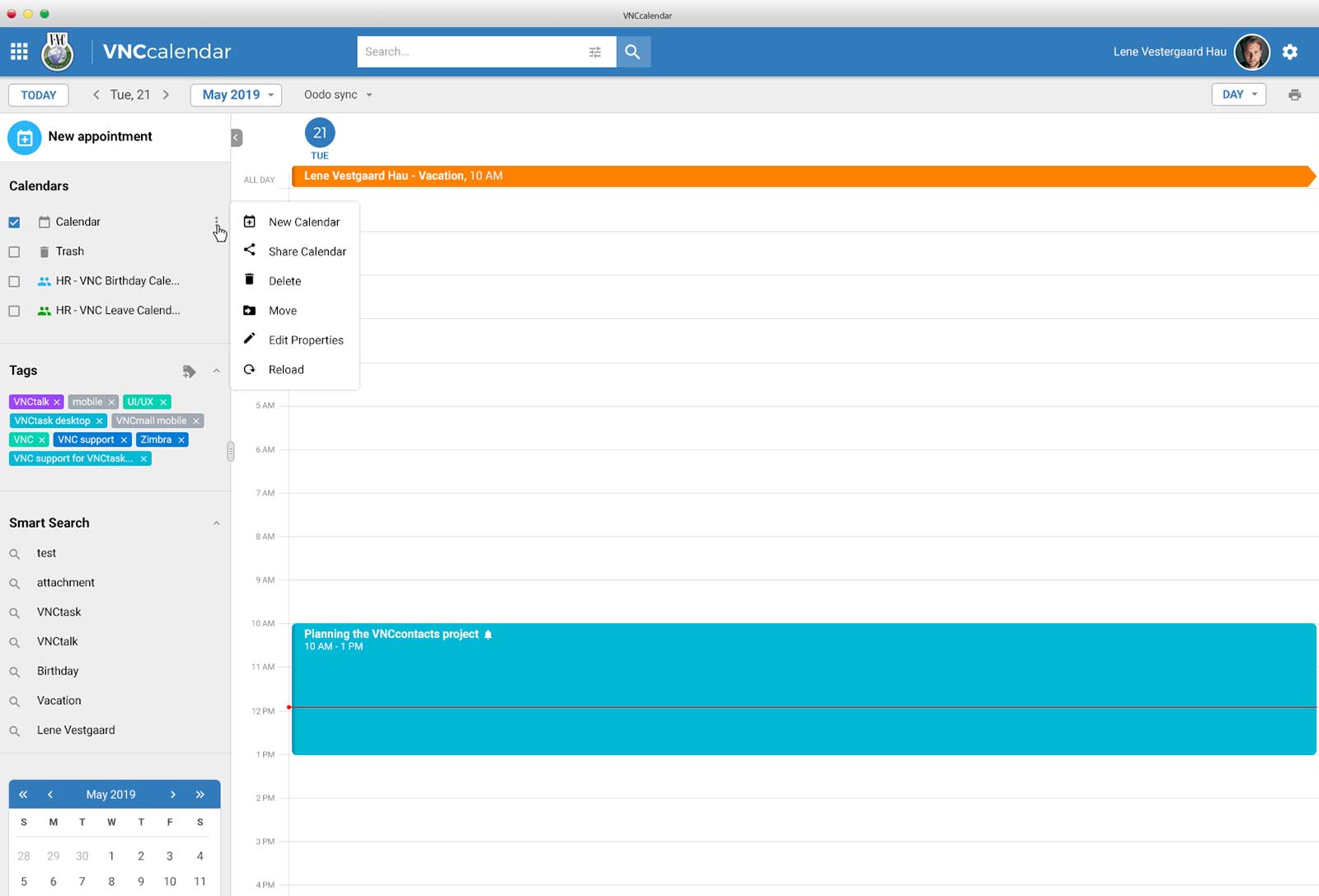 The VNCcalendar Desktop Client allows you to run VNCcalendar as a separate application on your desktop PC – on Windows, Mac and Linux. Especially when working with lots of open browser tabs, it might suit you to have a separate access point for your appointments. And of course you have the complete VNCcalendar features available, in any of our frontend clients.
This modern and easy to use App brings all functionalities needed for your events and appointments to your mobile device. You won't miss a date! The VNCcalendar App is available for Android and iOS. VNCcalendar is clearly structured and intuitive to use.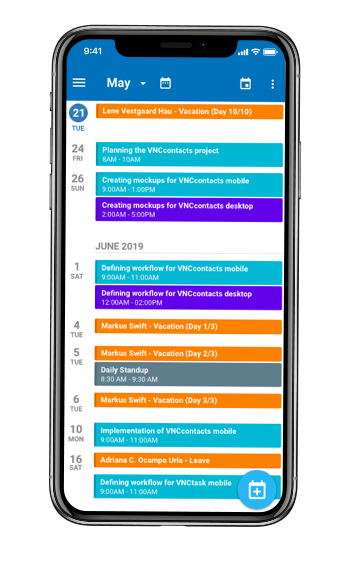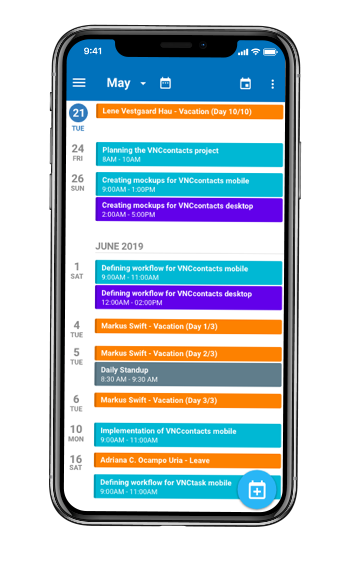 Latest VNCcalendar Release Notes
Testimonials
We set highest standards in what we do. Just like our clients. That's why it is so important to us to know what they think about working with VNC and our business solutions.
"We see the greatest advantage in having all documents available online. We get almost everything as an e-mail attachment now or access online data ourselves, so that we really have an online working level for everyone. … so that the documents are available in different places … and that the data protection requirements are always met."

Am Weinberg
Church congregation employee
Berlin
"The federal state church intranet should strengthen communication and cooperation within the state church. The basic aim is to provide all full-time employees and volunteers of the regional church with access to an innovative, modern and unified communication and collaboration infrastructure. The VNClagoon products are particularly well suited for this, because they allow us as a state church – in addition to the many functionalities provided – the possibility of customization options to individual needs within our church. "

Tabea Langguth
Project Manager Landeskirchenweites Intranet
Are you ready for VNClagoon?
Get started with VNClagoon in your enterprise. Are you a Software Vendor or a Telco? Become a Reseller and sell VNClagoon to your customers.