Zug, Switzerland, August 8, 2023 – Sales and marketing departments groan under the pressure of high expectations. After all, they are responsible for the economic success of a company. The latest version of the CRM tool VNCcrm puts an end to sales silos and optimizes collaboration within sales teams and between departments.
Customer Relationship Management (CRM) is the ultimate marketing and sales discipline. Contacts, prospects, opportunities, pipelines, or leads – this is where all customer information comes together. It is the heart of customer-centric companies and those that want to be. Intelligent digital CRM tools are essential for sales success in the face of increasing competition and customer demands for personalization and speed of response. Often enough, the biggest obstacle to sales success is being trapped in the sales silo. Highly complex but functionally isolated CRM programs act like erratic black boxes with no connection to the outside world.
More than "just" CRM
The latest version of the CRM application VNCcrm is a modular component of the VNClagoon software stack and integrates seamlessly into collaboration workflows and communication processes. With the new CRM module, VNC, a leading developer of Open Source-based enterprise applications, has taken integration to the extreme. The most striking feature is the action wheel, which can be used to launch actions and functions directly from the CRM tool across all modules, be it a chat, an e-mail, a video conference or access to project data. VNCcrm manages and prioritizes leads, opportunities, pipelines and activities. It provides a central place to track customer interactions, synchronize data and share information among team members. The new reference implementation from the VNC factory follows the fluid principle developed by VNC, which allows users unprecedented degrees of freedom in the optimal design of their digital workplaces. In this way, VNCcrm also allows the derivation of vertical applications beyond the usual customer relationship management. Possible applications are e-files, land registry applications or applications for human resource management.
"Sales silos are sales brakes," emphasizes Andrea Wörrlein, Managing Director of VNC in Berlin and Member of the Board of VNC AG in Zug. "VNCcrm provides transparency and efficiency in the sales cycle and seamless integration into workflows and processes.
VNCcrm Action Wheel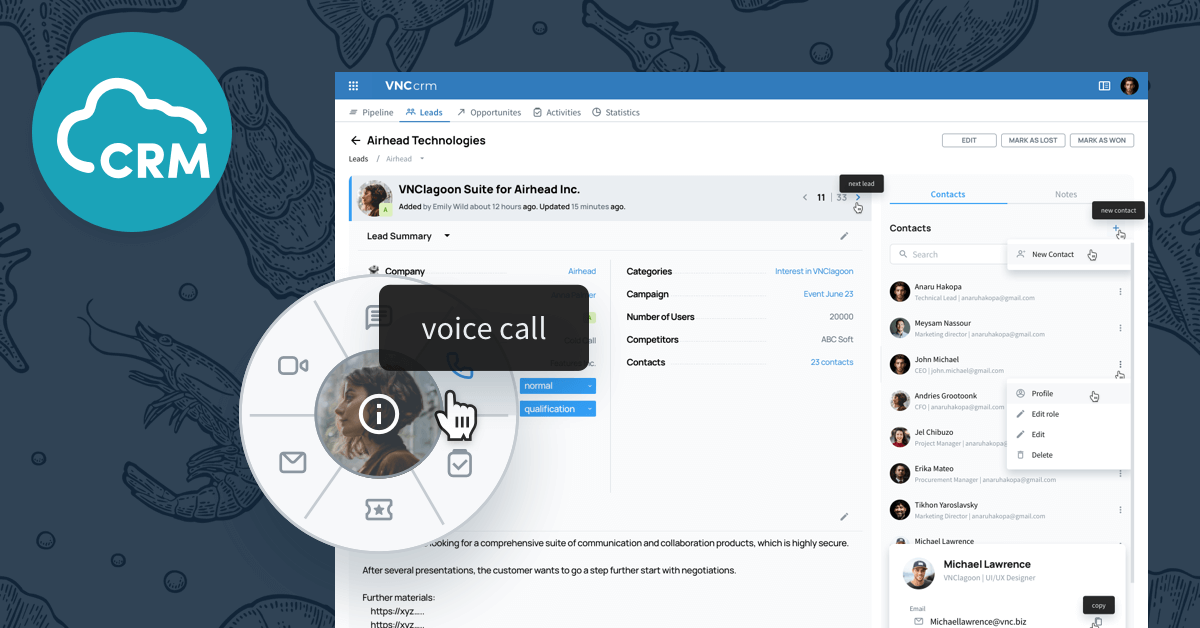 VNCcrm Dashboard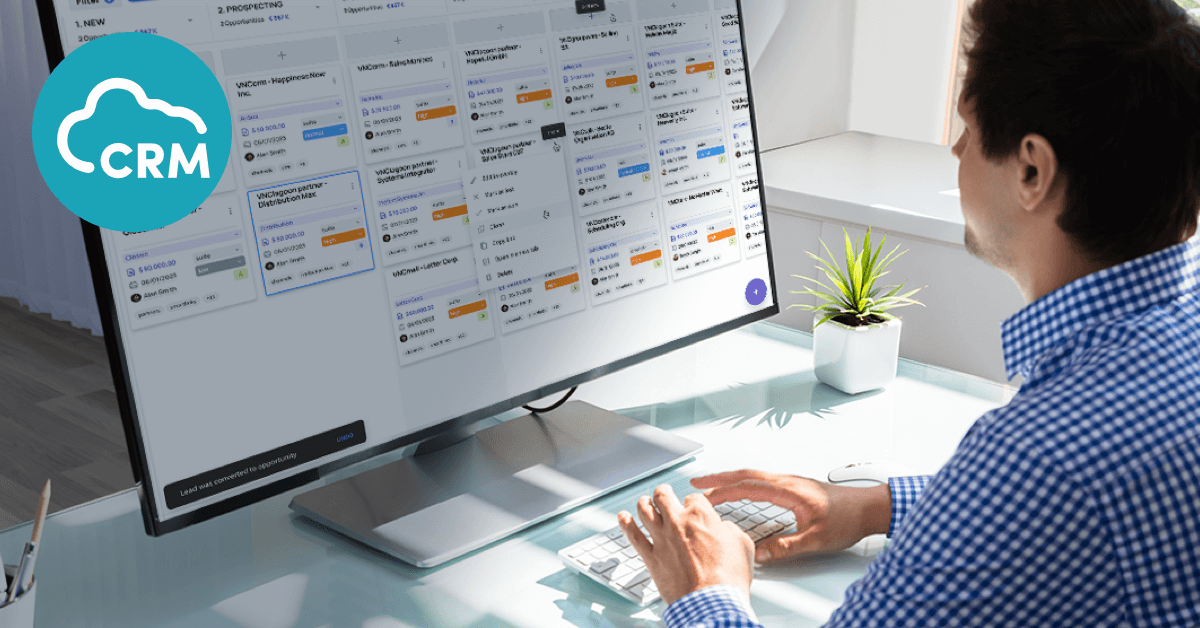 About VNC – Virtual Network Consult AG
VNC – Virtual Network Consult AG, based in Switzerland, Germany and India, is a leading developer of open source-based enterprise applications and positions itself as an open and secure alternative to the established software giants. With VNClagoon, the organization with its global open source developer community has created an integrated product suite for enterprises, characterized by high security, state-of-the-art technology and low TCO. VNC's customers include system integrators and telcos as well as large enterprises and institutions.
Further information on https://vnclagoon.com, on Twitter @VNCbiz and on LinkedIn.
Contact
Andrea Wörrlein
VNC – Virtual Network Consult AG
Poststrasse 24
CH-6302 Zug
Phone: +41 (41) 727 52 00
aw@vnc.biz
Kathleen Hahn
PR-COM GmbH
Sendlinger-Tor-Platz 6
80336 München
Phone: +49-89-59997-763
kathleen.hahn@pr-com.de