Zug, Switzerland, April 20, 2021 – VNC, a leading developer of open source-based enterprise applications, introduces VNCchannels, a new, integrated, cross-media tool for professional collaboration.
VNCchannels is a multifunctional collaboration tool for creating, organizing and publishing content for constructive collaboration and efficient knowledge management within a company. It combines the functionality of a content management system, a business portal and a publishing tool with optional additional communication channels such as messenger, group chat and e-mail under a unified, intuitive user interface.
The core components of the tool are "Topics", which are information threads in the form of customizable tiles, pages or lists in which news, text, images, videos or files can be integrated. The content is then tagged with metadata and shared with the target group. Relevant channels can be created, accessed, edited and subscribed to in the same way as on social media platforms.
A unique function within Topics are the so-called Smartlinks, which can link any object within VNClagoon, such as related Topics, e-mails, tasks or tickets, and then tag them with relevant metadata. VNCchannels also offers a sophisticated filter function that can be used to search, group and sort all available fields within a channel or topic, and the powerful search function allows content, comments and metadata to be located at a glance.
As a result, VNCchannels meets all of the essential criteria for effective collaboration, and enables focused support for decision making as well as innovation management within a company, through:
collecting, storing, processing and aggregating data,
incorporating real-time information,
tagging data and information for quick searches,
logical structuring of content for analysis and decision making,
fast and effective communication and publication of information,
utilizing data and information for more in-depth value creation,
fostering innovation through a common pool of knowledge.
VNCchannels can be used individually or in combination with the messenger and video conferencing system VNCtalk. In this way, the functionality of VNCchannels can be used directly from VNCtalk. This seamless integration will soon also be available for a number of other applications from the VNC collaboration and communication stack.
"With VNCchannels, we are fulfilling the vision of many companies and their employees for a highly integrated and, at the same time, easy-to-use tool that supports them in all phases of workflows, informational value creation and innovation acceleration," explains Andrea Wörrlein, Managing Director of VNC in Berlin and Member of the Board of VNC AG in Zug. "We are thereby giving professional collaboration and communication a new face."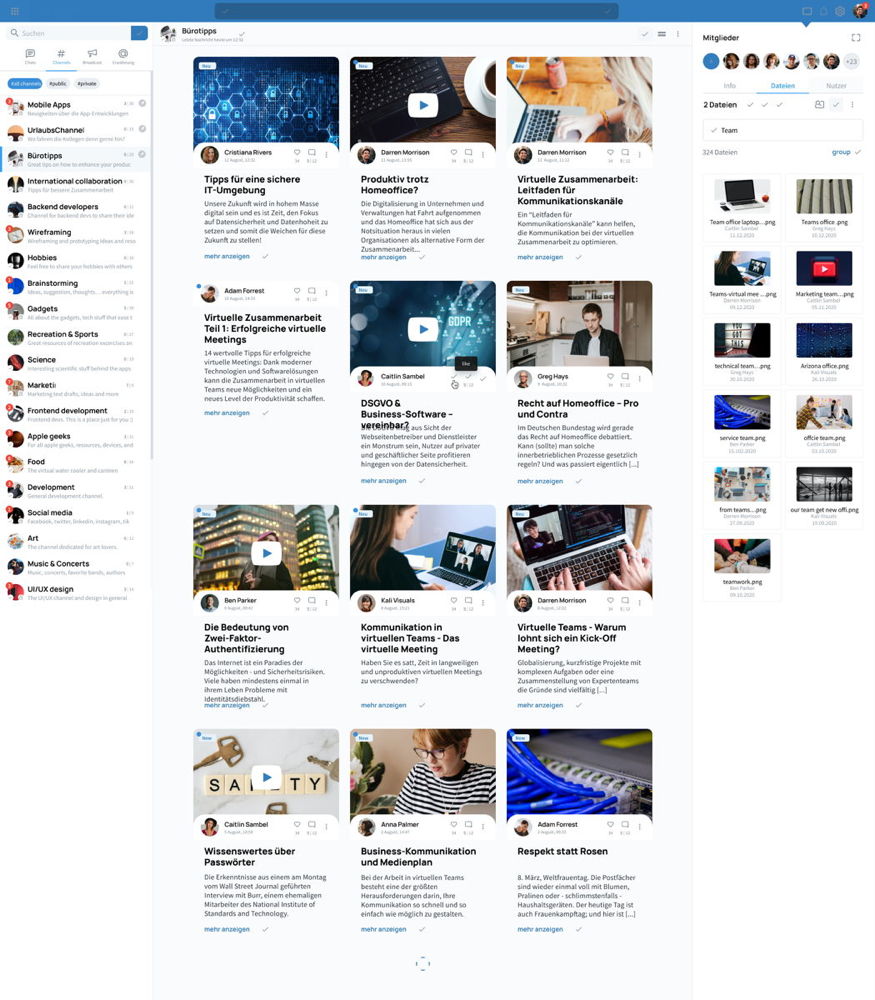 About VNC
Seamless Communication and Collaboration: The New Normal for Today's Enterprise. VNC is a global software corporation that develops open-source communication and collaboration applications for large organizations. With its interdisciplinary, high professional developer team, VNC has created VNClagoon – an integrated suite of enterprise applications that offer a secure alternative to the established software giants. Now it is possible to collaborate with anyone, from anywhere, on any device, under the strictest privacy standards available while retaining the right to digital sovereignty. VNC – Virtual Network Consult AG, is based in Switzerland, Germany and India, serving a variety of system integrators, financial institutions, network organizations, telcos, non profit groups, healthcare providers, and government agencies and more. For more information visit: https://vnclagoon.com
Contact
Andrea Wörrlein
VNC – Virtual Network Consult AG
Poststrasse 24
CH-6302 Zug
Phone: +41 (41) 727 52 00
aw@vnc.biz
Kathleen Hahn
PR-COM GmbH
Sendlinger-Tor-Platz 6
80336 München
Phone: +49-89-59997-763
kathleen.hahn@pr-com.de