Zug, Switzerland, March 16, 2022 – VNCsocial now makes the principle of social networks available within companies. As a modular part of the communication and collaboration stack VNClagoon, the new program offers secure social networking in a professional environment.
VNC, a leading developer of open source enterprise applications, now opens up the communication richness of social networking to businesses and organizations with VNCsocial. VNCsocial enables secure internal microblogging and social networking for professionals to communicate efficiently and stay connected through the rapid exchange of breaking news. VNCsocial allows networking and communication via posts and reposts as well as analytical tracking of followers, posts and profile views. This makes it possible to share news, ideas and opinions of all kinds with colleagues.
These are the four characteristic components of VNCsocial:
Profile: Profiles contain short descriptions and photos, and display a user's posts and reposts. This is also where users can change their profile headers, photos, and descriptions, as well as view their own replies and likes to posts.
Stream: Within streams, any member of the organization can follow other members and subscribe to their posts. All posts of the colleagues that the user follows are displayed chronologically. When he or she opens VNCsocial, the most recent posts are displayed on the main VNCsocial page.
Subscriptions: The subscriptions show the user's own followers and all users he or she follows. It is also the place to find colleagues and share their ideas and thoughts.
Bookmarks: Bookmarks are used to mark posts for later reading, keep favorite posts in mind, or save posts that you want to share later. All bookmarks are only visible to the respective user.
Unlike public social networks, all data and functions remain securely under the control and data sovereignty of the company. VNCsocial can be optionally hosted either on the company's own infrastructure or with a trusted service partner. Users can use it solo as an app and in the browser client, or call and operate it as a function module directly from the communication tools VNCtalk and VNCchannels, for example during a video conference.
"VNCsocial transfers the success story of social media to companies," emphasizes Andrea Wörrlein, Managing Director of VNC in Berlin and member of the Board of VNC AG in Zug. "Employees can thus use their popular and valued way of dealing with information and communicating from their private lives in their professional lives now. This benefits efficiency and creativity in equal measure."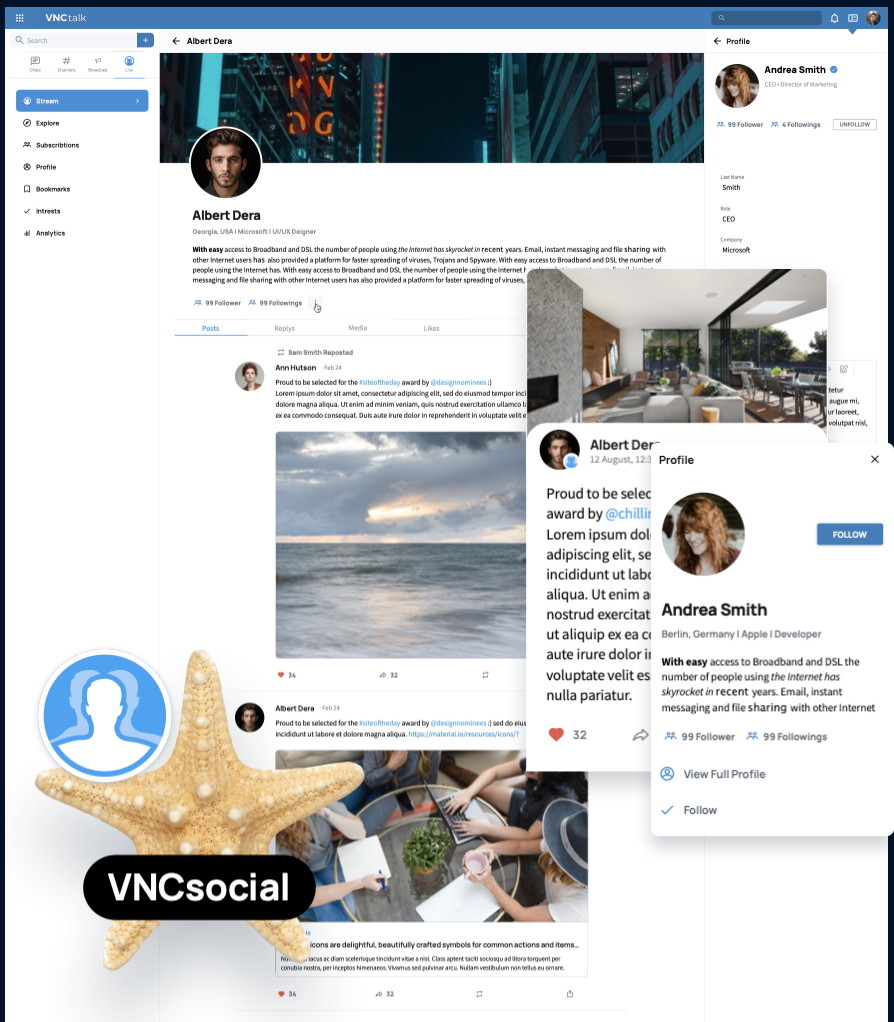 About VNC – Virtual Network Consult AG
VNC – Virtual Network Consult AG, based in Switzerland, Germany and India, is a leading developer of open source-based enterprise applications and positions itself as an open and secure alternative to the established software giants. With VNClagoon, the organization with its global open source developer community has created an integrated product suite for enterprises, characterized by high security, state-of-the-art technology and low TCO. VNC's customers include system integrators and telcos as well as large enterprises and institutions.
Further information on https://vnclagoon.com, on Twitter @VNCbiz and on LinkedIn.
Contact
Andrea Wörrlein
VNC – Virtual Network Consult AG
Poststrasse 24
CH-6302 Zug
Phone: +41 (41) 727 52 00
aw@vnc.biz
Beatrice Ferri
PR-COM GmbH
Sendlinger-Tor-Platz 6
80336 München
Phone: +49-89-59997-704
beatrice.ferri@pr-com.de