Zug, Switzerland, 12 April 2023 – VNC, leading developer of open source based enterprise applications, is releasing version 3.0 of VNCmail. Highlights of the latest version are the Action Wheel, Advanced Search and the e-mail function for Zimbra groupware.
Although many are predicting an imminent end for e-mail communication, it is and remains indispensable, especially in the professional environment. The latest 3.0 version of VNCmail comes with a multitude of new intelligent features that greatly simplify working with e-mails. VNCmail 3.0 is available in three versions: as a desktop app, as a web client and as a mobile app for Android and iOS. It can be used both as a stand-alone e-mail application and as a function module of the highly integrated software stack VNClagoon. VNCmail 3.0 is also predestined as an e-mail client for the widely used open source groupware Zimbra. The most important innovations of version 3.0 are:
Advanced Search: The integration of the search server Apache Solr enables a refined full-text search. Documents and e-mail attachments of different file formats can now be searched using vague terms or synonyms. In addition, the use of NLP (Natural Language Processing) is now possible.
Action Wheel: The Action Wheel allows direct access to other function modules such as VNCcontacts or VNCtalk. In this way, detailed and context-related information such as profile information of an e-mail sender or the history of activities can be displayed.
File Sync & Share: In the new version 3.0 it is now possible to connect VNCmail with the file sync & share module VNCsafe in order to attach files directly to e-mails or to save any e-mail attachments in VNCsafe.
Unlimited storage: VNCmail 3.0 uses an integrated, fully functional offline database for background storage. The storage capacity for e-mails and attachments is therefore only limited by the end device currently in use.
Digital authenticity: The integrated blockchain technology allows the digital authenticity (origin) of an e-mail to be checked in real time. A seal in the form of a QR code is attached to each e-mail, which can be verified by any e-mail program.
OnlyOffice-Integration: VNCmail 3.0 works seamlessly with the open source online suite OnlyOffice when exchanging data and content, regardless of file format.
"The ongoing complaints about the flood of e-mails prove one thing above all: communication by e-mail is alive and well," explains Andrea Wörrlein, managing director of VNC in Berlin and member of the board of VNC AG in Zug. "This makes it all the more important to have highly intelligent tools like VNCmail 3.0 which make dealing with it more convenient and efficient."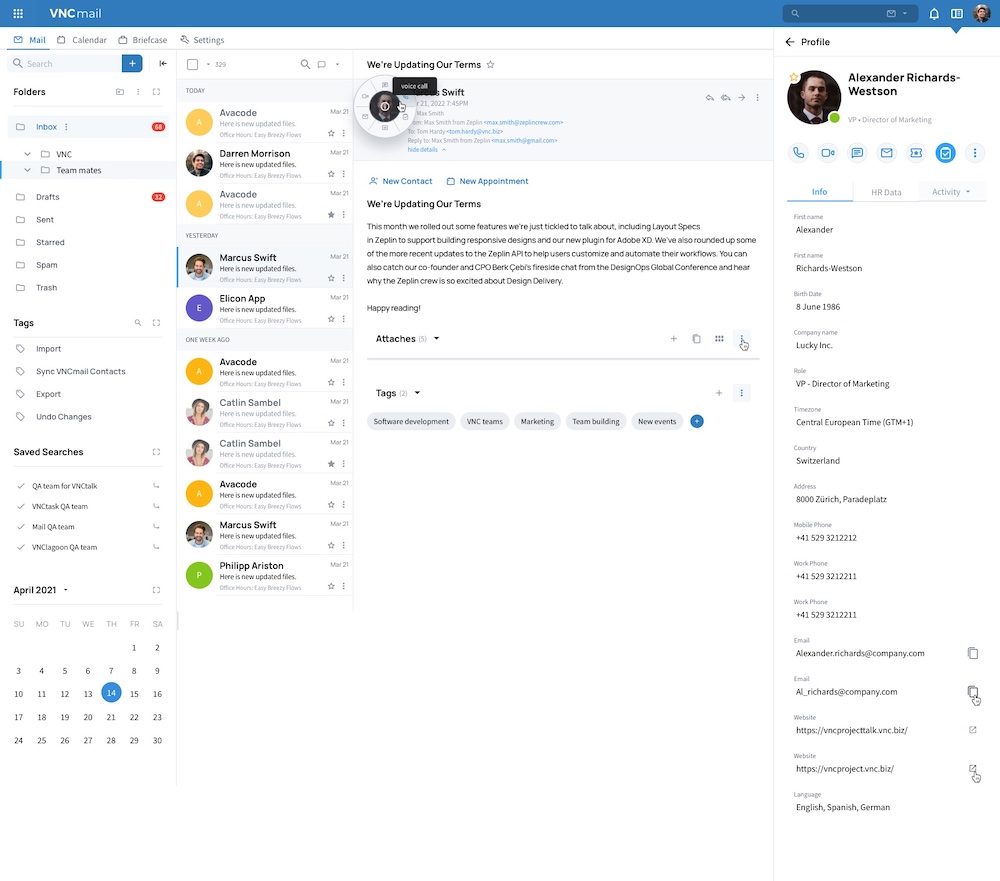 The Action Wheel in VNCmail 3.0 can be used to display additional information.
About VNC – Virtual Network Consult AG
VNC – Virtual Network Consult AG, based in Switzerland, Germany and India, is a leading developer of open source-based enterprise applications and positions itself as an open and secure alternative to the established software giants. With VNClagoon, the organization with its global open source developer community has created an integrated product suite for enterprises, characterized by high security, state-of-the-art technology and low TCO. VNC's customers include system integrators and telcos as well as large enterprises and institutions.
Further information on https://vnclagoon.com, on Twitter @VNCbiz and on LinkedIn.
Contact
Andrea Wörrlein
VNC – Virtual Network Consult AG
Poststrasse 24
CH-6302 Zug
Phone: +41 (41) 727 52 00
aw@vnc.biz
Beatrice Ferri
PR-COM GmbH
Sendlinger-Tor-Platz 6
D-80336 Munich
Phone: +49-89-59997-704
beatrice.ferri@pr-com.de