Zug, Switzerland, 2 February 2021 – The new VNCcommander provides a central user interface for VNClagoon. All applications within the software stack for communication and collaboration can be controlled via this interface.
From now on, the new VNCcommander is the core user interface for all VNClagoon applications. The software stack includes communication and collaboration apps such as VNCtalk for video conferencing or VNCproject for project management. With the VNCcommander, the complete range of functions of the VNC applications are now easily and intuitively accessible via a uniform front end using single sign-on.
Clever features, simple operation
VNCcommander is available both as a browser application and as a mobile app. The new interface for creating, editing and previewing all elements has so-called "+ buttons" for initiating actions directly from any application. All subscribed applications (VNCmail, VNCtask, VNCcontacts, VNCcalendar, …) along with the respective new items (such as received emails, pending tasks or appointments, new contacts or chat messages) are immediately accessible via a central menu, simplifying navigation considerably. It is possible to switch directly between individual apps and, for example, create an e-mail in VNCmail from the contact management tool VNCcontacts or start a chat via VNCtalk. All elements can be grouped, sorted and filtered according to user, for example, to display only very specific communication channels. In addition, all elements can be tagged and then filtered. The filter functions allow searching across all apps as well as limited to selected apps.
Integration of all channels
VNClagoon is a modular, multifunctional product suite for communication, collaboration and productivity in the company. It includes functional modules for communication channels such as messaging, mailing or video conferencing as well as collaboration tools such as file sharing, groupware, task and project management. All modules of VNClagoon are based on a common open source code base and can be used individually, completely or in an individually modelled network. The counterpart to the front-end VNCcommander is the central directory service VNCdirectory in the back-end. Here is where, among other things, single sign-on, single log-out, client synchronisation, user management and user provisioning take place. This simplifies administration enormously.
"VNCcommander enables the integration of communication and collaboration channels and the simple exchange of data across application boundaries," explains Andrea Wörrlein, Managing Director of VNC in Berlin, Germany, and member of the Board of VNC AG in Zug, Switzerland. "This reduces training efforts, simplifies administration, increases efficiency in the team and thus finally provides companies with the right tool for more productive communication and collaboration."
All VNC apps are directly accessible via the VNCcommander.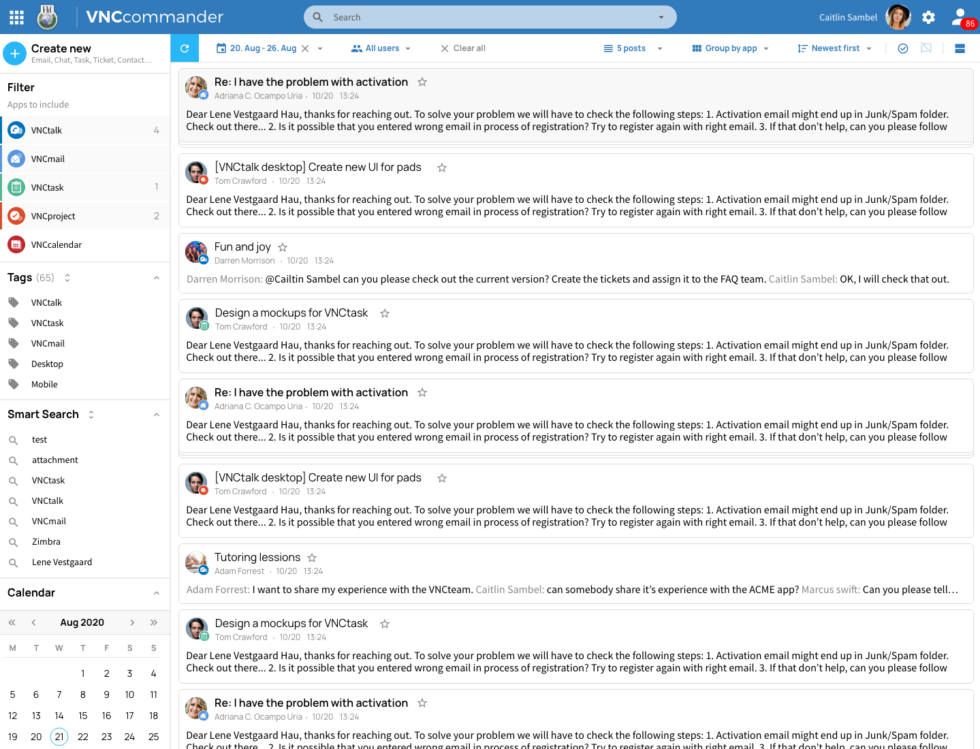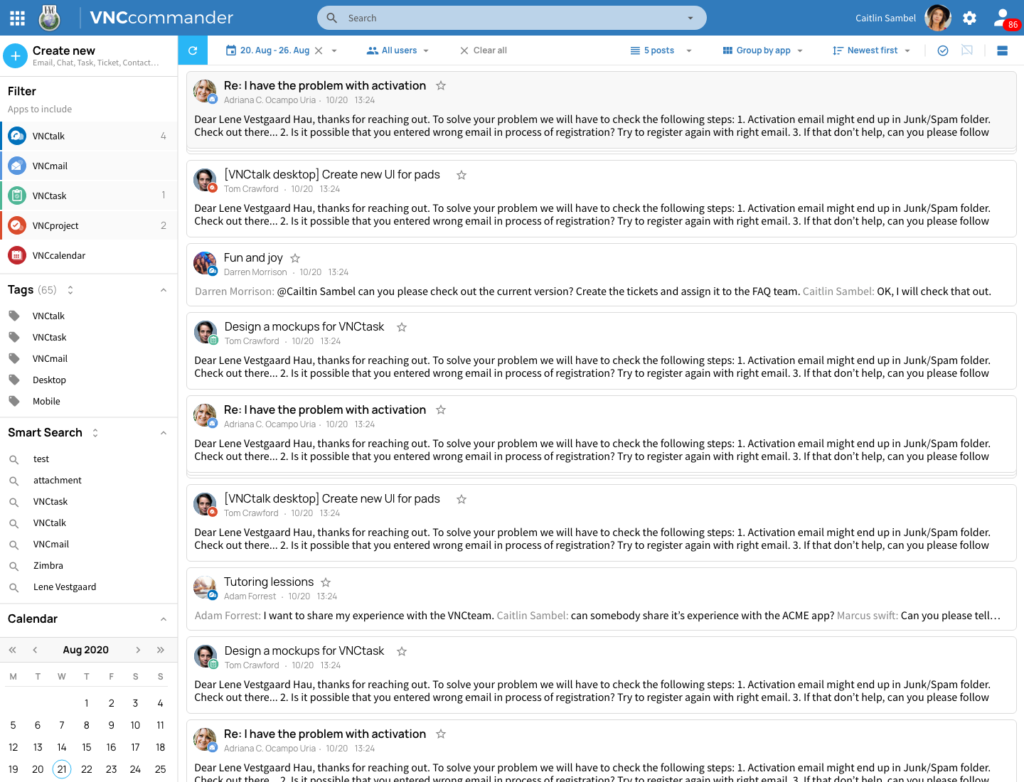 The VNCcommander is also available on mobile devices.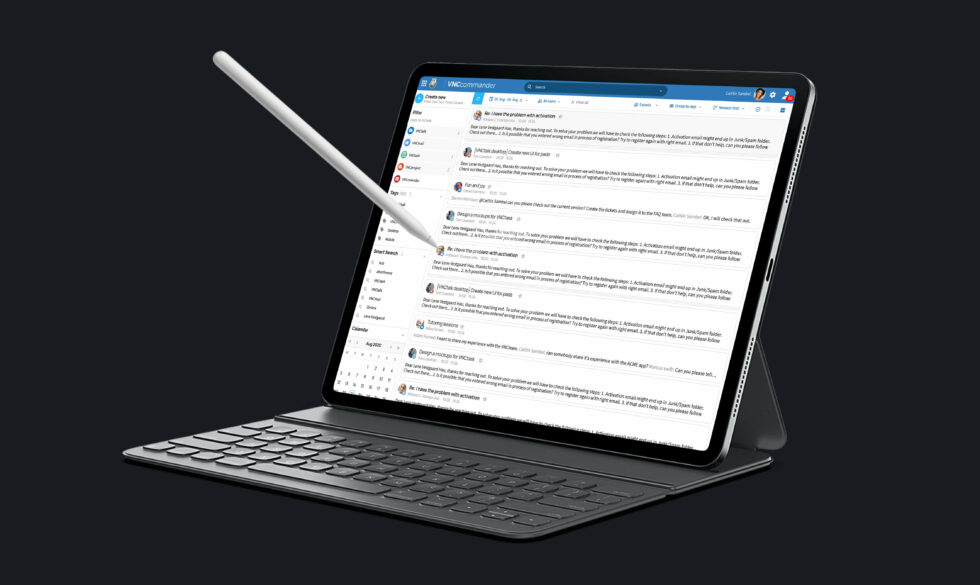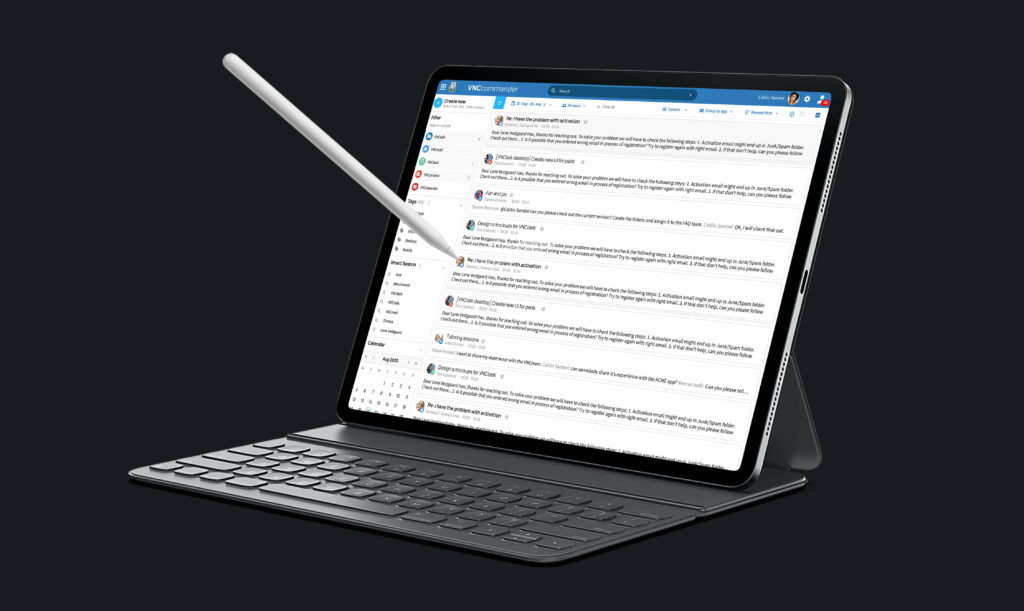 About VNC
VNC – Virtual Network Consult AG, based in Switzerland, Germany and India, is a leading developer of open source-based enterprise applications and positions itself as an open and secure alternative to the established software giants. With VNClagoon, the organization with its global open source developer community has created an integrated product suite for enterprises, characterized by high security, state-of-the-art technology and low TCO. VNC's customers include system integrators and telcos as well as large enterprises and institutions. Further information: https://vnclagoon.com
Contact
Andrea Wörrlein
VNC – Virtual Network Consult AG
Poststrasse 24
CH-6302 Zug
Phone: +41 (41) 727 52 00
aw@vnc.biz
Kathleen Hahn
PR-COM GmbH
Sendlinger-Tor-Platz 6
80336 München
Phone: +49-89-59997-763
kathleen.hahn@pr-com.de