Zug, Switzerland, 09. November 2020 – The new VNCtalk version 3 combines a highly functional video conferencing system with a powerful messenger. With the integrated Multi-Conference-Board (MCB) all conferences can be centrally controlled and managed via dashboard.
The highlight of the new version 3 of VNCtalk is the Multi-Conference Board (MCB). It extends the functionality of VNCtalk by the management of multiple virtual events with a large number of participants. With MCB, parallel and overlapping conferences, whether audio, video, whiteboard or screen share, can be controlled, recorded and archived from a central dashboard. The role management allows the setup of access and authorization levels such as conference manager, moderator, participant or audience. These roles can also be changed during an ongoing conference. Via MCB, conference managers are able to send invitations and broadcasts or chat with participants – they always have a detailed overview of all conferences.
Power on demand
The allocation of the required resources for the video conferences is done by Auto Scaling according to the individual requirements. Additional video bridge capacities are automatically switched on as required, and additional computing resources from the cloud are used for computing-intensive rendering in video conferences to eliminate latency. In addition to performance, this also increases cost efficiency. Furthermore, VNCtalk has an automatic adaptation to the available bandwidths for perfect video quality. Thanks to the two SQL databases integrated into VNCtalk (IndexedDB for the Web Client and SQLite for the App and Desktop Client), several clients can be started simultaneously and independently of each other and, if necessary, used offline. Offline devices are immediately synchronized when reconnected and all connected devices are automatically notified.
Since its first version, VNCtalk combines the video conference system with the VNCmessenger, which goes far beyond the usual chat functions that are of only limited value for professional use. Thus the messenger has extended functionalities such as collaborative document management and rich text formatting (RTF) for messages. Video conferences and whiteboard sessions can be started from a chat, but screens can also be shared with all or selected chat participants. It is also possible to add guests simply by sending a link via a WebRTC-compatible browser.
Teamwork
VNCtalk is a basic component of the VNClagoon software stack for communication and collaboration. In VNCdirectory, the central management system for all VNC applications, all definitions for users, roles or access authorizations for VNCtalk are managed in the backend. The metadata from the conferences can also be analyzed here.
All modules of this stack, like VNCtask, VNCcontacts or VNCproject, are based on open source code. Therefore all programs have the same operating logic and user guidance. Data exchange and interoperability between the modules is easily possible due to the open source code base and the use of RESTful APIs. They can also be integrated quickly and securely into third-party products. This makes them attractive for OEM and channel partners, especially as they can be flexibly branded with the whitelabeling option.
Cloud agnostic and platform independence
By using Apache Cordova as a development tool, VNCtalk 3 is available as a universal client: as a web client for the browser, as a desktop client for Windows, Mac and Linux and as an app for Android and iOS (iPhone and iPad). Further developments and new features are immediately available on all platforms simultaneously. Integrators or channel partners also no longer need to make parallel adjustments for different operating systems. Further development is also accelerated by the use of automated test and deployment servers (Jenkins, GitLab, Kubernetes) and security is increased at the same time.
VNC is independent of the IT infrastructure and can be deployed on a wide variety of platforms: in your own data center, in a private cloud, co-located with the data center service provider, on a cloud marketplace or in a public cloud such as the Google Cloud Platform (GCP). This platform agnostic approach also makes VNCtalk highly attractive for the IT channel, integrators and OEMs.
"Messaging and videoconferencing have quickly become indispensable collaboration tools for the working world, schools and public authorities. Many workflows are no longer practicable without them," explains Andrea Wörrlein, Managing Director of VNC in Berlin and member of the board of VNC AG in Zug. "With VNCtalk and the integrated Multi-Conference Board, we provide a professional and secure tool that raises video-supported digital collaboration to a previously unknown level".
With the Multi-Conference Board, many virtual events can be managed in parallel and the various roles and permissions can be defined.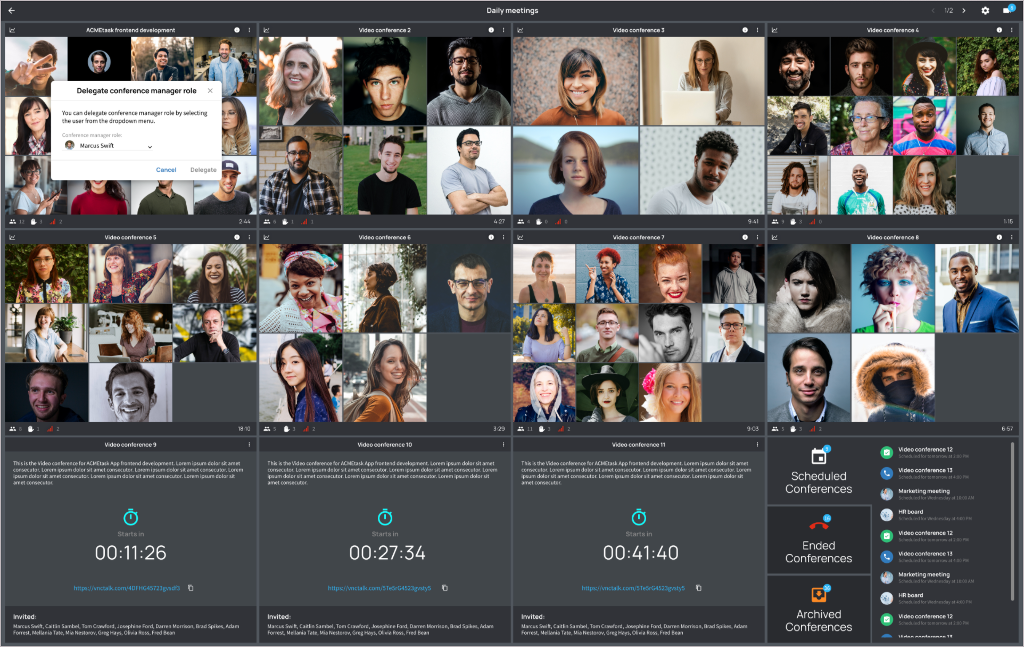 The ticket display of the conferences in the Multi-Conference Board makes it easier to keep track of the conferences.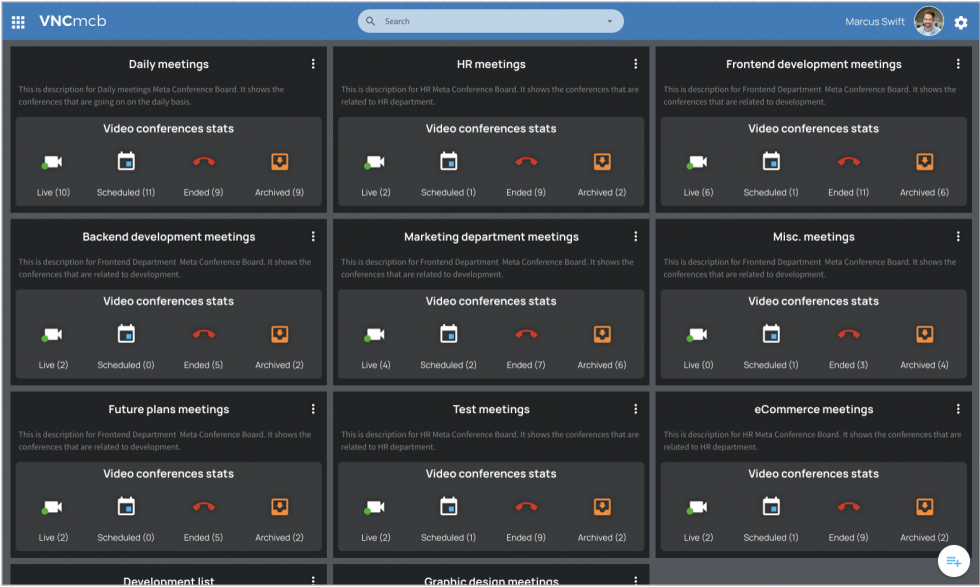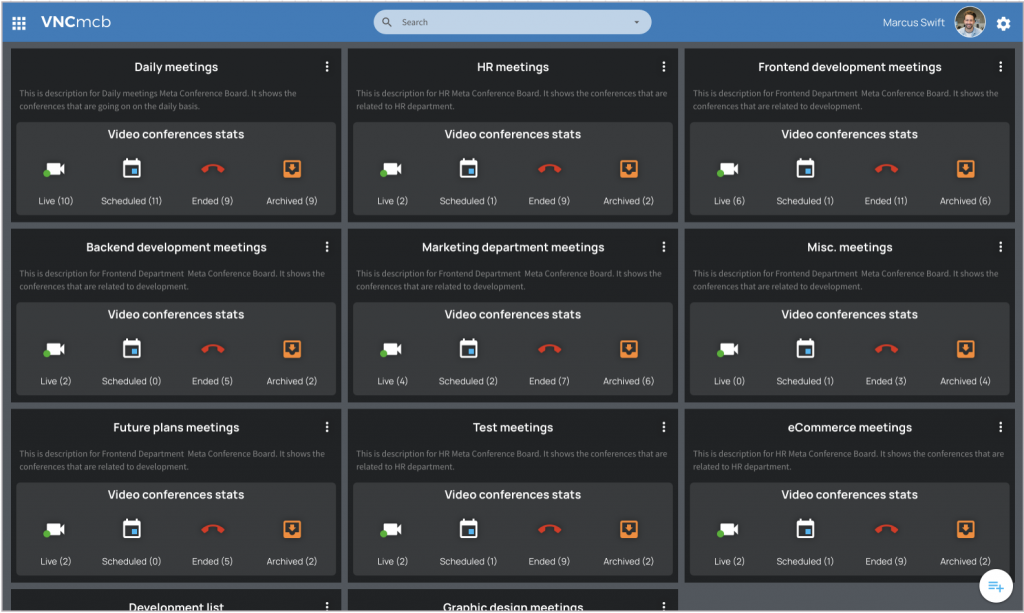 Contacts are automatically imported from VNCcontacts into the Multi-Conference Board.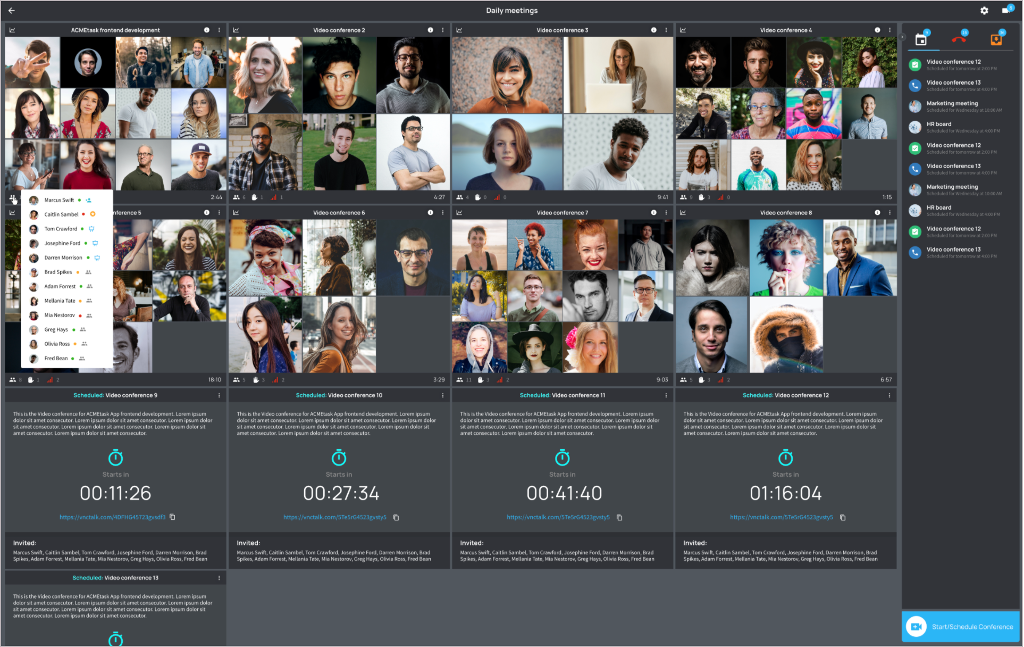 About VNC
VNC – Virtual Network Consult AG, based in Switzerland, Germany and India, is a leading developer of open source-based enterprise applications and positions itself as an open and secure alternative to the established software giants. With VNClagoon, the organization with its global open source developer community has created an integrated product suite for enterprises, characterized by high security, state-of-the-art technology and low TCO. VNC's customers include system integrators and telcos as well as large enterprises and institutions. Further information: https://vnclagoon.com
Contact
Andrea Wörrlein
VNC – Virtual Network Consult AG
Poststrasse 24
CH-6302 Zug
Phone: +41 (41) 727 52 00
aw@vnc.biz
Kathleen Hahn
PR-COM GmbH
Sendlinger-Tor-Platz 6
80336 München
Phone: +49-89-59997-763
kathleen.hahn@pr-com.de