Enterprise contacts and address management
Contacts and address management
VNCcontacts was created to offer an easy-to-use yet powerful contact management which allows fast access to all interactions with installed VNC products like VNCtalk or VNCmail.
Why waste time with scrolling through your contacts on your phone, when you can have a fully equipped contact management? VNCcontacts helps you to manage all your contacts efficiently, easily and extends your communication options. You can call or text your contacts directly and you can also use all options from your VNClagoon products straight from the contact details, e.g. chat, video or voice calls.
With its clear design VNCcontacts makes it really easy to manage as many contacts as you can imagine. And because it's also available as an app, you can access your contacts wherever you go.
The advantage of the VNCcontacts backend is that the contacts can be fed from a variety of sources:
the contacts / emailed contacts of VNCmail
various directory services (OpenLDAP, database) per your choice
VNCdirectory (LINK!), where you can manage all users and access permissions in one place.
Many contact details:
Create contacts with name, title, contact information for private and business purposes, with a picture and various email addresses. Extend the contact details with messenger IDs or postal addresses, website, additional notes and birthday.


Key features:
fast and easy creation of new contacts
group contacts in folders
move contacts between folders
easy earmarking of favorite contacts
great overview via individual contact
lists; filter and sort by criteria
import, export (.csv files) and print (e.g.
as PDF) saved contact lists
add, change and remove your profile
photo
granular contact search
different contact options at one glance:
VNCtalk audio or call, VNCtalk chat or
VNCtask. VNCmail with all email
options.
Language support in English and German
Available contact details:
first and last name
work address, email address and phone
number(s)
private address, email address and
phone number(s)
picture
instant messenger details
website
birthday, anniversary and custom date
additional notes
create additional details
Actions from VNCcontacts:
write emails with VNCmail
VNCtalk audio call
VNCtalk video call
VNCtalk chat
create a task with VNCtask
share a file in VNCsafe with the contact
send a meeting invite
and much more!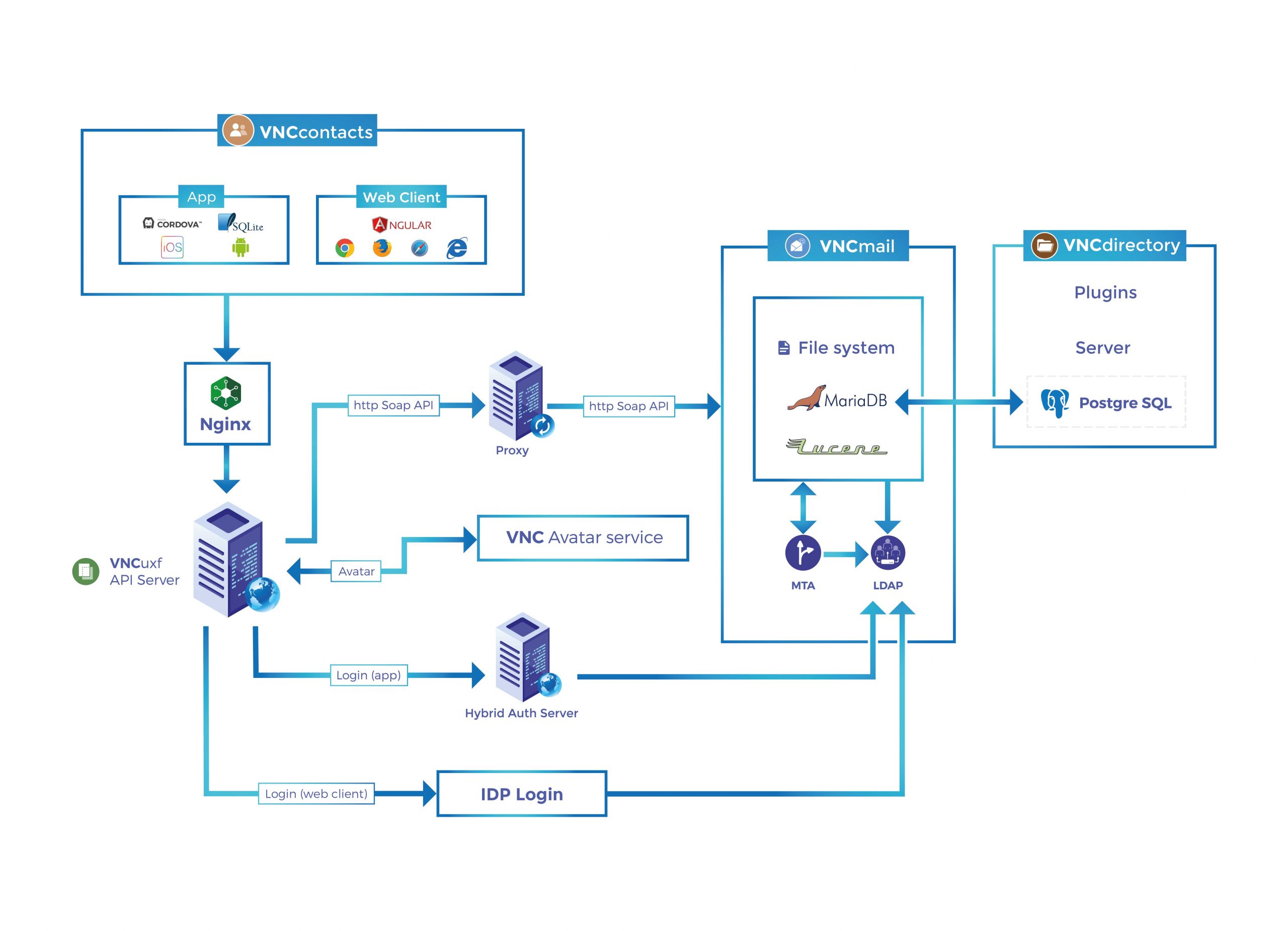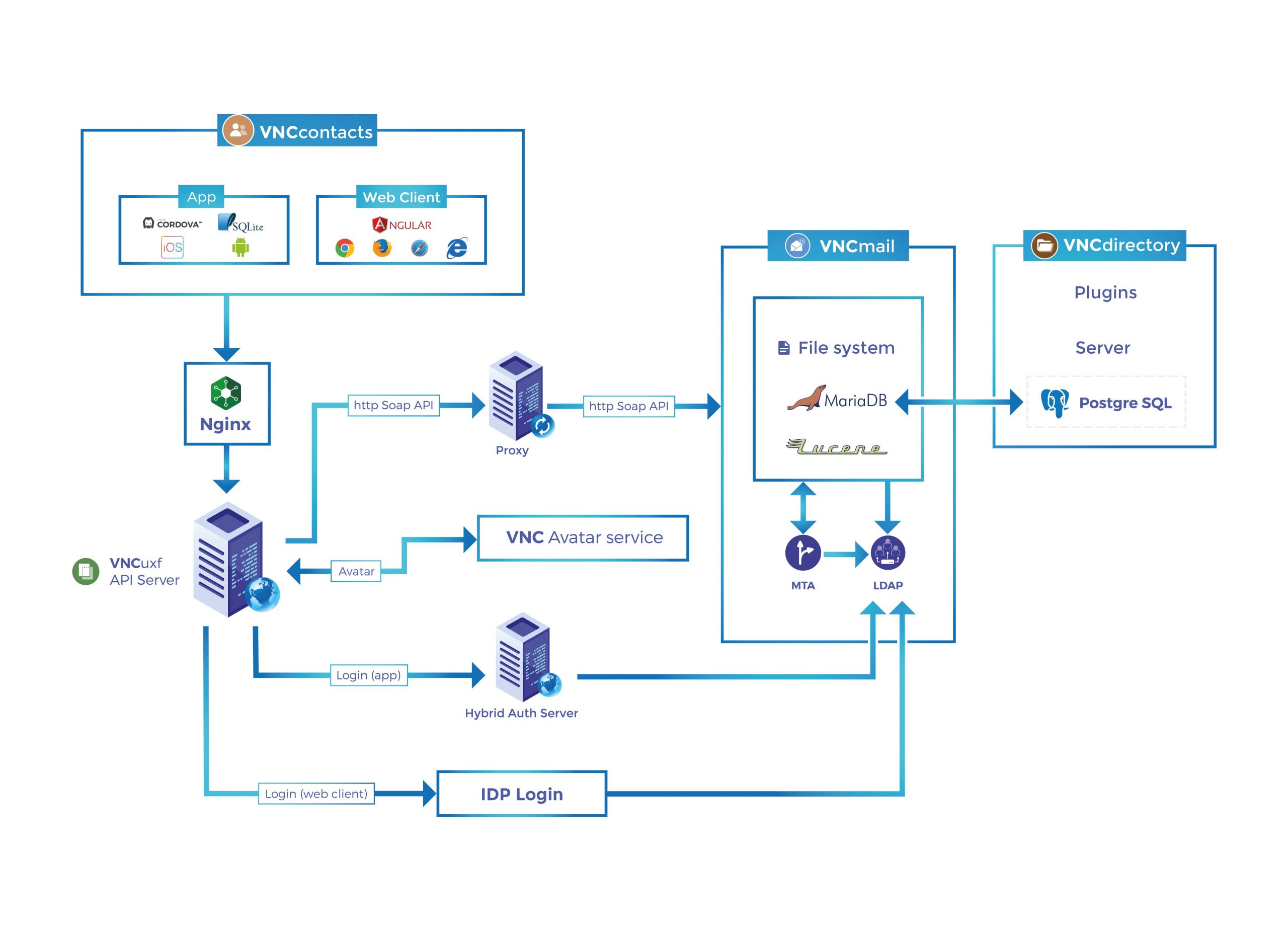 VNCcontacts Architecture chart
Technical documents and documentation
The VNCcontacts web client offers all features a contact management needs. You can create and share contacts with lots of additional information. Since VNCcontacts can be integrated with VNCmail you need only one browser tab to manage your emails and contacts. Each contact can be fed with various information, such as private and business addresses, birth date, nickname, various phone numbers and all other information you may need.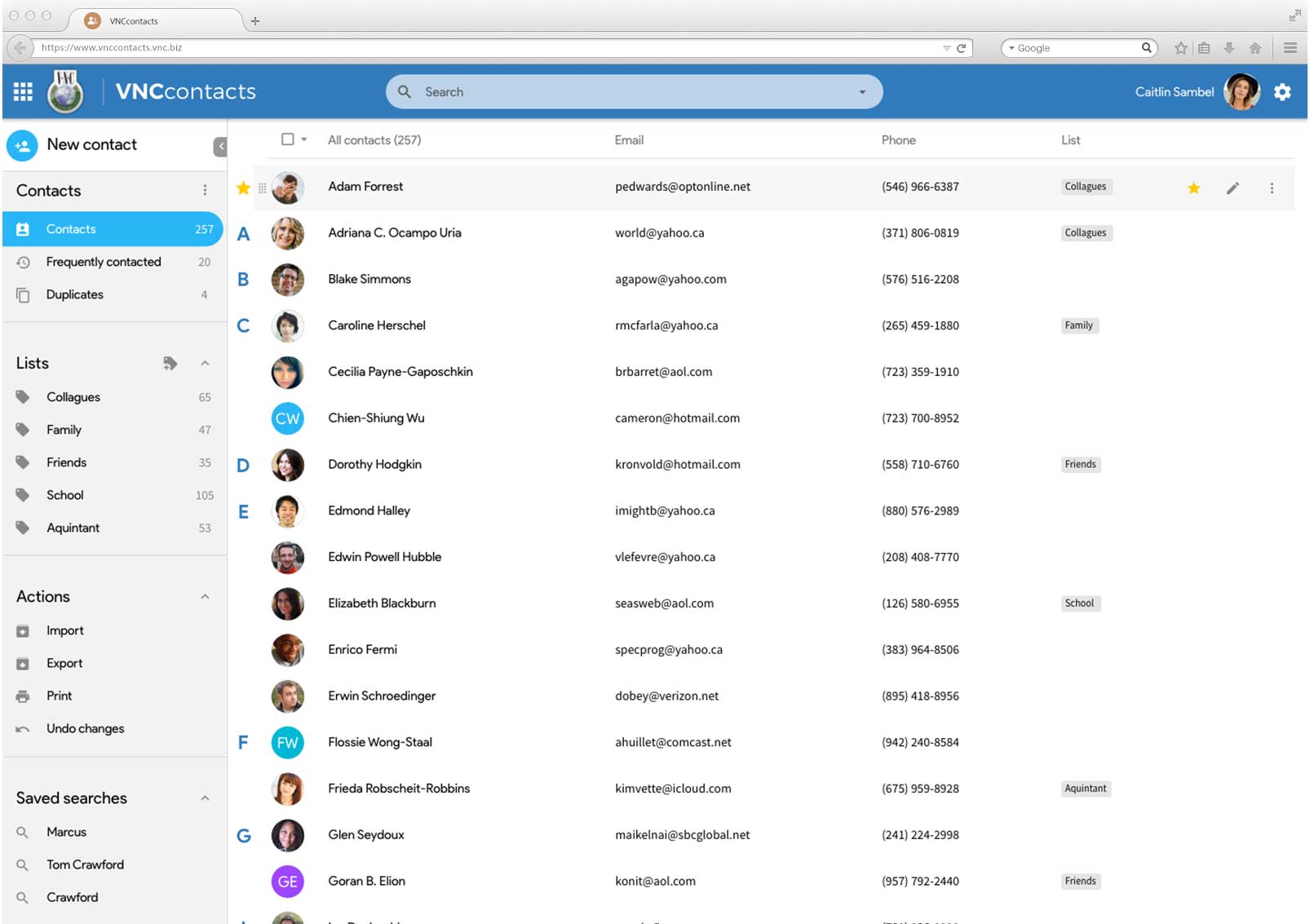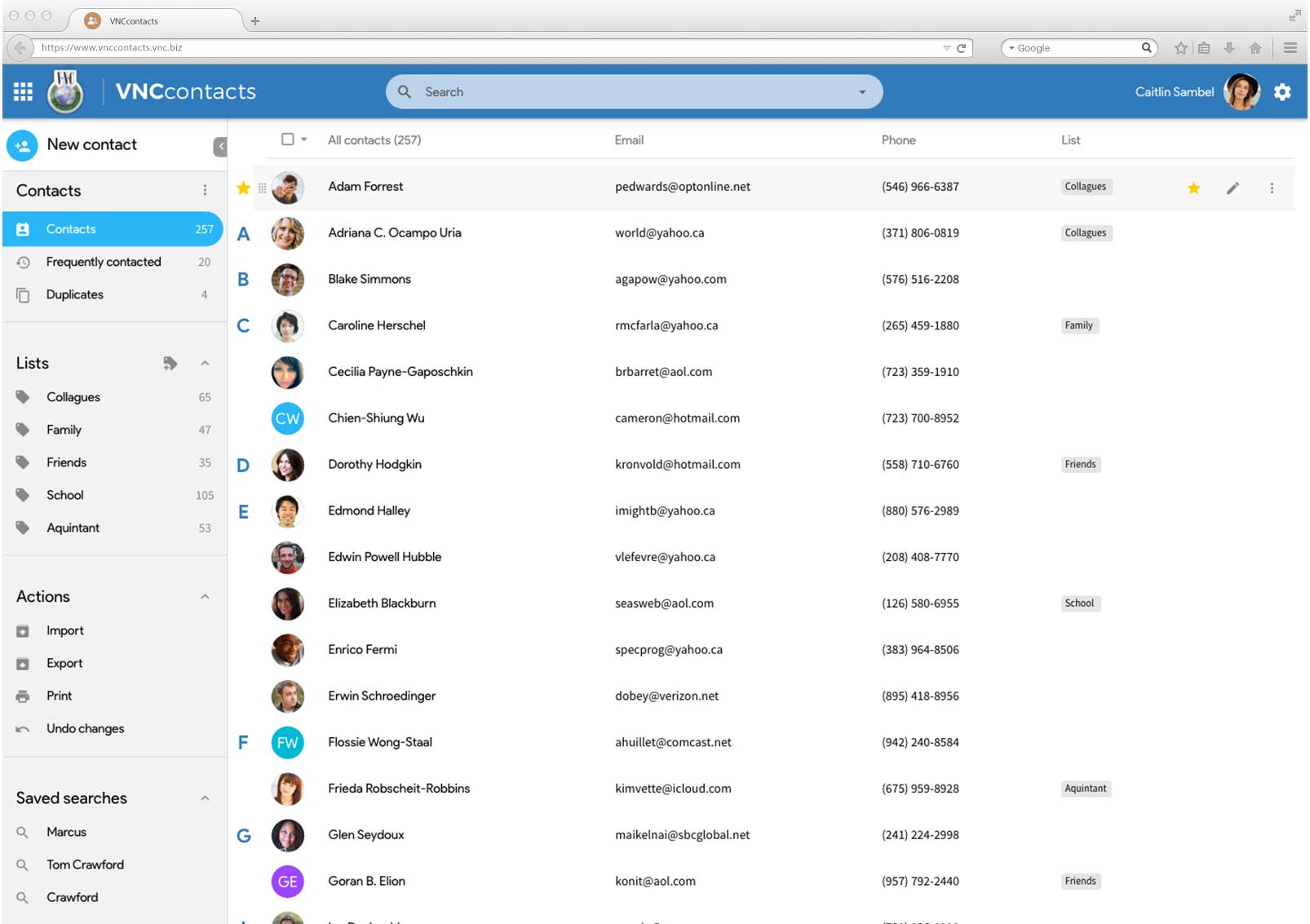 VNCcontacts Desktop Client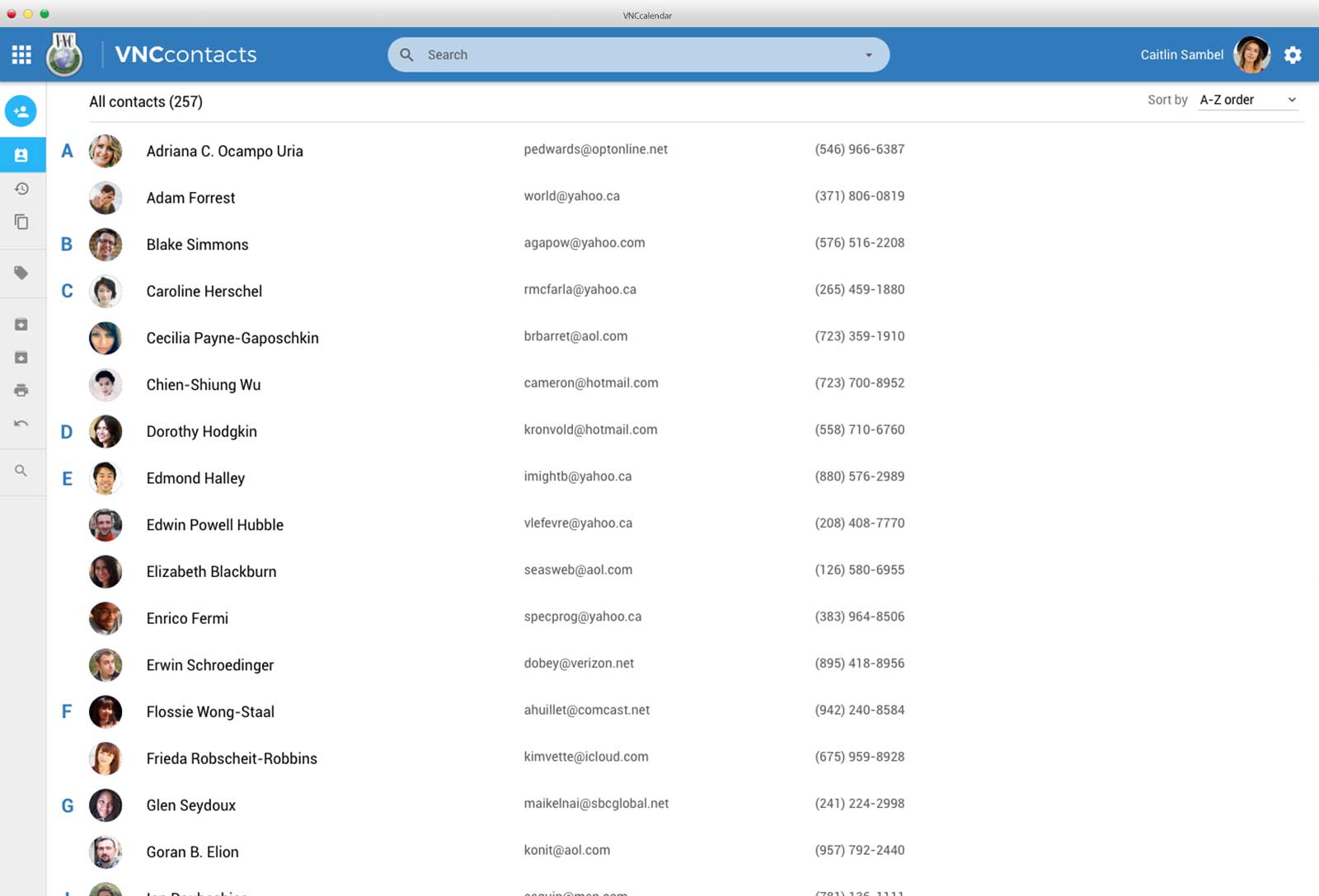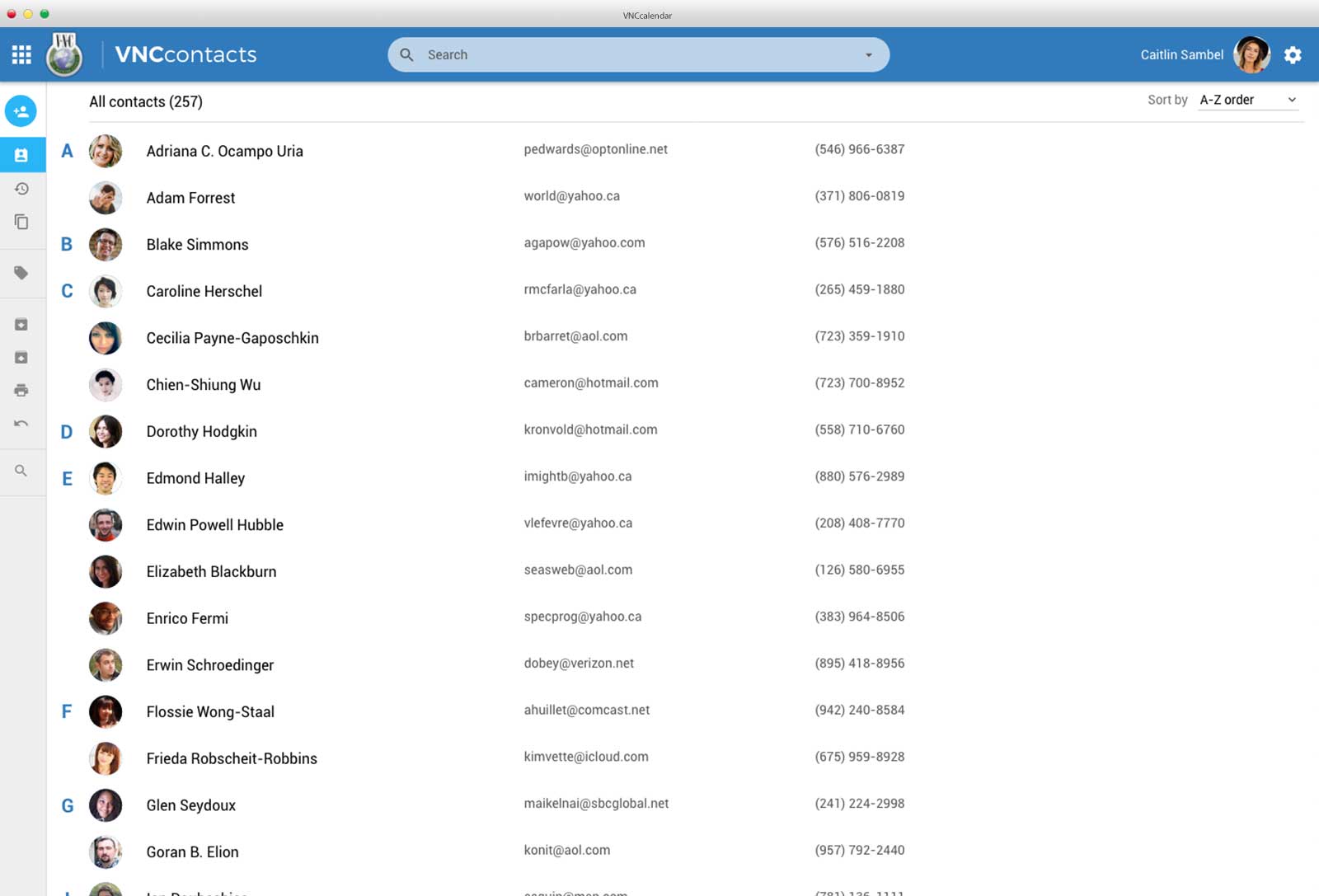 The VNCcontacts Desktop Client allows you to run VNCcontacts as a separate application on your desktop PC – on Windows, Mac and Linux. Especially when working with lots of open browser tabs, it becomes handy to have a separate access point for your contacts. And of course you have the complete VNCcontacts features available, in any of our frontend clients.
This modern and easy to use App brings all the benefits of a contact management to your mobile device. The VNCcontacts App is available for Android and iOS. VNCcontacts is clearly structured and intuitive to use so you can write emails or start a VNCtalk chat or call conveniently. And you can see the history of your complete communication activities with one contact at one glance, such as the conducted calls, sent chat or email messages.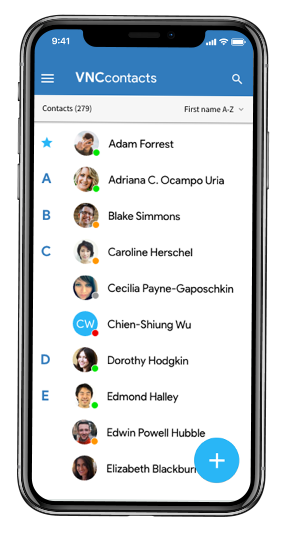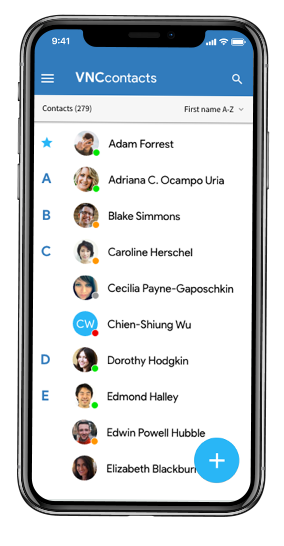 Latest VNCcontacts Release Notes
Testimonials
We set highest standards in what we do. Just like our clients. That's why it is so important to us to know what they think about working with VNC and our business solutions.
"We see the greatest advantage in having all documents available online. We get almost everything as an e-mail attachment now or access online data ourselves, so that we really have an online working level for everyone. … so that the documents are available in different places … and that the data protection requirements are always met."

Am Weinberg
Church congregation employee
Berlin
"The federal state church intranet should strengthen communication and cooperation within the state church. The basic aim is to provide all full-time employees and volunteers of the regional church with access to an innovative, modern and unified communication and collaboration infrastructure. The VNClagoon products are particularly well suited for this, because they allow us as a state church – in addition to the many functionalities provided – the possibility of customization options to individual needs within our church. "

Tabea Langguth
Project Manager Landeskirchenweites Intranet
Are you ready for VNClagoon?
Get started with VNClagoon in your enterprise. Are you a Software Vendor or a Telco? Become a Reseller and sell VNClagoon to your customers.