Zug/Berlin/Frankfurt, January 2021 – The DFB GmbH, a subsidiary of the German Football Association (DFB), has extended its contract with European software provider VNC by three years. Under the agreement, the DFBnet mailbox system will be functionally expanded and migrated to the German Google Cloud.
The DFB GmbH and VNC are going into extra time. The subsidiary of the world's largest national sports association and the Swiss software provider have sealed a continuation of their cooperation for another three years. The contract provides for the expansion of the scope of services of the DFBnet mailbox and the migration to the German Google Cloud.
The DFB and its member associations have been communicating internally via the DFBnet mailbox since 2012. The open source-based communication platform was planned, developed and implemented by VNC. It is based on VNCmail as a groupware application and VNCmiddleware as the central control center for the application logic.
Intensive communication off the field
The DFBnet mailbox is used both by the clubs and by the regional associations and, as a capsuled system, is isolated from worldwide e-mail traffic. Currently, around 50,000 mailboxes are active. Users of the DFBnet mailbox system have access to personal address books and to a global address list for each national association. They can communicate by e-mail, set up their own mailing lists, set up forwarding and search for individuals and clubs. In addition, the DFBnet mailbox supports the administration, archiving and export of e-mails. The integrated mail history system allows senders to track the progress of a message via drag'n'drop, i.e. whether the message has been received by the recipients and whether it has been read, moved, forwarded or deleted. A PDF Extension allows saving e-mails as PDF files locally on the computer. The Briefcase Notification Extension offers a central file storage, which is integrated as a separate tab in the web application and can be integrated locally on a computer via WebDav. And the E-Mail Form Extension makes it possible to create templates with form functions and manage them in a separate folder.
With the white label option available for all VNC applications, the DFBnet mailbox has the screen design and look and feel of the DFB environment familiar to the users.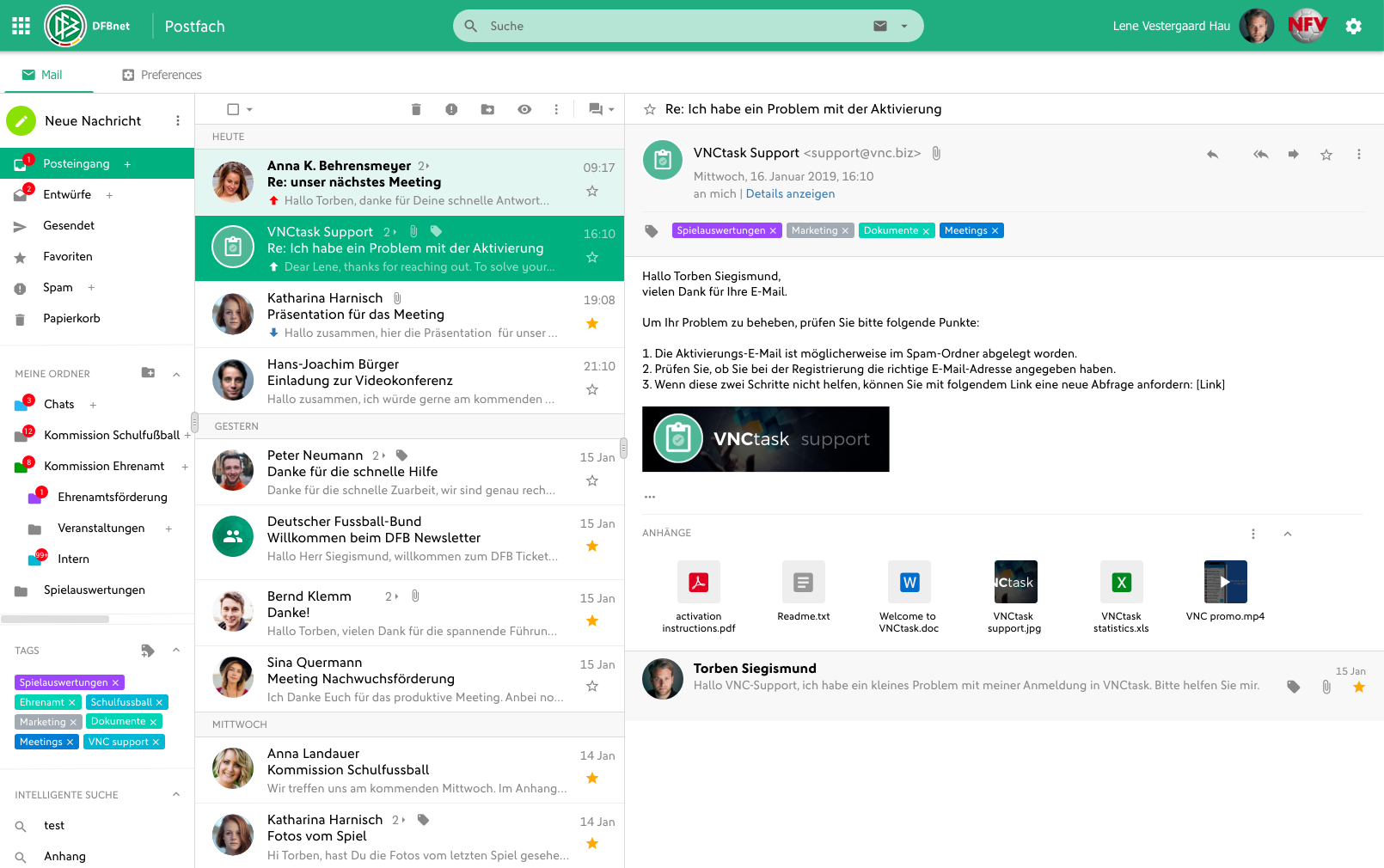 Kickoff for the Cloud
The contractually agreed further development of the functional scope includes integrations or extensions for authentication options and provisioning systems. All DFBnet mailbox functions will also soon be available via Google Cloud Germany (GCD). The migration from the DFB data center to the GCD (Frankfurt region) was already started in November 2020 and will be completed at the beginning of 2021. The Google infrastructure will be used as a highly scalable platform for PaaS and IaaS services, but not as a SaaS cloud. This means that all data remains secure within the VNC applications and databases.
"VNC and DFB GmbH have been working together intensively for many years. We want to continue and expand this," explains Steffen Iredi, authorized signatory at DFB GmbH and responsible Director Technology & Operations. "The DFBnet mailbox developed and implemented by VNC has enormously accelerated and simplified our internal communication. With this, we see ourselves well prepared for future requirements."
"DFB decided early on in favor of VNC's modern communications platform," adds Andrea Wörrlein, Managing Director of VNC in Berlin, Germany and Member of the Board of VNC AG in Zug, Switzerland. "With the contract extension, we are now taking the next logical step towards further development and deeper integration of the proven system into the DFB services."
About VNC
VNC – Virtual Network Consult AG, based in Switzerland, Germany and India, is a leading developer of open source-based enterprise applications and positions itself as an open and secure alternative to the established software giants. With VNClagoon, the organization with its global open source developer community has created an integrated product suite for enterprises, characterized by high security, state-of-the-art technology and low TCO. VNC's customers include system integrators and telcos as well as large enterprises and institutions. Further information on https://vnclagoon.com
Contact
Andrea Wörrlein
VNC – Virtual Network Consult AG
Poststrasse 24
CH-6302 Zug
Phone: +41 (41) 727 52 00
aw@vnc.biz
Kathleen Hahn
PR-COM GmbH
Sendlinger-Tor-Platz 6
80336 München
Phone: +49-89-59997-763
kathleen.hahn@pr-com.de