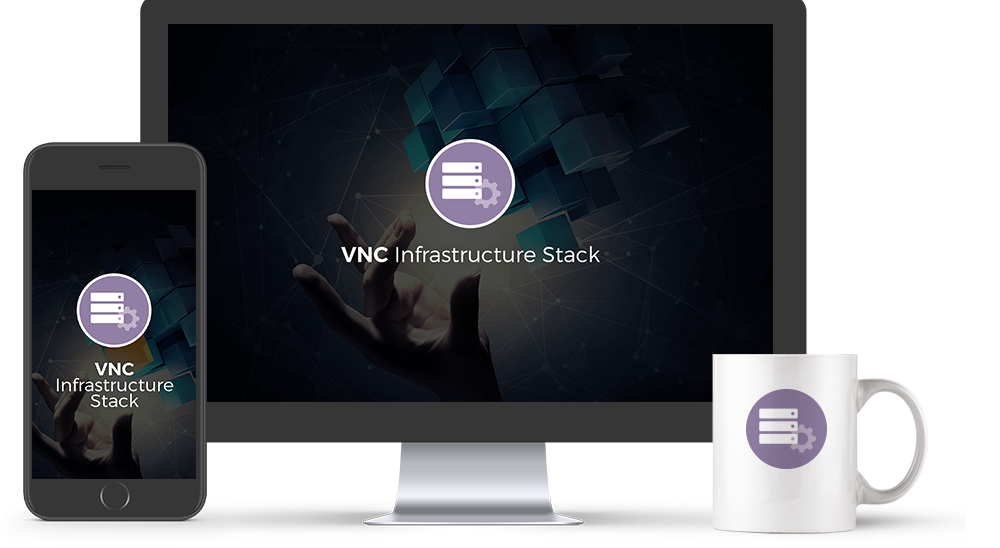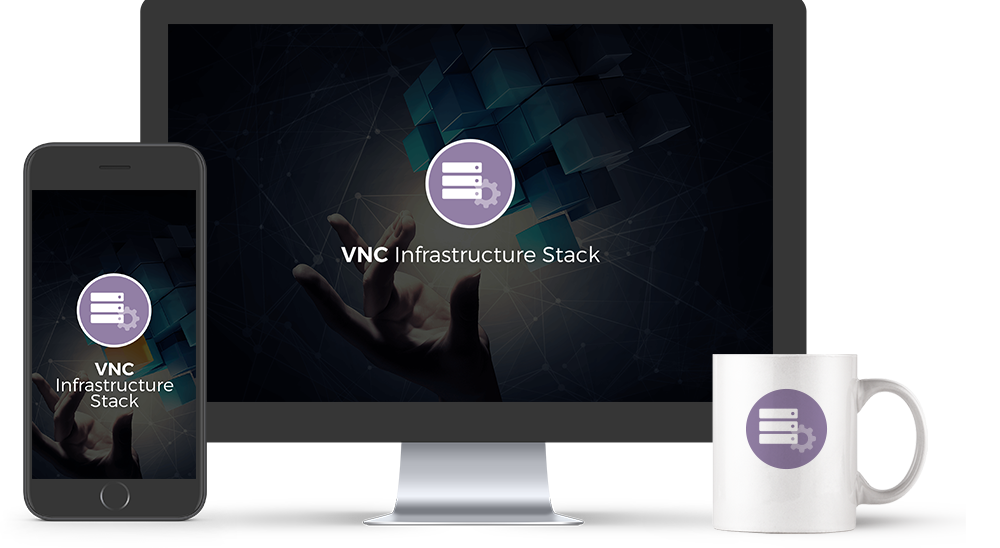 VNC Infrastructure Stack
VNC Infrastructure Stack – Technologies for a more powerful IT
Powerful, reliable, scalable
The VNC Infrastructure Stack is the technological foundation of the VNC Infrastructure Services. It consists of proven hardware and software components for powerful operation and high reliability. The VNC Infrastructure Stack includes fast, freely scalable and geographically redundant storage systems, flexible virtualization solutions, powerful backup systems for continuous and automatic data backups in the cloud within your company.
Furthermore you are able to use both, powerful rights management and user access control. The monitoring systems guarantee flawless operation and high-availability of all components, while the powerful servers provide the capacity to realise flexible adaption to any future requirements.
Flexible, adaptable, affordable
The VNC Infrastructure Stack gives companies and organizations all the advantages of a modern IT infrastructure. It enables corporations to flexibly scale their capacities without large investments. Using only Open Source and cloud-ready technologies, it provides IT managers and administrators with 100% control of their data and applications.
By virtualizing servers and storage, the VNC Business Infrastructure Stack ensures a higher safety from failures and increased performance, while reducing operational cost (TCO) by 50% on average, compared to similar, proprietary solutions.


Proxmox VE:
Proxmox VE is a complete, Open Source virtualization solution for servers. It combines KVM and container based virtualization and manages virtual machines, containers, storage, virtual networks and high availability clusters through a comprehensive central management console. Professional features enable an optimal leverage of resources at minimized hardware and administration cost. Proxmox VE effortlessly virtualizes the most complex Linux or Windows workloads.
Icinga Monitoring:
Icinga is an enterprise grade open source monitoring system which keeps watch over networks and any conceivable network resource, notifies the user of errors and recoveries and generates performance data for reporting. Scalable and extensible, Icinga can monitor complex, large environments across dispersed locations.
GlusterFS Storage:
GlusterFS is an open source, distributed file system capable of scaling to several petabytes (actually, 72 brontobytes) and handling thousands of clients. GlusterFS clusters together storage building blocks over Infiniband RDMA or TCP/IP interconnect, aggregating disk and memory resources and managing data in a single global namespace. GlusterFS is based on a stackable user space design and can deliver exceptional performance for diverse workloads.
Postgre SQL:
PostgreSQL is a powerful, open source object-relational database system, running on all major operating systems, including Linux, UNIX, Mac OS X and Windows. PostgreSQL supports storage of binary large objects, including pictures, sounds, or video. PostgreSQL boasts sophisticated features such as Multi-Version Concurrency Control (MVCC), point in time recovery, tablespaces, asynchronous replication, nested transactions, online/hot backups, a sophisticated query planner/optimizer, and write ahead logging for fault tolerance.
Technical documents and documentation
Testimonials
We set highest standards in what we do. Just like our clients. That's why it is so important to us to know what they think about working with VNC and our business solutions.
"With VNCtalk, Zimbra becomes a true collaborative platform. A user can seamlessly chat, share files & collaborate from any device. Great product & company to work with."

Prashant Mudbidri
Director of Logix InfoSecurity Pvt. Ltd
about VNCtalk
"As part of this project, it was also very important for the representatives of the church that a WhatsApp alternative could be found. Short message services are commonly used, therefore EKBO Dialog was very welcome. "

Fabian Kraetschmer
Head of Unit 1.3 – IT, EKBO
about VNCtalk
Are you ready for VNClagoon?
Get started with VNClagoon in your enterprise. Are you a Software Vendor or a Telco? Become a Reseller and sell VNClagoon to your customers.