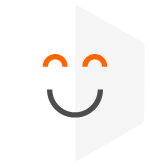 This is why we build on Open Source
We believe in freedom of choice – in what software our clients use, and how they use it. Commercial Open Source corresponds to this demand perfectly. Affordable, free of strangling licenses and with open source code it provides full customizability to meet business demands. That's how Open Source provides a much more future-oriented planning than it would be possible with proprietary software.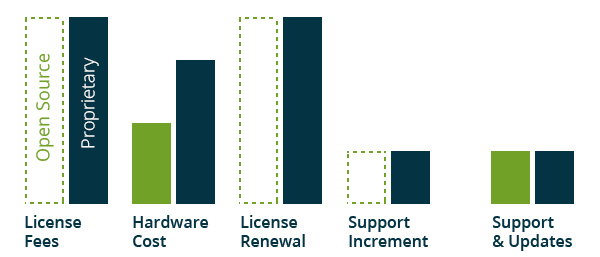 Open Source is free software. This means that there are usually no license fees and no license agreements limiting the use of these applications and systems – except those of the Open Source License. The non-existence of license and update cost alone represents a significant reduction in operational cost for organizations and enterprises.
For example: In 2008, the city of Munich in Germany has begun to update their desktop computers from Windows to Ubuntu. After 15,000 desktop computers had been updated, the cost reduction already amounted to more than 10 million Euro. Similar projects have taken place throughout Europe, in Vienna, Solothurn, Amsterdam and Zaragoza.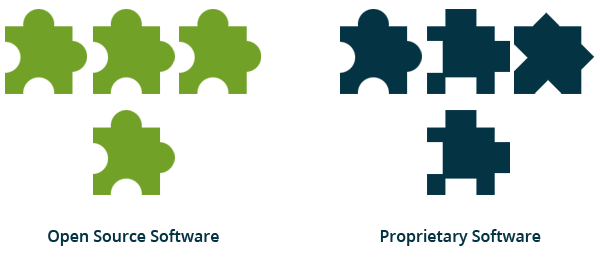 Open Source software components are based on open standards which enable a comparatively easy integration with any existing IT environment. Proprietary software on the other hand is usually based on proprietory standards – such as interfaces with other applications of the same vendor. An integration with other, third-party systems is either very limited or downright impossible. What's more: Since Open Source solutions are freely customizable, additional standards or interfaces can be added at demand without compromising or violating any license agreement.
Current studies show that more than 70% of Open Source users see the existence of open standards as a clear benefit for their companies.

The free accessibility of source code in Open Source software gives users the opportunity to fully customize and extend out-of-the-box solutions to match their own, individual requirements. This allows enterprises to develop unique solutions that fully support their business processes. In stark contrast to proprietary software they are not limited to use the features and possibilities that the software is shipped with.
Because of this flexibility, companies are able to respond to changes in business much quicker than they could by using proprietary software. A unique advantage in a quickly changing market.
As 'Software without an owner', Open Source solutions are not maintained by one company alone. Instead, a worldwide developer community takes care of software support. For companies and organizations this represents a great advantages, because programming errors, security holes and technical issues are usually detected and fixed much quicker than is the case in proprietary software. Plus, updates and extensions usually come free of any cost, as well.
Also, businesses are not restricted to rely on one vendor or that vendor's partners when it comes to software support. They can choose freely from a huge number of service providers or they can even take care of support internally – important when it comes to sensitive data or security-related software.
Are you ready for VNClagoon?
Get started with VNClagoon in your enterprise. Are you a Software Vendor or a Telco? Become a Reseller and sell VNClagoon to your customers.