Fed up with wasting time in boring and unproductive virtual meetings?
In this part of our series "Virtual Teams" we will provide tips for conducting virtual meetings and point out virtual "traps".
According to recent studies, nowadays there are more virtual teams than ever before. VNC has been working with and in virtual teams for years. Our experience. Your benefit.
Our entire series concentrates on communication within the team – taking into account that the "classic" possibilities for an interaction between employees are missing – like the meeting within the office kitchen ("watercooler meeting"). Nuances are difficult to communicate in emails or chats, so a replacement has to be be found. Chatrooms, team meetings via video chat, 1:1 phone calls and a newscast are perfect possibilities.
Long story short: How do you host a successful and productive virtual meeting?
Good preparation: Unfortunately, many employees feel that the preparation of a virtual meeting can be done quickly. However, the opposite is the case. A truly productive virtual meeting should be well prepared. This includes a detailed agenda to avoid "losing the thread" during the meeting. Please send the agenda to all participants beforehand, so everyone has the chance to prepare for the meeting and present their own ideas and solutions during the meeting.
Number of participants: The maximum number of active participants should not exceed 6 people for virtual meetings.
Technology: Ask participants to check the technical requirements before the meeting. This is (at least) as important as to appear punctually to a face-to-face meeting. Delays caused by technical problems at the beginning of a meeting significantly reduce the productivity of a virtual meeting.
Quiet environment: Ask all attendees to go to a quiet place for the meeting. Only in this way disturbing background noises and interruptions can be avoided and thus a positive basic atmosphere can be created.
Criticism of individual team members should not be expressed in a virtual team meeting. After the meeting, take the time for a 1: 1 conversation.
Consider the type of meeting carefully: Does it really make sense to invite all team members to the meeting about a new topic? Or would it be more productive to do 1:1 conversations and then have a team meeting to introduce the results?
Time limit: Try urgently to abide by the timelines in the agenda to ensure that the attention of the meeting participants will focus on the meeting. If you fail to do so, individual participants might work on other tasks and you are the only one focusing on the meeting.
Please ask "quieter" employees for feedback during the meeting and especially at the end. Often it is hard for some employees to be heard in virtual meetings. A clear distribution of roles and topics and a discussion about the distribution of tasks until the next meeting is also helpful.
Log: Ask a suitable employee to create a meeting log. To-do's for the next meeting should also be considered, together with a time-frame for completion of those tasks.
Virtual Meetings with VNCtalk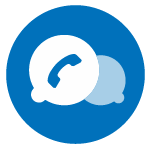 Our web based communication solution VNCtalk offers a lot of tools for virtual meetings. Beside chat, audio and video conferencing for two or more users VNCtalk offers screensharing, file transfer, a whiteboard and document collaboration. With VNCtalk it is easy to create a meeting log – the document collaboration allows all users to take notes, while every user gets his own color mark. After the meeting the document can be easily exported to e.g. PDF or ODF format. The whiteboard feature extends the range of possibilities for document collaboration. With the VNCtalk whiteboard users can not only write notes, but also draw pictures, charts or import images. VNCtalk talk is browser based, so no additional software has to be installed and the meeting can start without detours. In case of some unwanted noise, the moderator can mute single participants or users can mute themselves, e.g. if someone enters the room during the meeting.
All features at a glance:
Text chat: 1:1 or 1:n text chat – all you need is a browser.
Automatic contact list population: Get access to your distribution lists and work groups thanks to the seamless integration with VNCmail.
File transfer between users: Share any document within seconds. Transfer it to your colleagues or use VNCsafe to share entire folders.
Collaborative document creation and editing: Amazing way to brainstorm, discuss and collaborate on documents. With VNCtalk Enterprise Edition you even gain access to VNCoffice – the full feature Office Suite.
Screen sharing: Screen Sharing in your browser – no extra tool or plugin required. Pure power of WebRTC
Audio and videoconferencing: 1:1 or 1:n video chat via WebRTC. Perfect audio and image quality. You will be amazed by this kind of virtual reality! Save travel costs and get hold of your team with one click.
Works on mobile devices: No need to use a laptop or desktop. VNCtalk runs on any browser and any device.
Do you have ideas, wishes or suggestions? Contact us or arrange a consultation meeting about the innovative VNC Collaboration Tools: VNCtalk, for video conferences and chat, VNCsafe – sync and share solution, VNCmail and VNCproject – our innovative project management and help desk tool!
With all our products the security of your data is a matter of course. All applications are browser-based and can be used on almost any device.