Many people enjoy the benefits of working from home without having to commute and suffering from too much office noise. So even after the pandemic many of us would prefer to work from home on a regular basis. A "Communication Channel Guideline" can help to streamline communication when working virtually with different tools. Collaborate efficiently with your team. Stay connected! Even when it's not possible to see your team in real life.
Working from home becomes the new normal
"Well, nobody's doing anything anymore, productivity is low, employees are taking care of household instead of working, sitting in pyjamas on the couch, laptop on their laps ..." skeptics feared, before the corona crisis forced everyone to adapt quickly to new rules, and social distancing left no other option than allowing work from home or even make work from home mandatory. And now it shows that it works a lot better than some people thought. Even despite the fact that many professionals are actually juggling childcare, homeschooling, new technologies and work at the same time.
One of the things employees crave most when working from home is trust! And results should count instead of presence or long working hours!
Why were there so few people working from home before the Corona crisis, although they could have? According to a survey by the Institute for Employment Research (Germany), their presence in the office is very important to their superiors.
The current working culture is based enormously on visible presence. People who sit at their desks for as long as possible are considered to be hard-working and productive. Important information is often exchanged between the desks or at the water-cooler, ideas are discussed in conferences and during lunch. Those who are less often in the office or company are less noticed.
With this kind of mindset, employees might feel that the value they bring to their jobs is more about whether they spend a lot of time at work and less by the quality of their work – regardless of the time. Yet science has long known that performance decreases over time. Even with hard-working people, productivity can drop if they have been in the office for twelve hours instead of six. (Source: Tagesspiegel)
So how can we compensate for those important unofficial "meetings" in office kitchens or during lunch in times of "social distancing" and when working from home in general?
Effective Virtual Communication!
Whether you're new to virtual collaboration or already a pro – one of the biggest challenges when working in virtual teams or from home, is making your communication as efficient and as powerful as possible. Do not waste time, be focused in your communication as a team!
Determine, together with your team, which means of communication are the most useful in which situation.
Would you like to spread important news to your team? Forget emails with dozens of users on CC, forget overflowing inboxes! Use the broadcast feature or a group chat in your Business Messenger and, with just one click, notify the most important recipients via the @mention feature. Advantage: All other team members are informed as well and can add their ideas directly in the group chat.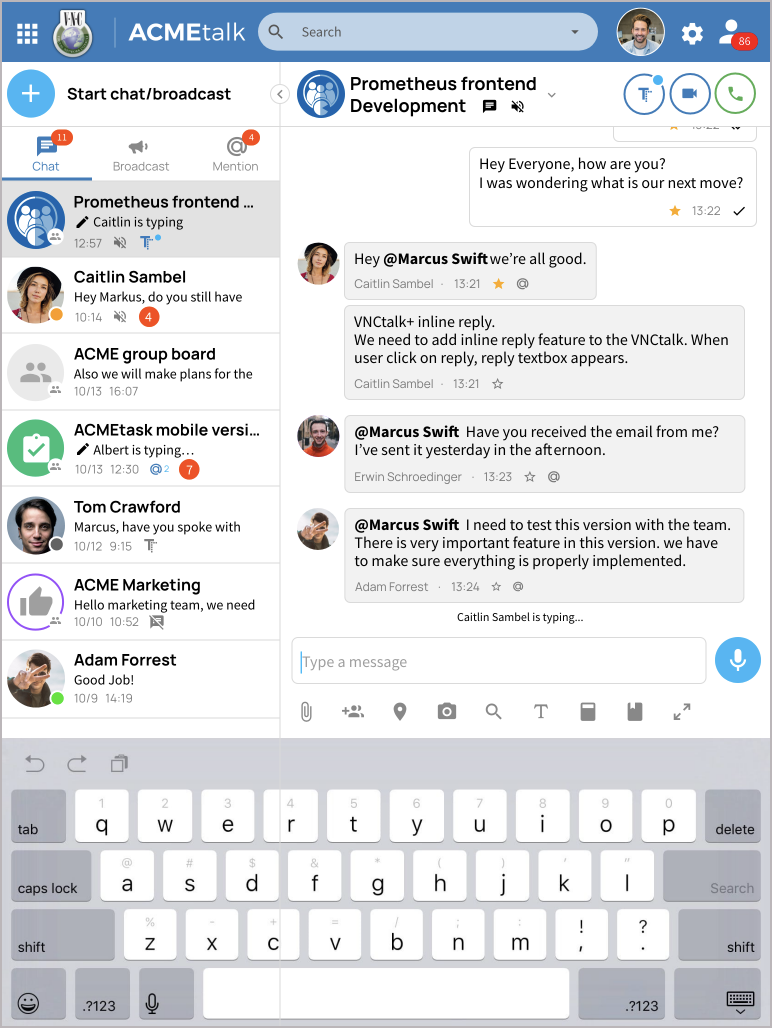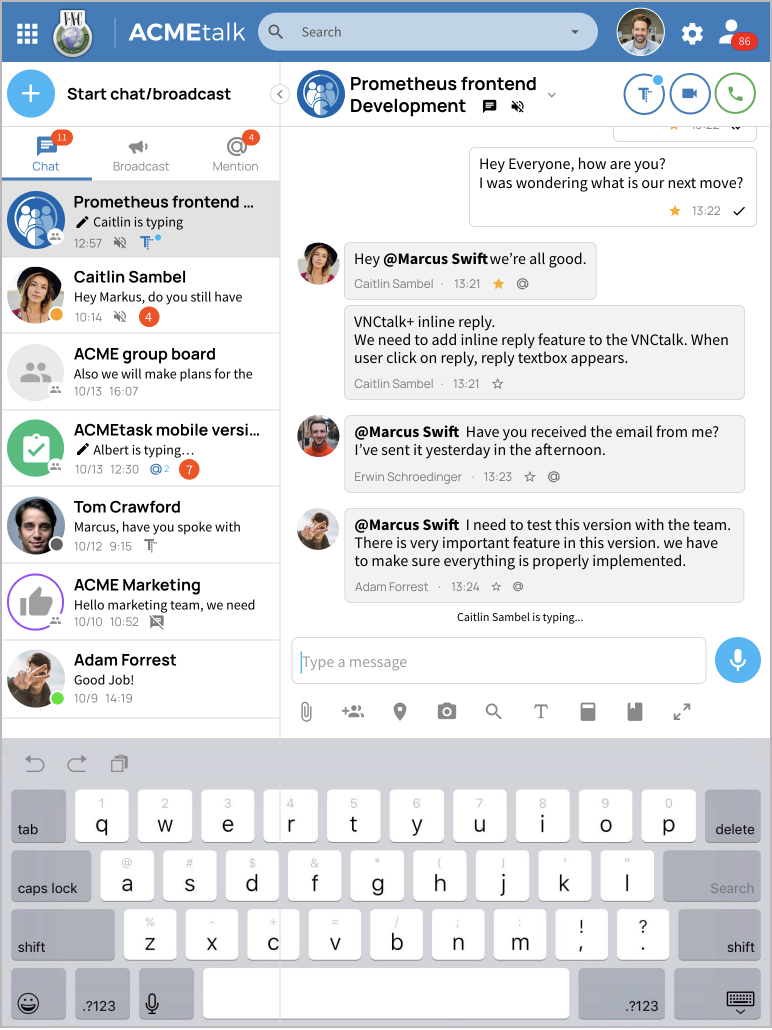 This is how innovation happens.
A brief discussion about a customer inquiry? Contact your colleague quickly via chat and receive an answer within seconds.
You are not sure if you need more feedback? Create a group chat, invite another team member and start a group discussion. You can also go from there and start a video call to talk to your colleagues, or you invite an external expert or your customer with VNCmeet to have a quick video conference.
Sounds utopian? It is not! These new possibilities of communication are here!
Whether customers, partners, employees or supervisors – shorten the transmission time for information and reduce the flood of emails in your company! Use your network without leakage of sensitive data.
The more comprehensive the possibilities of communication are, the more important it is to provide your team with orientation: Which means of communication fulfills my current needs as fast and straightforward as possible?
You can guess it already. Very precisely: a "communication channel guideline" can be very useful. This can be applied to your entire organisation as well as to each team or person individually, tailored to the particular needs. The specific characteristics of a team may also play a significant role (languages, costs of telephone calls, different time zones, etc.).
Example of a "Communication Channel Guideline":
Communication Need
Preferred Channel
Alternative Channel

Short, quick inquiries

Chat
Phone Call

Task assignments

Ticket
Email
Workshops
Video Conference
Recorded video
Sales / Customer contact
Video Conference
Phone
Transfer

 of sensitive data

File Sync & Share
Email
Newsletter (internal)
Broadcast Message
Email
Team member review meeting
Videocall 1:1
Phone
Scheduling
Calendar invitation
Group chat

Management Communication 

Videocall
Chat, Group chat

Regular communication in the team

Chat, Group chat
Videocall

Private topics

Chat
Videocall
So when working from home, just replace the water-cooler meeting with your favorite buddy with a coffee break and a video call. It's not 100% the same, but it comes very close! Meet your team for a quick kick-off group chat or video call each morning and during lunch break and stay connected!
When you create the Communication Channel Guideline, it definitely makes sense to check the collaboration software used in the company. Is it secure? Does it comply with data protection and data security policies of your country and organisation? Define again, which software products you are allowed to use, make sure to plan sustainably. It's most important to avoid shadow IT in your organization. While WhatsApp and Zoom might be fine for private use, a private WhatsApp Account shouldn't be used for business communication! And really important as well: Make sure all team members use the same communication tools.
Our blogposts on related topics around virtual collaboration:
Detailed information about VNCtalk and our VNClagoon products, more technical details, visuals and the VNCtalk explainer video can be found on our VNClagoon website. The VNClagoon communication & collaboration suite comprises the following components:
Please find more information on all our products on www.vnclagoon.com!
With all our products, the security of your data is of utmost importance. Keep important information where it belongs – within your company!