From time to time we review our mission statement. In doing so, we have revisited some of our core convictions and their implications for the VNC way of doing business.
Want to join the ride? Here we go:
Who are VNC?
VNC – Virtual Network Consult AG, based in Switzerland, Germany and India – is a leading developer of open source based enterprise applications and positions itself as an open and secure alternative to the established software giants. With the VNClagoon software stack, VNC, with its global open source developer community, have created an integrated product suite for Enterprise, SME, Governments and other Organisations, characterised by high security, state-of-the-art technology and low TCO.
What is VNClagoon?
The VNClagoon software stack consists of a variety of integrated products for seamless communication and collaboration, such as messaging, video conferencing, email, groupware, task & project management, file sharing, channels, and more. VNClagoon is a leading alternative to closed source and SaaS-only applications like Microsoft Teams, Zoom, WhatsApp and others. VNClagoon was developed by VNC under the AGPL open source license (AGPLv3).
What are our concerns?
At VNC, we are deeply concerned about the current affairs in world politics and economics – the rise of nationalist and populist movements endangering democracies; health, financial and economic crises; volatility in international relations; technological giants replacing SME structures; centralisation of (social) media eroding diversity as well as replacing arguments and debates with "simple truths". Just to name a few…
As a result, we have decided to focus on what we are best at – our technologies and open source products – in order to do our part to promote and maintain digital sovereignty.
What are our convictions?
We strongly believe in Virtual & Learning Organisations as well as Open Source.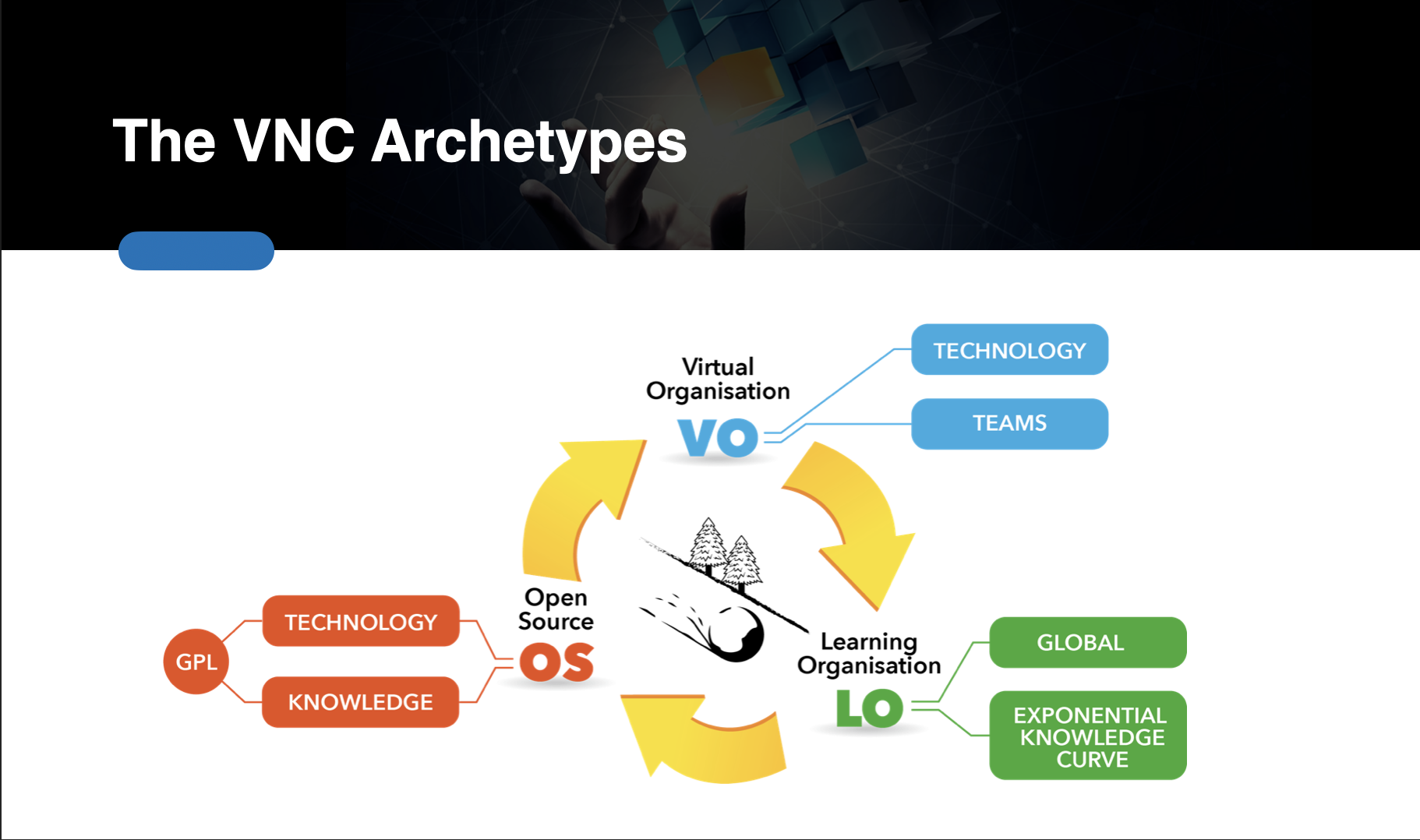 We are convinced that:
Only free societies can maintain peace, liberty and personal freedom for their citizens.
Modern societies and sustainable economies are thriving when they foster progress and innovation.
Creativity, which is a basis for innovation, can only flourish in open societies.
Innovation in regards to technology, as well as business models, requires security and privacy.
Innovation is a prerequisite to repair the damages caused in recent years in the areas of global finance / central banks, climate change, healthcare systems, local economies (especially for SME), and more – in short: to help implement the Sustainable Development Goals of 2015.
Sustainable economies will enable and support the creation of millions of "social" and autonomous businesses rather than groups of monopolies and cartels.
Efficient, technology-driven collaboration in virtual and learning organisations is key to its success. Technology also includes machine learning & AI, in the interest of humanity but NOT transhumanity.
Every person has a right to the unrestricted access of information. This must be enabled to collaborate in a secure and private manner, so as to share content within a global community. That is digital sovereignty.
Technology providers must not censor the content of free individuals in any way ("free speech!").
Only open source based technology can guarantee maximum security and privacy. This is achieved by way of community development and regular audits – stop patents!
Users need to have the highest level of autonomy in terms of access to their information and communication technology (ICT). This means taking back control of software code, cloud/hosting, identity & access management and encryption.
The future of business software will be open source.
What is our mission?
Our mission is to provide secure communication and collaboration to our users via open technologies and platforms.
We want to enable our users to operate under the strictest privacy, thus retaining their digital sovereignty.
How will we achieve our goals?
By sharing the source code of major components of the VNClagoon software stack with key customers and partners.
By releasing major components of the VNClagoon software stack as a community version in 2021, containing free and open source code in daily "hot releases" – free of cost.
By releasing the VNClagoon software stack as a long term supported (LTS) version with a fairly priced subscription model.
By offering support and managed services, if required, to deploy, customise, integrate and operate VNClagoon within a Cloud (private, public, customers'/partners' or VNC operations).
By supporting the creation of communities, which may share knowledge and exchange experiences securely between their members with the help of modern collaborative software (VNClagoon).
Further information information about our mission and strategy can be found here and in the VNC Story.
Check out all our VNClagoon products and use them on VNClagoon LIVE!
We'd like to discuss our thoughts with you, so please share a comment here or contact us here.
We are happy to hear from you!