Currently, the virtual collaboration and communication tools are in increasing demand.
VNC is working with employees, freelancing team members and experts worldwide, and at the moment we are getting abundant first-hand impressions of how severe the COVID-19 pandemic is affecting the lives and work of people around the world. Whether organisations are advising their teams to work from home, or even making WFH mandatory – virtual collaboration and enabling "social distancing" in your company will help to "flatten the curve" – no matter in which part of the world you are. Time is an essential factor!
VNC is working with and in virtual teams since years. We are continuously – also these days, without disruptions – developing and improving our software to offer you the best tools to work from home or in virtual teams.
And with all our products, the security of your data is of utmost importance. Keep important information where it belongs – within your company! All our products are browser-based and can be used on almost any device.
Find out more about our complete software stack at www.vnclagoon.com!
In the last weeks we released two new versions of VNCproject, our project management tool.
V 3.7.4
In our latest version we further improved the user interface. Portlets can now be moved by drag and drop and administrators have the option to configure the App Switcher and the links to purchased products manually.
All tickets now contain an inline image preview for a better overview. In the Release Notes section we improved the sorting. Now we can sort all release note entries manually, e.g. by importance.
There were also some minor bugfixes and optimizations, for example in the calculation of EVM values as well as several layout improvements. You can read all VNCproject release notes on our Release Notes page.
V 3.7.3
In our last update we massively improved the VNCrecruitment module. It's got a new design and more options, for example a file attachment menu, statuses and new job positions, departments and companies for the applicants section.
We also added new properties to the release notes section to retract accidentally published release notes. The filter option received a whole new design and the counter of re-assigned tickets and the search functionality were optimized.
You are interested in technical details?
Please have a look at our VNCproject Architecture Chart: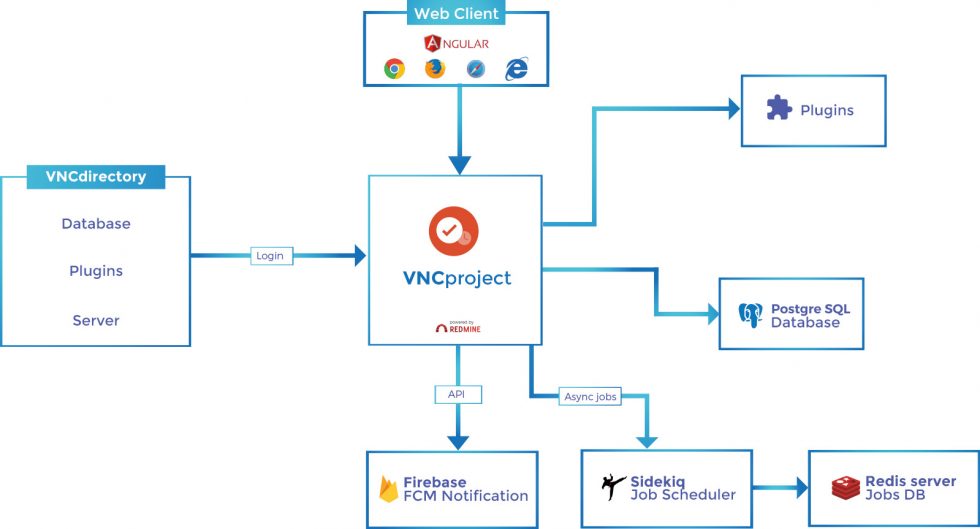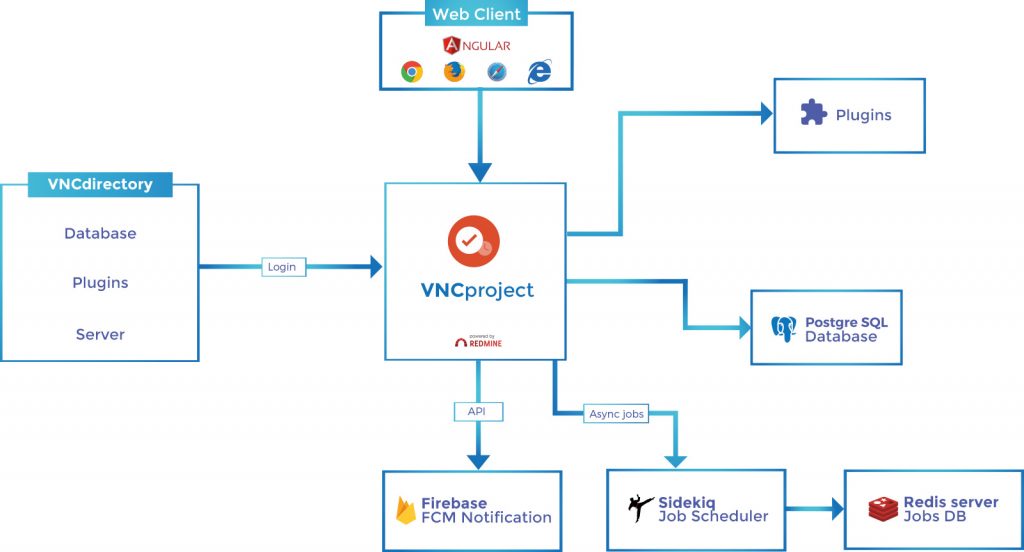 About VNCproject: The browser-based, open and fully customizable solution leaves nothing to be desired: VNCproject combines task and ticket management, scheduling, progress monitoring, Gantt charts as well as time tracking, wikis and powerful project planning functions. With all these different functionalities in a single project management tool you can work faster and more efficiently than ever before.
VNCproject: 360-degree enterprise project management
We developed the following additional modules for VNCproject:
1) Timesheets
2) Roadmaps & Meta Roadmaps
3) Helpdesk / VNCproject ITIL – Intelligent support and ticket management, based on ITIL guidelines, including a comprehensive knowledge base
4) Agile Board & Achievements
5) EVM – Earned Value Management
6) VNCproject Recruitment
7) Performance Ranking
8) My Calendar
9) Time Overrun Report
10) Scrum Statistics
Further information about VNCproject can be found on vnclagoon.com or you can contact us by email: sales@vnc.biz
VNCproject is part of our VNClagoon Business Software Stack