VNCcommander offers you a central location for your entire business communication and collaboration. See and manage all important messages, tasks, appointments and much more in your Enterprise Information Stream!
What is the idea behind VNCcommander?
As you know, the VNClagoon software stack consists of various communication and collaboration products, which are integrated in the backend (e.g. via VNCdirectory) as well as in the frontend (e.g. to switch between products or to start an email or chat from a contact in VNCcontacts).
VNCcommander serves as a central VNClagoon operations command center for each user.
How does the VNCcommander work?
When you log in to the current version of VNCcommander, you see an Enterprise Information Stream consisting of your newest emails (VNCmail), chat messages (VNCtalk) and tasks (VNCtask). In the next version, this stream will be extended to include the latest appointments from VNCcalendar or new contacts (VNCcontacts).
VNCcommander offers our partners and customers a professional and secure (GDPR-compliant) alternative to Slack and other proprietary collaboration software tools.
Get your information flow in real time and structure various communication, information and collaboration channels. Don't miss any important contribution of team members or partners and customers.
VNCcommander is the central place you need to get perfectly organised.
The entry point is a customizable start page: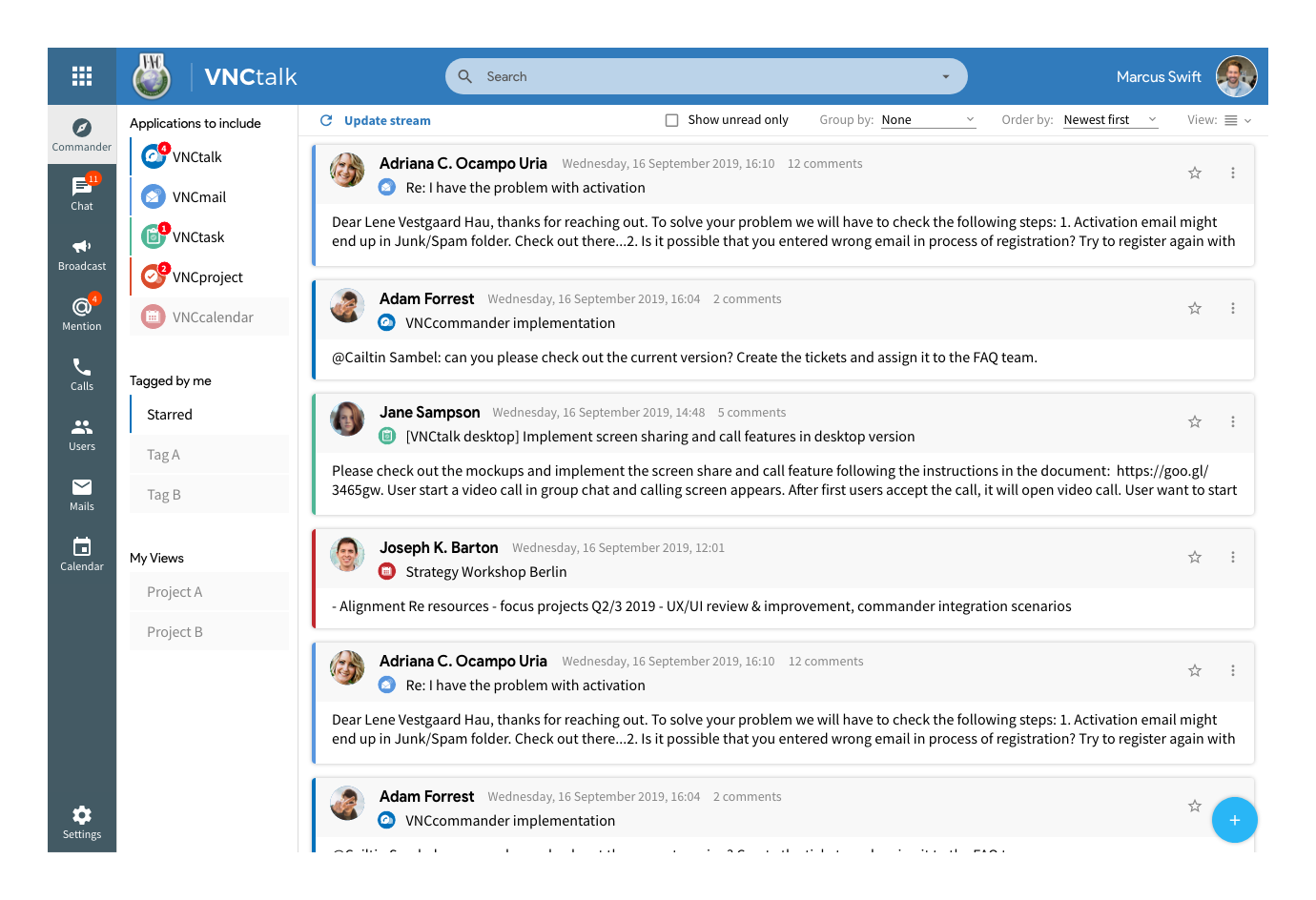 Log in to VNCcommander at the start of your working day or switch to VNCcommander at any moment from every VNClagoon product (of course with single sign on).
VNCcommander enables quick access to all the products you are subscribed to (VNCmail, VNCtalk, VNCtask, VNCcontacts, VNCcalendar, …).
The subscribed products appear in the left menu, where you can select which products should display their newest objects in the Enterprise Information Stream.
The stream shows all new objects from the selected products, such as new emails, upcoming tasks or appointments, new chat messages etc. with a counter for unread items. You can choose between a detailed or condensed view.
Within this stream view you can group the objects by application or user, you can sort the objects (newest / oldest first) and use filters to define a date range, for example.
You can tag every object across all products and filter objects according to tags (left menu).
The excellent search features are based upon our enterprise index and deliver results globally across all connected products, or within selected products or for tagged objects or read / unread only. The search also includes attachments. The search results can be grouped and sorted per your requirements.
In the stream view, you see a preview of the content of any selected object, e.g. a new email. There, you have two options:
You can either peruse the content in the stream view, where you also have access to selected "Quick Actions", such as reply (all), forward, like, tag, star, comment.
Or, in case of more complex activities, you can open the object in the "Efficiency Mode", where you see the complete content and have more options as provided by your VNClagoon product, such as VNCmail.
Of course, you can also open all VNCproducts in their complete functionality within their exclusive browser window, Desktop Client or App, so you'll have uninterrupted access to all functionalities.
Enterprise Information Stream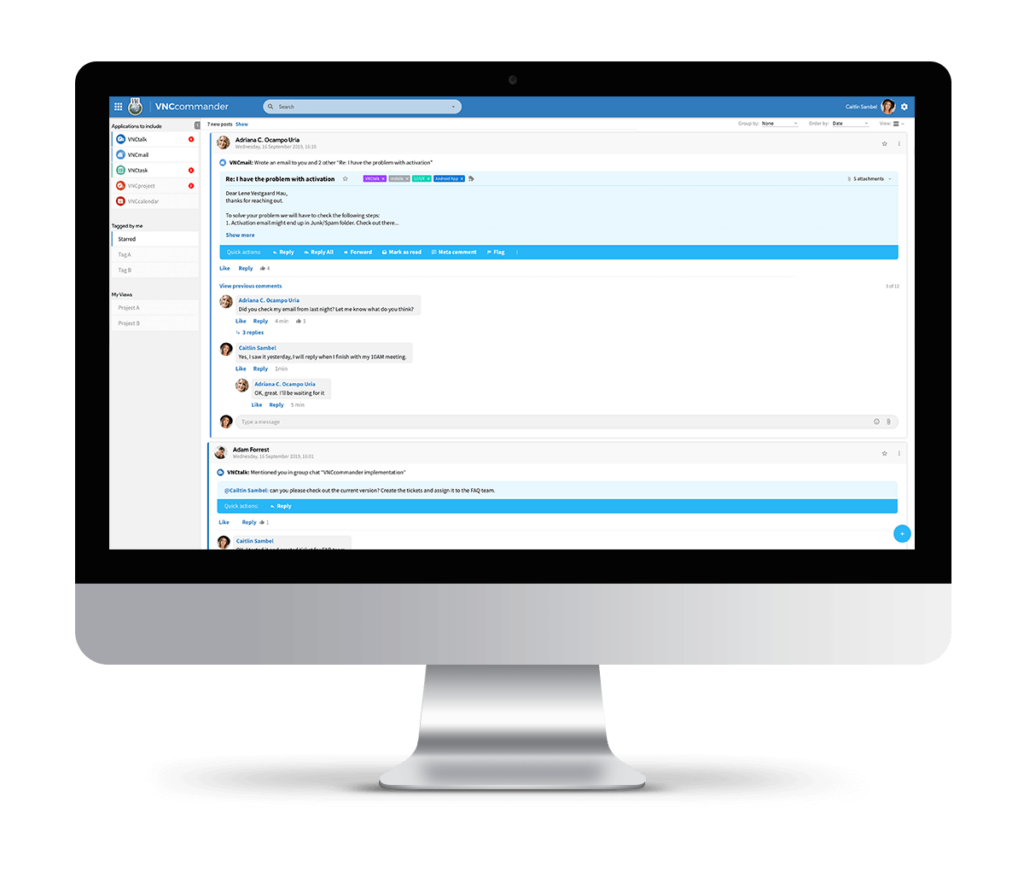 Quick preview of emails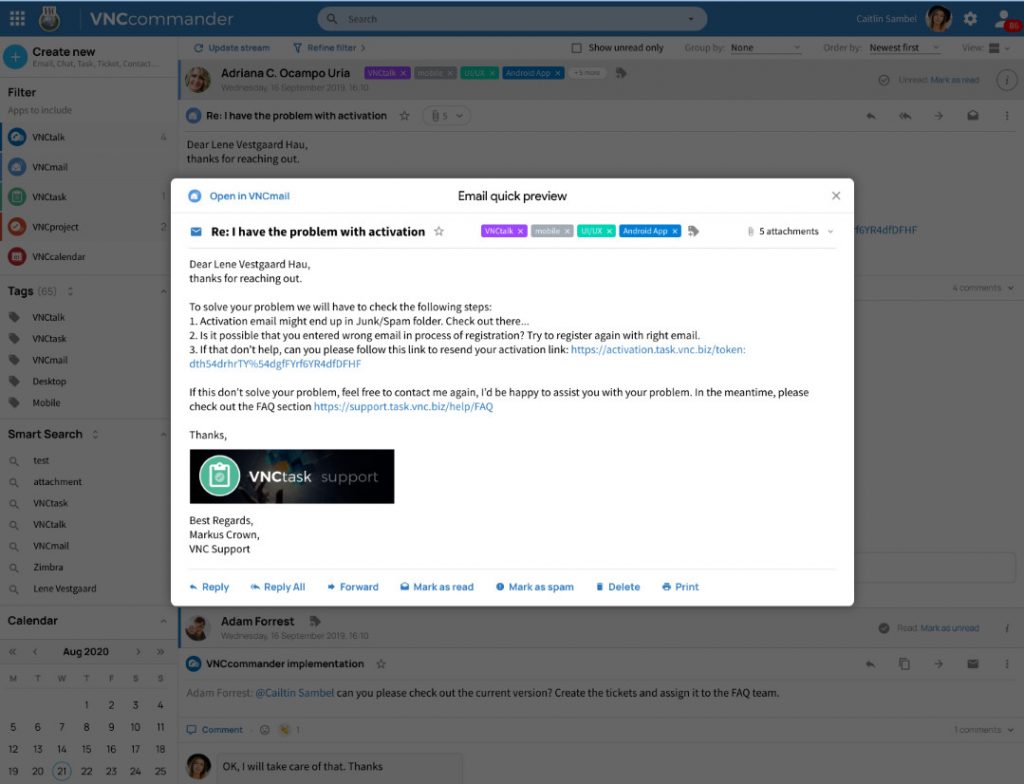 Detailed profile information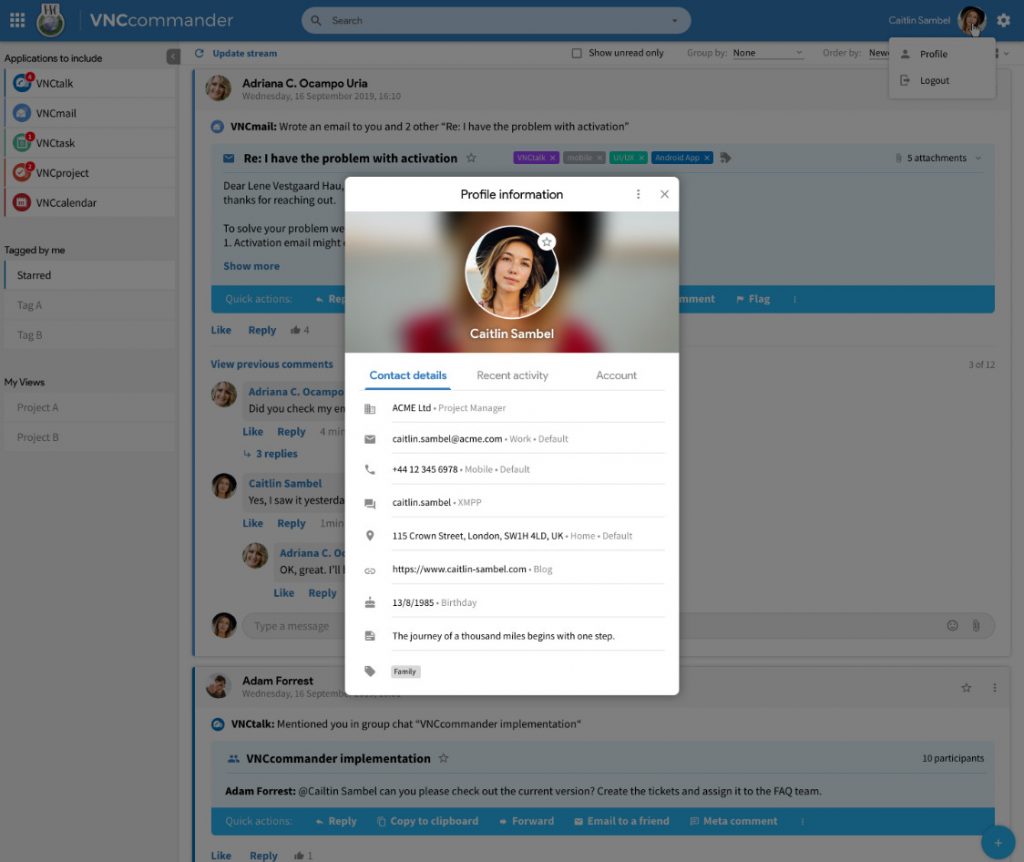 Quick previews of chats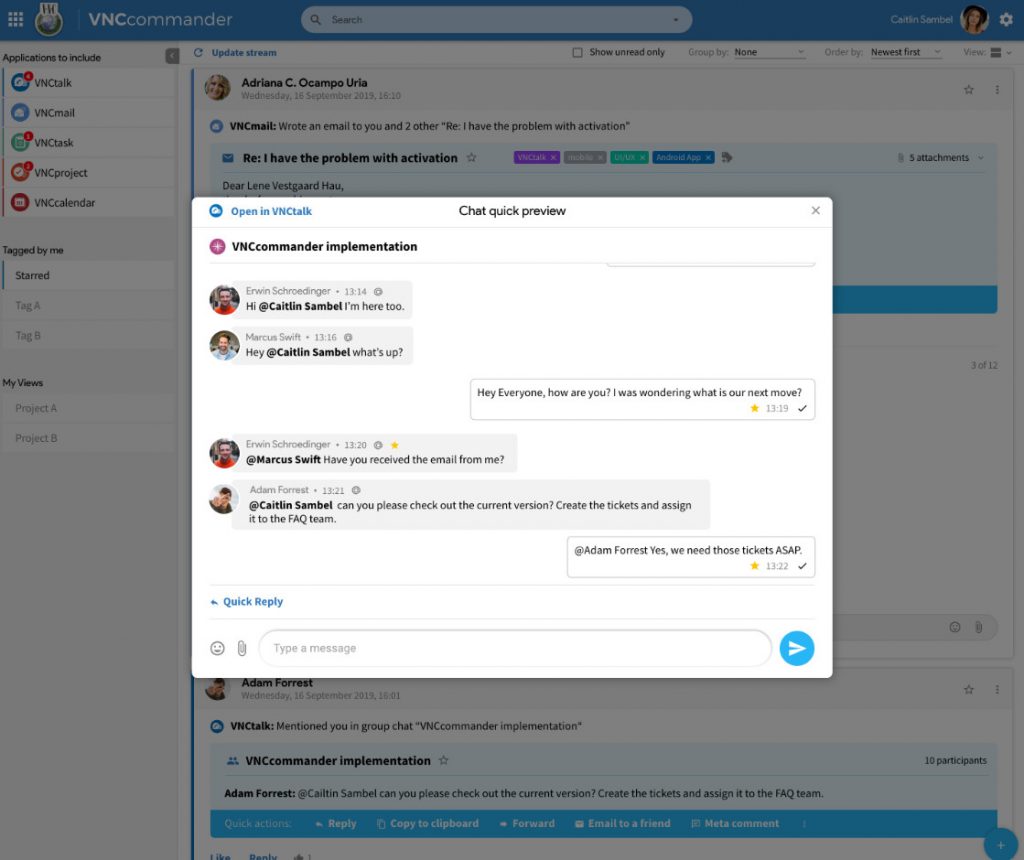 Creating new tasks in VNCtask straight from the VNCcommander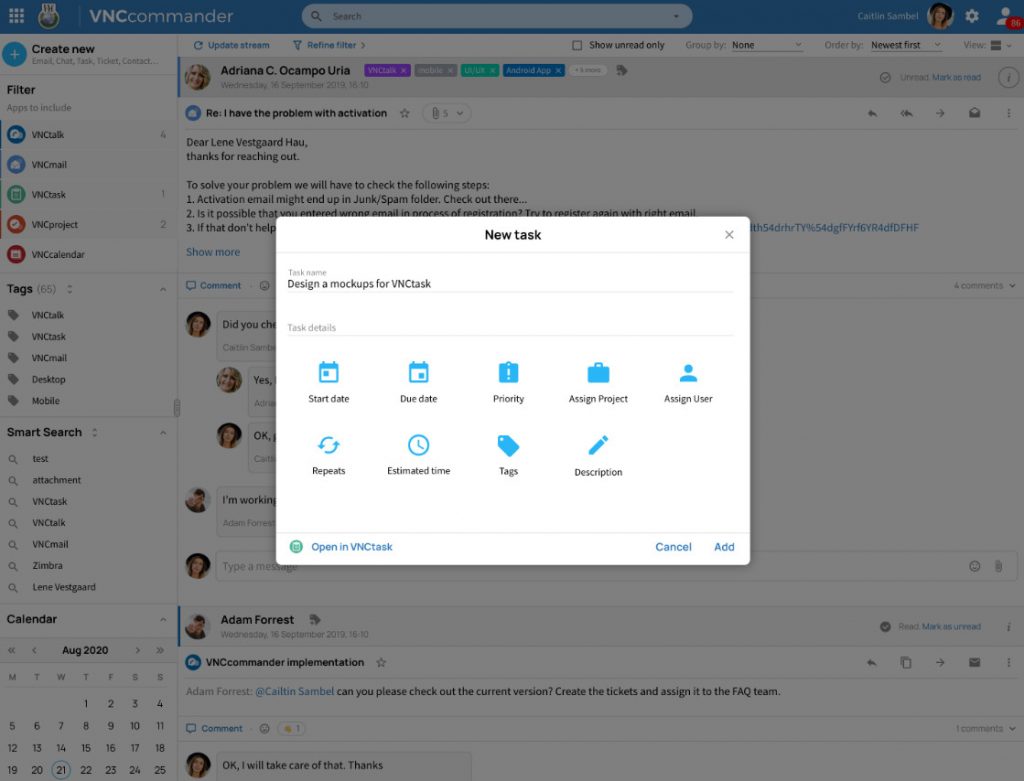 Starting group chats directly from the VNCcommander dashboard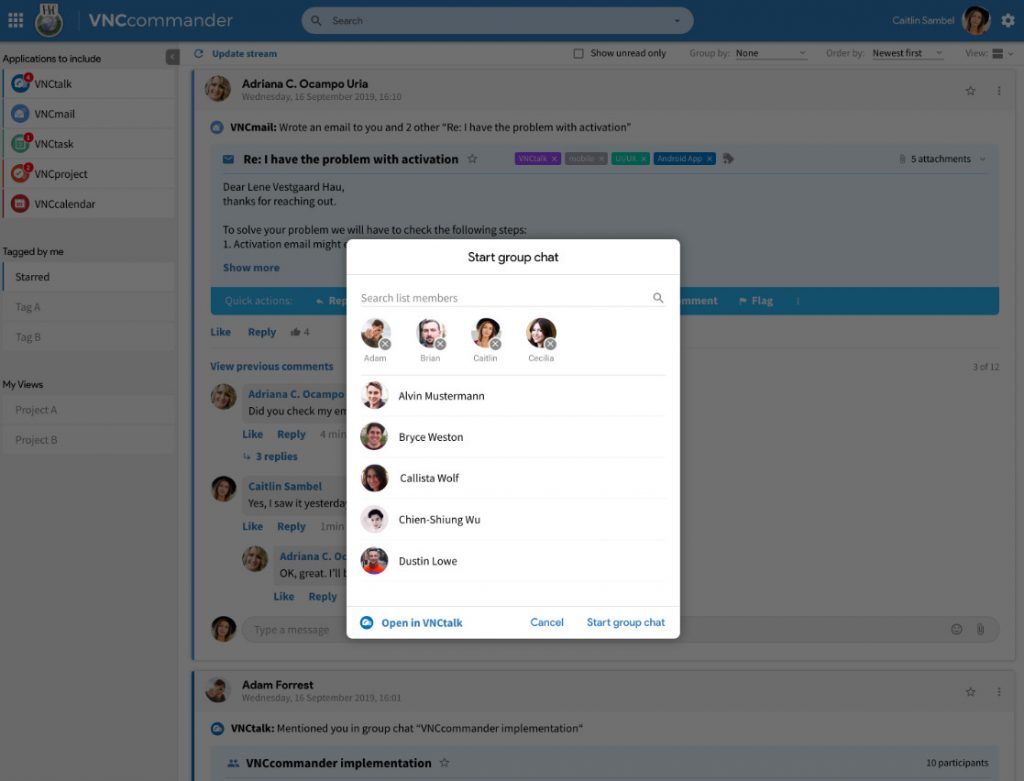 In the top right corner of the VNCcommander you can check and edit your profile information. You can change your password, edit your notification settings for each subscribed product as well as your entire settings and preferences. As always in VNClagoon, the changes will be applied to all products.
If you are subscribed to VNCtalk, you will also see all online users on the right panel, where you can start a new chat with one click.
The "+" icon in the top left corner opens a quick menu enabling you to create new objects across your subscribed products, such as a new task, mail, chat message, etc. on the fly. If you need more complex features, you can easily switch to the application to access the complete functionality set. When you are using one application within VNClagoon, you can switch between products or return to the stream view with just one click (on the kebab menu in the top left corner).
To summarize:
Like all VNClagoon products, VNCcommander is based upon open source and is therefore secure, flexible, scalable and customizable (layout and functionality) to your own needs.
VNCcommander can be implemented GDPR compliant to ensure your data souvereignty.
User management and authentication takes place within VNCdirectory.
VNCcommander is your Enterprise Information Stream and Communication Hub with Single Sign On (SSO) to your own personal Collaboration Suite.
The outstanding Search makes sure important objects and data can be easily found whenever necessary.
For more information about the VNClagoon business software stack, please visit our Website or contact us by email.
VNCcommander is part of our VNClagoon Business Software Stack.
State-of-the-art. Fully open. True security.