Who reinvented the "Wheel"?
We did. 😉
Our customers and partners love the VNClagoon Action Wheel. But hey – what is it exactly?
Wherever you see an avatar in VNClagoon, just click on it and you will see an "Action Wheel" pop up displaying the contact details of the respective person. Furthermore, the Action Wheel allows you to trigger various quick actions related to this person. So, if you are working on a ticket in VNCproject and have a quick question, you can use the Action Wheel to send a chat message to the ticket creator and ask for details or confirm ticket requirements.
The Action Wheel enables quick operations related to the VNClagoon products you are subscribed to. For example, the Action Wheel button for VNCmail will only be displayed when you have an active VNCmail subscription.
Your specific VNClagoon Action Wheel user interface may look like this: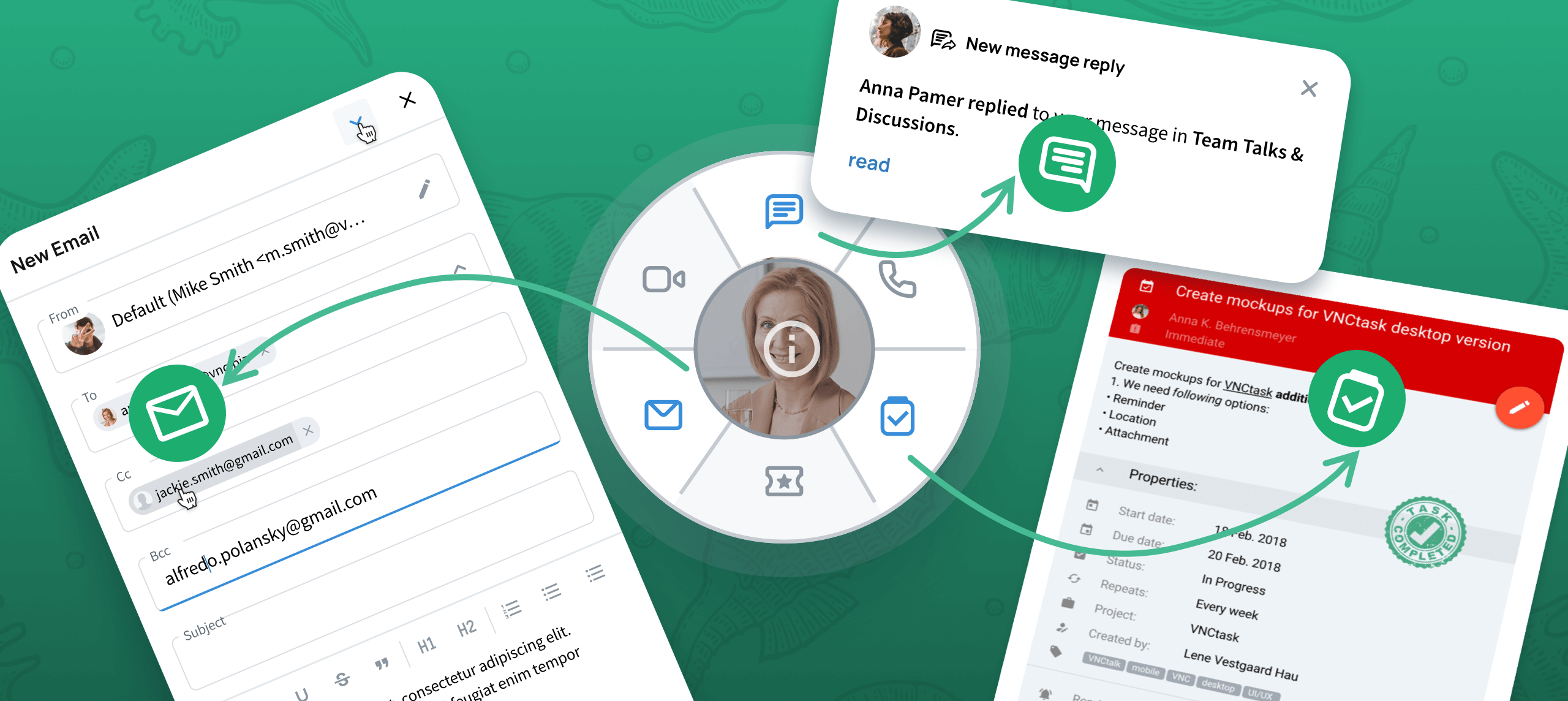 VNClagoon Action Wheel Modules:
VNCcontacts: The Action Wheel displays detailed profile information of the selected person, such as a photo or contact details – and in case you have administrative or controlling permissions also account information or HR data. Furthermore, the tab "Recent Activity" shows recent chats, emails, tickets, etc. related to this person. Thereby, you will see your latest interactions at a glance.
VNCtalk Chat: The best and probably most efficient way to get in touch for a quick question is a VNCtalk chat message. You can select the VNCtalk chat icon directly in the Action Wheel and you'll be connected with the respective person in VNCtalk for a 1-to-1 chat.
VNCtalk Audio Call: You prefer a call or need to discuss an issue in detail? Just select the button for the VNCtalk Audio Call and you are connected.
VNCtalk Video Call: You can start a VNCtalk Video Call from the Action Wheel, to discuss an issue, or you may go into more detail in a VNCtalk Screen Sharing session.
VNCtask: If you are in a chat or in your email inbox and need to create a task for the other person (or a reminder for yourself) – go ahead and click on the VNCtask button. Just add some additional details, such as Task Name, Start and Due Date, Priority, Project, Description and assign the task. Simple and easy.
VNCproject: If the task resulting from your conversation or from the email is more complex, you can open our project management software VNCproject directly from the Action Wheel and create a ticket for your team member. For easy collaboration in a full-blown project management system.
VNCmail: Of course you can also create an email from your Action Wheel and add more detailed information or add further recipients to address an issue. Just click on the VNCmail icon and you are ready to go!
Any integrated software: our partners cherish the option to integrate their software within VNClagoon – as a result, their software functionalities show up in the Action Wheel.
VNClagoon is an unmatched unified suite of enterprise communication and collaboration products.
The VNClagoon Action Wheel is just one element of our seamlessly integrated VNClagoon Business Software Stack. It is customizable to your organization's needs and will help to increase your productivity.
You'd like to learn more about VNClagoon or any specific product? Please schedule your personal demo here:
Please also check our Blogpost "Make VNClagoon Yours – Branding & Customization Options" for detailed information about customizable software and its advantages.
VNClagoon is the enterprise grade software stack for all of your communication and collaboration needs. Your data remain under your control – no black boxes and no hidden backdoors! VNClagoon is a real alternative to proprietary software from vendors such as Microsoft, with all the features and functionalities you expect from a modern communication and collaboration suite including a messenger, real-time communication, groupware, project & task management, and much more.
We are convinced that the future of business software is open source. Therefore, our integrated VNClagoon stack is entirely based upon open standards.
For more information and technical details of all our products, please visit: www.vnclagoon.com
Or schedule a personal meeting to get detailed information about any VNClagoon product or the complete VNClagoon Enterprise Software Suite:
Share your feedback!
We hope you see the benefits of the VNClagoon Action Wheel?! Feedback and suggestions for improvements are always greatly appreciated. Please drop us a note in the comment section below or send an email to sales@vnc.biz.
Detailed information about our products can be found on VNClagoon.
With all our products, the security of your data is our top priority. Keep important information where it belongs – within your organization's control!
About VNClagoon
Secure, Best in Class, Seamless Communication and Collaboration, Lowest TCO
The VNClagoon enterprise software suite offers a full range of integrated communication and collaboration products for messaging, real-time conferencing, community building, channels, email, groupware, task and project management, file handling and more for large organizations. Built upon state-of-the-art open source technology by thousands of world-class developers around the world, VNClagoon is a leading alternative to closed source and SaaS-only applications like Microsoft Teams, Zoom, WhatsApp, Dropbox and many others. Now it is possible for VNClagoon customers to gain greater control over their digital sovereignty as they communicate and collaborate more securely using one completely integrated suite of applications. For more information visit:
https://vnclagoon.com