We have released VNCtalk version 2.3.5 and added a completely new feature: VNCmeet.
VNCmeet, as part of our business messenger VNCtalk, makes it now possible to start video calls with external guest users, who don't need a VNCtalk subscription. No VNCtalk account needed, no app download necessary – just invite external participants by adding their email address and start a video meeting!
Despite the challenging situation at the moment due to the Corona pandemic our team members all over the world have worked incredibly hard to deliver VNCmeet right now. Why? Because we heard from various of our customers and partners that there is a desperate need right at this moment to be able to connect external persons via videocall. The scenarios we encounter most often are: Corona Emergency Services, communication during Work from Home and staying connected while keeping the necessary physical distance.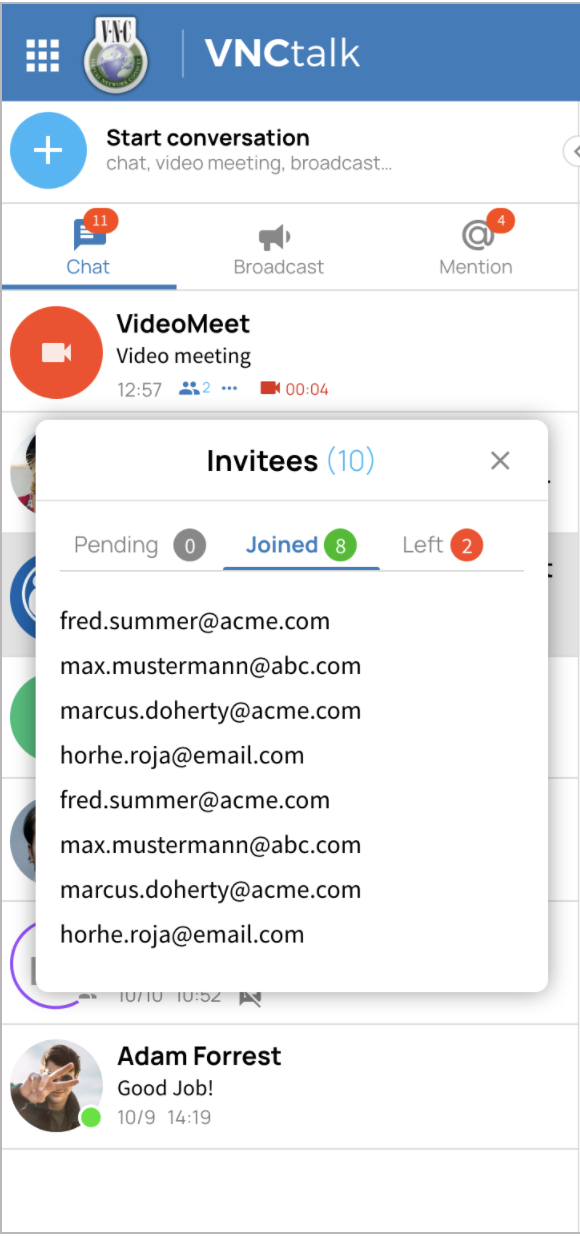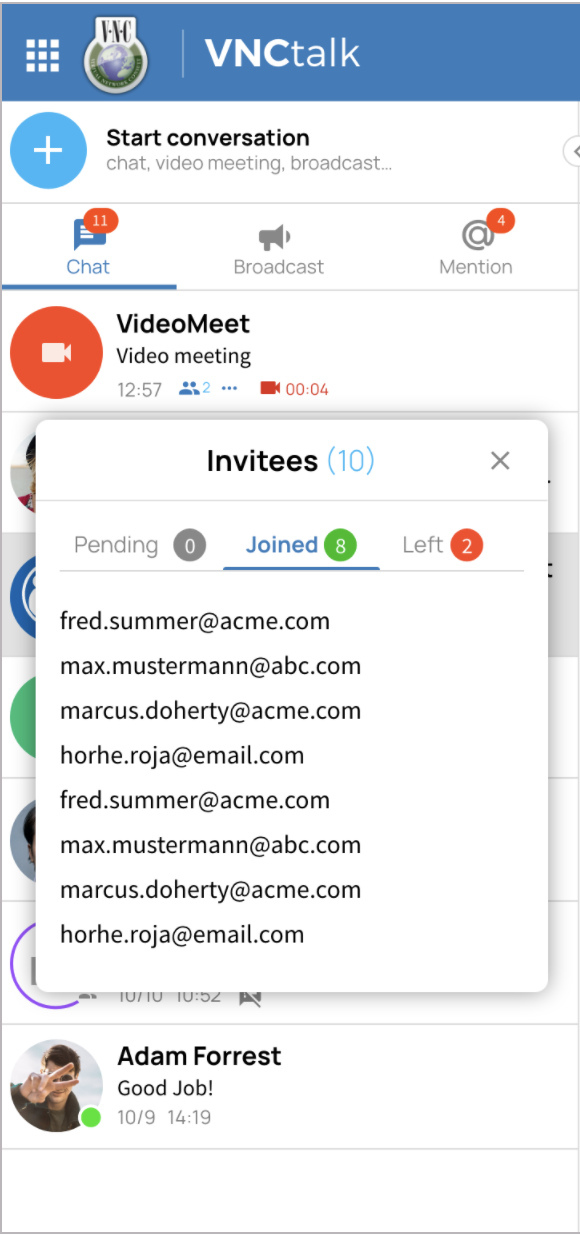 Scenario 1 – Corona Emergency Service
VNCmeet enables our users to provide Corona Emergency Services in a variety of settings.
Some of the real life examples are:
Virtual health screenings
Health checks, virtual doctor's visits
Health consultations
Psychological advice
Spiritual guidance
Pastoral care
Emergency counseling
Virtual patient care
Guidance and monitoring of volunteers
With VNCmeet, professionals with all kinds of responsibilities are enabled to reach out to their patients, clients or anybody that needs quick help and assistance – in a secure manner and without any technical obstacles. The person in need of help simply receives an email with a link leading him/her directly to the video meeting.
Scenario 2 – Communication during Work from Home  
Our goal: Support our users in their daily work, wherever they are and whatever they need to do!
More than 3.9 billion people, or half of the world's population, have now been asked or ordered to stay at home by their governments to prevent the spread of the Sars-Cov2 virus.
Data from an AFP database collated compulsory or recommended confinements, curfews and quarantines in more than 90 countries or territories.
Due to the introduction of a curfew in Thailand (effective from Friday), the threshold of 50% of humanity will be reached. (source: Euronews)
Therefore the significance of video conferencing is skyrocketing in many companies.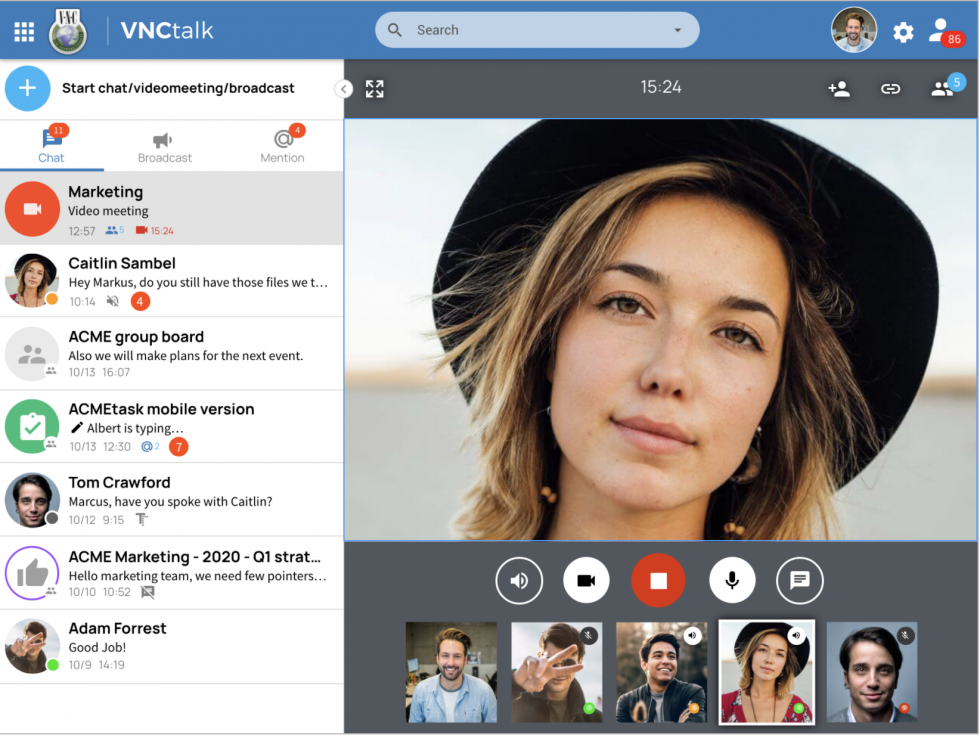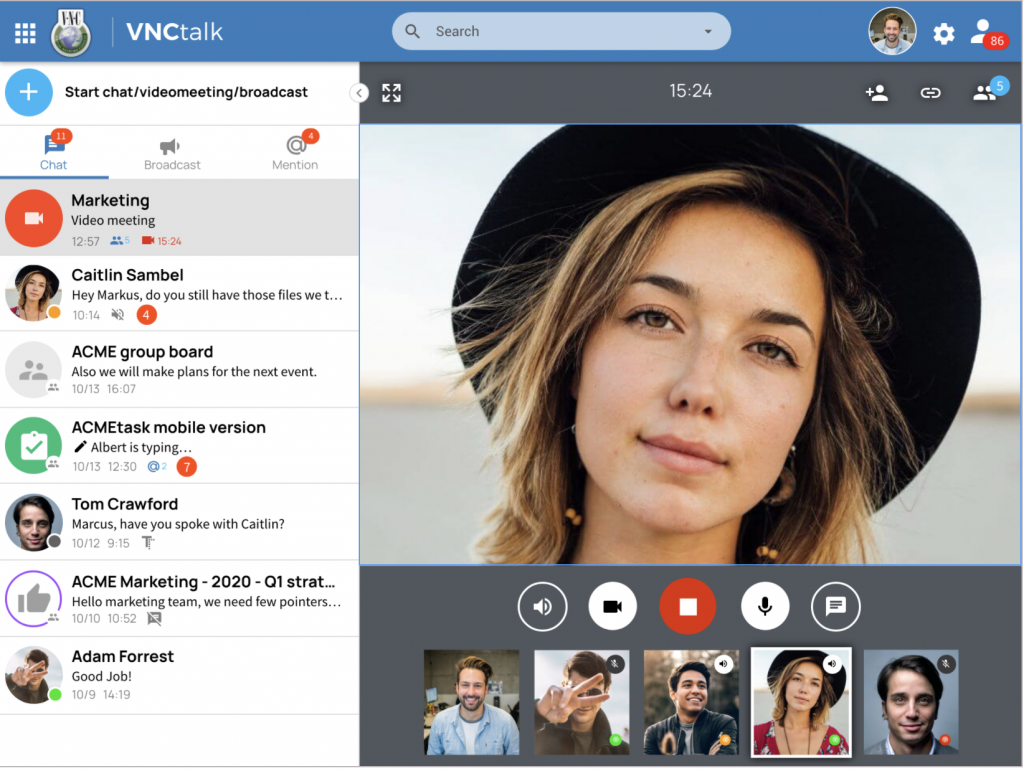 Our customers and partners report a change in the VNCtalk usage pattern within these times of crisis:
Everybody needs to talk to external guest users more frequently.
For example to gather members of varying committees and external experts for "Corona Crisis Roundtable Meetings" or to get quick feedback in customer projects or to discuss software specifications or layouts via screensharing. The use cases are endless here.
And what about your recruiting? Standing still? Application processes can also be virtualized. Of course the interviews can be conducted via videocall – really easy and uncomplicated.
So wouldn't it be nice to have a conferencing tool where external guest don't have to install extra software before starting a call? Keep in touch with external users wherever they may be and on every imaginable device? Well, we've got something: VNCtalk with VNCmeet.
Scenario 3 – Stay connected!
Stay connected while keeping the necessary physical distance!
Although nowadays we hear a lot about "social distancing", we prefer to call it "physical distancing". Use emails, letters, phone and video conferences to stay in touch with your family, colleagues, partners and customers. VNCtalk and now VNCmeet can help bridge the distance.
VNCmeet can bring families together in a "virtual living room" or enables "play-dates" for children when physical contact is not recommended. In addition, video conferencing can support parents in times of homeschooling, while schools are closed and allows to stay in touch with team members, managers, colleagues, customers, patients or consultants. Video conferencing brings a little more everyday life into an exceptional situation, because although it is virtual, it feels more real than a simple phone call.
How does VNCmeet work?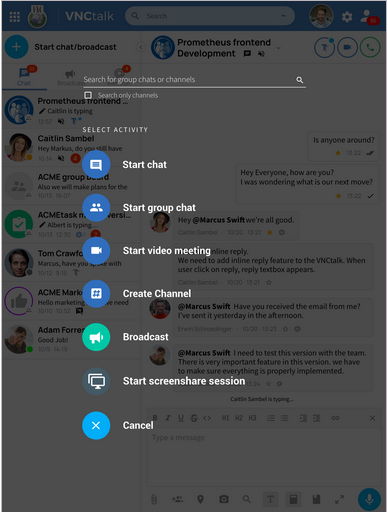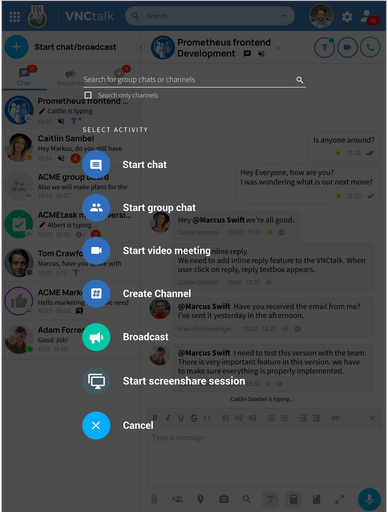 In our latest VNCtalk release (with VNCtalk version 2.3.5) we implemented a whole new feature: VNCmeet. This very useful new feature allows you to invite external guests to a video meeting without installing additional software. How does it work? Just click on "Start Conversation", select "Start video meeting" and enter the email address of the person(s) you want to meet. They don't need additional software when they are using Android phones or are on a computer, VNCmeet will open in their browser, after they have clicked on the link they will receive by email. You can also add more users by sending them the URL. After the call ended the conference is terminated and you can save or delete this session.
See here how it works in detail: VNCmeet Manual
We are sure that even after the Sars-Cov2 pandemic the need for digital communication will continue and even grow. Working from home and having virtual meetings is not only a method of preventing the spread of epidemics and pandemics, it also lowers the carbon footprint, reduces travel costs and might also reduce traffic jams during rush hours.
When considering a solution for digital communication, not only performance is key. Most companies need a secure solution in compliance with data security laws like the GDPR in the EU. The most common tools are provided as SaaS without the option to take control over the own data. At VNC, our customers decide where they'd like to store their data – either on-premise, in the data center of their choice or in the VNC data center.
Please get back to us for more details!
Get a hands-on experience of VNCtalk by downloading the free App.
Please also check out our blogposts with tips for successful virtual communication and collaboration:
Successful Virtual Collaboration – Our Tips for Video Conferencing
Virtual Collaboration – Part One: Successful Virtual Meetings
Efficient Virtual Collaboration: VNCtalk – New Release 2.3.0
VNClagoon Apps – Collaborate efficiently when working from home
You are interested in technical details?
Please have a look at our VNCtalk Architecture Chart: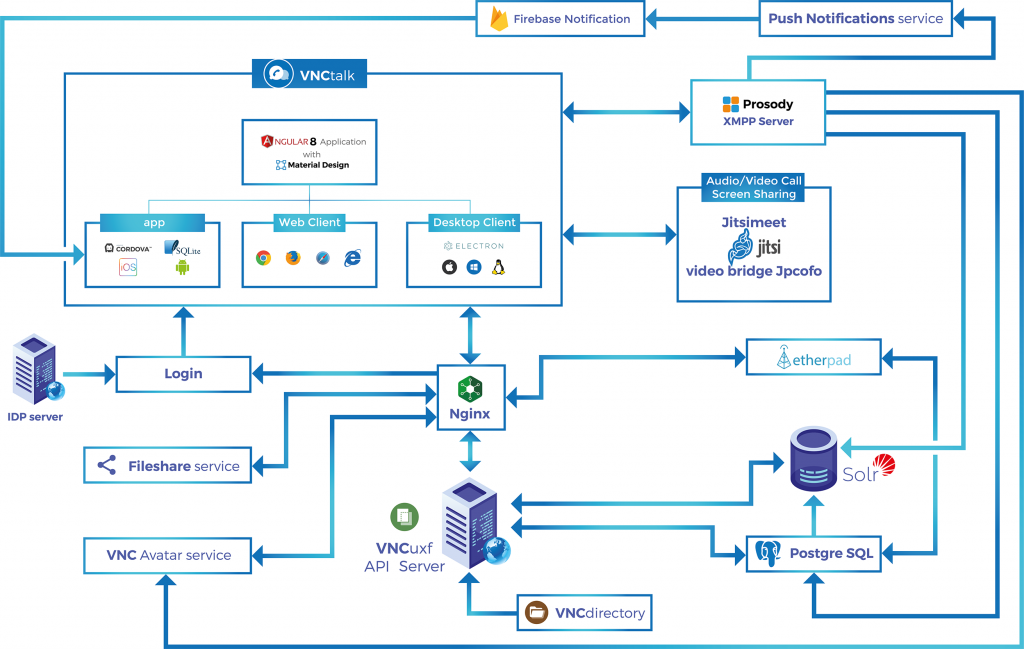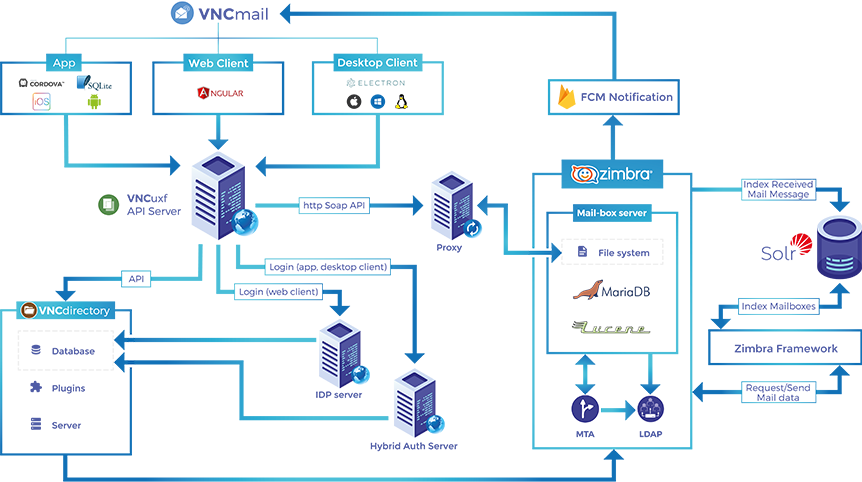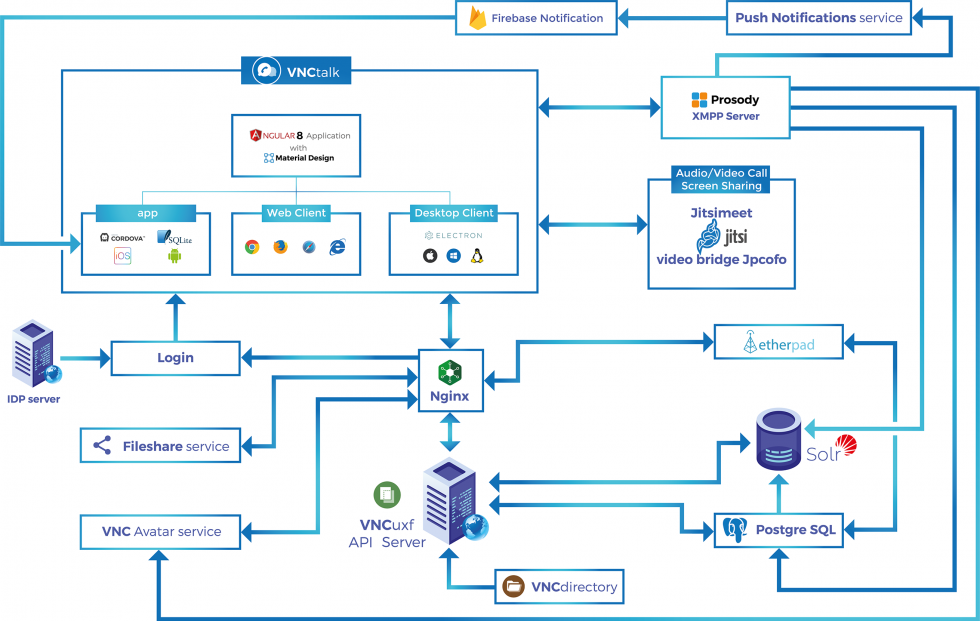 Detailed information about VNCtalk, more technical details, visuals and the VNCtalk explainer video can be found on our VNClagoon website, in our Release Notes, and in our VNCtalk manual.
VNCtalk is seamlessly integrated into our VNClagoon stack. Start a chat or audio / video call – by simply clicking on a user in VNCmail, VNCtask, VNCcontacts etc. Use the meta search across various VNCproducts to find all information related to the desired topic.
Please find more information on all our products on www.vnclagoon.com!
VNCtalk is part of our VNClagoon Business Software Stack