Beside some severe beautification of our VNCtalk user interface, we added a variety of super complex new features with the release of VNCtalk 2.3.0.
VNCtalk: Fast. Easy-to-use. Secure.
"Effective internal communication is incredibly important to any company, and any entrepreneur. But skillful communication is so much more than that: communication can mean the difference between your business succeeding or failing. Nowadays, sending regular emails and making Power Points for your important meetings is not enough.
According to the Holmes Report, companies with effective communication strategies have 47% higher returns to shareholders, more engaged employees, and less employee turnover." (Source: Forbes)
VNClagoon is the perfect software stack for all of your communication and collaboration needs. At the same time your data are under your control – no black boxes and no hidden backdoors! VNClagoon is a real alternative to closed software from vendors such as Microsoft, with all the features and functionalities you expect from a modern communication and collaboration stack including a messenger, real-time communication, groupware, project & task management, and much more.
We are convinced that the future of business software will be open source.
Therefore our integrated VNClagoon stack is entirely based upon open standards.
So, let's have a look at the new version 2.3.0 of our flagship product VNCtalk.
Beside some severe beautification of our VNCtalk user interface, we added a variety of super complex new features (see detailed release notes).
The scope of VNCtalk is to allow security and privacy driven customers (e.g. from finance, healthcare, social affairs, government sectors) to get rid of insecure and nevertheless wildly used messengers like WhatsApp and to provide an alternative product with a similar – honestly: better – functionality and user experience.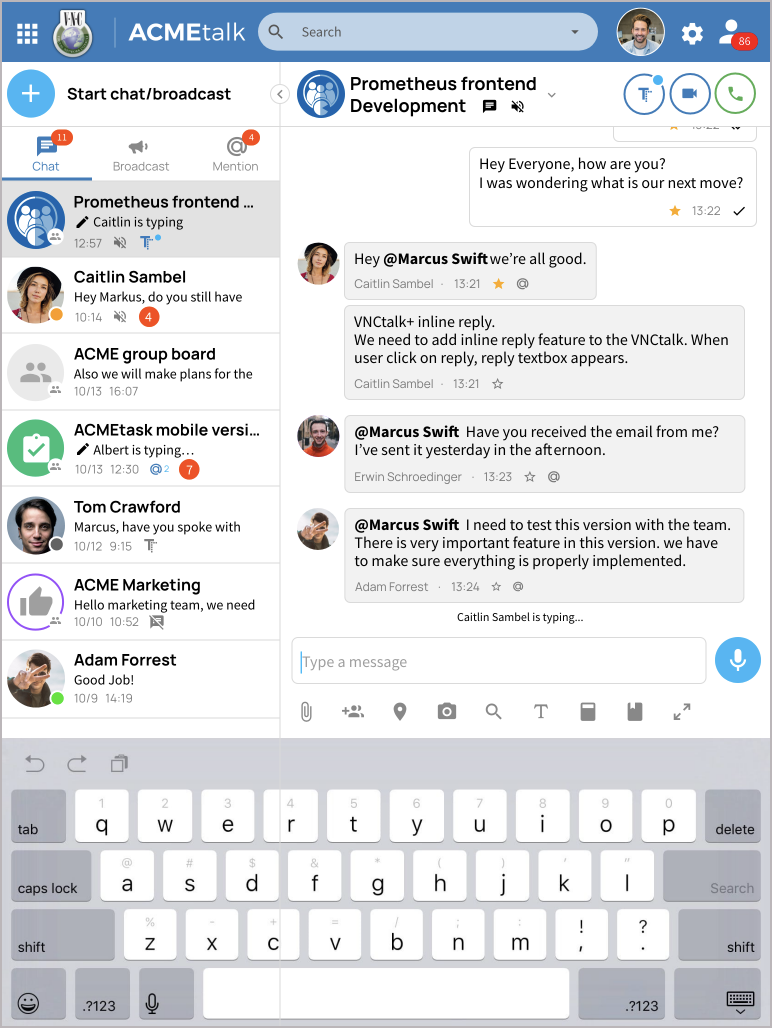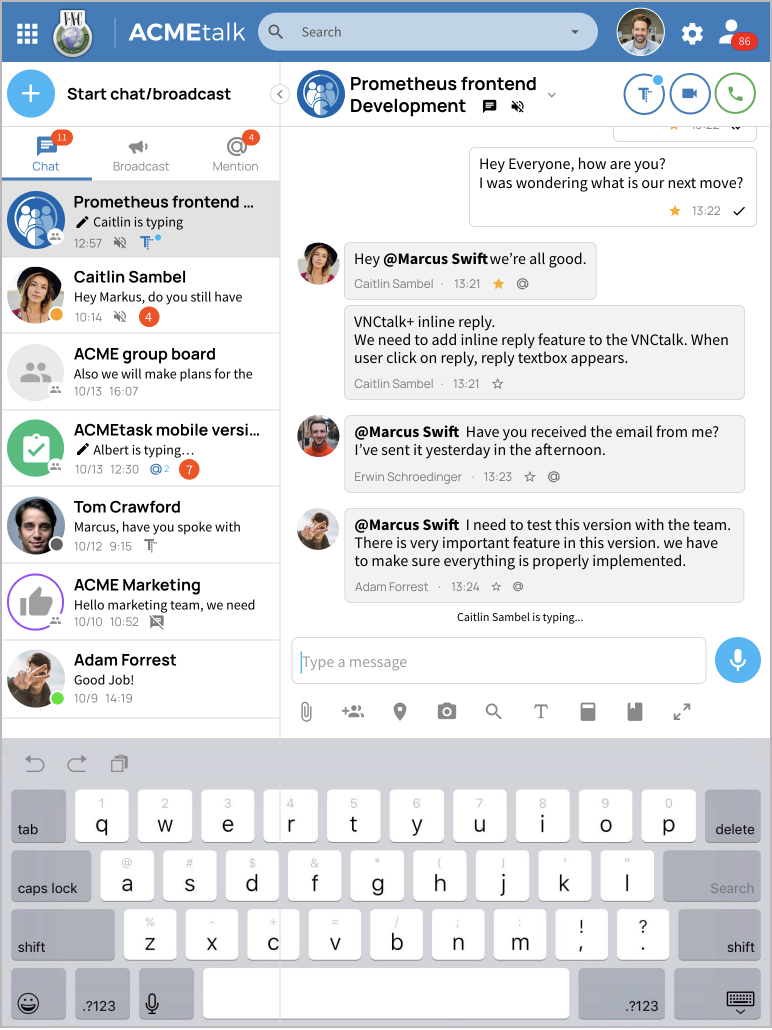 VNCtalk core functionalities:
VNCtalk offers chat, group chat, video and audio conferencing, screen sharing, broadcasts, voice messaging, file sharing, VNCpads for collaborative notes and many more functionalities. It can be used on the device of your choice.
We've put a lot of effort into the development of our latest VNCtalk versions to really make a difference! VNCtalk isn't just like any other messenger but provides a rich feature set, and is yet easy to use for your daily business communication. Unlike most other messengers VNCtalk is entirely transparent (on code level) for our partners and customers.
There is no security without open, transparent, readable, auditable code.
Data Sovereignty:
VNCtalk is not "just another SaaS messenger". We are not interested in having our customers' private data on our host. Therefore, VNCtalk is also available for on-premise installation. This is the only way you can make sure your data are controlled by your trusted administrators and nobody else.
Of course, our partners can implement VNCtalk in the datacenter of their choice and offer VNCtalk as a SaaS service to their customers as a (private) Cloud service.
Almost every week we all hear the news about the latest data leaks and security issues on shared platforms on public clouds. It is time to reclaim full control over your sensitive business data. With VNCtalk you decide which server you use – either on your own premises or in a data center of your choice – and thus be fully compliant with the GDPR. And we made the code auditable, so you don't have to work within a black box like e.g. in the case of WhatsApp, Threema, Signal or Telegram.
Ask for our competitive analysis here.
What's new?
We integrated VNCdirectory with VNCtalk on the backend side. With VNCdirectory you now have the option to centrally manage your user base: SSO, 2 factor authentication, user and group management. This becomes a necessity if you have several departments in your company, when each department has its own contact group and users can communicate within and outside these groups with colleagues from other departments. Even more than that, you can set up virtual (temporary) teams with the help of VNCdirectory, which then allows to set rules and permissions for these different (virtual) user roles.
To go one step further, the VNCiom (inter-organisation messenger) allows the setup of a distributed VNCtalk infrastructure. You can then connect distributed VNCtalk entities (e.g. partner companies in different industries or countries) with specific privacy regulations and without storing their data on your host. Thus: it's truly secure!
The recently integrated Rich Text Editor (RTF) allows various text formatting operations to highlight certain text parts e.g. in bold, italic or even as quotation or a list with bullet points. The RTF editor can be switched on and off anytime. You can use it in the text entry field below your chat or also in full-screen mode to have all the space available for your thoughts.  Advantage: You can now create structured chat messages and discuss complex topics more efficiently directly in the chat or group chat. This feels a bit like email, but with the tremendous advantages of a modern synchronous messenger product.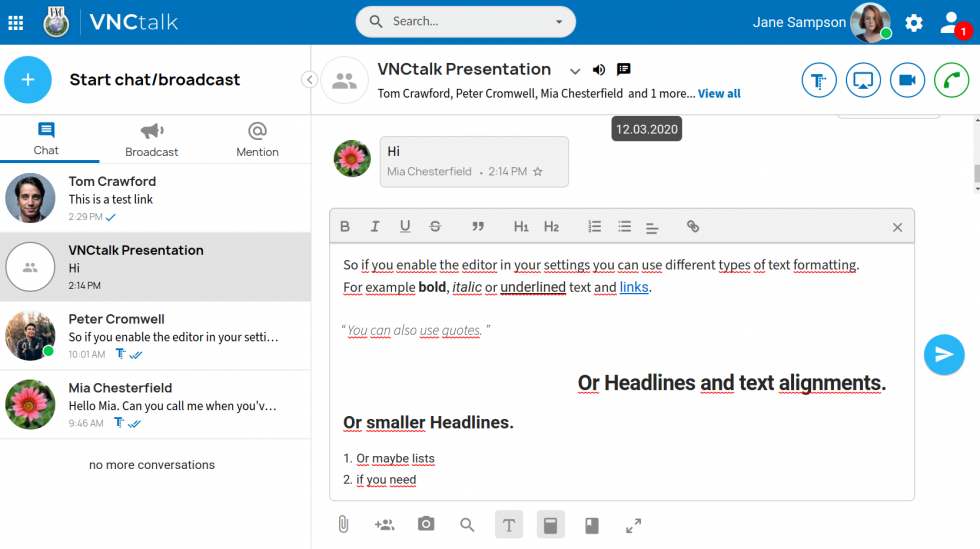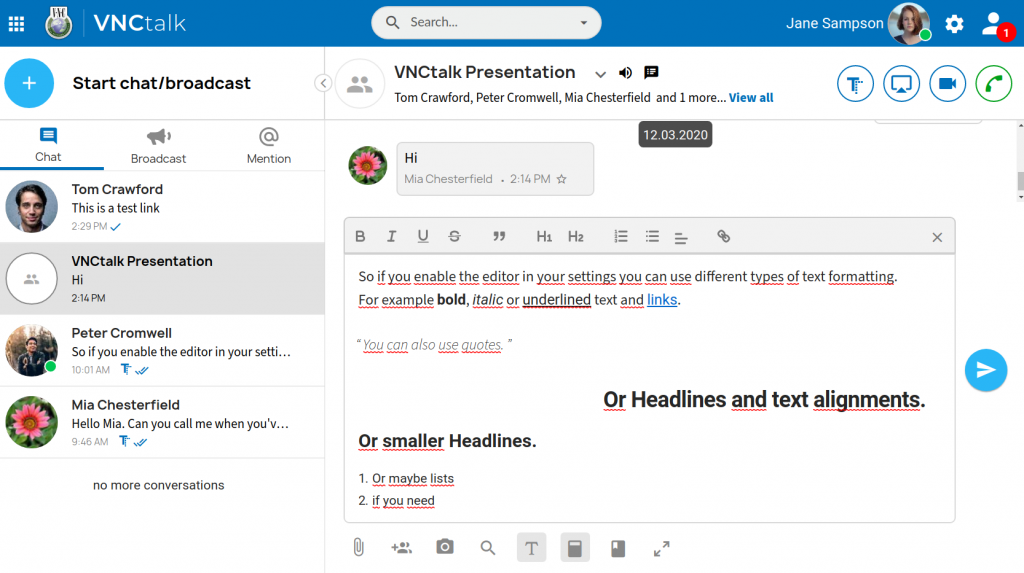 Talking about handy features – did you know that you can adapt the search in VNCtalk exactly to your needs? Sure, like many other messengers VNCtalk can also search through your entire chat flows. But with the Advanced Search you are able to ex- or include attachments or favorized messages (also within a selected chat only!), certain users and time frames. Especially in a large organisation with a lot of communication going on this can save valuable time.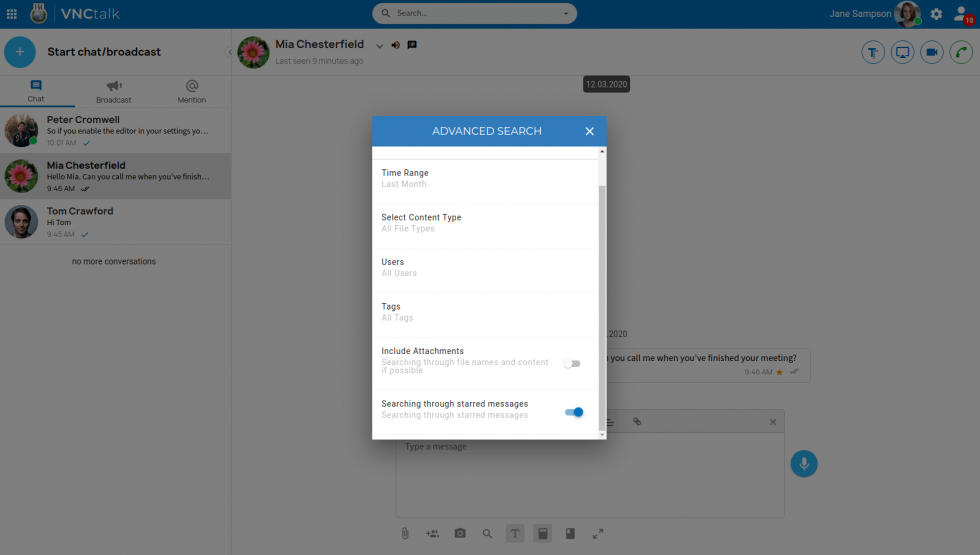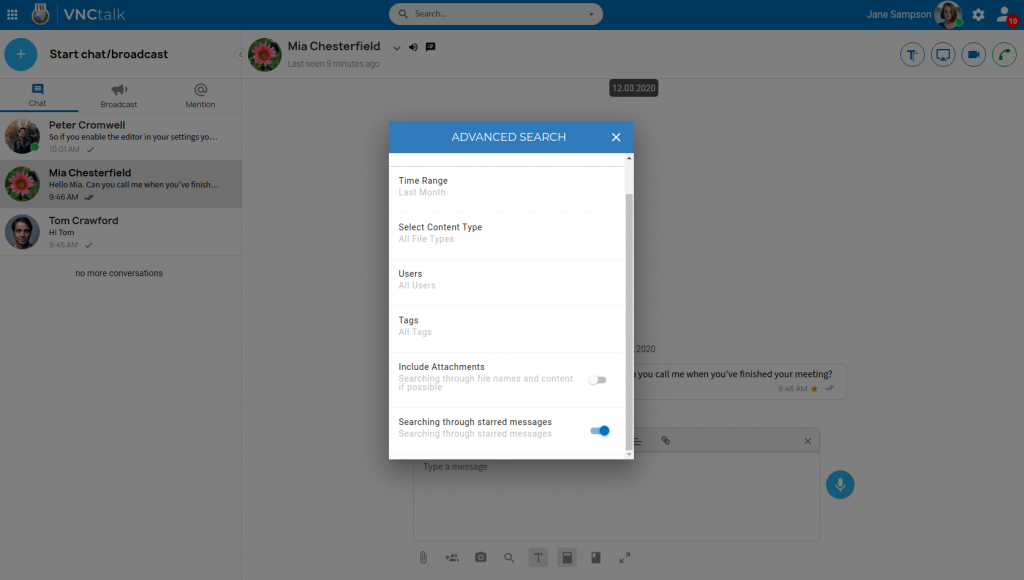 The VNCtalk Broadcast feature is a very useful tool to keep the whole company or certain user groups informed about important news and events. Only the user who started the broadcast can add messages to it, all answers on broadcast messages will create a 1:1 chat between the recipient and the author of the broadcast message. These broadcasts can also be fed by bots and scripts to inform users for example about recurring events or system updates.
Example for VNC Broadcast messages:


And how many messengers do you know that offer document collaboration?
Just open a new VNCpad directly in VNCtalk, invite your colleagues and everyone can add his/her thoughts to a collaborative text file or spreadsheet. Each user has his or her individual color highlighting the entered text. This makes collaboration fast, convenient – and fun! Of course you can work on a VNCpad document while being in an audio or video conference or in a group chat to discuss new ideas or a different approach to solve a complex problem. You can copy and paste ideas from a group chat or just add them from scratch, condense the ideas, sort them and work on them in a very structured way, together as a team! That's real collaboration as we understand it!


What about multiple devices?
VNCtalk is available in a variety of client options – which is a totally unique feature! – and incredibly fast at syncing between these clients, i.e. between the VNCtalk Web Client, the VNCtalk Desktop Client and the VNCtalk App. Write a message in the VNCtalk Desktop Client and you will see it immediately in the App or the Web Client. Whether in the office, at home or while traveling – with VNCtalk you are always up-to-date!
Due to its flexible design, VNCtalk is not only available for almost any device on Windows, MacOS, Linux, Android and iOS, it's also highly customizable. While other solutions may offer to position your company logo in the top left corner of the user interface, we are able to adapt the layout fully to your corporate design – for any device VNCtalk is used on!
Request our VNCtalk competitive comparison (VNCtalk Battlecard) here: sales@vnc.biz
You are interested in technical details?
Awaken the geek inside you! 😉 And have a look at our VNCtalk Architecture Chart: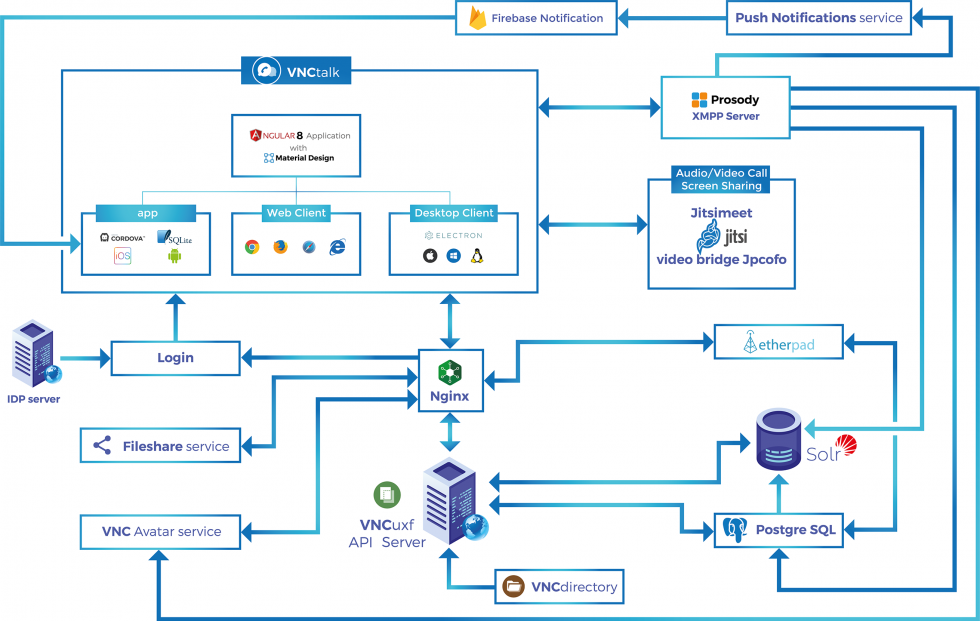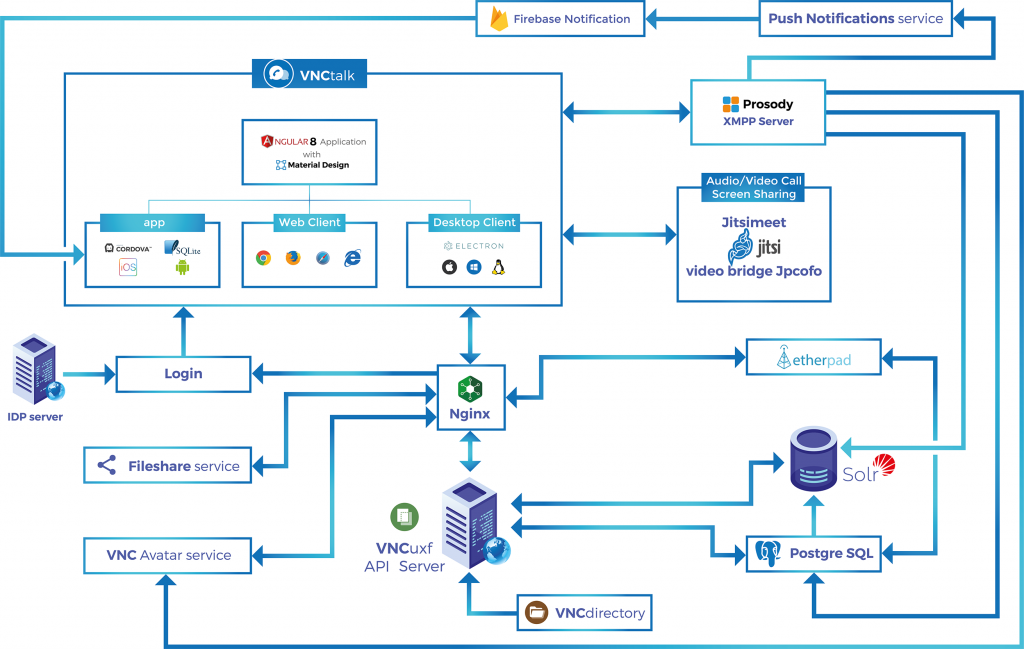 Professionals will see at the first glance that this is a full blown, scalable enterprise application and not just another neat "chat app".
Detailed information about VNCtalk, more technical details, visuals and the VNCtalk explainer video can be found on our VNClagoon website.
VNCtalk is seamlessly integrated into our VNClagoon stack. Start a chat or audio / video call – by simply clicking on a user in VNCmail, VNCtask, VNCcontacts etc. Use the meta search across various VNCproducts to find all information related to the desired topic.
The VNClagoon communication & collaboration suite comprises the following components:
Please find more information on all our products onwww.vnclagoon.com!
VNCtalk is part of our VNClagoon Business Software Stack