2020 is finally coming to an end and many of us will probably breathe a silent sigh of relief and tip your hats:
Farewell 2020 …
Adieu, Adiós, Ciao, Tschüss, Bye Bye!
We are not going to miss you.
Who could have imagined this year's unprecedented amount of disruption and the world we are currently living in? Protective sheets in restaurants, elbow (or no) greetings, face masks instead of smiles, long queues in front of some stores, depopulated city centers in Venice, Paris, Berlin…. deserted airports and airplanes in permanent parking position.
Many things were different this year. The handling of the new Coronavirus disease resulted in restrictions that would hardly have been imaginable before: Contact bans, physical distancing, closure of schools, daycare centers, restaurants, bars, clubs, cinemas, theaters and churches; travel restrictions, and tough penalties for violations of these restrictions and bans.
Many businesses are struggling to survive, despite substantial financial aid in some countries.
To say that we are looking back on an "exciting" or "thrilling" year doesn't do justice to 2020 in any way. This year was exhausting, turbulent and, for some of our team members, customers and partners, utterly dramatic.
Nevertheless, we are now throwing back a glance at this year, especially at some gratifying, positive and challenging moments.
Digitization has reached an absolute high in Europe. Organisations that did not have any experience with working from home until March 2020 (not even temporarily, not for one day a week) were suddenly forced to adopt new methods of cooperation and collaboration within their workforce, with immediate effect. The call to "Flatten the Curve" went around the world and many companies introduced mandatory work from home policies, so to speak, overnight.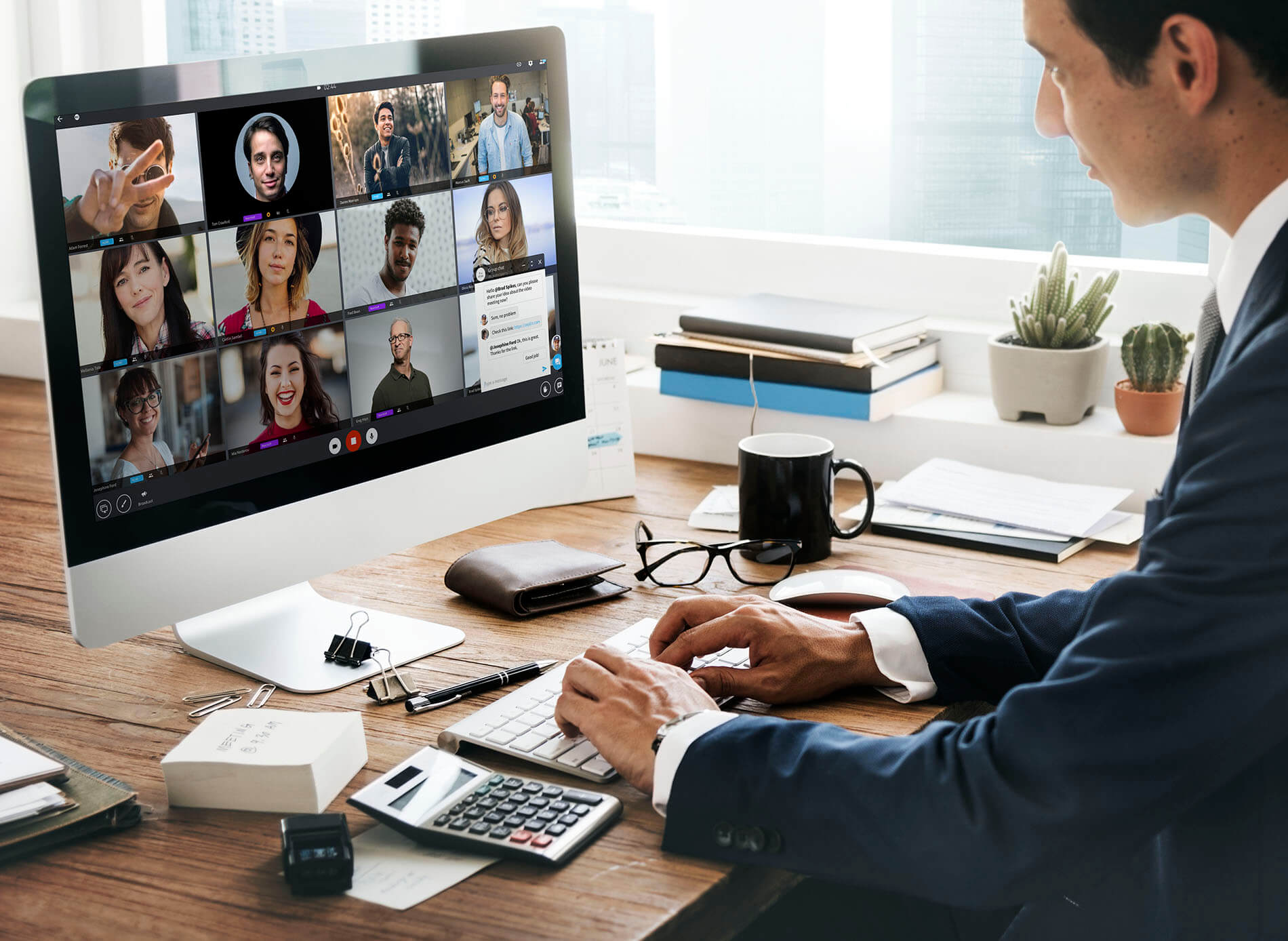 Nearly everywhere, new software (sometimes loved, sometimes hated) had to be adopted head over heels, and productivity when working from home has been discussed, questioned, praised and condemned…. depending whom you were asking. And now, after all these months, for many of us, working from home has become a real burden with the renewed lockdown (for example in many European countries), with kids being home and constant video conferences for the parents.
We think, now is a perfect time to look back on what we've experienced and accomplished and to pause for a moment … to consider what went well (and what perhaps didn't) … and where adjustments can possibly be made in 2021 to optimize cooperation within your organization. Because one thing is certain – those newly created opportunities for collaboration, of working in hybrid teams, partly in the office and partly at the place of one's choice, wherever that place may be, will be here to stay.
Very fittingly, the "Virtual Organisation" is one of the VNC Archetypes (besides "Learning Organisation" and "Open Source"). Therefore, we've published a number of blogposts and press releases on virtual team collaboration, running efficient virtual meetings and around the topic "work from home".
If you would like to review this year from the VNC perspective, feel free to refer to our blog as well as our newsroom.
Early on in 2020 we made the clear decision to take the challenges of this year as an extra motivation for VNC as an organisation and as a software manufacturer.
We accelerated our efforts in many areas, to name a few: in recruitment (record number of new hires around the globe), in product development (more new releases than ever – check our release notes), in the implementation of new technologies (fast updates to newest releases of core components in all products), in increased investments in R&D (e.g. machine learning, AI, natural language processing) and focus on DevOps for the rapid and flexible deployments of our VNClagoon product stack (on premise, private and public clouds), in user experience and design (have you seen our great user interfaces?), in new partner and customer relationships, and in our communication (PR and social media).
VNC has extended the provisioning of the VNClagoon business communication and collaboration suite with the partially free services VNCmeet, VNCgroupware and VNCteamwork on the new platform VNClagoon LIVE, actively helping teams around the world to collaborate securely and efficiently even despite the restrictions imposed by the Corona measures.
We are convinced that the future of enterprise software will be based on open standards, and in recent months the topics of digital sovereignty and open source have finally started to receive the attention they deserve, both in politics and in many organisations.
For 2021, we anticipate some new trending topics such as transparency in software, IT security, data sovereignty, hybrid and flexible working models and therefore highly adaptable software (from user interfaces to usage patterns and deployment scenarios). We'll definitely keep you posted on these developments.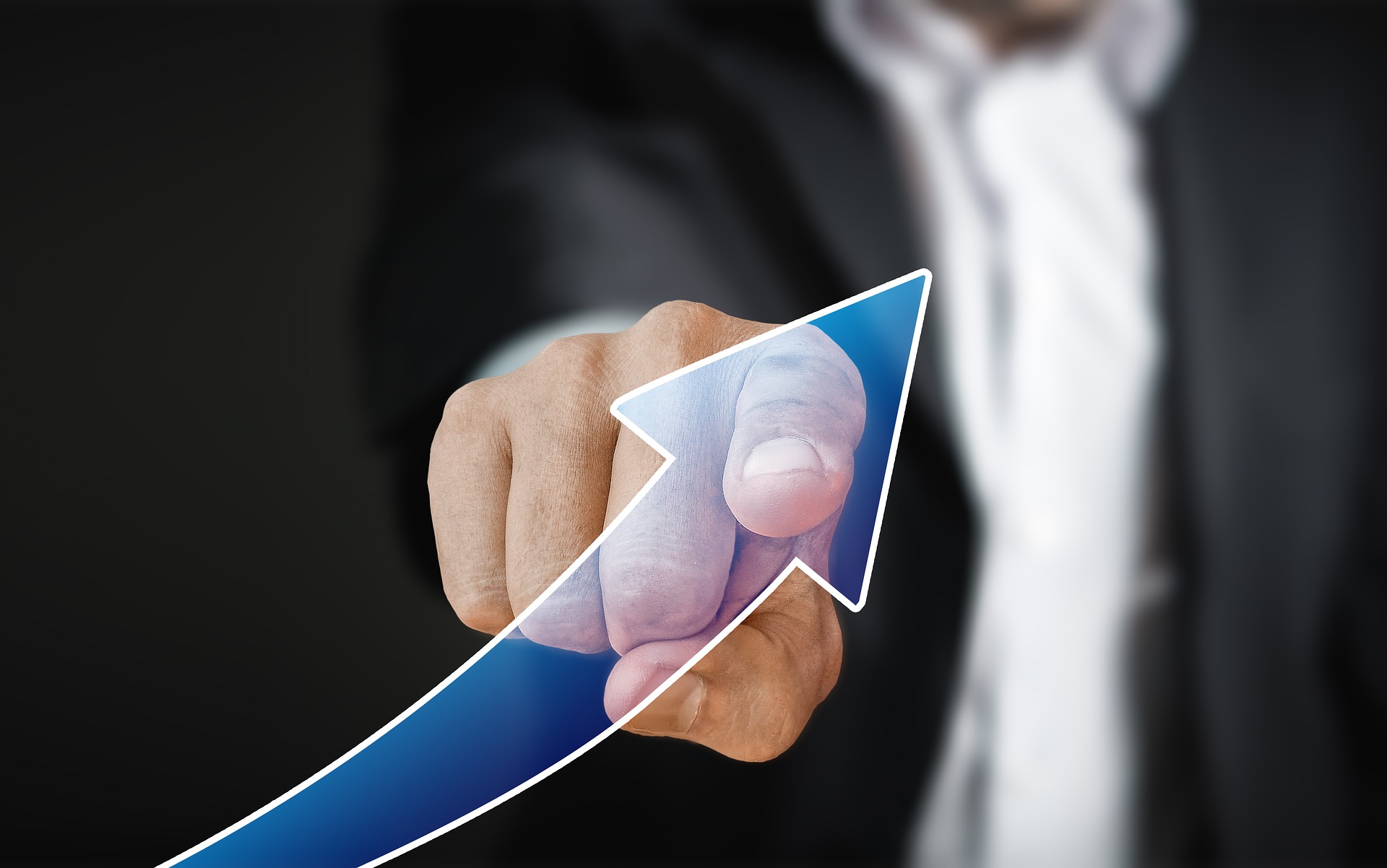 Some milestones for VNC and VNClagoon in 2020:
We published dozens of new product releases for VNCtalk, VNCmail, VNCproject and VNCtask, VNCcontacts and VNCcontacts+, VNCcalendar, VNCcommander, … and a bunch of related back-end and front-end components and technologies. Check out our release notes!
Launch of VNClagoon LIVE: As of today, the VNClagoon LIVE platform includes the following products: VNCmeet (real-time communication: chat, video and audio conferencing, screen sharing and more), VNCgroupware (management for emails, contacts, calendars and files) and VNCteamwork (360° tasks and project management).
HIN Talk: In September 2020, the messaging and video conferencing software VNCtalk has been made available to healthcare professionals in Switzerland via the Health Info Net AG (HIN) platform, enabling secure patient communication for Switzerland. With HIN Talk, the majority of healthcare professionals in Switzerland can now benefit from a secure messaging solution. Main focus points for HIN Talk are security, data safety and usability.
VNC and ownCloud agree on a strategic partnership: The two leading open source software vendors ownCloud and VNC have agreed on a strategic partnership in October 2020. By integrating their digital collaboration and communication platforms, they are creating comprehensive open source solutions as a basis for digital sovereignty. Companies thus have access to comprehensive open source offerings from European providers that focus on high functionality but also on uncompromising data protection.
And: DFB GmbH has extended the contract with VNC by three more years. As part of the agreement, the DFBnet mailbox system will be functionally expanded and migrated to the German Google Cloud.
Further information information about us and all our products can be found at: www.vnclagoon.com!
Hopefully you will also look back at your personal 2020 with some truly positive and happy moments in mind. One thing is certain – we will definitely remember this year.
This rather crazy, unusual, sometimes depressing and turbulent year has demanded extremes from all of us, so let's catch our breath for a short moment now.
And then let's start into a truly blissful 2021. 🙂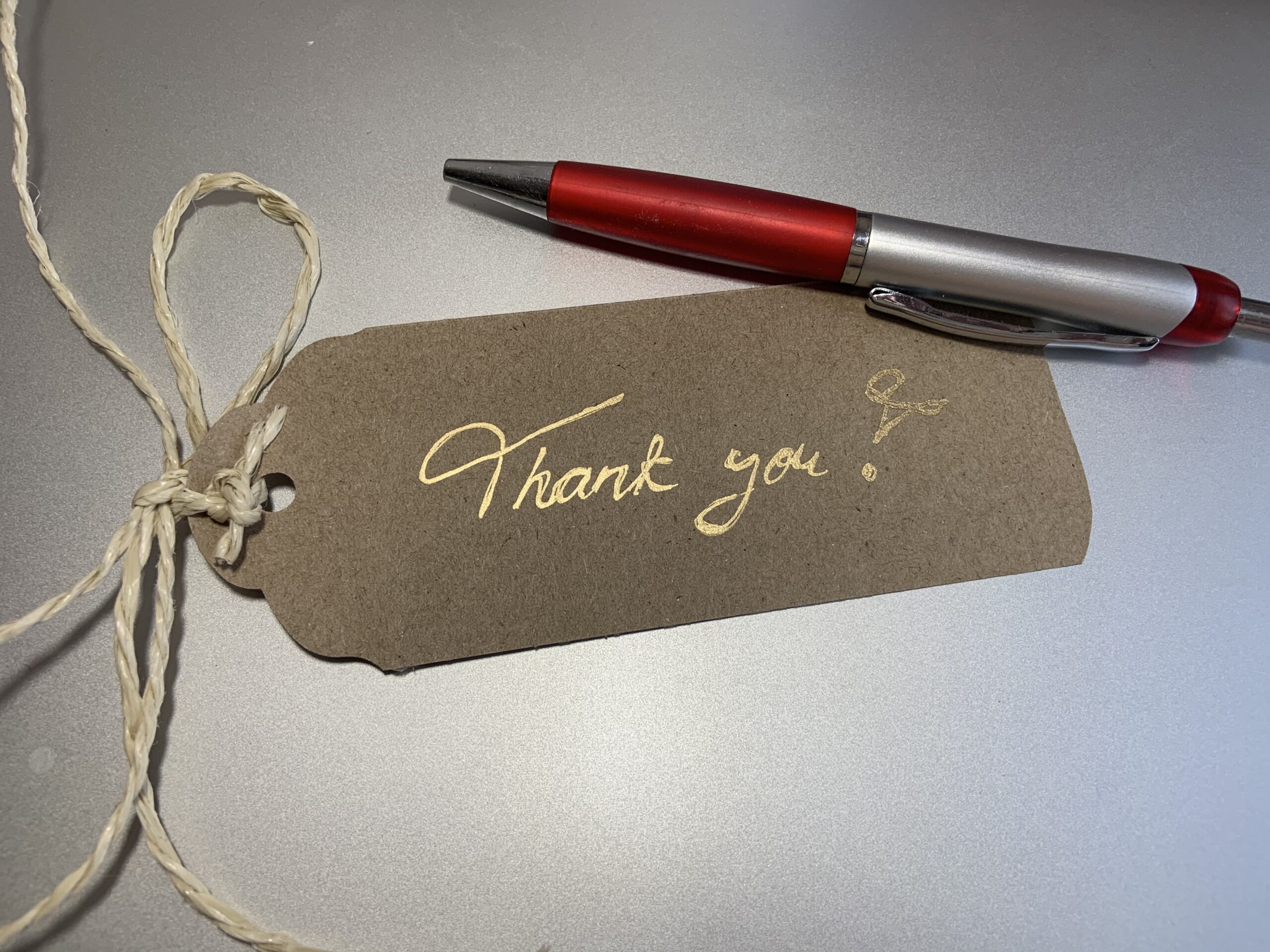 We would like to thank our customers, partners and our entire team for working with us. We wish you and your loved ones a happy new year 2021 filled with joy, health and success!
12 months in highlights:
January: After the successful release of the messenger app EKBO Dialog (based on VNCtalk) for all church employees and voluntary workers at the Evangelical Church Berlin-Brandenburg-Silesian Upper Lusatia (EKBO) end of 2019, we implemented further enhancements right at the start of 2020. We also released  VNCproject Version 3.7.1, VNCtask 1.3.3 and published our tips for successful virtual meetings. At that point in time we did not even realize how important these would be.
February: New release of VNCcalendar and of vastly improved Timesheet module in VNCproject. News reported increasingly about a new disease that was spreading across the globe – COVID-19, triggered by the novel coronavirus SARS-CoV-2.
March: Only one day after our release of VNCtalk 2.3.0 working from home was strongly recommended by public institutions (e.g. BAG in Switzerland, RKI in Germany) to reduce the risks of infection. We are glad that, with our many years of experience in virtual teams, we were able to help those for whom the change to working from home was new and unfamiliar.
April: VNC has been working in virtual teams for a long time, almost all over the world. Our teams are composed of experienced experts, regardless of their location. This experience helped us to focus on further developing our VNClagoon software stack and to help others with our software applications and our knowledge when the first measures against the spread of Sars-Cov-2 were implemented in April. In April we extended VNCtalk with VNCmeet, to enable video conferences with external participants (guests).
May: We released VNClagoon LIVE, our reference implementation of our VNClagoon communication and collaboration stack to support Real-Time Communication in Times of Crisis with a Free Messenger and we published our Communication Channel Guideline.
June: We released a new version of VNCproject with integrated Robot Planning and we challenged Software Giants with the Principle of Openness.
July: With the rapid expansion of working from home, collaboration tools were becoming increasingly relevant. We stated that "Open Source is indispensable for transparent collaboration".
August: We extended VNClagoon LIVE with several new components: VNCgroupware including VNCmail, VNCcontacts and VNCcalendar as well as VNCteamwork with VNCtask and VNCproject.
September: For many, working from home has by now become part of their regular work day. People still were wondering how productive working from home can really be, therefore we wrote a blog about efficiency and productivity. During this period, the idea of ​​IT security returned to public awareness. While many organisations had resorted to the quickest possible solution for their real time communication needs in times of emergency, many became now aware of the importance of IT security. We also released two new versions of VNCproject with massive improvements regarding layout and workflows within the Agile Boards and Robot Planning.
October: New releases of VNCcontacts and of OMEMO encyryption in VNCtalk. The growing importance of open source at all levels of public institutions continues to intensify, therefore: Open thinking strengthens Europe!
November: New groundbreaking release of VNCtalk, which opens the door to videoconferencing 3.0. First public release of VNCcommander, which offers you a central location for your entire business communication and collaboration. See and manage all important messages, tasks, appointments and much more in your Enterprise Information Stream!
December: Press release "No choice is not a solution" about why it's not a good idea to rely on SaaS only. And we name the three most important trends in collaboration and communication.
Conversation options in VNCtalk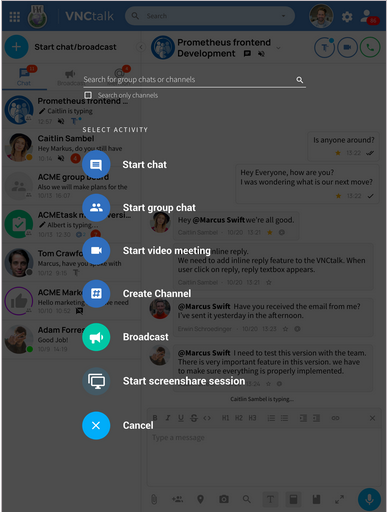 Ticket preview from VNCproject in VNCtalk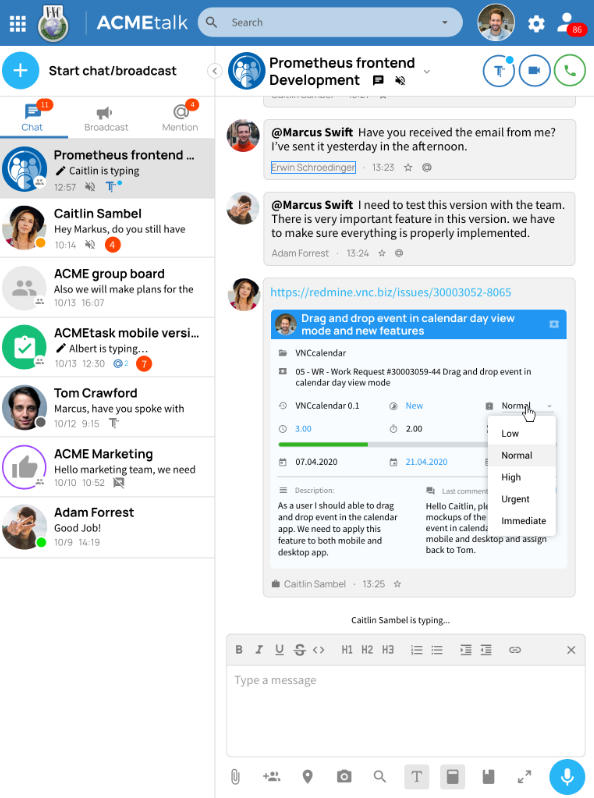 VNCcommander shows all subscribed VNClagoon products at a glance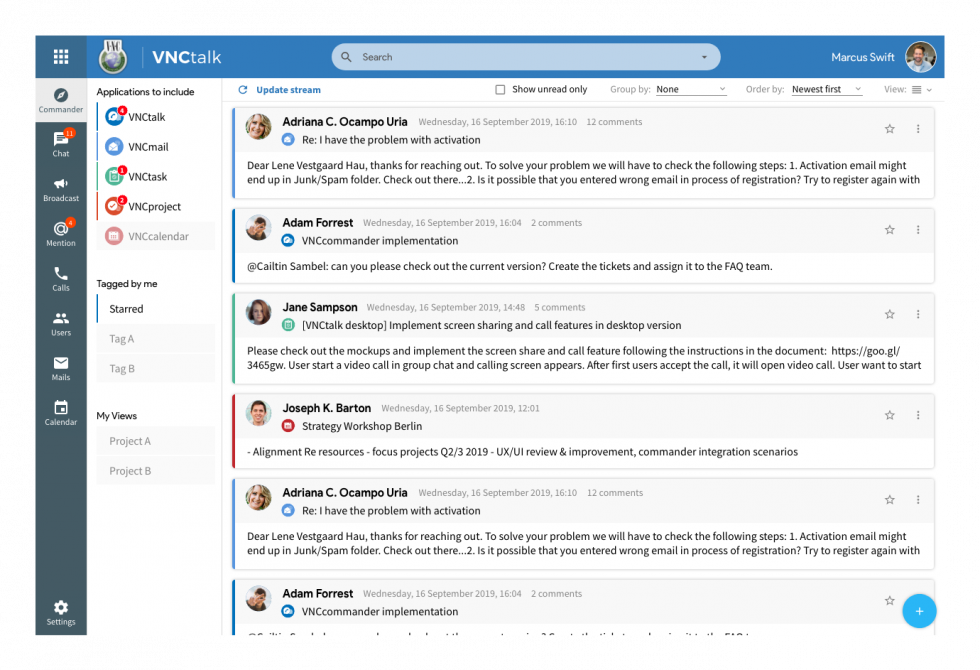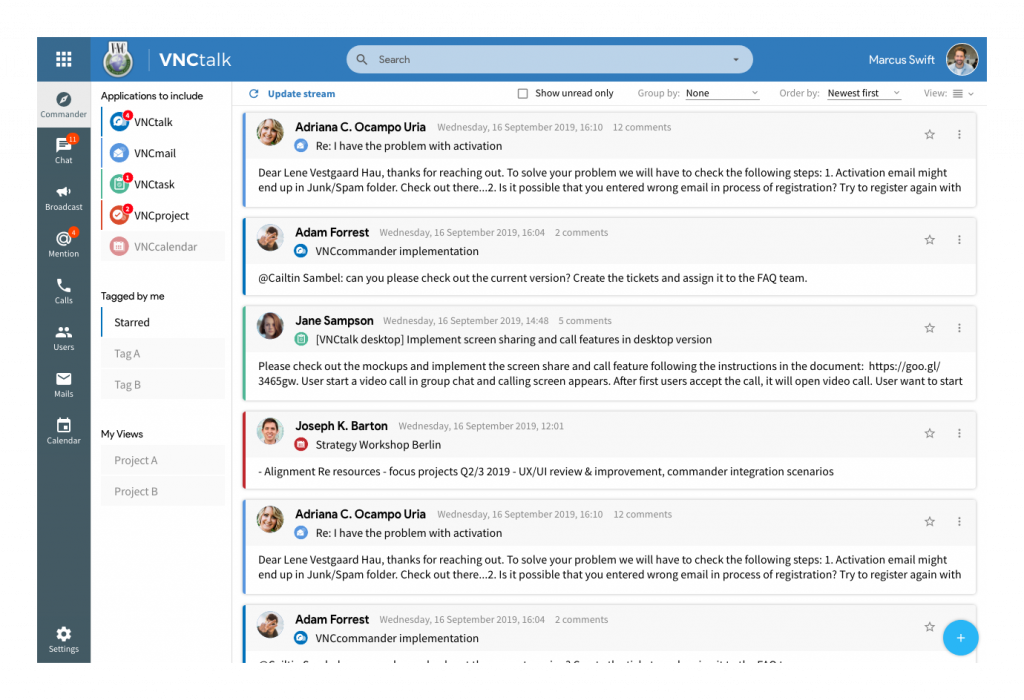 VNCgroupware combines emails, calendar, contacts and briefcase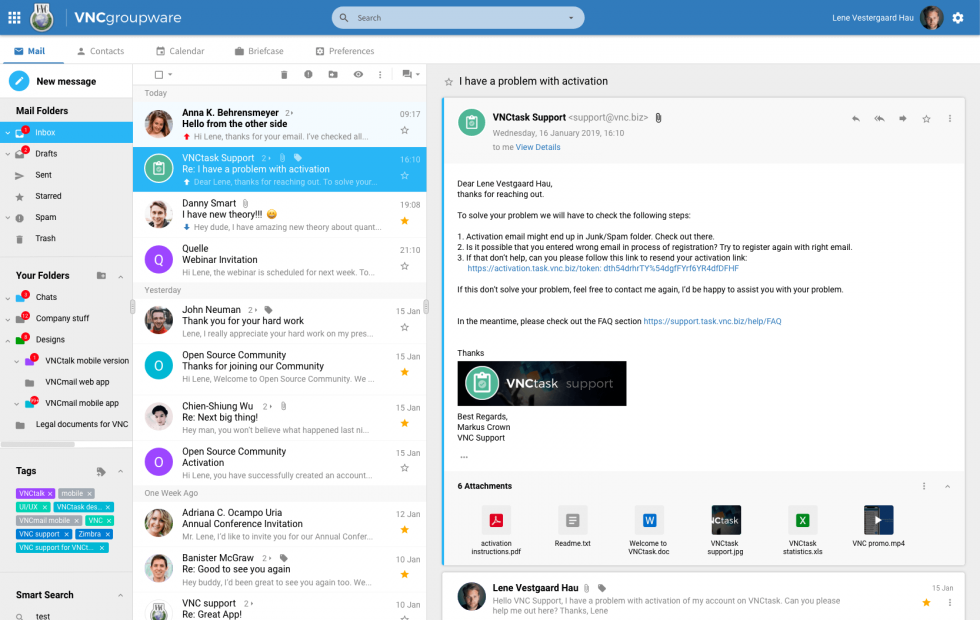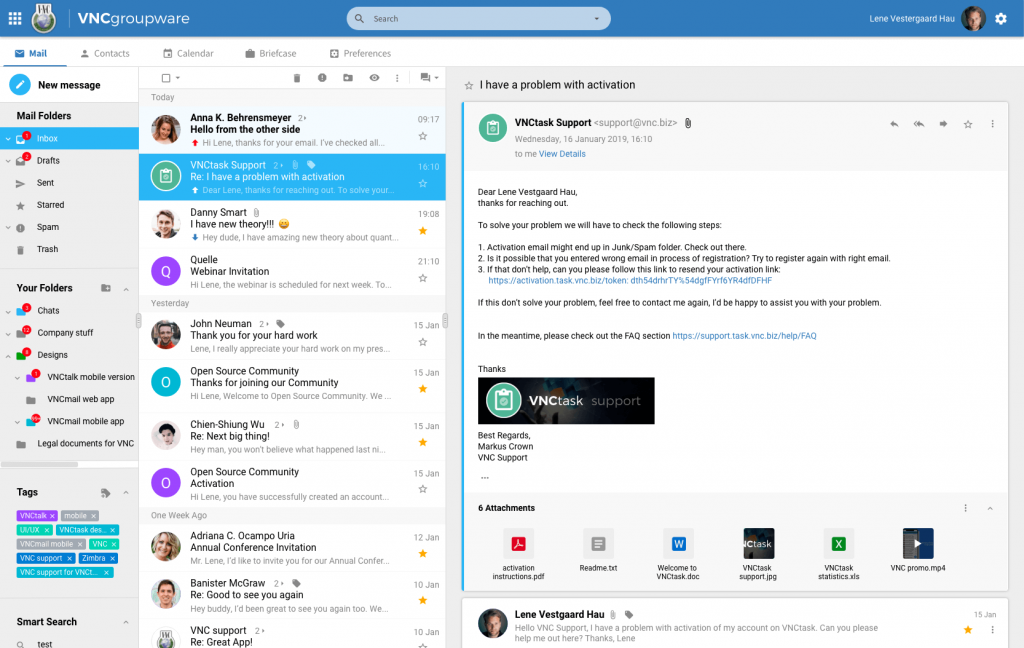 VNCcontacts+ gathers useful information and allows direct actions from the contact menu.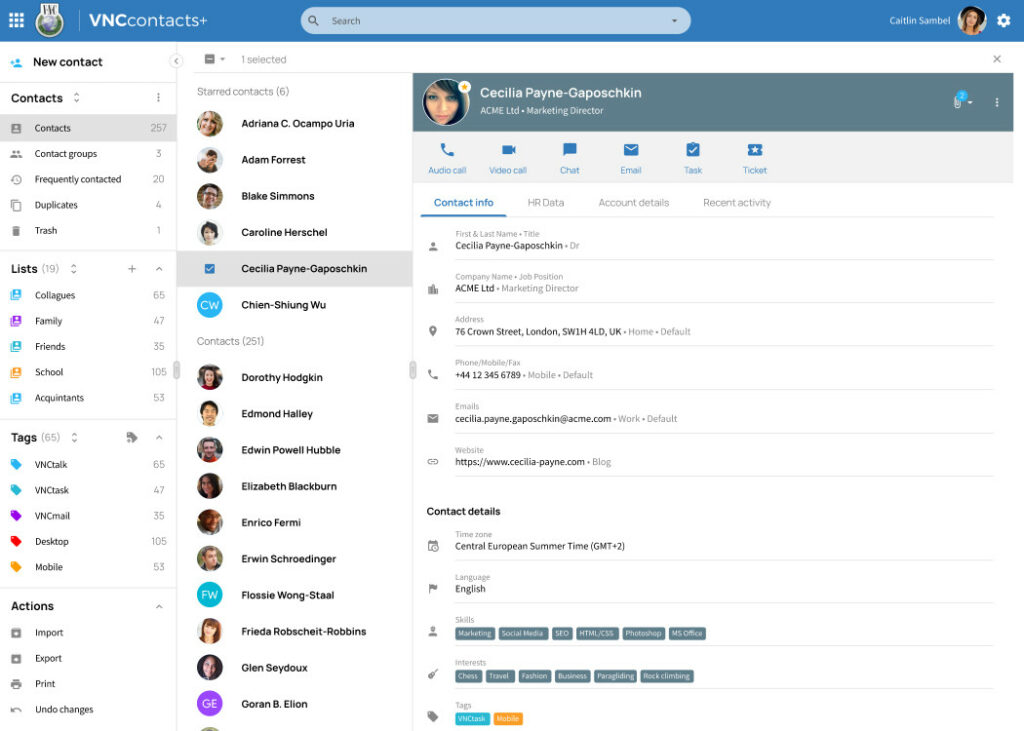 Further information information about VNC and all our products can be found at: www.vnclagoon.com!
If you are interested in VNClagoon, please send an email to info@vnc.biz or contact us here. We are happy to hear from you!