VNCtalk 3.1.0 is out now,  our newest version of our unique application for real-time business communication and collaboration.
VNCtalk is a top-notch enterprise real-time communication solution, including chat, video and audio conferencing, screen sharing, voice messaging, file sharing, broadcasts, document collaboration and much more.
Chips, design improvements and new features in VNCtalk Mobile
VNCtalk now comes with Chips! Not the edible kind, but they certainly spice up the application. 🙂
Chips are a VNClagoon meta function across various products, enabling a quick filter of items based upon preconfigured selections.
In VNCtalk, the Chips included are: all chats, unread, favorites. So, you can see either all your chats, all your unread chats or your favorites with just a click.
In the background, these Chips are powered by the sophisticated VNClagoon Advanced Search, which is indexing all content in all our products. We will share more details about this very soon.
At the same time, we updated the design and UI in some important parts of VNCtalk. For example in the Chat Header, the complete media files module, the search bar and in several dropdown menus. With those improvements we made sure that working with VNCtalk in your daily business communication and collaboration is now coherent as never before!
With VNCtalk 3.1.0 we added some new features to the VNCtalk mobile app: Users can now search for group chats and media files and users with low bandwidth are automatically set to an 'inactive' status to keep conferences going.
But hey, it's always much better to look at new features than just read about them. So just check out VNCtalk HERE.
Or have a look the new features and improvements:
Chips to filter Chats / Group Chats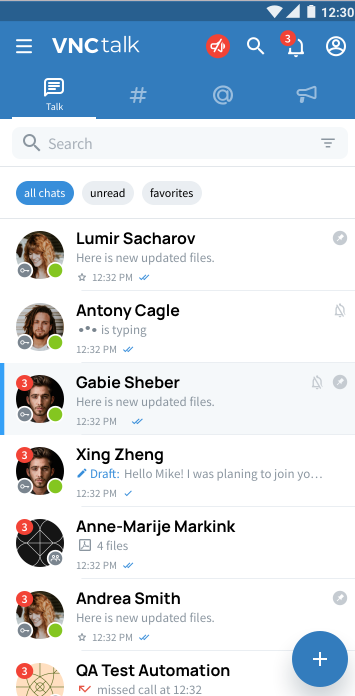 Improved screen to select participants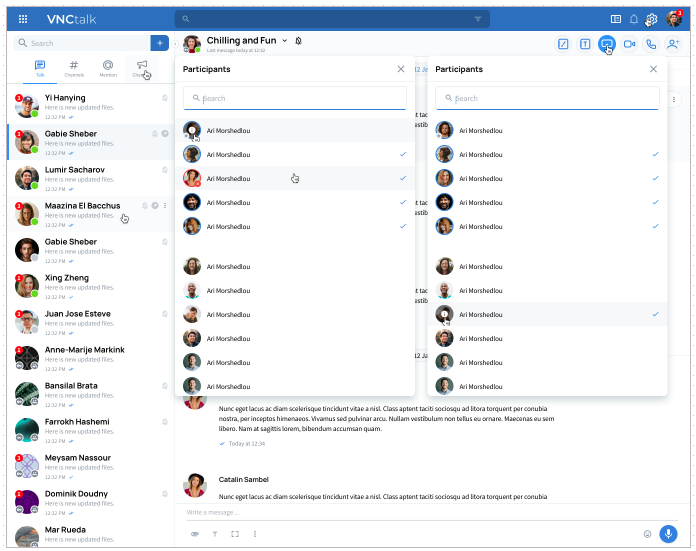 New Chat Header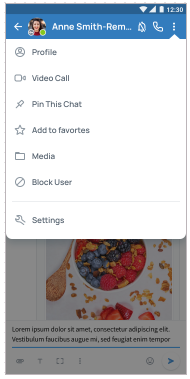 Re-design of the Participants pop-up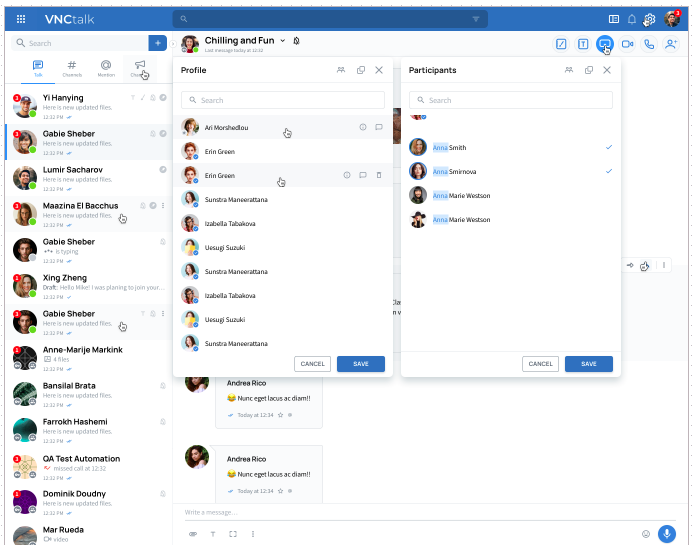 Media Files Tab on mobile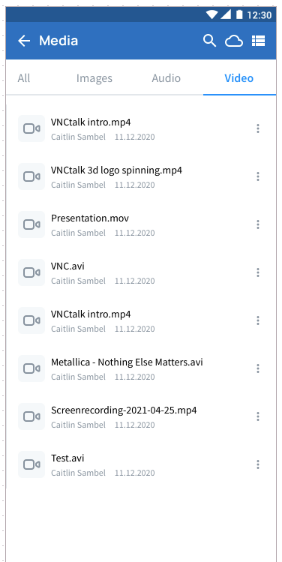 Layout improvements in the mobile main screen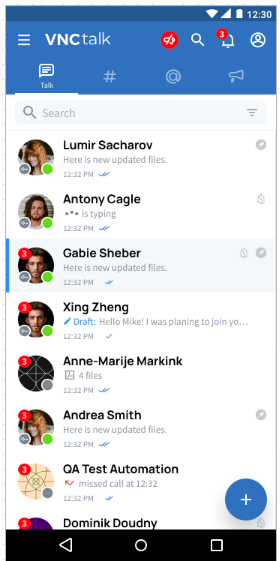 New Dropdown menu icons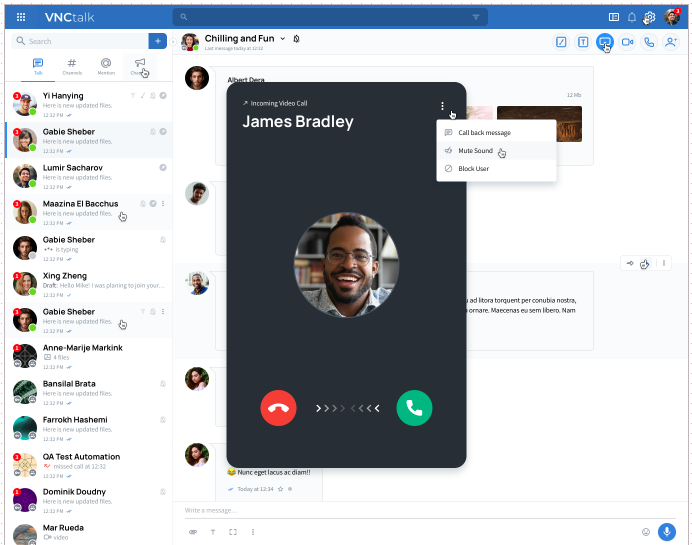 Improved search bar and drop down list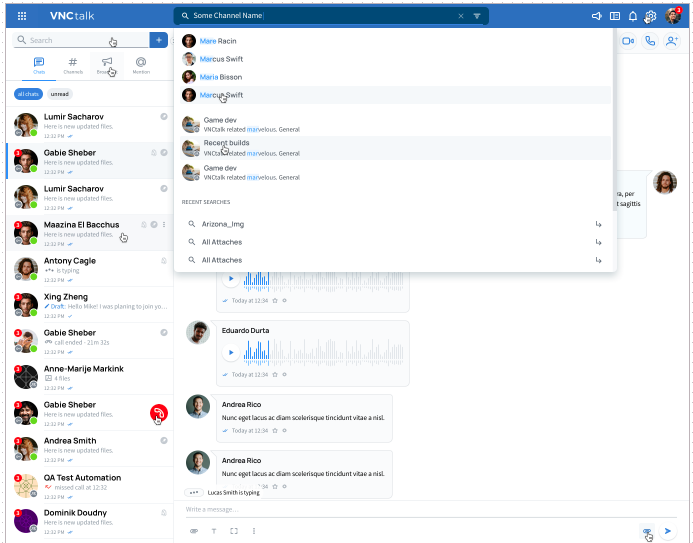 Improved selection of subscribed applications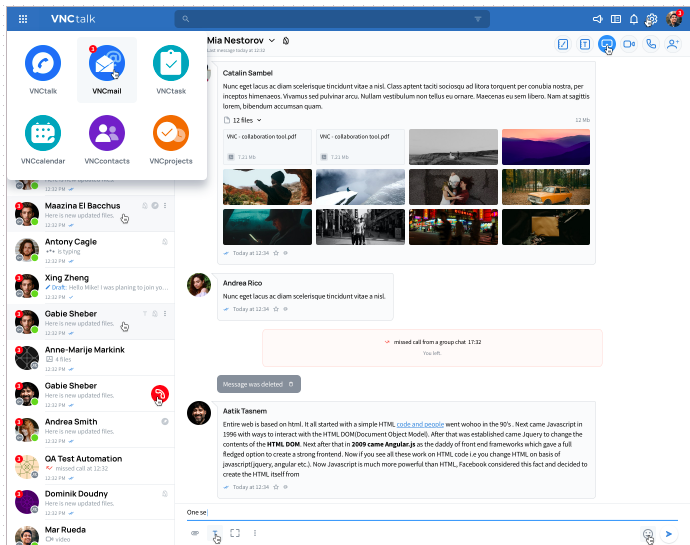 What else is new in VNCtalk Version 3.1.0?
We added the Proximity functionality also to iOS and updated the Electron Version to 13.1, which is used in our VNCtalk Desktop App. Additionally we updated the quick search and the call settings configuration. A custom scrollbar and support to move to the next or previous image with keyboard arrow keys has been added.
Detailed information about VNCtalk 3.1.0 can be found in our Release Notes.
Further information about VNCtalk can be found here, or just contact us: sales@vnc.biz.
With all our products, the security of your data is our top priority. Keep important information where it belongs – within your organization's control!
VNCtalk is entirely transparent for our partners and customers.
VNCtalk is available as a full featured Web Client in your browser, Desktop Client (Windows, Mac, Linux) and VNCtalk App (Android and iOS).
About VNClagoon
Secure, Best in Class, Seamless Communication and Collaboration, Lowest TCO
The VNClagoon enterprise software suite offers a full range of integrated communication and collaboration products for messaging, real-time conferencing, community building, channels, email, groupware, task and project management, file handling and more for large organizations. Built upon state-of-the-art open source technology by thousands of world-class developers around the world, VNClagoon is a leading alternative to closed source and SaaS-only applications like Microsoft Teams, Zoom, WhatsApp, Dropbox and many others. Now it is possible for VNClagoon customers to gain greater control over their digital sovereignty as they communicate and collaborate more securely using one completely integrated suite of applications. For more information visit:
https://vnclagoon.com