Zug, 27. September 2022, VNCtalk Version 4.0 adds extensive features for enterprise communication and collaboration.
VNCtalk is the top-notch enterprise real-time communication solution within the VNClagoon Enterprise Product Suite and contains chat, video and audio conferencing, screen sharing, voice messaging, file sharing, broadcasts, document collaboration and much more.
About 10 years ago, we very carefully selected best of breed open source platforms and software components as a starting point for our VNClagoon product stack and have been enhancing the underlying functionalities and technologies significantly since then – writing hundreds of thousands lines of code. The result is a seamlessly integrated suite of communication and collaboration products, with stable and secure backends as well as exceptionally adaptable frontend clients for all products, thus also VNCtalk. The VNClagoon suite allows the modularizing and repackaging of all products, adding any kind of dashboard or other UI and enabling a limitless scale out at the backend.
So, what's new in VNCtalk version 4?
In VNCtalk 4.0 we implemented the following new features:
New user role "Audience" in group chats
Survey and Polling Tool
Emoji reactions to messages
Bulk delete your own messages and attachments from chat history after a predefined period
Document Preview with ONLYOFFICE
Copy images from chats to clipboard
For detailed information on VNCtalk Version 4.0, please also check our Release Notes. Take a look at the main features of the new version:
1. New User Role "Audience":
In large group chats with many participants, e.g. in team or company group chats, the moderator might want to prevent some or all members from actively participating and to assign them "read only" permissions.
Therefore, additionally to the already existing two permission categories in group chats: "Participant" and "Moderator", we have now added the new category "Audience".
This allows the moderator of a group chat to decide which participants are active and which participants can follow the chat but are "muted".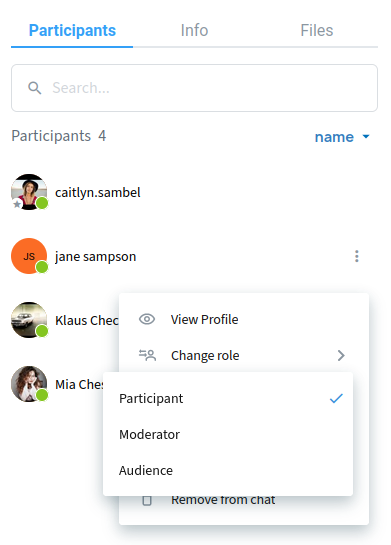 2. Yes? No? Maybe? Ask your team with the new Survey Module
Another great new feature is our VNCtalk Survey Module. Integrated directly in VNCtalk and accessible from chats, we've added the possibility to gather, review, evaluate and analyze chat participants' views and opinions in a quick survey. Choose a title, select your question mode (e.g. text, check-box, dropdown), add your questions with a description. You can then publish your survey directly in the respective chat and the members of the chat can answer the survey with just a few clicks.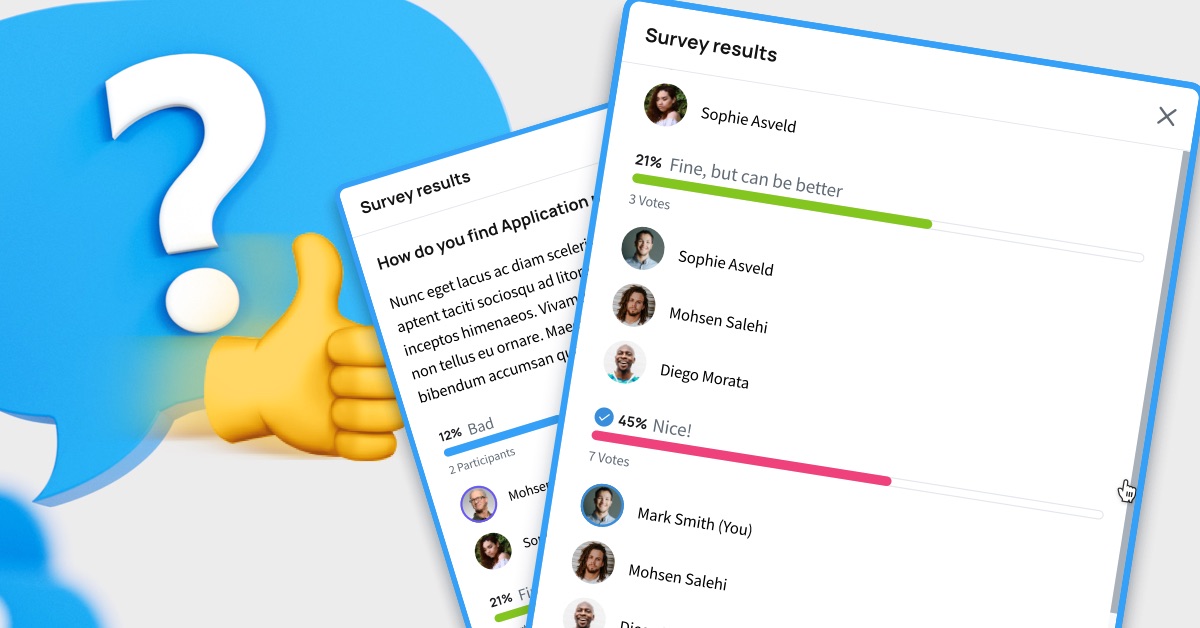 Crowd intel at a glance
The visual representation of survey results will make it easier to identify trends, draw conclusions, and use the data and gathered information for your organization. To get a quick overview and visualize the results of your survey, the results are best represented in a chart or graph. The type of chart you should choose depends on the nature of your data. You can create anonymous surveys as well, which will show the results without names.
3. Emoji reactions to messages – give a "Thumbs Up" or a smile
We received various customer requests for a "quick-reaction" option and implemented the new emoji reaction with VNCtalk 4.0.
Now you can quickly engage in chats and react on messages with seven different emojis instead of typing a message. Just click on the emoji icon in the footer of any chat message and select the respective emoji. Of course you can also see who has responded in what way to messages.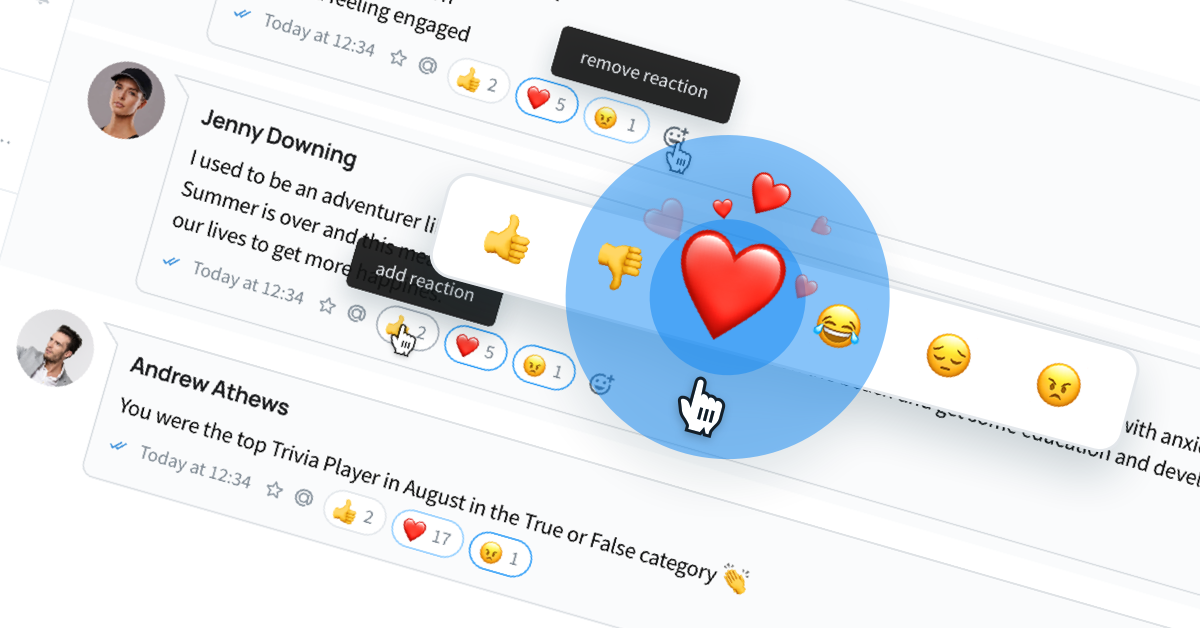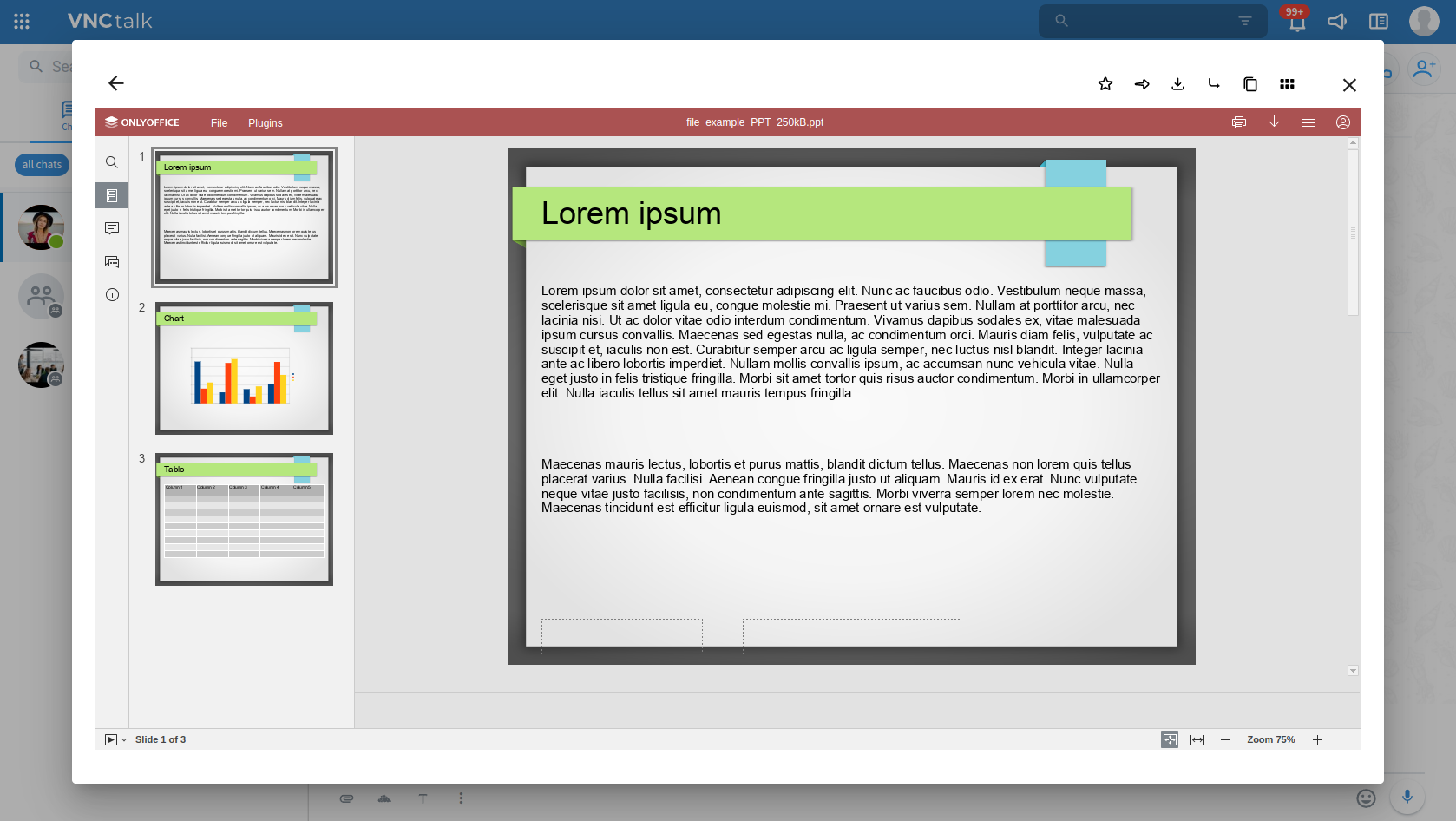 4. Document Preview with ONLYOFFICE
Now you are able to open any document you've sent or received directly in VNCtalk with ONLYOFFICE document preview with a double click. You can comment and collaborate on documents. The comments are displayed with the user's name next to the document. This makes it quick and easy to discuss adjustments or content in the document preview and collaborate on documents. You can also print the document and download the document directly from the preview.
5. Bulk delete your own messages & attachments
For more privacy and storage you can now remove chat history including files and messages automatically after a predefined period, e.g. 24 hours, 7 days or 90 days.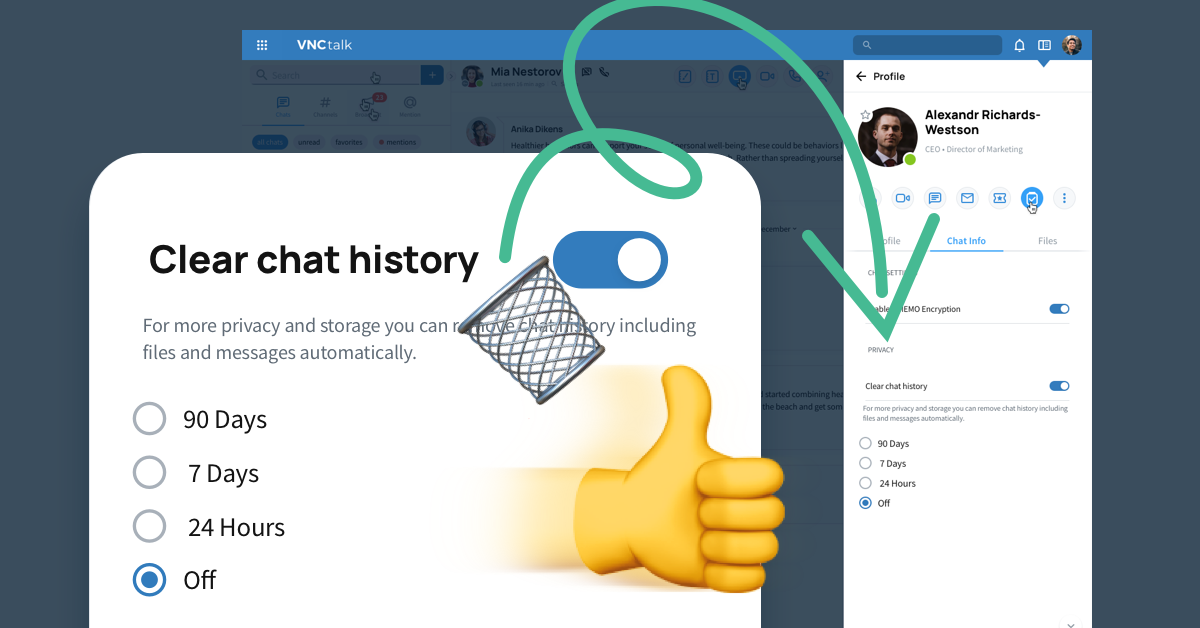 6. Copy images from your chats to a clipboard
This additional feature gives VNCtalk users a quick way to to copy any selected image to a clipboard and to any other place from there. You have two options to copy the image: Either use the menu on "right-click" or press "Command/ctrl" +C on your keyboard after you opened the image with double-click.
For more information, technical details and images about VNCtalk and all our products, please visit: www.vnclagoon.com
Or schedule a personal meeting to get detailed information about any VNClagoon product or the complete VNClagoon Enterprise Software Suite:
VNCtalk 4.0 Look & Feel:
In our brand new VNCtalk 4.0 video you can quickly get a first impression of the new features, UI and UX Changes:
Our Professional Services Engineer Jaydeep likes one VNCtalk 4.0 feature in particular.
A quote from him:
"I am very excited about the VNCtalk "Survey Tool". It will help us to quickly gather the opinions of our team members. Especially in remote or hybrid teams, like here at VNC, this is extremely useful. I like the clear structure of the tool and the possibility to display the survey results in charts. Besides our project management tool VNCproject, VNCtalk is definitely the tool I use most often when collaborating with my team."
You want to see VNCtalk Version 4 live in action?
Just register on VNClagoon LIVE, our reference implementation of our VNClagoon communication and collaboration stack!
Share your feedback!
We hope you like our new release of VNCtalk as much as we do. Feedback and suggestions for improvements are always greatly appreciated. Please drop us a note in the comment field below or send an email to sales@vnc.biz. Or schedule your personal demo here:
Detailed information about VNCtalk 4.0 can be found in our Release Notes.
Learn more about VNCtalk here.
With all our products, the security of your data is our top priority. Keep important information where it belongs – within your organization's control!
VNCtalk is entirely transparent for our partners and customers. It's based on best-of-class open source components and the source code is auditable. VNCtalk is available as a full featured Web Client in your browser, Desktop Client (Windows, Mac, Linux) and VNCtalk App (Android and iOS). It can be hosted On Premise, in a private or public cloud and it's fully encrypted for utmost privacy and confidentiality in your communication.
VNCtalk is a product of our VNClagoon Enterprise Software Suite for secure, best in class, seamless Communication and Collaboration.
About VNClagoon
Secure, Best in Class, Seamless Communication and Collaboration, Lowest TCO
The VNClagoon enterprise software suite offers a full range of integrated communication and collaboration products for messaging, real-time conferencing, community building, channels, email, groupware, task and project management, file handling and more for large organizations. Built upon state-of-the-art open source technology by thousands of world-class developers around the world, VNClagoon is a leading alternative to closed source and SaaS-only applications like Microsoft Teams, Zoom, WhatsApp, Dropbox and many others. Now it is possible for VNClagoon customers to gain greater control over their digital sovereignty as they communicate and collaborate more securely using one completely integrated suite of applications. For more information visit:
https://vnclagoon.com