The new release 3.0.9 of VNCtalk, our great application for real-time business communication and collaboration, offers absolutely unique new features.
VNCtalk is a top-notch enterprise real-time communication solution, including chat, video and audio conferencing, screen sharing, voice messaging, file sharing, broadcasts, document collaboration and much more.
Auto scaling and detailed analysis of VNCtalk conferences 
With our new version 3.0.9 we added unprecedented options regarding our videobridges, for example load balancing with redundant proxy servers, auto scaled video bridges, auto scaled recorders, a flexible number of load balanced shards and a system performance dashboard.
The performance dashboard contains very detailed information about the currrently running video and audio conferences. This allows you to track not just all active conferences, but also the data transfer rate and traffic, the activated videobridges, active participants, CPU usage and much more. This enables sheer endless scaling for your virtual events!
What else is new in VNCtalk Version 3.0.9?
We added a much requested new feature: Now you can change the background of your video conference in the settings and replace the current background with an image or you can blur your background. This is of course very advantageous when working from home or on the road. Communicate efficiently with your team and use VNCtalk video conferencing wherever you are. You just need a stable and safe internet connection and here you go! Ensure that your video conference participants always get a professional impression, with the right audio equipment and now, brand new, a neutral background. No matter where you are!
Speaking of settings – we've got a new user interface for all settings which looks not just better but is more convenient to handle. The file preview in the chat history has also been improved.
In general, we have updated the user interface to a very sleek design and we hope you'll like it as much as we do!
You can now "Adjust call quality" settings in video meeting settings in case you need to manage the quality manually when you experience bad connectivity.
Sometimes it becomes necessary to avoid distraction – now you can mute chats globally, either for notifications, for sounds or both. But just remember to turn the notifications back on, so you won't miss important messages.
Detailed information about VNCtalk 3.0.9 can be found in our Release Notes.
Further information about VNCtalk can be found here, or just contact us: sales@vnc.biz.
New option to change the background image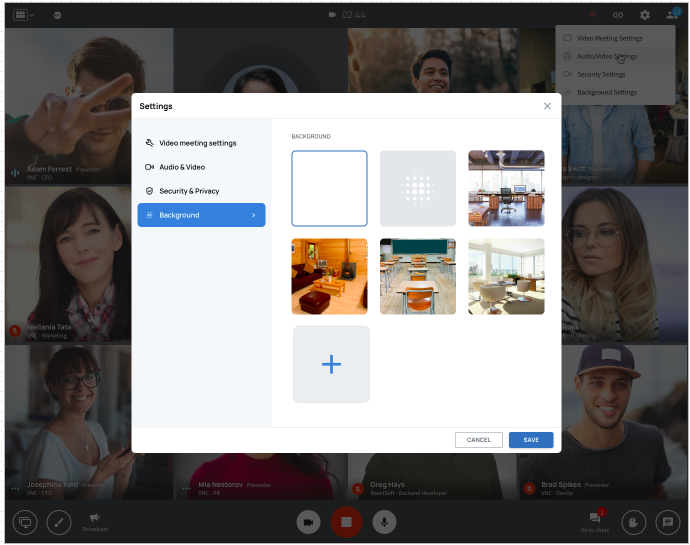 The new layout for the settings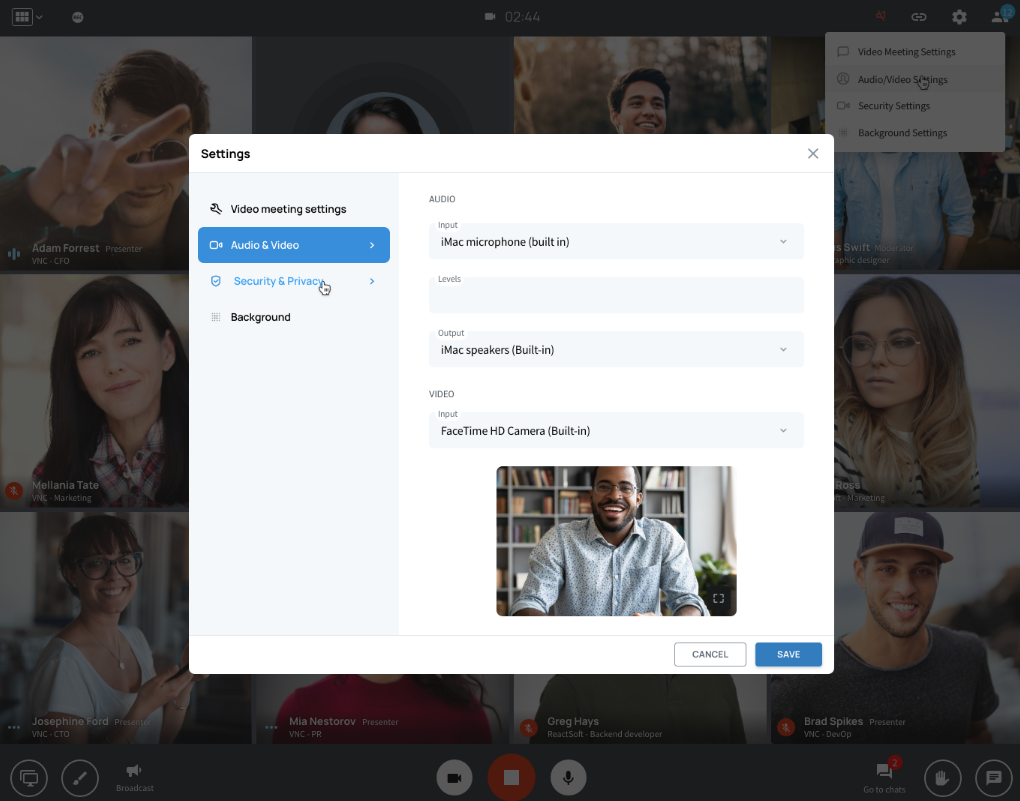 About VNClagoon
Secure, Best in Class, Seamless Communication and Collaboration, Lowest TCO
The VNClagoon enterprise software suite offers a full range of integrated communication and collaboration products for messaging, real-time conferencing, community building, channels, email, groupware, task and project management, file handling and more for large organizations. Built upon state-of-the-art open source technology by thousands of world-class developers around the world, VNClagoon is a leading alternative to closed source and SaaS-only applications like Microsoft Teams, Zoom, WhatsApp, Dropbox and many others. Now it is possible for VNClagoon customers to gain greater control over their digital sovereignty as they communicate and collaborate more securely using one completely integrated suite of applications. For more information visit:
https://vnclagoon.com