The latest versions of VNCtalk and VNCchannels contain several brand new features and integrations with extensive components! Certainly the most impressive new component is the secure microblogging and social networking product for professional use – VNCsocial, accessible also directly in VNCtalk:
Just imagine to enable your team by using a social network directly inside your organisation, without handling any data via businesses like Facebook or Twitter.
Keep your important internal data where it belongs – within your company! And stay connected with your team and with other team members wherever they are! 
You'll find the new VNCsocial tab directly in VNCtalk – our secure solution for real-time business communication, with chat, group chat, video and audio conferencing, broadcasts, screensharing and more. Registered users can now post, like, bookmark, reply to and repost social posts. All posts are presented in a chronological stream. Users can also share additional information as well as an Avatar picture on their profile page and can follow each other. The VNCsocial activities such as post views, followers and reactions are visible in the Analytics tab.
VNCsocial is a secure service for coworkers to communicate and stay connected through the exchange of quick, frequent messages. Team members publish social posts, which may contain photos, videos, links, and text. These messages are posted to your profile, sent to your followers, and are searchable in the VNCsocial search.
VNCsocial basically consists of 4 components:
Stream
The Stream is a place where you can share things you care about and can connect with team members.

When you go to "Social" or refresh your stream, the most recent social posts will appear at the top of your stream.

All posts from accounts you follow on the Social channel will appear in your Stream.

Anyone within your organization can follow your Social posts.

The date a post was shared determines the order of posts in your stream.

You can see when a photo, video, or text message was posted by looking at the top of the post, next to the profile name.
Profile
The Profile shows your bio, posts, and reposts. It's also where you'll be able to select a profile photo, a header photo, also known as a banner, and view your responses to another person's posts and posts you've recently liked.
Subscriptions
Subscriptions show your followers and people whom you're following. It's also the place, where you can find people within your organization and to discover all the ideas they create and publish.
Bookmarks
Bookmarks will store all posts you want to save for later. Bookmarks can be used in various ways:

Save posts you want to remember to read.

Store posts you want to share with someone later.

Keep some of your favorite posts for yourself (your Bookmarks are visible only for you).
What is VNCsocial used for?
Sharing news of any kind (text or multimedia)
Sharing ideas and opinions
Listening and staying informed
Connecting and Conversation – via replies and reposts
Social impact (visibility in the team and organisation)
Tracking interactions via Analytics (followers, post views, profile views, etc.)
You want to learn more? Please check out Snapshots of VNCsocial in our Slider below, or schedule your personal demo:
VNCsocial post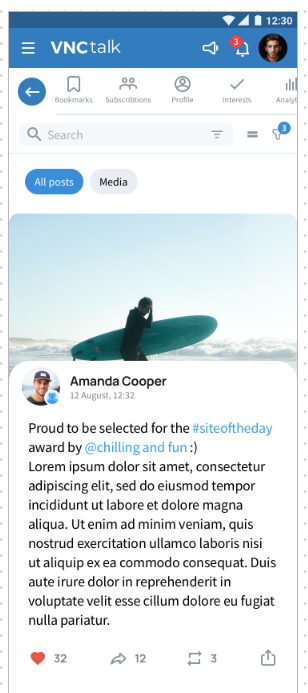 VNCsocial profile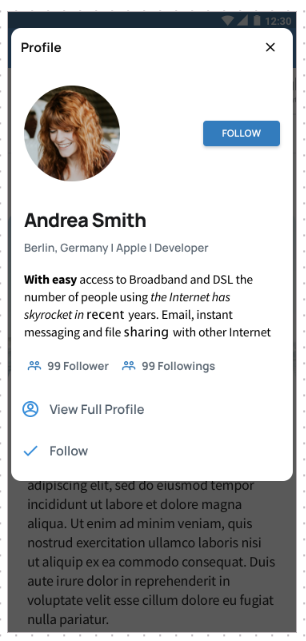 VNCsocial analytics 1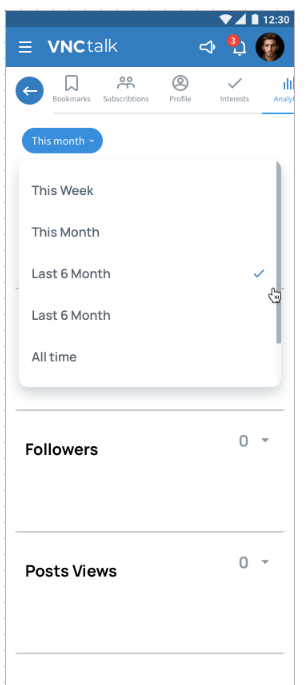 VNCsocial analytics 2

VNCsocial interactions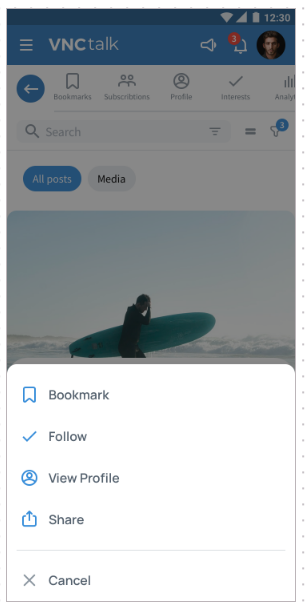 VNCsocial connects you and your business with what's happening in the world every day. Learn the latest, real-time trends and invest in social listening. It's also a great way to get a read on your brand's reputation.
VNCsocial is a new VNClagoon product and integrated in our flagship product VNCtalk for secure and efficient enterprise communication and collaboration. Lern more about VNCtalk HERE.
If you'd like to experience VNCtalk and VNCsocial for yourself, feel free to register for a free account on our VNClagoon LIVE platform.
You will find the full release notes with all new features, changes and fixes on our Release Notes page.
And please share your feedback!
We hope you like our new releases of VNCtalk and VNCchannels as much as we do. Feedback and suggestions for improvements are always greatly appreciated. Please drop us a note in the comment field below or send an email to sales@vnc.biz. Or schedule your personal demo here.
Bring your community, your virtual or hybrid team together and collaborate productively. Share ideas, discuss animatedly, come to conclusions, reach decisions and move forward with a common purpose. This is how innovation happens!
VNCtalk, VNCchannels and VNCsocial are products of the VNClagoon Enterprise Software Suite – for Secure, Best in Class, Seamless Communication and Collaboration.
About VNClagoon
Secure, Best in Class, Seamless Communication and Collaboration, Lowest TCO
The VNClagoon enterprise software suite offers a full range of integrated communication and collaboration products for messaging, real-time conferencing, community building, channels, email, groupware, task and project management, file handling and more for large organizations. Built upon state-of-the-art open source technology by thousands of world-class developers around the world, VNClagoon is a leading alternative to closed source and SaaS-only applications like Microsoft Teams, Zoom, WhatsApp, Dropbox and many others. Now it is possible for VNClagoon customers to gain greater control over their digital sovereignty as they communicate and collaborate more securely using one completely integrated suite of applications. For more information visit:
https://vnclagoon.com