We released the latest version of VNCtalk with new features and changes.
You can use VNCtalk even more efficiently now with the new "favorites" function and with our optimized VNCpad for notes and collaboration in exportable documents directly in VNCtalk.
New Features: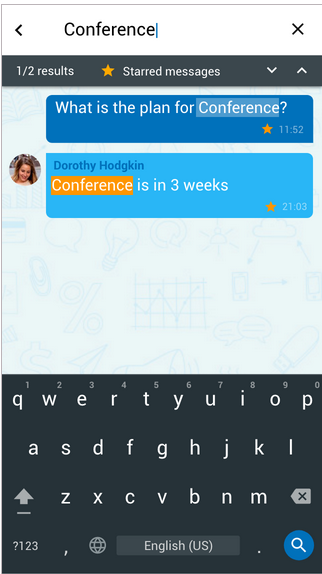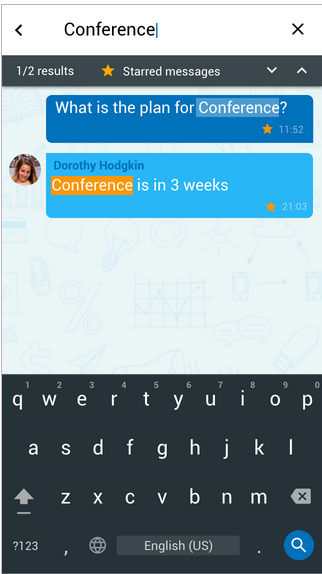 Maybe you know this feature from your email software: highlighting emails as favorites. This makes it easier to retrieve important messages. Our latest VNCtalk release extends this functionality to messaging. Chat messages can now be added to the user's favorites.
Users can mark selected messages or even whole chats with a star icon to emphasize its importance. Thus, you can refine the search parameters to favorite ("starred") messages. You can search for favorite chat messages within all your chats (one-on-one and group chats), or within one specific chat. Thereby, you can retrieve the most important information at one glance. Of course this star feature is not limited to the design shown above, it can be adapted to every CI imaginable.
The option to tag ("star") chat messages is the first extension we implemented following our "meta tagging" and content aggregation strategy. What do we mean by that? We find it ultimately important for you as users to be able to gain transparency throughout all your tools, apps, data silos, etc., wherever you store your valuable data – in order to be able to find, retrieve and manage all information you have accumulated.
These functionalities need to be available across all your tools, easy to use and with granular options to store, tag, search and process your data. This process enables you to generate knowledge from your information – and thus empowers your decision making. We are implementing these functionalities in our VNClagoon products and will introduce them one by one – the "star" feature is the first. Stay tuned for more.
We also extended the functionalities of VNCpad: VNCpad pages can be renamed or deleted now and the user will see a notification icon in the VNCpad tab if there is a new VNCpad.

Changes:
We changed some settings in the backend, so administrators are able to hide certain menu buttons for the users – for example, the option to share invitations via external URL or email.
The VNCpad received a whole new workflow and the screen share bar can be moved inside the chat window to create a more convenient display for the users.
We also fixed minor bugs in the latest version of VNCtalk. For example, we extended the German and French translations and improved the layout.
Read all about our latest VNCtalk version in our Release Notes!
You can get more information about VNCtalk on our website or just write us an email to sales@vnc.biz