Get ready for the next generation: VNCTalk versions 3.0.2 and 3.0.3 are here!
The most important changes in VNCtalk 3.0.2:
OMEMO and Offline Features are now also available in combination with multiple clients, i.e. in parallel with the VNCtalk App and the Web Client.
One of the most impressive features of this new version is the 'Interactive Avatars' menu: Wherever you see a profile avatar you can click on it and will see a menu wheel to trigger actions in various VNClagoon products. For example, you can write a new email to this person or create a task or ticket using this interactive avatar.
Instead of uploading files by using the dialog boxes and clicking lots of buttons, file sharing in VNCtalk now also works via "drag&drop" by simply dragging a file into the chat window.
New features and usability improvements in the MCB: We added several new kebab and dropdown menus and some new tool tips to help new users navigate through VNCtalk even faster and more convenient.
Furthermore, we now offer improved recording of audio and video calls or conferences. And we achieved various improvements in UI and design.
Check out the look & feel of some of the new features in the slider below:
New interactive VNClagoon menu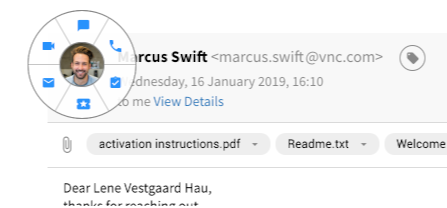 ...wherever an Avatar appears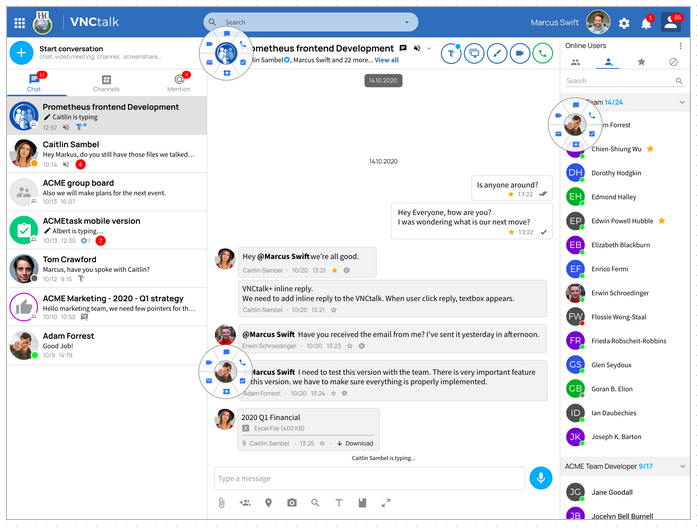 New MCB user interaction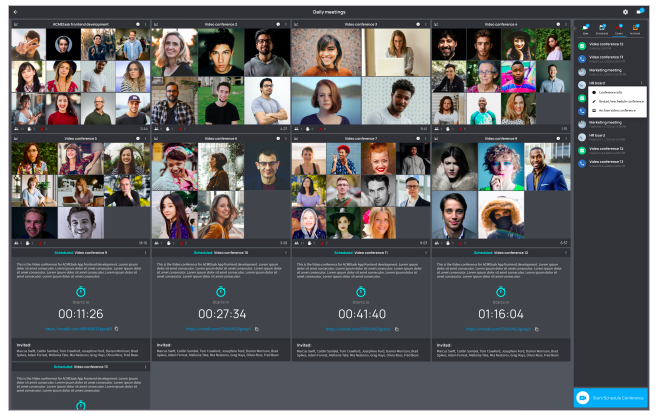 New MCB dropdown menu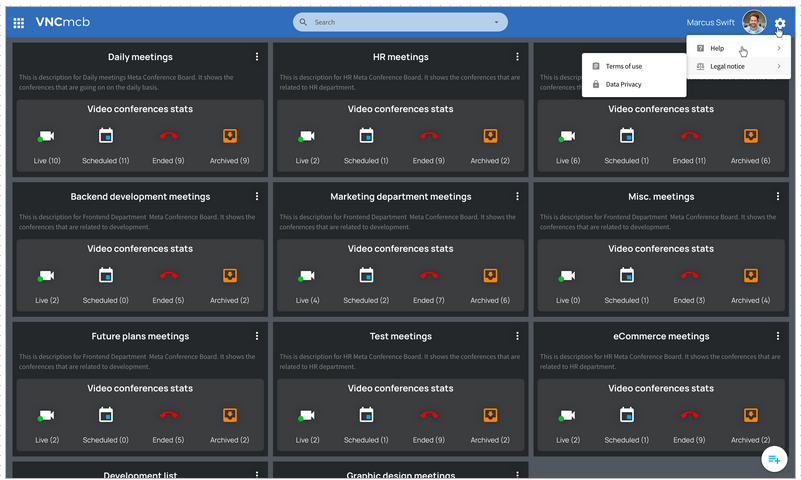 Detailed display of participants' information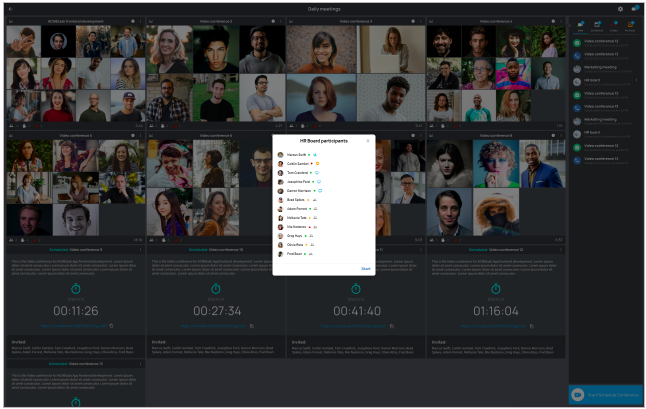 Profile information in detail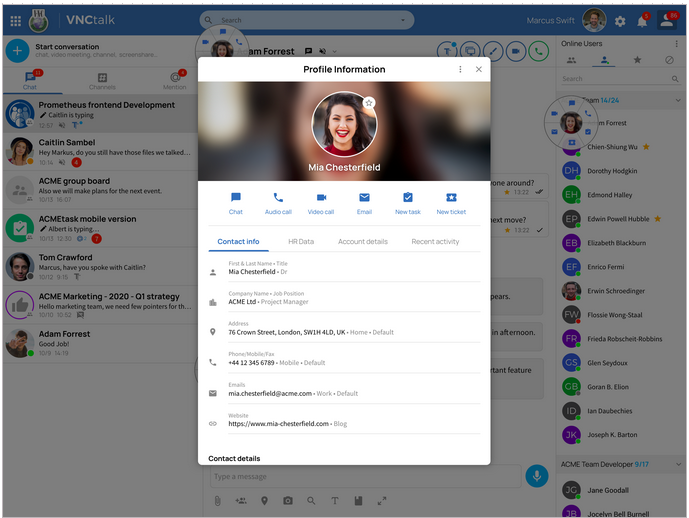 New MCB start UI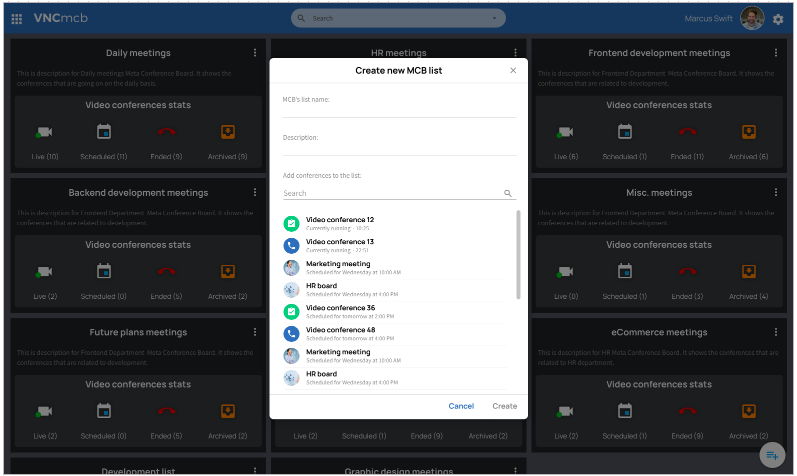 VNCtalk 3.0.3 has been released on 30. December 2020. Here are the most important new features:
With VNCtalk 3.0.3 we implemented some extremely useful new features to enhance the efficiency and the overall experience of working with VNCtalk and VNClagoon product integrations. Our focus in this 3.0.3 release was primarily set on improving usability and cross-application functionalities. All information on version 3.0.3 can be found here.
If you want to start new actions directly from VNCtalk with just one click, it's now possible to get quick access to the following applications (provided you are subscribed to the modules): VNCtask & VNCproject (create tasks and tickets), VNCmail (compose mails) via the interactive avatar and profile information screen. And you also have easy access to all contact details in the profile pop-up with our VNCcontacts+ integration. With this integration, you will see each interaction with any individual contact in the "Recent Activity Tab". Here you can also use the filter tabs to show only emails, chats, and so on.
We additionally implemented a new video preview in full screen and improved the offline functionality with IndexedDB. With VNCtalk version 3.0.3 we added an option to customize the call ringtone for incomíng calls.
We also improved the OMEMO feature and implemented a new screensharing notification.
Please check out all improvements in detail in our VNClagoon Release Notes.
Get a first impression of the new features in the slider below:
New option to change the ringtone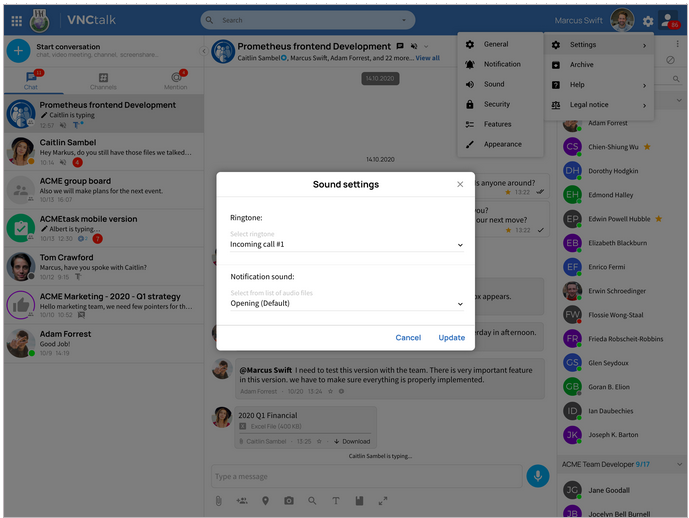 redesigned chat in the right panel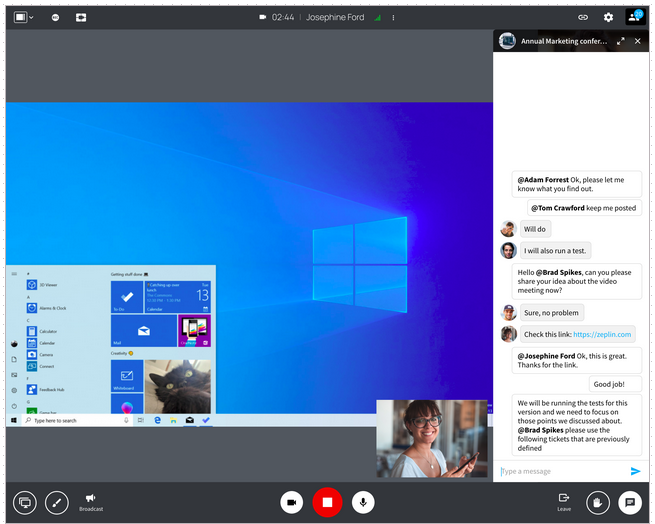 New recent activities tab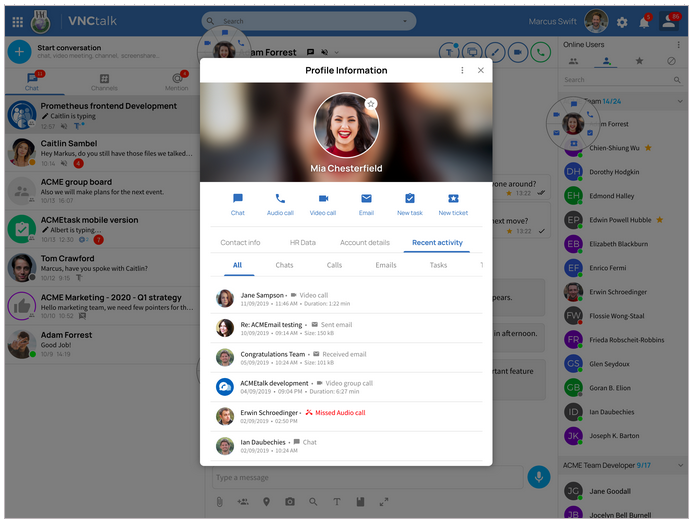 New Screensharing notification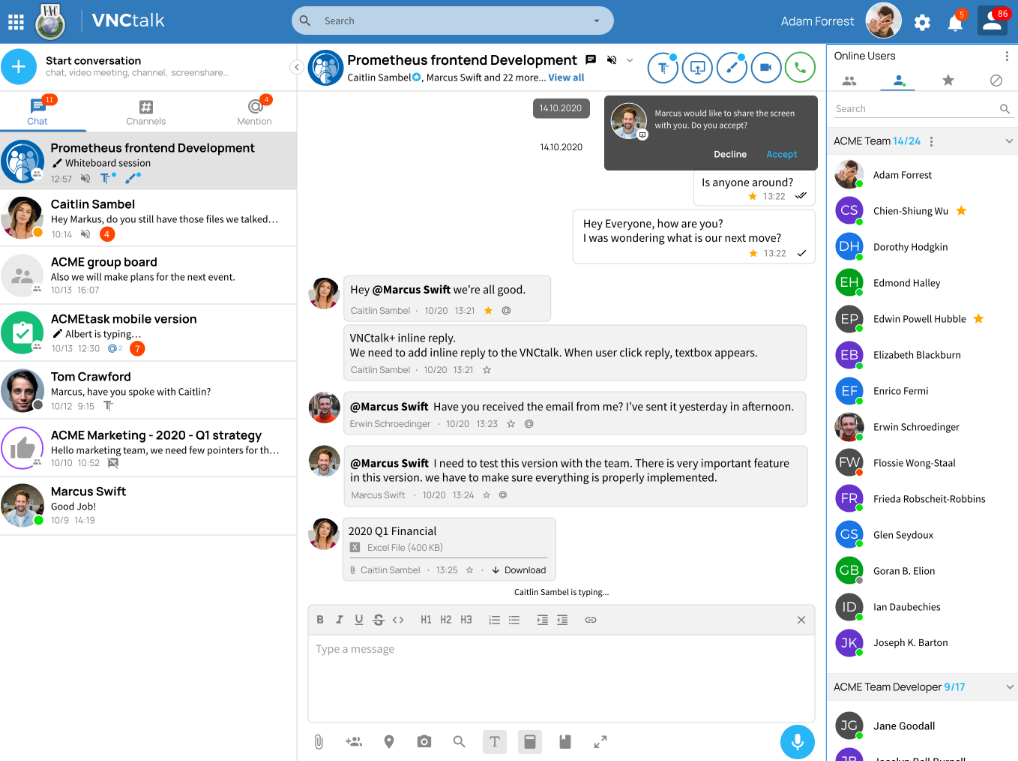 You want to see VNCtalk live in action?
Just register on VNClagoon LIVE, our reference implementation of our VNClagoon communication and collaboration stack!
Please also check out the changes we introduced with VNCtalk Version 3 in our Blogpost: VNCtalk Version 3 – galaxies ahead
Information about encryption in VNCtalk can be found here: Encryption in VNCtalk – really secure communication
With all our products, the security of your data is of utmost importance. Keep important information where it belongs – within your company!
Please find further details about our release of VNCtalk Version 3.0.1 and VNCtalk 3 in our Release Notes.
VNCtalk is part of our VNClagoon Business Software Stack
VNClagoon is the enterprise grade software stack for all of your communication and collaboration needs. At the same time your valuable data remains under your control – no black boxes and no hidden backdoors! VNClagoon is a real alternative to closed software from vendors such as Microsoft, with all the features and functionalities you expect from a modern communication and collaboration suite including a messenger, real-time communication, groupware, project & task management, and much more.
We are convinced that the future of business software will be open source. Therefore our integrated VNClagoon stack is entirely based upon open standards.
Further information information about all our products can be found at: www.vnclagoon.com!