Our VNCtalk design, UI, development, QA and DevOps teams were exceptionally productive within the last few weeks and finalized a total of three new releases in October: VNCtalk 3.1.3, 3.1.4 and 3.1.5. Wow! Congratulations!
So, what's new?
The concept of "New Work" has fundamentally changed the way we communicate and collaborate in a business environment. The new keyword is freedom. Many of us are now working remotely, at least partly, and teams may even be scattered around the world. Therefore, we felt the urgent need to further improve our real-time communication flagship VNCtalk to give our users perfect usability and integrated features to make sure they are enabled to find meaning in what they are doing.
One integration we rolled out in our new release provides access to files from anywhere, anytime, directly in VNCtalk. Especially when working from different devices, a secure file sharing and storage solution is needed.
VNCtalk meets ownCloud
In VNCtalk 3.1.3 we have added a much requested option to our chat, messaging and video conferencing solution VNCtalk, as well as to VNCchannels – an ownCloud integration.
Now you either use the integrated VNClagoon filestore or you can easily and securely add files and documents directly from your ownCloud environment to VNCtalk chats and VNCchannels. And of course it also works the other way around: save attachments from your conversations directly in ownCloud. Furthermore, you can also manage your ownCloud files and folders directly from VNCtalk, for example you can upload new files, create new folders, rename them, share them, see all shares and much more. Don't mind using different devices when working, since you have access to all relevant data on any device now.
For further information please also check out our product videos on YouTube: Product Integration – VNCtalk and ownCloud and ownCloud Conference 2021 – VNCtalk ownCloud integration.
ownCloud provides private and secure file transfer on any device, any OS and stored on the server of your choice. Keep your important business data safe and still enjoy the comfort of having access to your data wherever you are and whenever needed. Compose a chat message or channel post and attach a file with just one click.
Design & Usability
In the newest releases of VNCtalk we focused on improving the user interface in all VNCtalk clients. The chat info is now displayed in the right sidebar, next to the participants list. This way, the info and participants list are clearly arranged and easy to access. The participants list also received a new kebab menu to access various conversation options directly from a group chat, like for example chats, audio and video calls.
In the previous version of VNCtalk we introduced chips to filter recent chats by various criteria (all chats, unread, favorites). The new version now also provides a new chip to filter recent chips by @mentions.
Please check the complete release notes and the slider below to learn more about our newest VNCtalk releases:
ownCloud integration in VNCtalk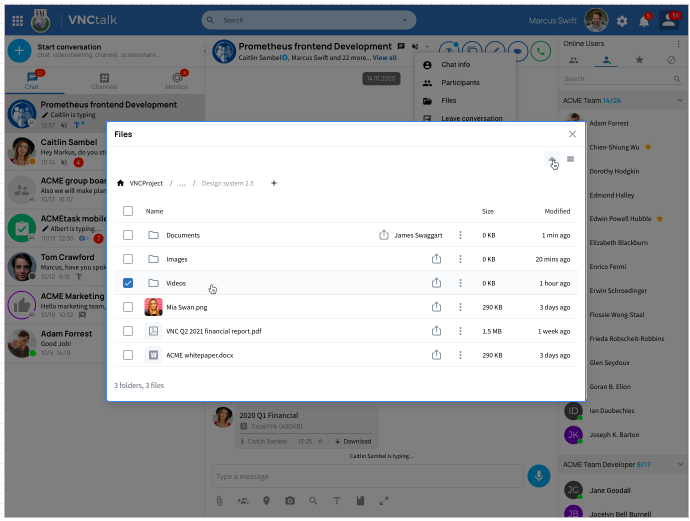 Improved Meeting Scheduler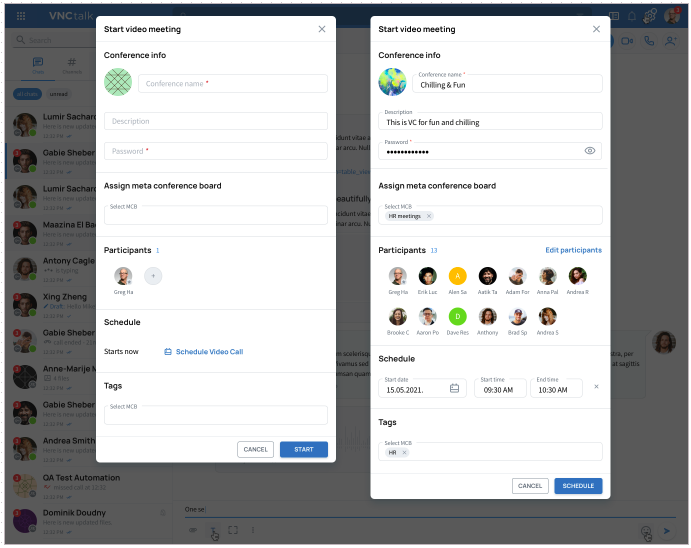 @mention Filters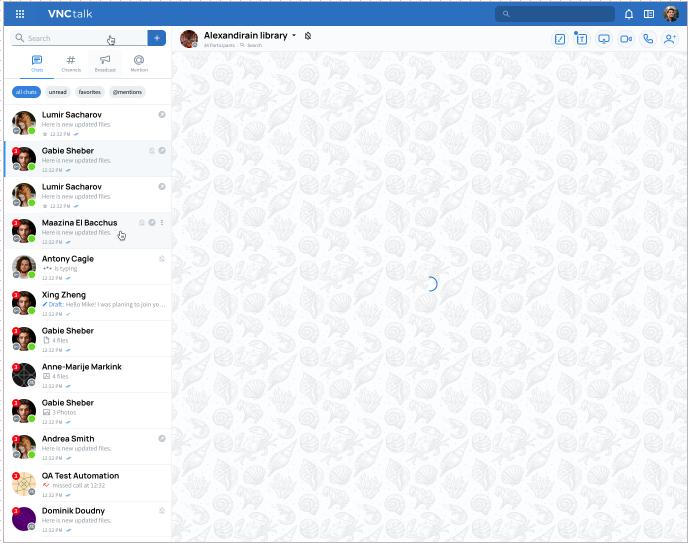 Typing notifications in group chats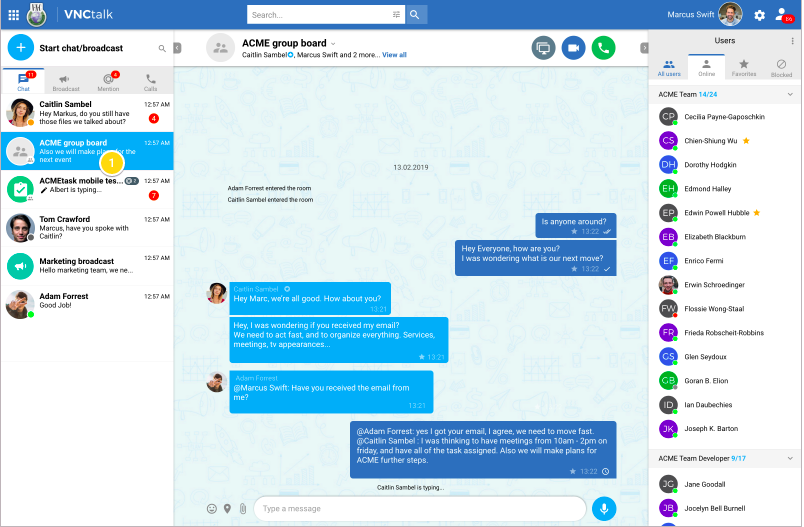 Improved Profile Screens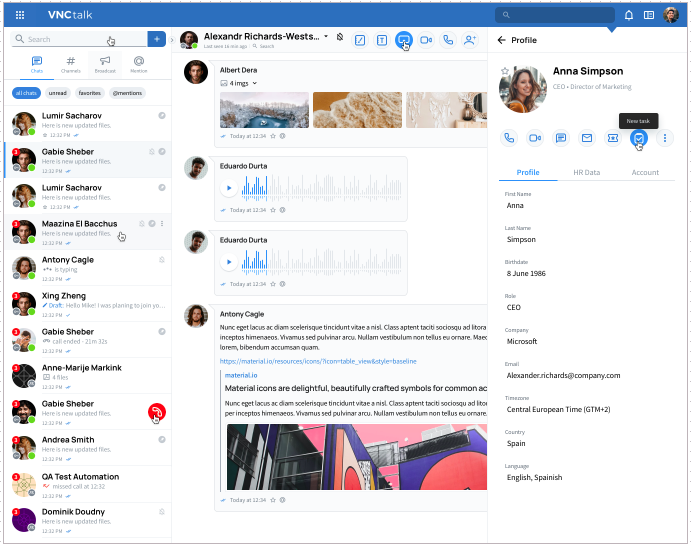 With our latest releases we also
improved the Advanced Search
in VNCtalk significantly. You now have three ways to search: in the current chat, in the chat list or across all VNClagoon applications. This is made possible by our backend indexing engine that runs across all our products in real time.
VNCtalk Version 3.1.4 comes with typing notifications for group chats and in the recent chat list, updated emojis and improved UI.
In VNCtalk 3.1.5 we added new font size settings to increase usability. For VNCtalk Mobile we updated the "Start Conference" UI and added a new profile screen with Profile information, HR data and Account tabs. This profile screen is also visible in VNCcontacts or, for example, in VNCmail when you're clicking on a user's Avatar. We additionally updated the login flow, we improved the focusing on the first unread message and added a new auto complete API, which is directly connected to our indexing engine.
If you like to experience VNCtalk for yourself, feel free to register for a free account on our VNClagoon LIVE platform.
You will find the full release notes with all new features, changes and fixes on our Release Notes page.
About VNClagoon
Secure, Best in Class, Seamless Communication and Collaboration, Lowest TCO
The VNClagoon enterprise software suite offers a full range of integrated communication and collaboration products for messaging, real-time conferencing, community building, channels, email, groupware, task and project management, file handling and more for large organizations. Built upon state-of-the-art open source technology by thousands of world-class developers around the world, VNClagoon is a leading alternative to closed source and SaaS-only applications like Microsoft Teams, Zoom, WhatsApp, Dropbox and many others. Now it is possible for VNClagoon customers to gain greater control over their digital sovereignty as they communicate and collaborate more securely using one completely integrated suite of applications. For more information visit:
https://vnclagoon.com