Welcome to VNClagoon LIVE!
Today, we are going live with our new platform:
VNClagoon LIVE is your access to a complete communication and collaboration service, with superior features, utmost security, great design and best of all: it's easy to use.
Especially in today's times of crisis: We all need to stay in touch with each other and to communicate effortlessly and efficiently. Let's keep each other connected, whether in professional settings or in our private lives!
Organisations around the globe have been forced to change their ways and means of collaboration abruptly, when the Covid-19 pandemic dramatically accelerated the need for digitalization strategies. Working from home became the new reality. So it is of utmost importance to help your team reach their full potential while working from home or abroad. Advanced communication and collaboration tools as well as good and meaningful policies for remote work will support you to reach that goal.
We want to do our part and help you to stay connected. Therefore, we are offering VNClagoon LIVE for free for individual users, with options to scale up for professional usage!
VNClagoon LIVE contains the most important components to efficiently work in virtual environments, from home or abroad.
The first service we are launching in VNClagoon LIVE is VNCmeet, further products are coming soon!
VNCmeet – Real-Time Communication: chat, video and audio conferencing, screensharing wherever you are!
A real-time messaging and conferencing service for your daily communication helps you and your team to stay connected. Time-consuming, inefficient on-site meetings can be replaced by discussions in group chats. Video conferences are a great chance to avoid costly and time consuming fly-in/fly-out business appointments. Or you can call in external experts to facilitate important decisions. Communicate in a focused, crystal clear and purposeful way.
VNCmeet is a unique enterprise real-time communication service including chat, group chat, video and audio conferences, screen sharing, voice messaging, file sharing, broadcasts, document collaboration and much more.
VNCmeet also enables you to conduct video calls with external guest users – just invite external participants by adding their email address and start a video meeting!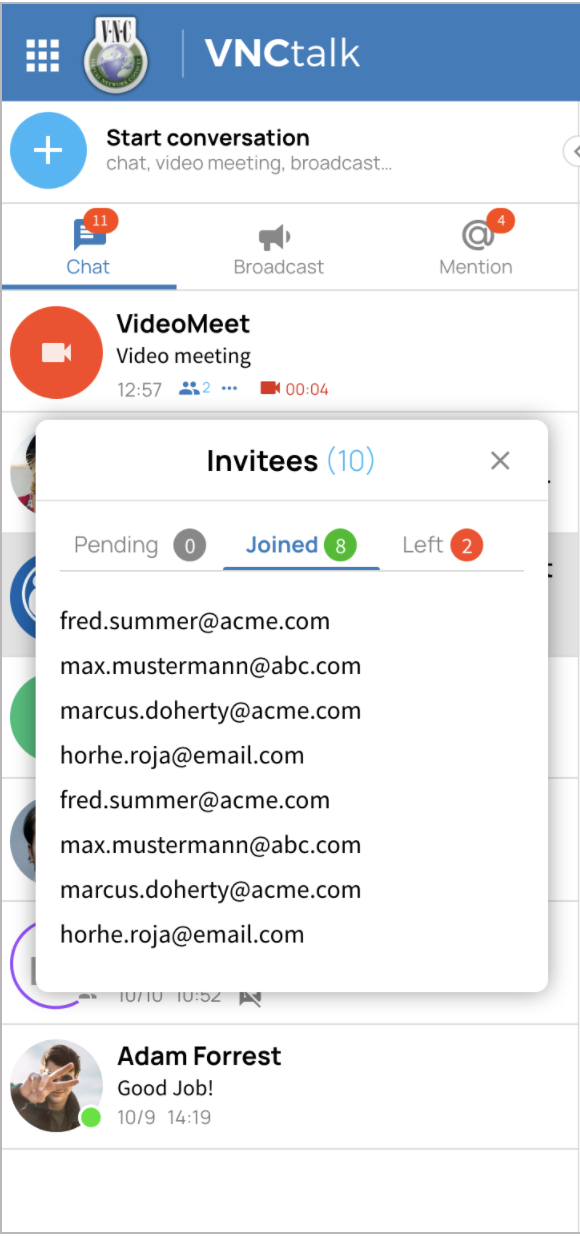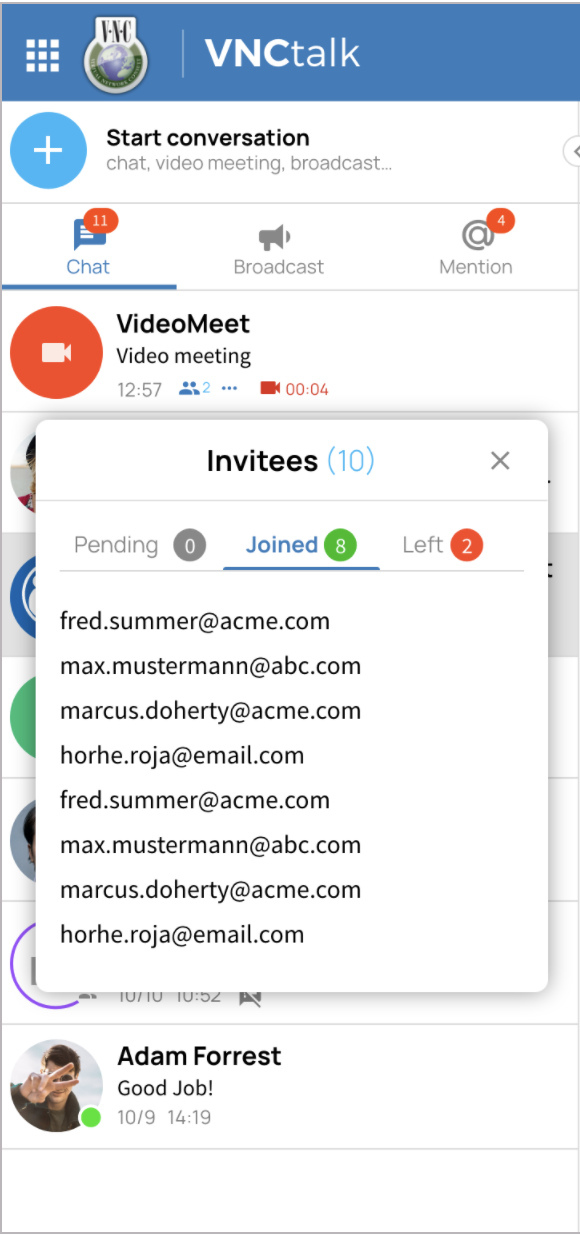 | | | |
| --- | --- | --- |
| Features | Individual User | Organization |
| 1:1 and group chats | ✔ | ✔ |
| 1:1 video / audio calls | ✔ | ✔ |
| Video / audio group conferences | ✘ | ✔ |
| Screensharing | ✔ | ✔ |
| VNCpad (document collaboration) | ✔ | ✔ |
| RFC (request for connect) | ✔ | ✔ |
| Invite external users | ✘ | ✔ |
| 2 Factor Authentication | ✔ | ✔ |
| Invite users to join an organization | ✘ | ✔ |
| Upgrade account to organization | ✔ | ✘ |
VNCgroupware includes VNCmail (with all mail features for your daily communication, like inbox, folders, filters, signatures, spam filters), VNCcontacts for your contact and address management, VNCcalendar to keep up with all meetings, appointments, reminders and important dates, and Briefcase to store files and attachments so you have easy access when you need to attach files to an email.
VNCteamwork includes VNCtask, our easy to use Task Management and To-Do List service, and is coming soon to VNClagoon LIVE.
Stay organized. Anytime! Anywhere!
Please share your feedback about our VNClagoon LIVE service, we'd love to hear from you as we are continuously improving our products.
VNClagoon LIVE is powered by our VNClagoon Business Software Stack
VNClagoon is the perfect software stack for all of your communication and collaboration needs. At the same time your data are under your control – no black boxes and no hidden backdoors! VNClagoon is a real alternative to closed software from vendors such as Microsoft, with all the features and functionalities you expect from a modern communication and collaboration stack including a messenger, real-time communication, groupware, project & task management, and much more.
We are convinced that the future of business software will be open source. Therefore our integrated VNClagoon stack is entirely based upon open standards.