VNC has released a brand new feature within VNCproject to drive the enablement of team members: the Agile Board.
In our experience there are three big challenges in project planning, product management or in software development:
How to manage the workload of team members?
How to make sure that projects / versions / tasks are finished within a given deadline?
And how to correctly prioritize tasks and tickets?
In every company and every team, the planning and implementation of complex projects comes with difficulties, in virtual teams they become a real challenge.
For us, the AGILE BOARD PLANNING (ABP) tool within VNCproject has become a vital and powerful tool within days after we started using it. The Agile Board enables all team members to reach their full potential by working in an organized, structured and thus efficient way. Proper and regular updates of the ABP will reduce stress for each team member significantly. Each team member can manage his/her individual "Capacity" and define the hours to be worked on a given day. Nobody is supposed to work beyond his/her capacity. And the capacity may be different from day to day for whatever reasons. Alternatively, the project / product / development manager can define the capacity and coordinate its fulfillment with the team members.
At the same time the Agile Board gives project and product managers an excellent overview about open tasks, distribution of tasks among team members, and about work progress within a certain time frame or the total progress within a project.
The ABP (Agile Board Planning) will make it much easier to plan your work week efficiently. ABP focuses on your daily work capacity, for example 8 hours a day / 40 hours per week. With each ticket update the time left (and already planned) will be updated.
Example: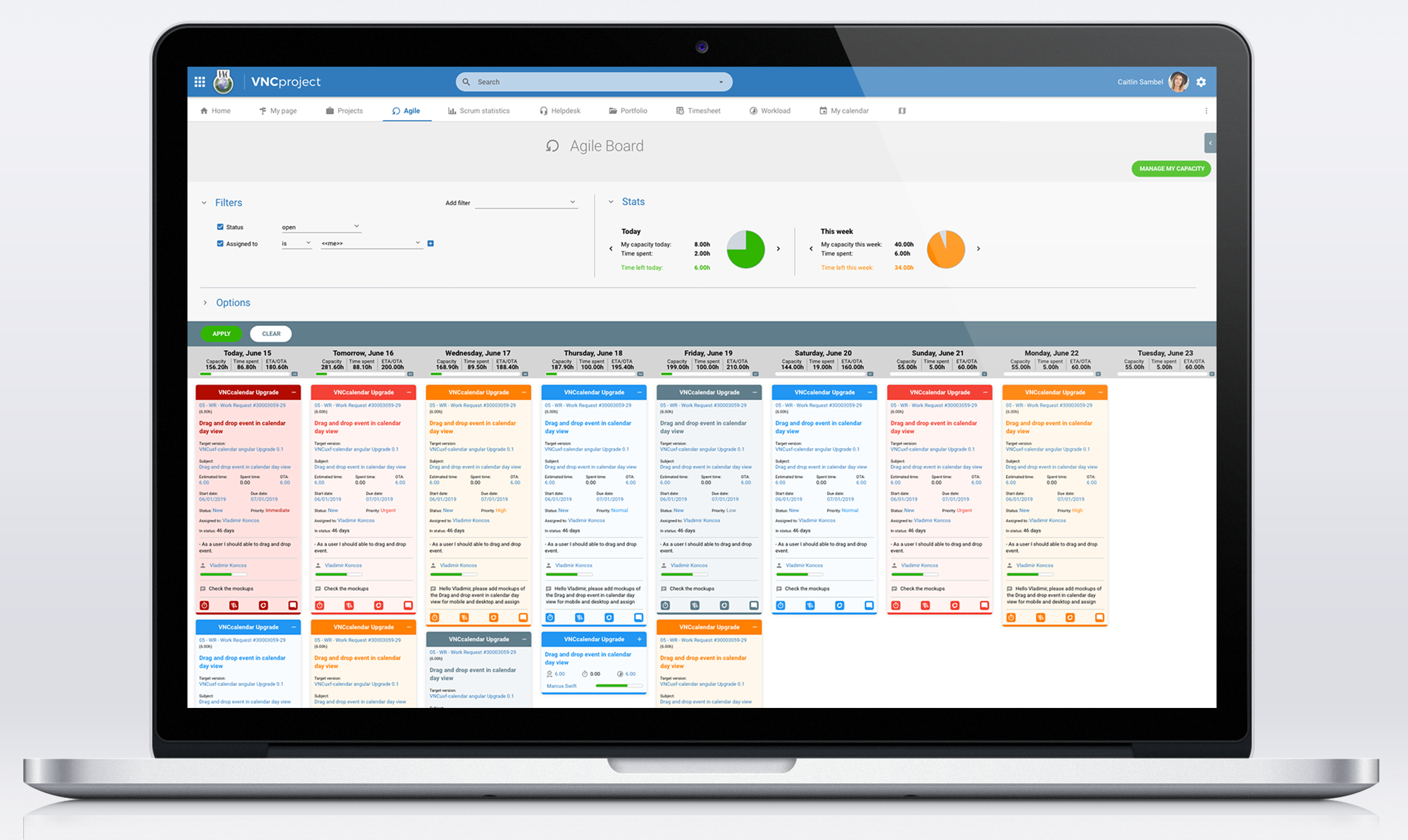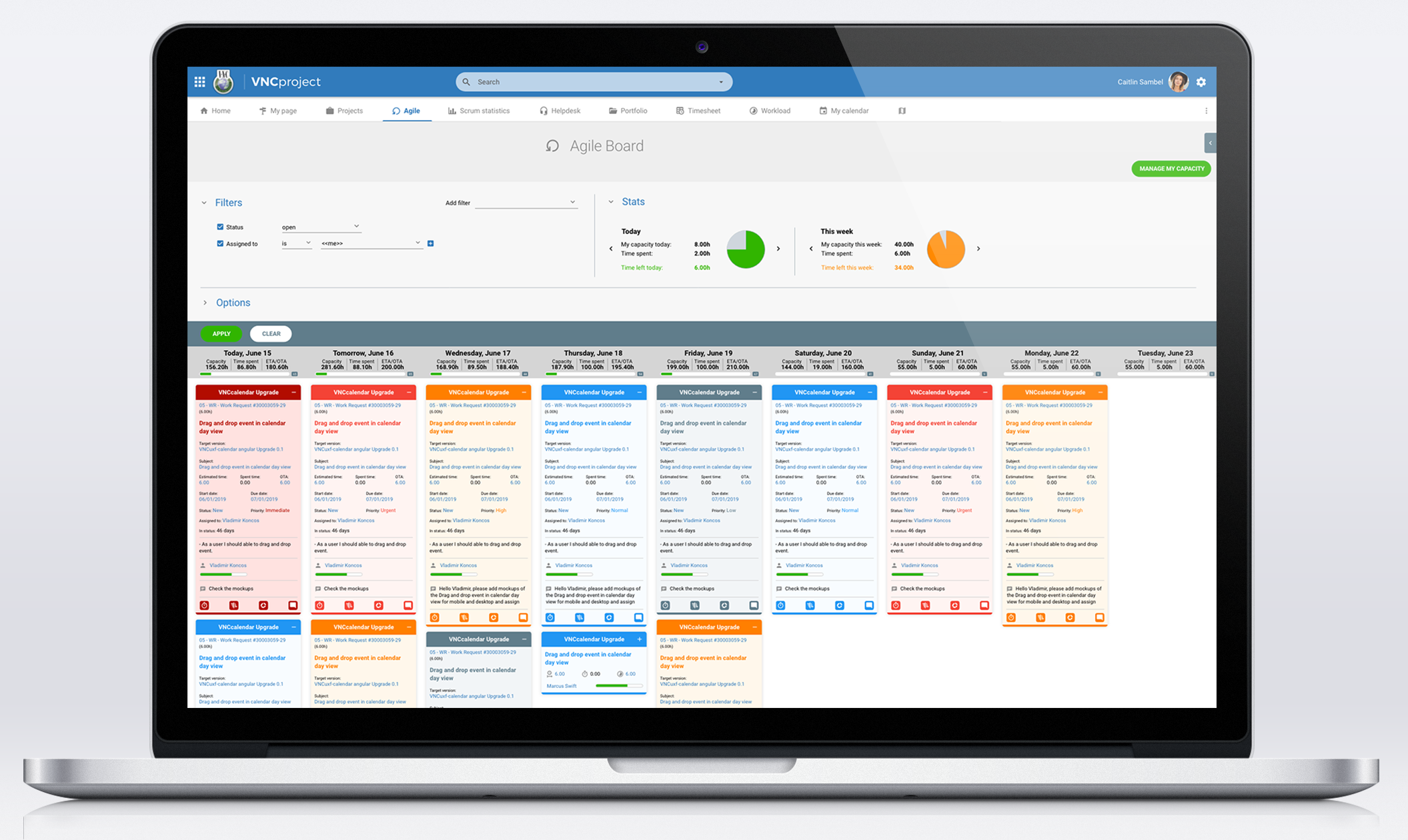 In this example the green pie chart for the capacity "today" shows that based on a total capacity of 8 hours for the developer, tickets with the duration of 2 hours time have been already completed. 6 hours are still open for assignment or short-term requests.
Important: Instead of logging time at the end of the day or even the week, each and every activity can be logged immediately inside the Agile Board!
The only required information is:
Hours worked on a task
Type of activity
A short comment, describing what has been done (full documentation in the ticket description)
Progress in %
This is the perfect way to achieve a super accurate and reliable planning and at the same time enables your project or product manager to monitor the progress.
The result is a much improved transparency about tickets and projects the respective team members are working on and the distribution of tasks within the team can be managed more efficiently.
And everyone involved has a clear overview about which tasks have been completed and what has to be done next. Team members see an efficient overview of working time left for them and their colleagues, so they can plan their next steps.
Please also check out the powerful filter features: Select column types and select the time frame you want to analyze (e.g. the due date from / to, between, last week, last month, etc.).
Thus the output will be filtered according to the selected data.
Of course you can also set or modify all relevant fields within the Cards (inline) and thus organize your day or week in lightning speed. 
Tip: simply use drag & drop for moving your cards! 
VNC is offering one of the most powerful tools for project and product management in the market. And this is just the beginning! We have plenty of features and functions still to come. So stay tuned!
About VNCproject: The browser-based, open and fully customizable solution leaves nothing to be desired: VNCproject combines task and ticket management, scheduling, progress monitoring, Gantt charts as well as time tracking, wikis and powerful project planning features. Having all these different features in one single project management tool enables you to work as fast and efficiently as never before.
With VNCproject you keep your projects in focus and your customers happier than they have ever been.
Please find more info about VNCproject HERE.