We recently released VNCproject versions 3.7.6.1 and 3.7.6.2.
What's new?
Most changes in version 3.7.6.1 and 3.7.6.2 concentrate on design and layout changes for the VNCproject Agile Board and the Robot Planning.
The Agile Board within our 360 degree project management solution VNCproject supports the self-organisation of team members as it helps to manage the workload of team members, to optimize the assignment of tickets and to prioritize tasks. The Agile Board also gives team managers an excellent overview about open tasks, about work progress within a defined time frame and the progress within a project.
Our VNCproject Robot Planning supports management, teams and individual team members to streamline collaboration and helps improving project planning and distribution of tasks.
Make sure that the work is distributed reasonably within the team so that no one is overloaded or without tickets. Both VNCproject modules will enable all team members to reach their full potential by working in an organized, structured and thus efficient way. Proper and regular updates of the Agile Board will increase clarity and thus reduce stress for each team member significantly. Our two smart assistants Vincent and Vincenta will help with reminders and additional information.
VNCproject Version 3.7.6.1
With VNCproject version 3.7.6.1 we implemented new eCards for the Agile Board. The avatar of the ticket owner/creator has been added to each eCard and we rearranged the fields. Additional options are now easily accessible via the added kebab menu on the top right corner of the new Agile Card.
The content of the eCards is clearly arranged now, information is represented at first glance, and we decided to go for 12px text instead of 10. And we added inline edit support for helpdesk ticket cards.
Now it's even easier to work on your tickets directly from the Agile Board. Just get a fast overview about your own or your team's tasks, move tickets to a different date, change assignment, status or priority and react in time, in case there are various overdue tasks.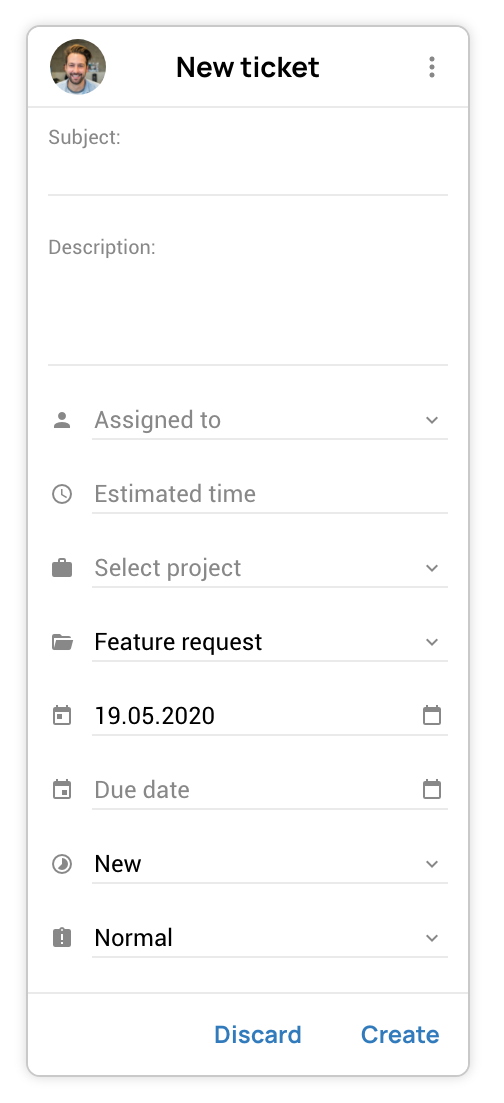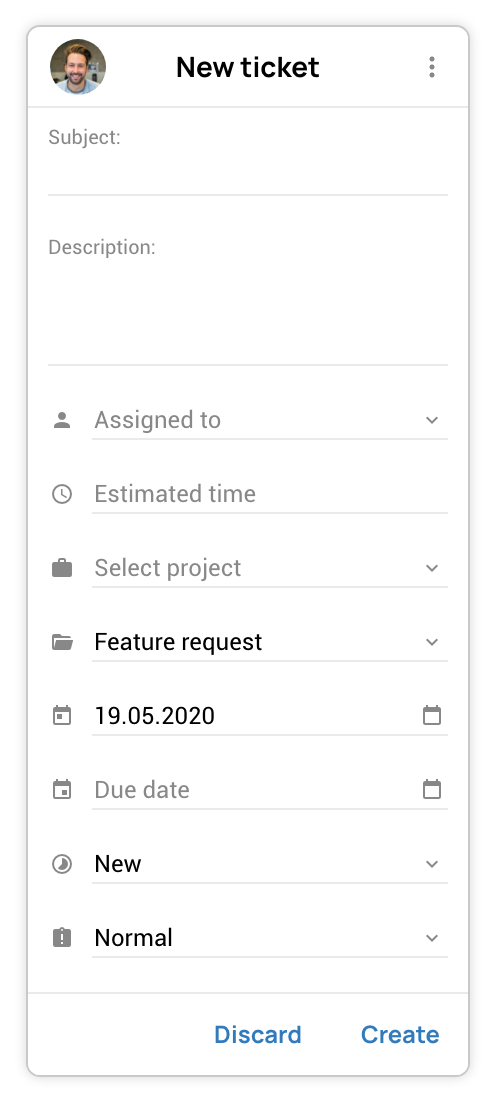 With our VNCproject Agile Board you'll enhance transparency in your teams! Everyone gets a perfect overview about open tasks, priorities and can efficiently plan the next steps!
Agile Board overview screen: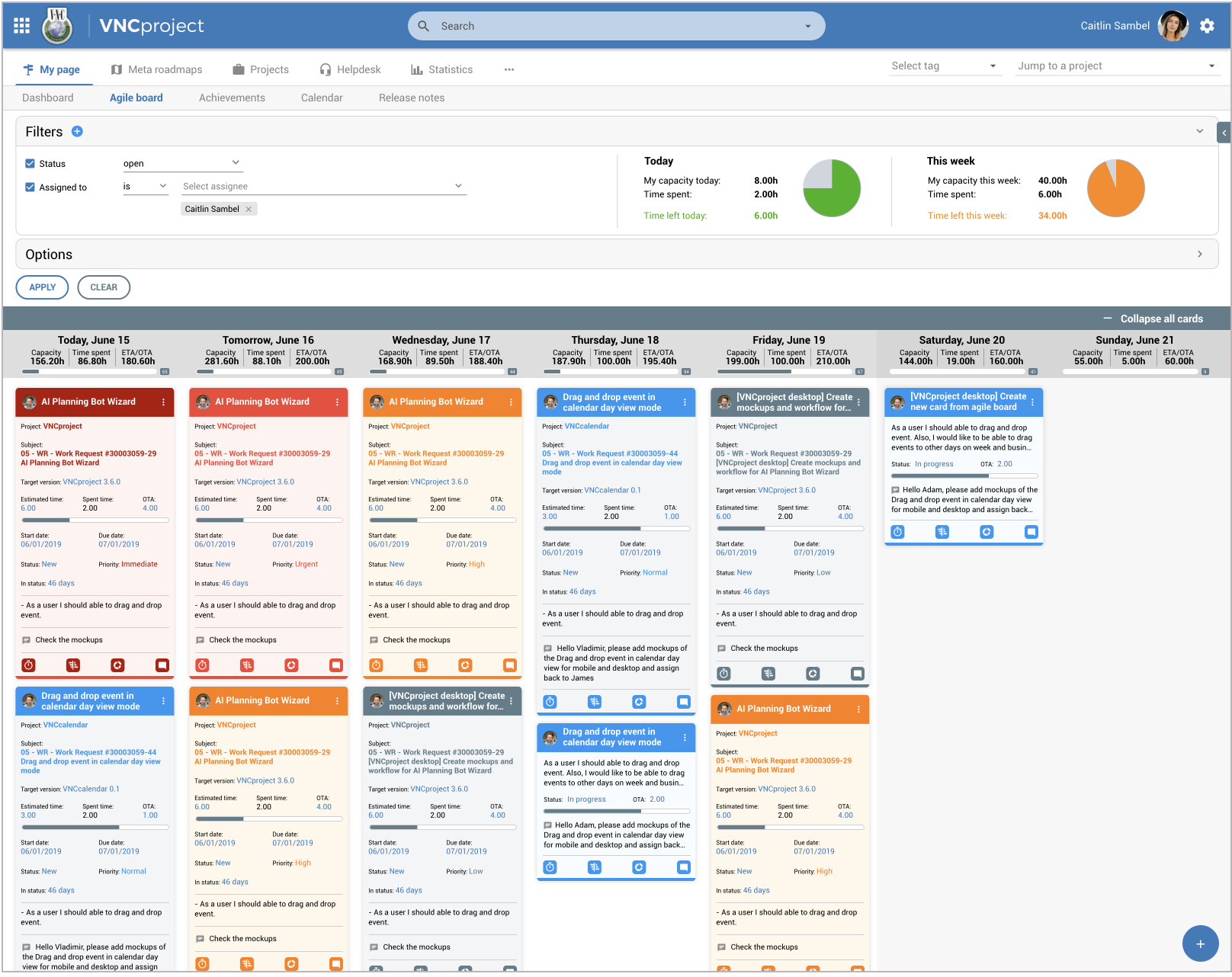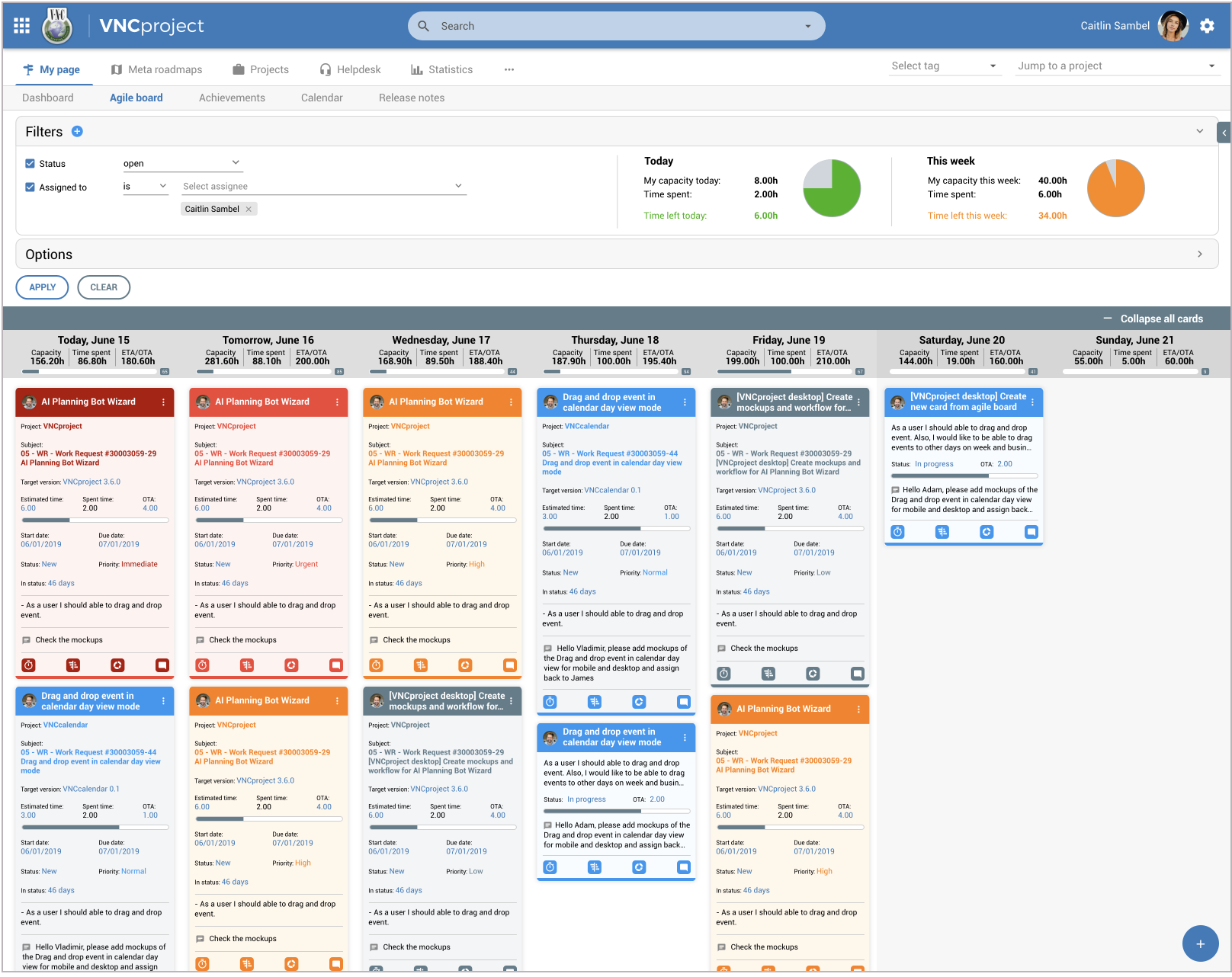 In the Agile Board we implemented a new design for multiple selection filters, added a search line to filters with large lists and a horizontal scrollbar. You would like to add a comment directly in a meta roadmap? This is easily possible now as our development team added a comment field upon request of our users.
We additionally added another criterion to enhance VNCproject "Robot Planning" with this new version: The user now also gets a notification from our smart assistant, in case a ticket is assigned on a day where the working capacity of the respective team member is zero.
VNCproject Version 3.7.6.2
Version 3.7.6.2 has been released on 28th August 2020. With this version we implemented a new design for creation of new projects directly from the agile board, and we added a new design for the meta roadmap create or edit dialogs, as well as for roadmap version dialogs.
To make sure all team members can work with their preferred assistant, we now created the option to choose the favorite assistant on the user account page. Now either "Vincent" or "Vincenta" will support the team members.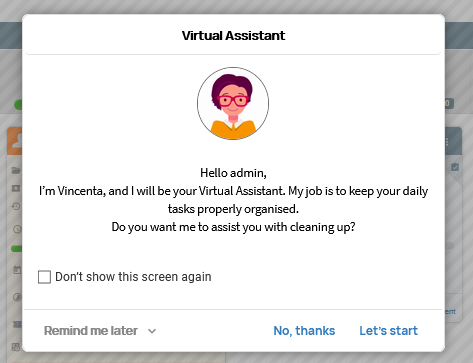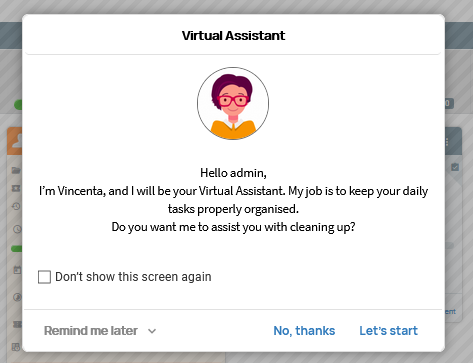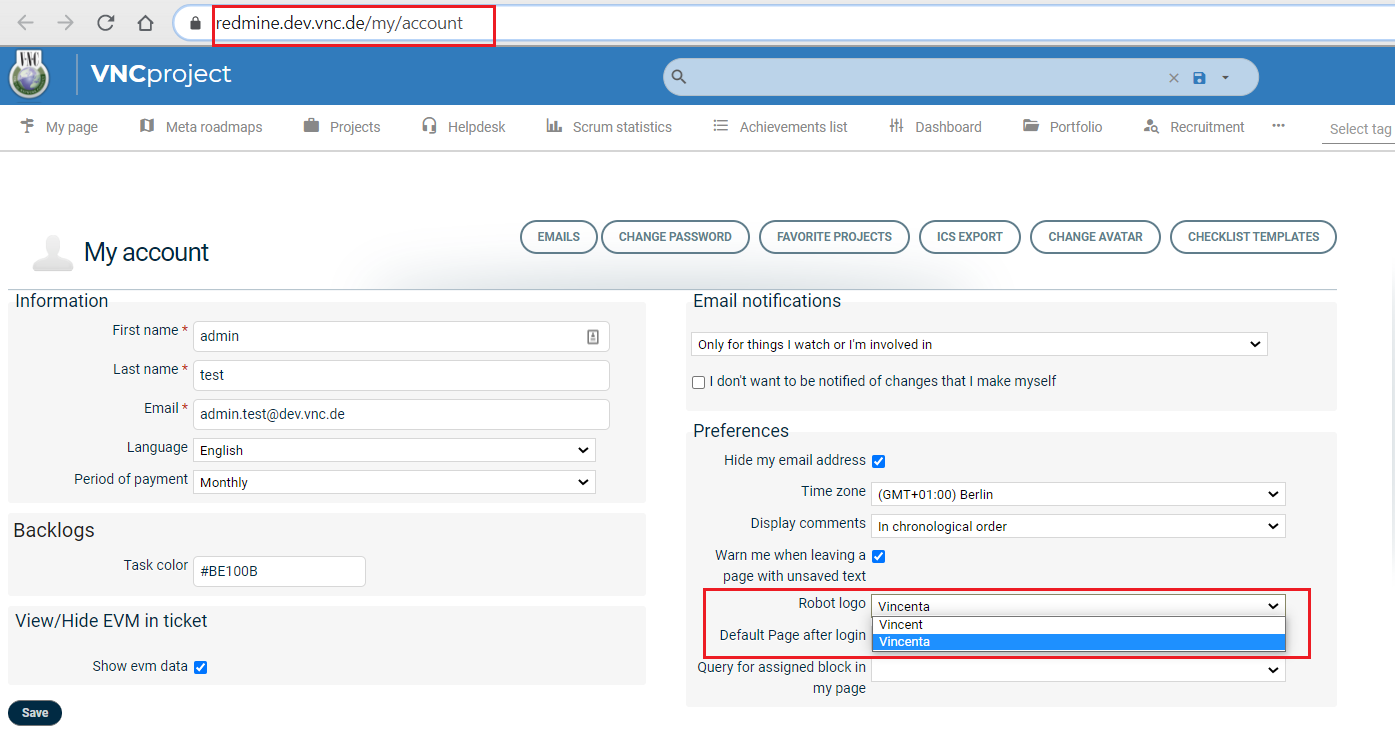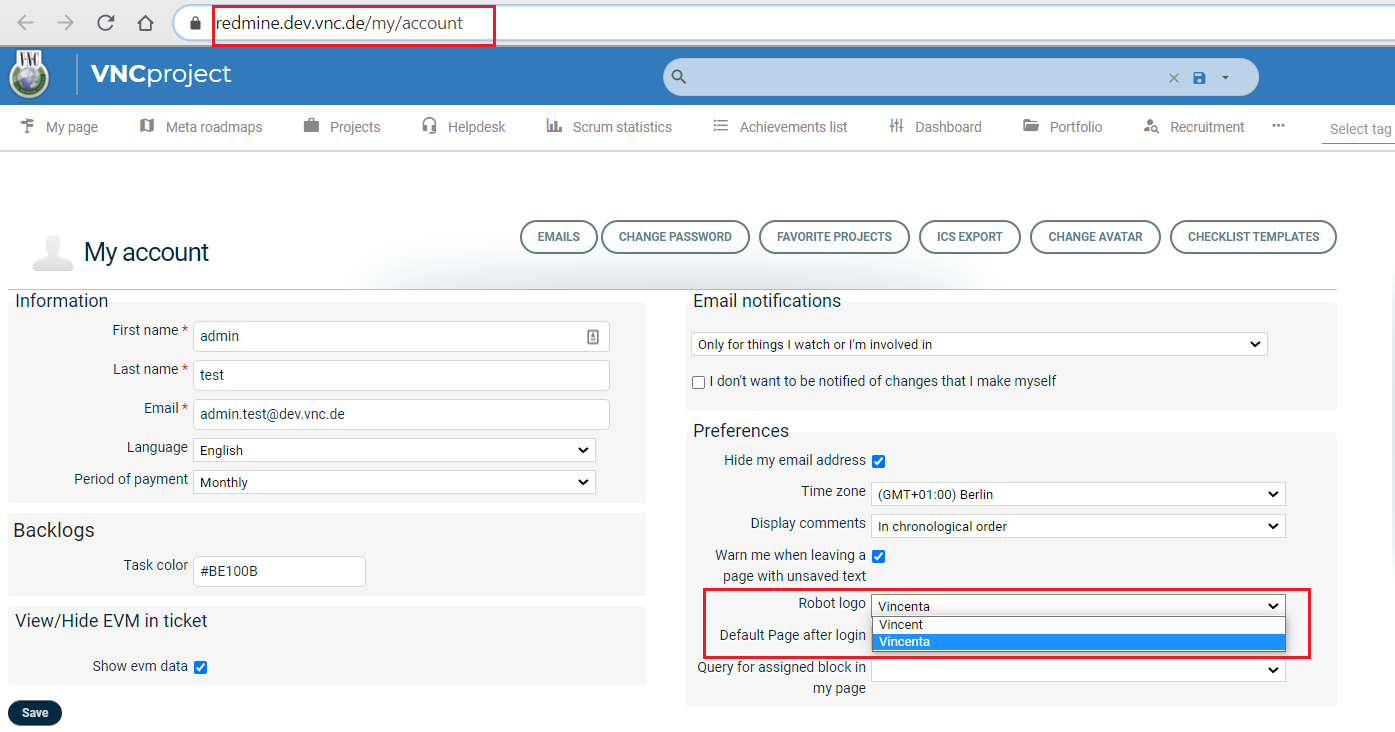 We additionally implemented auto-completion for tag search and changed the design of the closed or rejected agile cards as well as of selected agile cards. Tooltips have been added on all field icons. In VNCproject Robot Planning our development team added a reminder for logging the worked time in the ticket, in case the user has already been working for a predefined period but has not logged time yet. The robot will also remind a user via email to update the corresponding topic after a user exited from the Robot popup by a defined number of times.
Information about further improvements, changes and bugfixes in versions 3.7.6.1 and 3.7.6.2 can be found in our release notes.
VNC is offering one of the most powerful tools for project and product management in the market. And this is just the beginning! We have plenty of features and functions still to come. So stay tuned!
About VNCproject: The browser-based, open and fully customizable solution leaves nothing to be desired: VNCproject combines task and ticket management, scheduling, progress monitoring, Gantt charts as well as time tracking, wikis and powerful project planning features. Having all these different features in one single project management tool enables you to work as fast and efficiently as never before.
Please find more info about VNCproject HERE.
VNCproject is part of our VNClagoon Business Software Stack
With all our products, the security of your data is of utmost importance. Keep important information where it belongs – within your company!