GDPR is here!
The General Data Protection Regulation (GDPR), a regulation in EU law on data protection and privacy for all individuals within the European Union (EU), became enforceable on 25 May 2018. The GDPR applies to all enterprises, regardless of location, that are doing business with the European Economic Area. Business processes that handle personal data must be built with data protection by design and by default. This has major consequences especially for communication and collaboration tools. We have done our homework and our products are here to enable private and public organizations to meet these strict data and privacy regulations.
Our solution: VNCtalk
VNCtalk Enterprise is a state of the art web based real time communication solution. VNCtalk features include chat, multi participant video conferencing, screen sharing and several additional functionalities, which we will explore in greater detail.  In terms of security VNCtalk Enterprise stands out from other "messengers", as it is based on leading open source technologies for an unrivalled level of transparency.  For added security VNCtalk Enterprise can be audited at any time by specialized companies to ensure that no hidden backdoors are present or that any security threats are quickly fixed.  This is a huge benefit from super fast development in the global open source movement.
VNCtalk Enterprise is cloud based without forcing customers to host in a pre-defined SaaS environment: unlike other "messengers", with VNCtalk you can utilize the data center of your choice, which allows you complete control of your communication and thus helps to reduce the risk of data leaks.  With VNCtalk you are getting the best and most modern tool for highly secure communication.
VNCtalk Enterprise is available in various shapes
VNCtalk Enterprise  –  Angular 5 based with responsive design.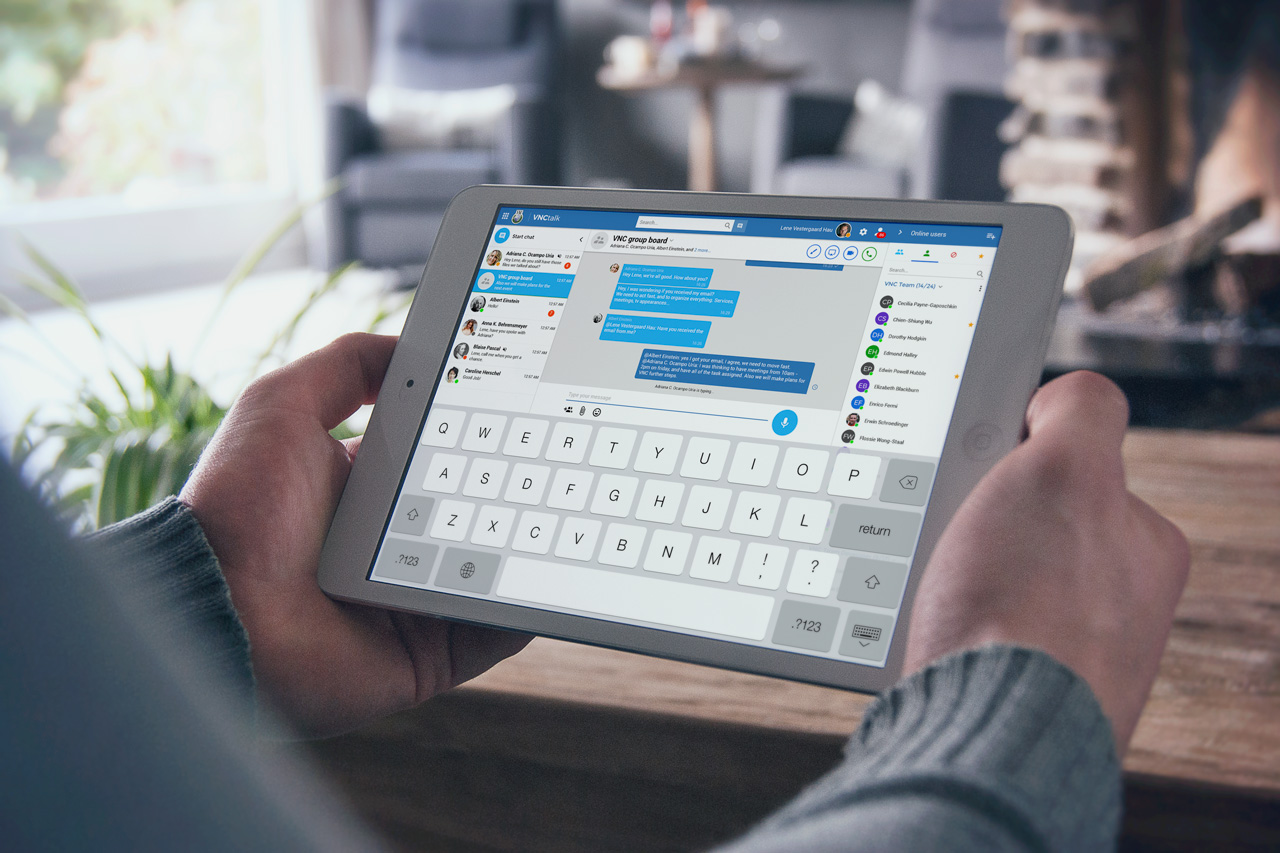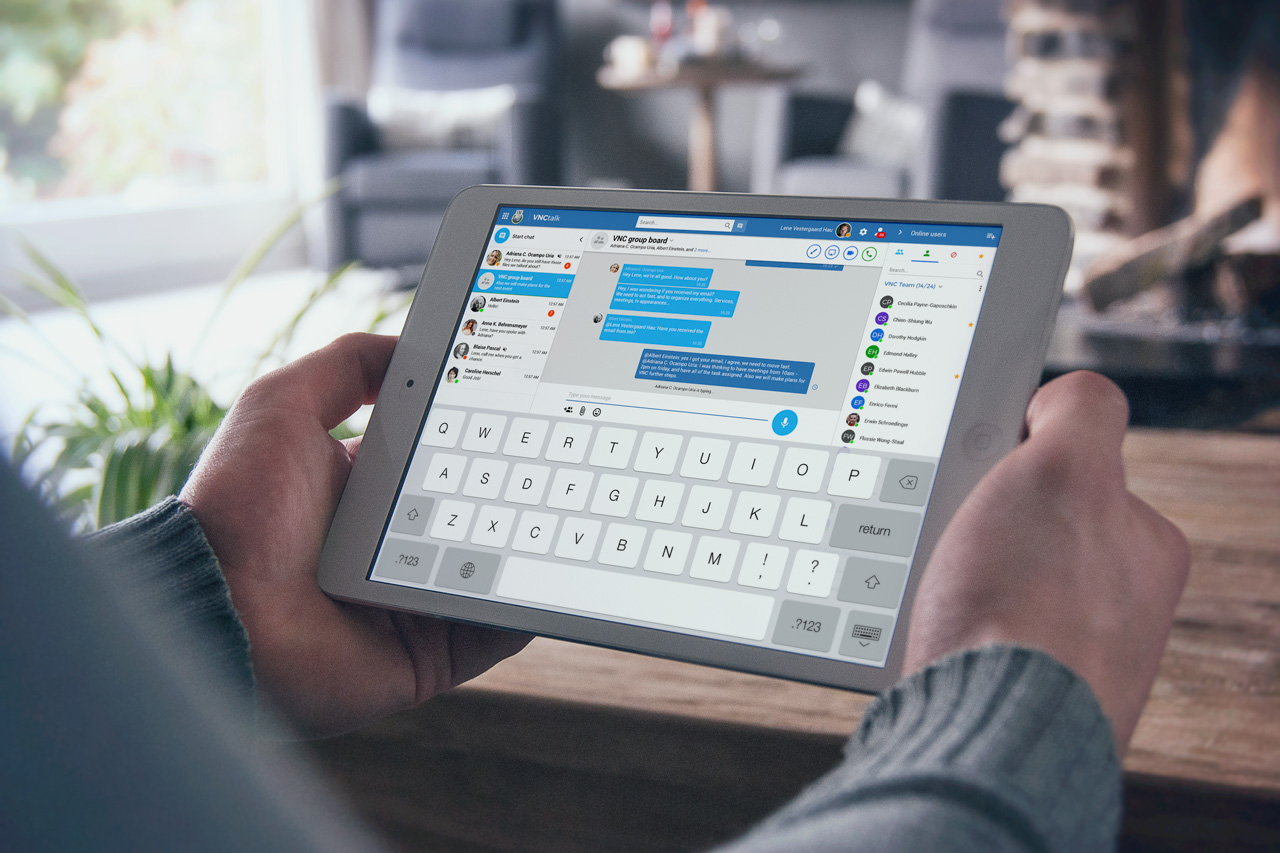 VNCtalk Enterprise is entirely browser based! VNCtalk is WebRTC (Web Real-Time Communication) – the top technology to communicate via a browser only. There is no need to install plug-ins / add-ons or other additional tools!
VNCtalk follows the concept of PWA – Angular 5 based progressive web app development. A Progressive Web App (PWA) is a web app that uses modern web capabilities to deliver an app-like experience to users. PWAs are reliable, fast and easy to use and you have one source code for all operating systems! You can develop and deliver any small functionality such as  a ticket update, timesheet entry, survey etc. without the need to download a full blown app from an app store.
VNCtalk enterprise is by definition responsive – this means the product adapts to any device where you can operate a browser.
VNCtalk App –  Angular and Cordova based technology for Android, iOS and others.
This modern and easy to use App brings all the benefits of chat, web telephony and video conferencing to your mobile device
The VNCtalk App is based on Angular 5 (soon Angular 6) and Cordova. This enables us to generate a "real" app from the same code base we are using for the rich web client. The VNCtalk App is available for Android, iOS and others. Benefits such as access to hardware features like mobile camera, microphone, data, network status, sensors like GPS etc. are natively embedded into this technology. And even better: we embedded offline capabilities as well.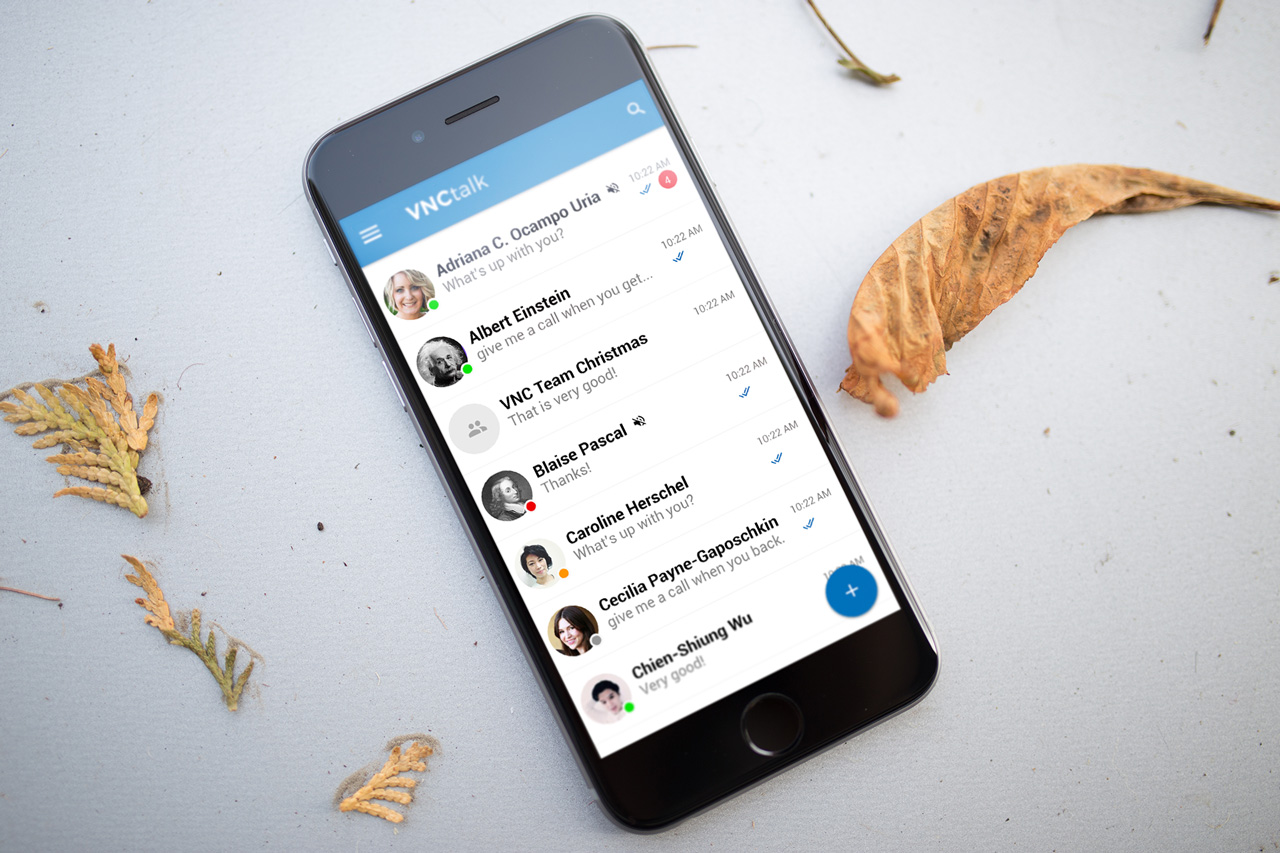 VNCtalk for VNCmail –  Jappix based seamless integration with Groupware.
Leverage your groupware environment with VNCtalk for VNCmail, host video conferences, group chats, share your screen, invite external contacts and do much more directly from your VNCmail web client.  VNC gives you the option to mix and match VNCtalk licenses, a group of users could be working from VNCtalk for VNCmail, others from a mobile device with the VNCtalk App or the VNCtalk Enterprise Desktop client, without the need to purchase additional Zimbra licenses. VNCtalk licenses can be purchased based on your needs and implemented in a single environment.
As all VNC products, VNCtalk is built on top of the latest state of the art open source technologies. For this reason VNCtalk can be adapted to the requirements of specific user groups. VNC can develop customer specific sleak and slim progressive web apps and mobile apps based on your specific UI / UX requirements. VNCtalk integrates with a number of other VNClagoon products as well as with 3rd party products / legacy systems via powerful restful APIs.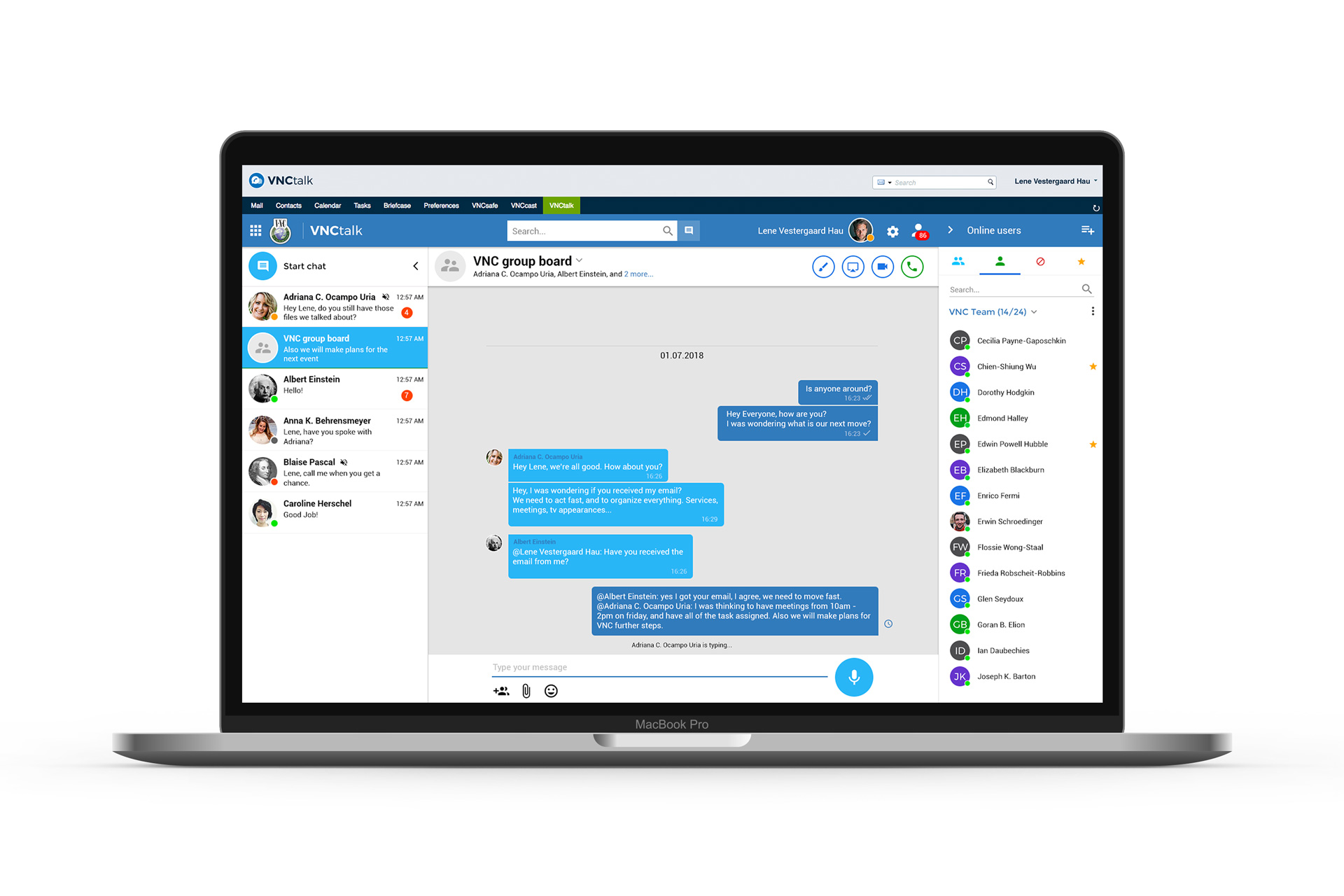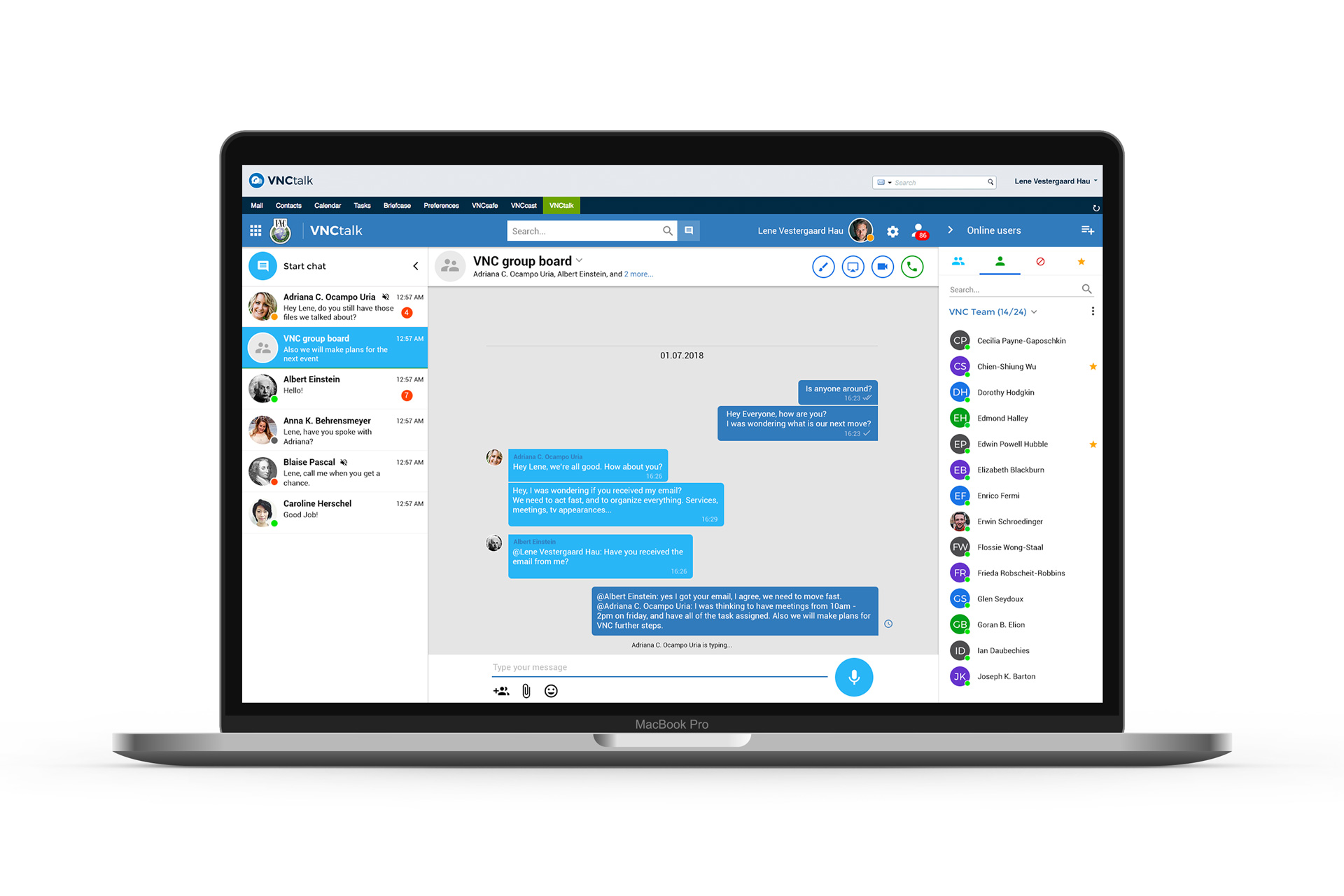 Some of the features
General:
Full feature set of a comprehensive application for presence, chat, video/audio calls and web conferencing
Angular based with responsive design
Customizable UX/UI
Progressive Web Apps (PWA) enabled for any additional functionality such as  a ticket update, timesheet entry, survey etc.
Scalability
No downloads or installations required on client side
Multi-Domain Support / Inter-Domain communication
2-factor authentication
Platform Support and Compatibility:
WebRTC (browser only)
Mobile Device using web browser
3rd Party XMPP client Support (e.g. Pidgin, Gajim or Conversations)
Mobile Application for Android, iOS and others
Platform independent
Multiple client support
Text Conversation: 1on1 and Groupchat:
Presence and profile information
Free chat (text chat 1on1)
Full screen (chat)
Group chats / chatrooms
Voice messaging
File sharing
Conversation history
Audio/ Video Conferencing:
Out of the box audio and video conferencing
Screen sharing in a video conference
Start / join a conference using audio only
Invite external users to an audio or video conference
Full screen video support
Additional Features And Interfacing:
Collaborative whiteboard
VOIP support
Document collaboration: VNCoffice
VNCdirectory integration
VNCsafe integration
Google Maps integration
Read the full feature list here!
VNCtalk is part of our extensive VNClagoon stack. VNClagoon provides you with a business environment that lets you work more productively, while saving both cost and time.
VNClagoon products comprise UX/UI technologies, enterprise applications like project management, business social media, email, task management and excellent security / back end components.
Learn more about our business solutions on vnclagoon.com!
Watch the latest video about the VNCtalk App on Youtube:
Curious?
Contact us via our contact form on vnclagoon.com or write us an email to info@vnc.biz. We're happy to answer your questions or give you a spontaneous demo of VNCtalk!