Some useful tips for your video calls
VNC has been working with and in global virtual teams for years. Working from home and in remote teams has become more important for many organisations around the globe within the last few weeks as companies do their best to protect employees from the spreading coronavirus. Many teams today don't have any other option than collaborating virtually, because of contact bans, travel restrictions or quarantine. Employers need to act. And everybody who can should stay at home and help "flatten the curve"!
The global work-from-home movement intended to maintain output and efficiency during the COVID-19 pandemic could actually generate a worldwide productivity slump and threaten economic growth for many years, says Stanford economist Nicholas Bloom.

"We are home working alongside our kids, in unsuitable spaces, with no choice and no in-office days," says Bloom, a senior fellow at the Stanford Institute for Economic Policy Research (SIEPR). "This will create a productivity disaster for firms."
Source: Stanford News
So, working from home might be a challenge. But what's the other option? Stop working?
Despite this difficult situation there are various reasons why working from home will be the best option and why organisations should advise their teams to work from home and switch to video calls and virtual meetings. Please read our last week's blogpost for more information.
"To master the virtual equation and make all the elements work together, you have to become the connector … You may need to shift gears, perform ream tune-ups, realign, and refuel your team's energy along the way." – Yael Zofi
Employers and team managers should now help their teams to work as productively as possible and to achieve the best possible work-life balance in these difficult times. Good virtual leadership is needed! Create good, meaningful policies for remote work and use the chance within this difficult situation to lay the foundation for a lasting practice of virtual cooperation. Generally use uniform communication tools in your organisation. Always! And make sure that all team members receive an introduction to new tools.
Communication is key – strong, efficient and continuous communication.
We've asked our team to share some tips for successful video calls and for video conferencing.
Here is what we've put together for you:
1. Preparation:
Make sure you have a quiet room and an undisturbed "time-slot" when planning an important video call or virtual meeting
Also be mindful of the time constraints of other participants
Before starting a video call: check your internet connection: is it stable?
Check your camera settings
Check your microphone and speaker, it is better to use a headset (less noise and echo)
Check your microphone input: If you use a camera with integrated microphone and a headset you probably have to define which microphone is used.
Optimize illumination: Make sure your room is well lit, side lighting works best. Nobody wants to have a professional meeting while feeling like you're talking to someone in a gloomy basement.
Use a neutral background (your wall art or decorations should be work-appropriate)
Test all important functions (micro, camera, screen sharing) with a colleague before starting important video calls
2. During the Video Call or Virtual Meeting:
At the beginning of the call or screen sharing, ask the call partner for feedback regarding quality
Do not comment on call quality repeatedly during the call, especially in group calls. This disturbs the conversation of all! If you're experiencing connection issues, disconnect and try again. Do NOT repeatedly ask "Hello?!?!" during the call 😉
For multi-party video calls, never have 2 or more participants in one room with different devices (echo)!
Mute your microphone whenever you're not speaking. Background noise can be an extremely annoying and unnecessary distraction and might interrupt the flow of a meeting.
Don't position your camera too high, too low or activated on a different monitor. Weird camera angles can be very distracting during video conference calls (and might not be exactly flattering ;)). Make sure your camera is on eye level.
Be focused during the call, communicate in a clear and structured way. Best practice is to log important topics in a group chat (or VNCpad) in parallel.
Politeness in communication: let the other person finish before you speak!
Have an agenda (best in the respective group chat) and stick to that agenda and the agreed meeting time. Remember there might be participants with a limited time frame!
To achieve the best results and make sure the discussed topics or problems are resolved, create and distribute tasks during or after the call – best first in VNCpad or in the group chat, later in a ticket system / project management software (e.g. VNCproject).
If you're in a group call without video, introduce yourself before you talk. Consider something like "Hi it's Ben, I have a question." Video conferencing software will show that it's you, who is talking, conference line numbers will not. Therefore, be polite and introduce yourself.
When you're talking, try to look into the camera instead of looking at yourself talking on the computer screen. It will help others feel that you're 100 percent engaged and present.
Be present! Don't check your emails or work on other tasks (even if they are urgent), while you are participating in a video call. Other participant's will realize that you aren't fully focused during the video call.
3. Ending the Video Call or Virtual Meeting:
The organizer, or somebody assigned, should present a short summary of the virtual meeting.
All participants should be informed and should agree upon follow-up tasks. Tasks can be distributed directly in the related group chat and you can go from there to create tickets in your project management software.
Define a due date and follow up for the related tasks.
Ask whether anyone has questions.
Please always thank all participants for their time and effort.
Ask whether the quality of the video call has been good for everyone.
You can do a short survey after the virtual meeting.
Related blogposts:
Virtual collaboration is an important topic in your company? Our VNClagoon flagship product VNCtalk offers professional chat, group chat, video / audio conferencing. You also have the possibility to work together on documents, share your screen or use the virtual whiteboard for visualization.
Especially in sensitive fields in government, research, finance, healthcare and others special attention to security is required. This means that almost all conventional, proprietary products, such as Slack, Zoom or Skype, have to be be ruled out, as their data run on US servers and are subject to the Cloud Act, for example.
Detailed information about VNCtalk, more technical details, visuals and the VNCtalk explainer video can be found on our VNClagoon website.
VNCtalk is seamlessly integrated into our VNClagoon stack. Start a chat or audio / video call – by simply clicking on a user in VNCmail, VNCtask, VNCcontacts etc. Use the meta search across various VNCproducts to find all information related to the desired topic.
You are interested in technical details? Awaken the geek inside you! 😉 And have a look at our VNCtalk Architecture Chart: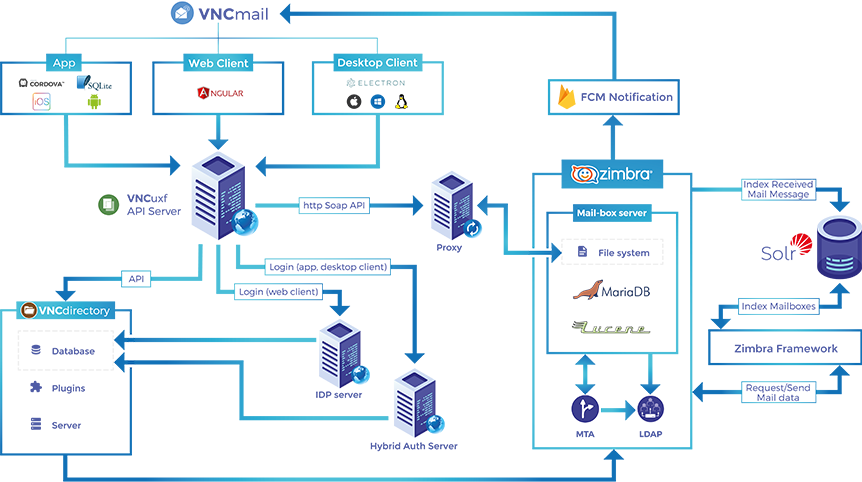 Professionals will see at the first glance that this is a full blown, scalable enterprise application and not just another neat "chat app". Detailed information about VNCtalk, more technical details, visuals and the VNCtalk explainer video can be found on our VNClagoon website. The VNClagoon communication & collaboration suite comprises the following components:
Please find more information on all our products on www.vnclagoon.com!
VNCtalk is part of our VNClagoon Business Software Stack