Discover 7 simple and effortless methods to access VNClagoon applications
We understand that every user and organization operates in unique ways. Our unwavering commitment is to tailor our cutting-edge products within the VNClagoon suite to perfectly align with your preferred way of working. VNClagoon empowers companies and individuals alike with flexibility, modularity, customizability, and scalability, ensuring a seamless fit for your specific needs.
To further enhance your experience, we have meticulously crafted a range of access scenarios for our VNClagoon applications. This allows you and your organization to handpick the most suitable form of access that smoothly integrates into your workflows, enabling unparalleled efficiency and productivity.


Unleash the power of VNClagoon, a comprehensive suite of cutting-edge communication and collaboration solutions. VNClagoon empowers you to shape the future of work, effortlessly.


Experience the unique advantages of our VNClagoon Business Software Stack with its remarkable integration capabilities. Seamlessly connect all VNClagoon applications, unlocking a world where vital data is effortlessly accessible from multiple access points, putting it at your fingertips whenever you need it.
Bid farewell to data silos as you effortlessly navigate through our suite. Enjoy the convenience of Advanced Search, real-time notifications, comprehensive contact information display, and consistent tagging across all products. Customize your experience by choosing to view the most critical information in a visually stunning Dashboard (VNCfluid) or a dynamic Stream View (VNCcommander).
Elevate your productivity and streamline your operations with VNClagoon, where integration meets limitless possibilities.
This is unique!
Discover an array of seven distinct pathways to effortlessly access your desired VNClagoon application:
1. VNClagoon Start Page – the classical way in
Experience the most popular point of entry to the VNClagoon Suite – our customizable VNClagoon start page. Unlock the power of seamless access to all your subscribed VNClagoon products, conveniently consolidated in one central place.
With our professional directory service, VNCdirectory, working diligently in the background, enjoy the privilege of using the entire VNClagoon software stack with Single-Sign-On (SSO), utilizing just one set of credentials. Say goodbye to security concerns and the burden of managing multiple usernames and passwords across various communication and collaboration applications.
Safeguard your VNClagoon account by effortlessly enabling Two Factor Authentication, adding an extra layer of protection. Discover a world of productivity and security with VNClagoon's user-friendly start page, revolutionizing the way you work and collaborate.
Explore the VNClagoon LIVE Start Page: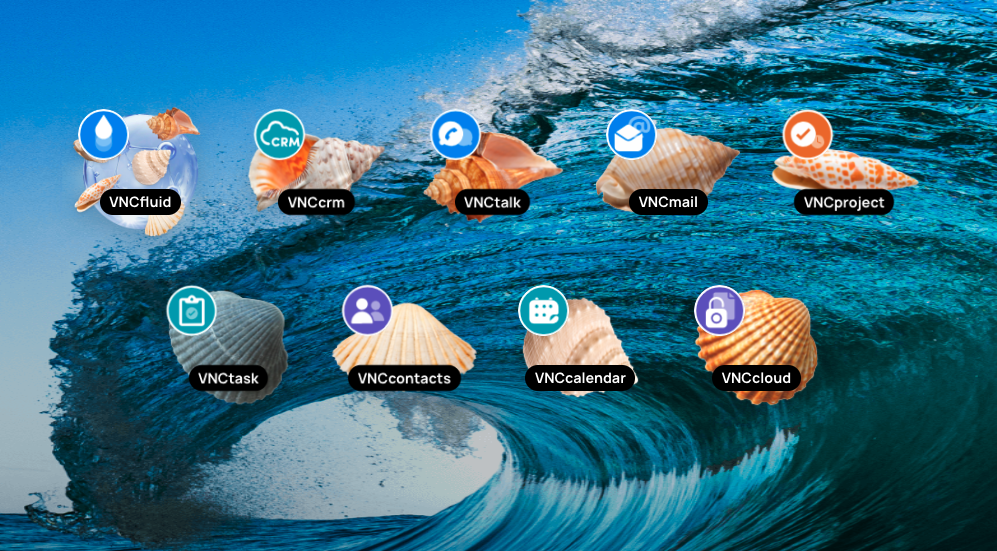 Personalize the VNClagoon start page, tailoring it to reflect your unique layout preferences. With just a few clicks within your VNCdirectory admin console, you gain full control over the customization process. Product icons and the background image can be customized to fit your CD/CI to create a familiar and inviting atmosphere for your employees, allowing them to truly "feel at home".
Furthermore, exercise precise control over product visibility by selectively choosing which products are displayed for specific user groups. Empower your organization with a start page that aligns with your brand identity and enhances user engagement, all achieved with utmost simplicity and flexibility.
More information about VNCdirectory can be found here.
Our VNCdirectory Admin Manual guides you through customizing your VNClagoon start page and shows you how to select applications within an organization.
To open any VNClagoon application, just click on the corresponding icon, no additional login is needed. You can access all VNClagoon products from this start page.
2. VNCfluid – your 360 degree Dashboard
VNCfluid is your all-encompassing 360° Dashboard, designed to empower you with unrivaled visibility and control over your VNClagoon Suite. Seamlessly navigate through a comprehensive range of features, enabling you to effortlessly view, filter, sort, search, and stay informed about the latest events across your entire VNClagoon ecosystem. From new chat messages and calls to emails, meetings, tickets, tasks, and beyond, VNCfluid ensures that you never miss a beat. Embrace the convenience of a centralized access point, consolidating all your subscribed VNClagoon products within reach.
Start your mornings with confidence by logging in to VNClagoon and opening VNCfluid, where you can see all important and urgent items at a glance. Experience efficiency at its finest, as VNCfluid empowers you to conquer your day with clarity and purpose.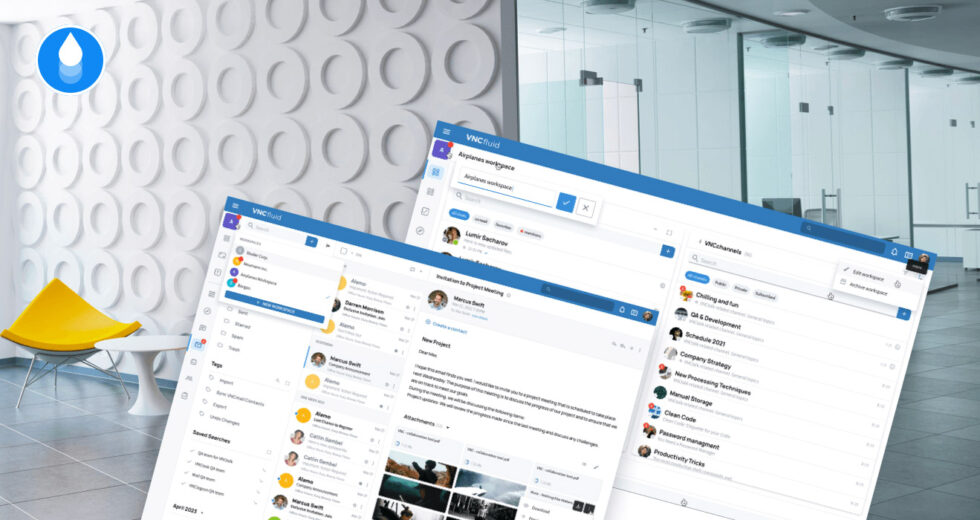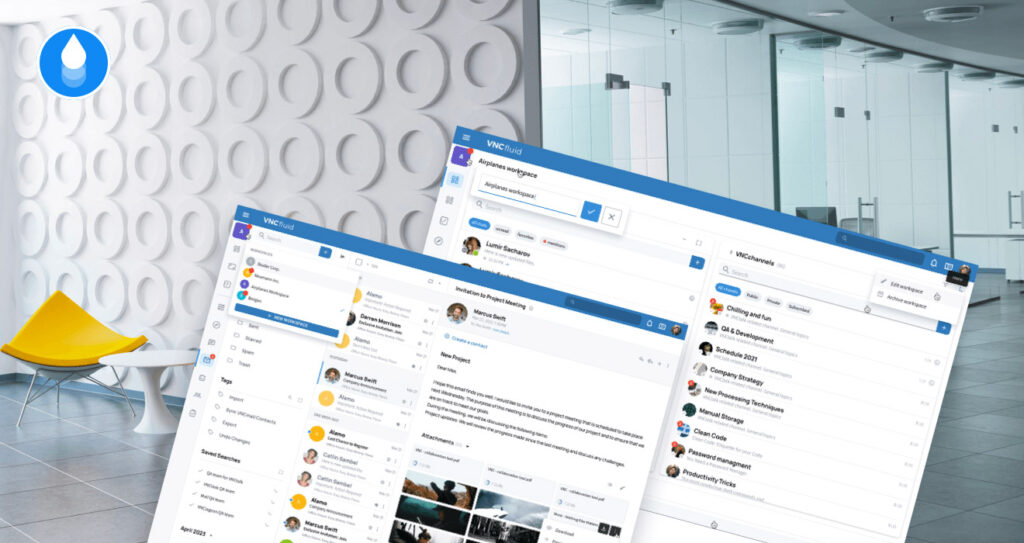 Unleash the power of customization with VNCfluid, where you can construct your own tailor-made digital workspace!
Experience the freedom to adapt VNCfluid according to your unique needs and preferences. Simply navigate to the VNCfluid settings and select the VNClagoon applications you desire to be displayed. Watch as your personalized digital space takes shape, consolidating all VNClagoon communication, information, and collaboration channels within a single unified platform. Each application is represented in dedicated "Dashlets," providing a clear and organized view of the most relevant information. Efficiently structure and manage your workday with ease.

With VNCfluid, instant access to every VNClagoon element is just a click away. Seamlessly execute various quick actions directly from the dashboard, such as replying to chat messages, initiating video or audio calls, managing emails, editing or logging time in VNCproject tickets, and much more. Experience unparalleled efficiency as your productivity soars.
Need more details and all the functionalities of any VNClagoon product? Simply access each product effortlessly from the VNCfluid sidebar, granting you a comprehensive and immersive experience. Whether it's VNCtalk, VNCmail or any other VNClagoon product you've subscribed to and selected for VNCfluid.
Find detailed information about VNCfluid here, in our Press Release and in our Blog Post.
3. VNCcommander – your Enterprise Information Stream
Experience the dynamic and chronological Stream View for a comprehensive display of essential information. If you prefer a chronological perspective, the Stream View within VNCcommander serves as an additional gateway to access your emails, tasks, appointments, and messages from selected VNClagoon products. Stay up to date with a quick glance, as the Stream View presents the most recent events at a glance. Effortlessly filter, search, and perform various actions to streamline your workflow. With just one click, initiate Quick Actions, empowering you to take immediate control.
We are confident that VNCcommander – as a part of the VNClagoon stack – offers our partners and customers a professional, secure, and GDPR-compliant alternative to proprietary collaboration software like Slack. Experience seamless communication and collaboration, knowing that your data is protected and your privacy is prioritized.
Immerse yourself in the realm of real-time information flow, effectively organizing and managing your diverse communication, information, and collaboration channels. Stay in the loop and never miss a crucial contribution from team members, partners, or customers. Experience the VNClagoon advantage, where information seamlessly flows, empowering your success.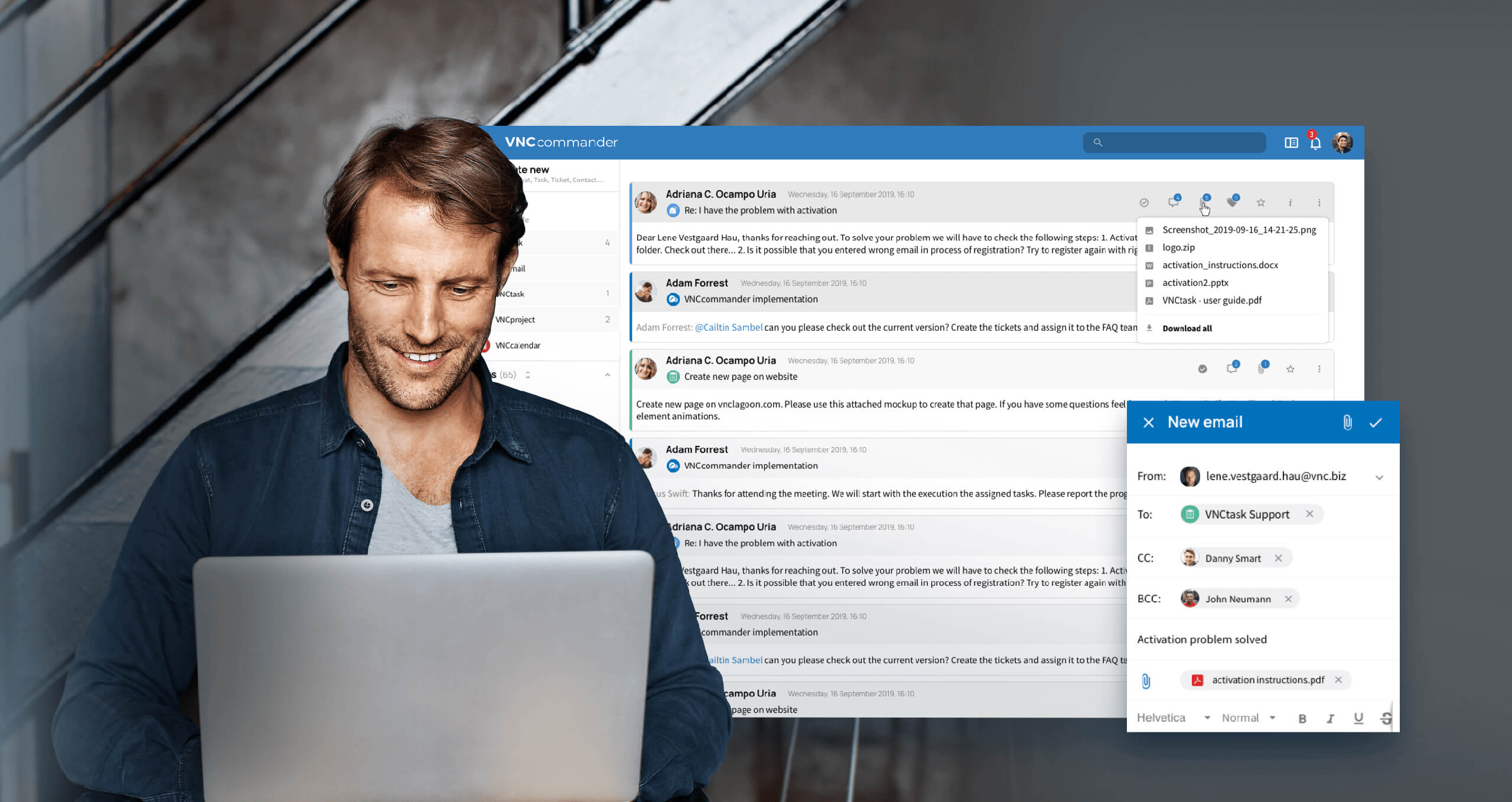 4. The VNClagoon Action Wheel – for quick operations
Our customers and partners love the VNClagoon Action Wheel.
Excitingly, the Action Wheel presents yet another avenue to access essential VNClagoon applications.
Whenever you encounter an avatar within VNClagoon, a simple click unveils the "Action Wheel." This dynamic feature instantly showcases contact details of the respective individual, granting you immediate access to vital information. Moreover, the Action Wheel empowers you to initiate various quick actions relevant to the person in question. Picture this: while working on a ticket in VNCproject and in need of swift clarification, leverage the Action Wheel to effortlessly send a chat message to the ticket creator. Inquire about details or confirm ticket requirements, all with a few clicks.
The VNClagoon Action Wheel – an invaluable tool that revolutionizes your workflow and fosters seamless collaboration: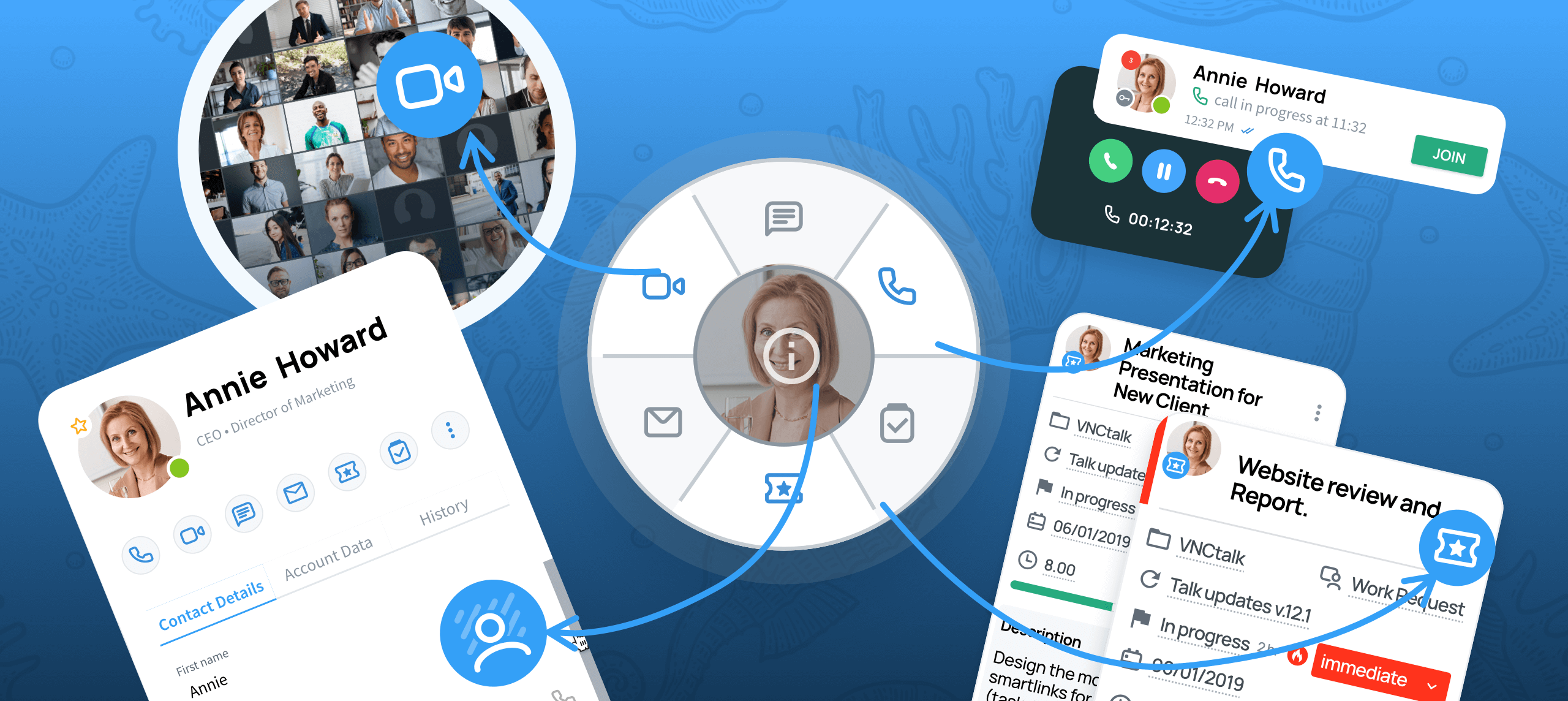 The VNClagoon Action Wheel is another example of the seamless integration of all components within our VNClagoon software stack. It is very effortlessly and comfortable to use.
It also serves as a gateway to an array of functionalities, empowering you to effortlessly access additional information about selected individuals and initiate seamless communication and collaboration. With just a few clicks, unlock the ability to compose emails (VNCmail), create tasks (VNCtask), generate tickets (VNCproject), engage in chat conversations (VNCtalk), schedule appointments (VNCcalendar), or initiate audio and video calls (VNCtalk). Take advantage of the convenience of a unified platform, where all components smoothly converge to enhance your workflow.
For detailed information about the Action Wheel, please read our Blog Post: The VNClagoon Action Wheel – goes round and round or watch the video we created with Avaya: VNC & Avaya: Secure communication and the Action-Wheel
5. VNCcontacts – collaboration made easy
VNCcontacts was designed to revolutionize your contact management experience. Enjoy swift access to all your address books, along with seamless interactions with your contact persons utilizing VNClagoon products such as VNCtalk and VNCmail.
Unlock the true essence of collaboration with VNCcontacts, tightly integrated with selected VNClagoon Suite products. Engage in audio or video conferences, leverage chat functionalities enriched with whiteboard and screensharing capabilities through VNCtalk. Send emails using VNCmail, or effortlessly create tasks with VNCtask. Enhance your productivity by conveniently sharing files via VNCsafe or sending meeting invites, all within the intuitive interface of VNCcontacts.
Gain comprehensive insight into your past interactions with your contacts effortlessly. Access a consolidated overview of your exchanged chat messages, emails, and calls, all available at your fingertips whenever the need arises. Streamline your workflow and retrieve valuable information swiftly, empowering you to make informed decisions and nurture meaningful connections with ease. With VNCcontacts, your historic interactions are just a glance away, ensuring you never miss a beat in your professional relationships.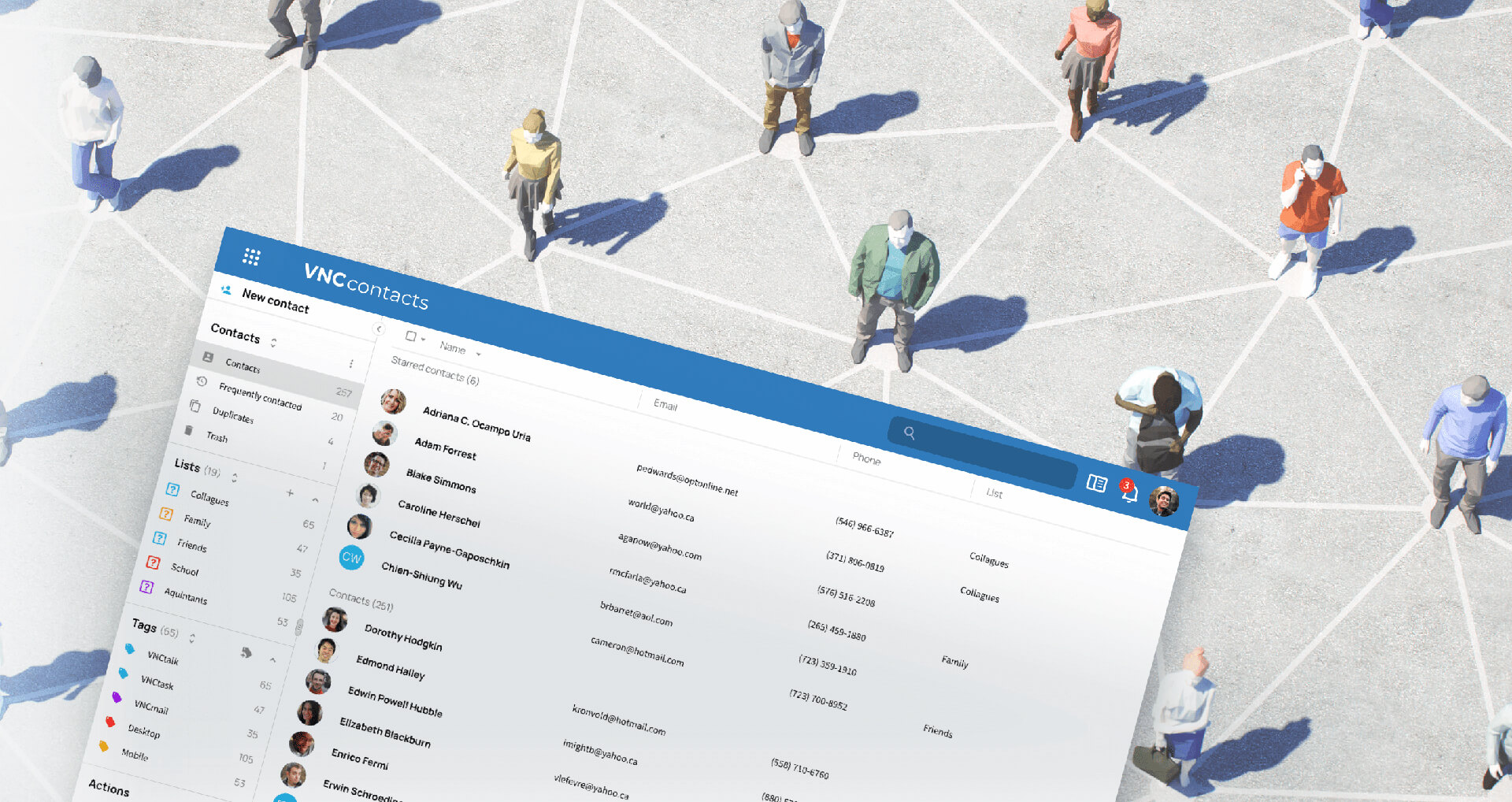 Find more information about VNCcontacts here.
6. Direct Link – quick access to your preferred VNClagoon product
Experience lightning-fast and utmost convenience when accessing your desired VNClagoon application. Simply utilize the product URL, granting you direct entry to the VNClagoon product of your choice. The link is thoughtfully crafted, combining the product name (such as VNCtalk) with your company access. For example, to open VNCtalk in VNClagoon LIVE, you can use this link: talk.vnclagoon-live.com/.

Don't take detours, save time and open the desired application with just one click.
7. The VNClagoon App Switcher – effortlessly navigate between products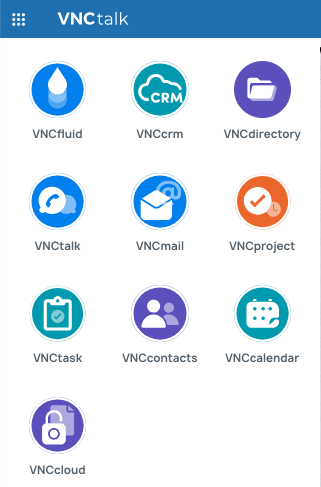 Find your way from any VNClagoon product easily to the next. No extra login is needed! Effortlessly navigate between products: simply locate the app switcher, positioned in the top left corner, to seamlessly transition between VNClagoon products. Speed up your workflow and enjoy uninterrupted productivity.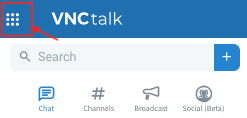 Icon to access the app switcher from VNCtalk
Benefit from a world of seamless access to and within VNClagoon, where every interaction is optimized, productivity soars, and where it is easy to communicate and collaborate securely by using smart and well-integrated software tools.
Discover the power of choice with VNClagoon, and unlock the true potential of your work environment!
With all our products, the security of your data is of utmost importance. Keep important information where it belongs – within your company!
Detailed information about all VNClagoon products can be found on VNClagoon.com.
Or schedule a personal meeting to get detailed information about any VNClagoon product or the complete VNClagoon Enterprise Software Suite:
You want to see our most important VNClagoon products live in action and check out the look and feel?
Just register on VNClagoon LIVE, our reference implementation of our VNClagoon communication and collaboration stack!
Please share your feedback!
We hope you like our ways to enter the VNClagoon world as much as we do. Are we missing something? Do you have a use case which needs our attention? Feedback and suggestions for improvements are always greatly appreciated. Please drop us a note in the comment field below or send an email to sales@vnc.biz. Or schedule your personal demo here:


About VNClagoon
Secure, Best in Class, Seamless Communication and Collaboration, Lowest TCO
The VNClagoon enterprise software suite offers a full range of integrated communication and collaboration products for messaging, real-time conferencing, community building, channels, email, groupware, task and project management, file handling and more for large organizations. Built upon state-of-the-art open source technology by thousands of world-class developers around the world, VNClagoon is a leading alternative to closed source and SaaS-only applications like Microsoft Teams, Zoom, WhatsApp, Dropbox and many others. Now it is possible for VNClagoon customers to gain greater control over their digital sovereignty as they communicate and collaborate more securely using one completely integrated suite of applications. For more information visit:
https://vnclagoon.com